Indy songstress Okara Imani has a unique way of opening up her live shows. Rather than turning heads with a clever rhyme or catchy hook, she instead performs a song that's completely a cappella titled "The Call."
"Any time you do anything without music in a room full of people, they're either going to listen or they're not," Imani says. "You have to bring them to you, so it definitely serves to do that."
One fine Thursday in December, I met with Imani at Square Cat Vinyl for an afternoon chat. With the power out on Fountain Square's main Virginia Avenue block, the songwriter and I sat in a dimly lit backroom at the record shop, discussing her many creative meanderings without distraction despite the somewhat unusual interview setting.
Read the full conversation below.
SETH JOHNSON: Tell me a little bit about where you're originally from and how music came into the picture for you.
OKARA IMANI: I'm from here in Indy — I've been here my whole life. I like to say I'm corn-fed. [laughs] I was in a really musical household. My dad is actually a musician. He's worked in an office his whole life, but he's a musician at heart. He's always had a studio at home, and we used to stay up super late on Saturdays dancing and listening to music around the house.
I encountered a lot of music that way and figured out what felt good to sing along to. I also realized how unified a lot of the different styles were. That's part of the reason I ended up wanting to go to college to study music. I majored in vocal performance so that I could have a foundation for any of the things I wanted to do musically. So that came out of those wacky Saturdays I guess. [laughs]
JOHNSON: Where did you go to school?
IMANI: I went to Lawrence Central High School, and I did the show choir there.
JOHNSON: And then where for college?
IMANI: I went to IPFW, which is now Purdue Fort Wayne. I did jazz ensemble there. The opera ensemble was mandatory for my degree, so I also did that. I almost contemplated going into the opera scene [after college], but I'm honestly not interested in a life of auditions. [laughs]
JOHNSON: When did you start writing your own songs?
IMANI: I have stuff as old as 2008 and 2009, so when I was in elementary and middle school. They all sound very '90s, but I did write them. [laughs] So it started out early, but I've been figuring it out ever since.
JOHNSON: I've noticed you often intermingle poetry into your live performances. When did poetry come into the picture for you?
IMANI: Honestly, poetry was always knocking at the door. But when I was sitting down, I'd be like, "No. I want to write a song." And then, it ended up being, "If I write it as a poem and allow the words to occur, it could be a poem, or I could rework it later [as a song]."
So I stopped restricting myself to melody, and the poetry became something that really helped me learn how to express myself with different meter and different phrasing. It honestly helped me a lot.
JOHNSON: It also seems to me that you really try to create a specific vibe at your live performances. Would you agree that's something you aim to do?
IMANI: I would be hard-pressed to say that I create a vibe. I more so like to behave as a tuning fork for all of us that are already together in the room. I start with an a cappella. And almost every time, I tell the audience why I'm doing it. I tell them, "There's not going to be any music. We're going to listen to each other and take collective breaths, syncing ourselves to the same wavelength." That kind of gets the whole room together.
JOHNSON: You performed at BUZZ/cut, which is Indy's first-ever queer music festival. What did you enjoy about that experience?
IMANI: It was everything to me. I have been open about my sexual identity — I always have it in my music and poems. When I did the open mic circuit, I'd always preface by saying, "You're going to hear feminine pronouns because that's a part of my life. And I preface this for visibility."
So I was ecstatic to find such a huge platform [with BUZZ/cut] where it was just not an issue. That was beautiful. For all of us in the [LGBTQ+] community, BUZZ/cut is one spot where we can go and be seen and understood with no explanations. It was insanely beautiful to me and validating as heck.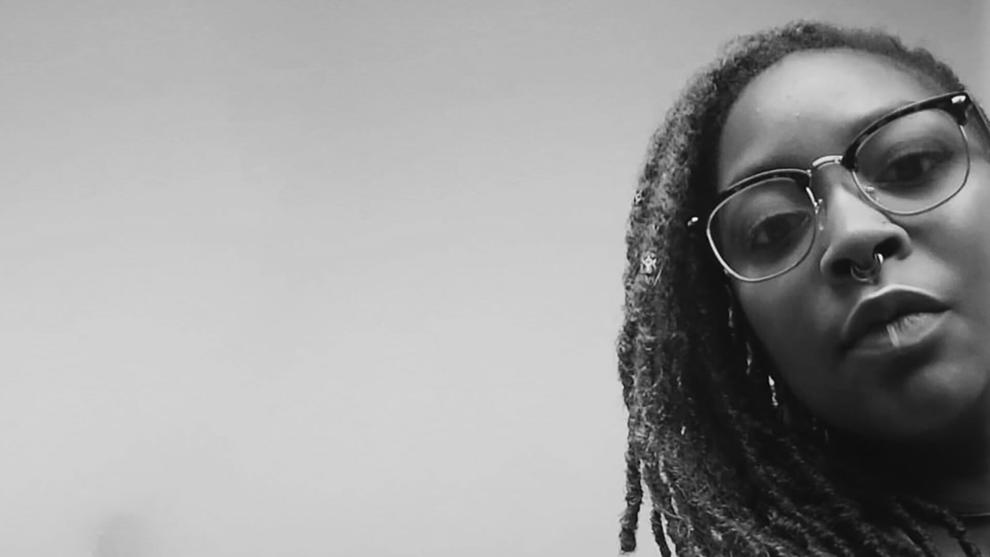 JOHNSON: I know you've performed a lot around town as of late, but do you have any music recorded?
IMANI: Most of what's mixed, mastered, and on platforms is me doing features. So right now, it's kind of like a hodgepodge. I imagine I'll have different studios do different pieces to put together an album or EP in 2020. I'm not prolific enough to know who I'd want to do the whole thing, so I'm gonna go ahead and sample.
JOHNSON: With that project, would it be a collection of songs you've assembled from over the years?
IMANI: Definitely. There are tons of them. I only had a band for a good portion of last year, and they dispersed with life. I'm attempting to return to being proficient on my own, and that requires studio time. Either that, or I've gotta get my life together, get a laptop, and get going. [laughs] But I'm definitely trying to get back to, "What does this look like with just me?"