With his latest album, Indianapolis jazz guitarist Charlie Ballantine did all he could to salute his Hoosier hero Kurt Vonnegut.
"I just wanted to emulate his writing in every decision I made," Ballantine says. "It was going to be eclectic, it was going to be weird, but it was also going to have a sense of singularity and continuity."
Released digitally on Sept. 25, Vonnegut features Ballantine channeling various Vonnegut stories,  characters and themes across nine sprawling songs. Recorded at Indy's own Postal Recording, the album features contributions from Charlie Ballantine on guitar, Rob Dixon on tenor and soprano sax, Amanda Gardier on alto sax and bass clarinet, Jesse Wittman on bass, Mina Keohane on piano, Cassius Goens on drums and Rob Funkhouser on music box and effects.
Ahead of the album's release, our Seth Johnson caught up with Ballantine and his Vonnegut composition partner Keohane for an interview, discussing all that went into the album's creation.
SETH JOHNSON: What initially prompted the idea for this album?
CHARLIE BALLANTINE: It happened pretty naturally. I was re-reading The Sirens of Titan. I finished it, and it was really late at night. This was probably a year-and-a-half ago. It was 2 in the morning. I was in bed but picked up my guitar and started to mess around.
I ended up writing a tune or two based on what I was feeling and thinking. Because there's that feeling immediately after you finish a book, and it's hard to capture that feeling and what's in your head. So I tried to put what I was feeling right after reading that book into music. That gave me the idea. I was like, "If I read more of these novels, I wonder if I could write more tunes." It just spiraled from there.
JOHNSON: This question is for you and Mina both. Can the two of you tell me more about your relationship with Kurt Vonnegut and his work? What do you relate to in his writing?
BALLANTINE: I read a couple of his novels in high school and then a couple in college. He's definitely always been a writer I've really admired and been able to relate to. I think he has a very Midwestern voice. When I read his dialog, it feels like someone from Indianapolis.
There's a dark humor that feels very Midwestern to me. But even before I knew he was this Indianapolis icon, I just felt like I was listening to someone I knew. So I think that's always been my draw with him. And I'm definitely a fellow dark comedy fan. I guess I've just always been able to relate to his voice.
MINA KEOHANE: I'm not an Indiana person originally, so I actually started reading Vonnegut in college. I think I started with Hocus Pocus and then Player Piano, which wouldn't necessarily be the ones that would make you go, "Oh yeah. That's Vonnegut's voice."
But when I first moved to Indy, I read Cat's Cradle, Deadeye Dick and Breakfast of Champions, and that was in my young 20s. So I didn't actually revisit Vonnegut until this project that Charlie brought up.
I love his humor and the cynicism and hopefulness. It's just very good commentary on humanity. There's still that dark slant, but it's really relatable pretty much at all times.
JOHNSON: Once you decided to start doing this album, Charlie, what steps did you take in order to piece it together? Tell me more about the album's writing process.
BALLANTINE: Right away, when I was writing it, I was thinking of the instrumentation. I wanted it to at least be a six-piece group because in his writing there are usually multiple scenarios happening and multiple characters involved. So I wanted it to feel conversational in that way. The only real parameter I set for myself was that all the musicians were going to be from Indianapolis, which wasn't hard at all.
I also wanted there to be unique voices that didn't necessarily get paired together all the time. So we had Mina, Rob, Amanda, Cassius, Jesse and then Rob Funkhouser did a couple things for us too.
JOHNSON: You've mentioned that Mina had a hand in helping you compose some of these tunes. Where did she come into the picture in this process?
BALLANTINE: I had these melodies in my head. I had different parts I knew I wanted to go together in some capacity, but I didn't really know how to piece it all together cleanly. I just had these vague ideas.
I've worked with Mina in a ton of different contexts. One of those is through a studio she manages that does commercial work. All the time, she's given weird instrumentation and weird themes, and she has to make things work that might not always be comfortable or make a whole lot of sense. So that's why I was like, "You'd be perfect to arrange all these weird ideas I have in my head right now."
I gave her the melodies and harmonies that I was thinking of, and she put it into six different parts really nicely. She really went above and beyond with capturing what I had in my head.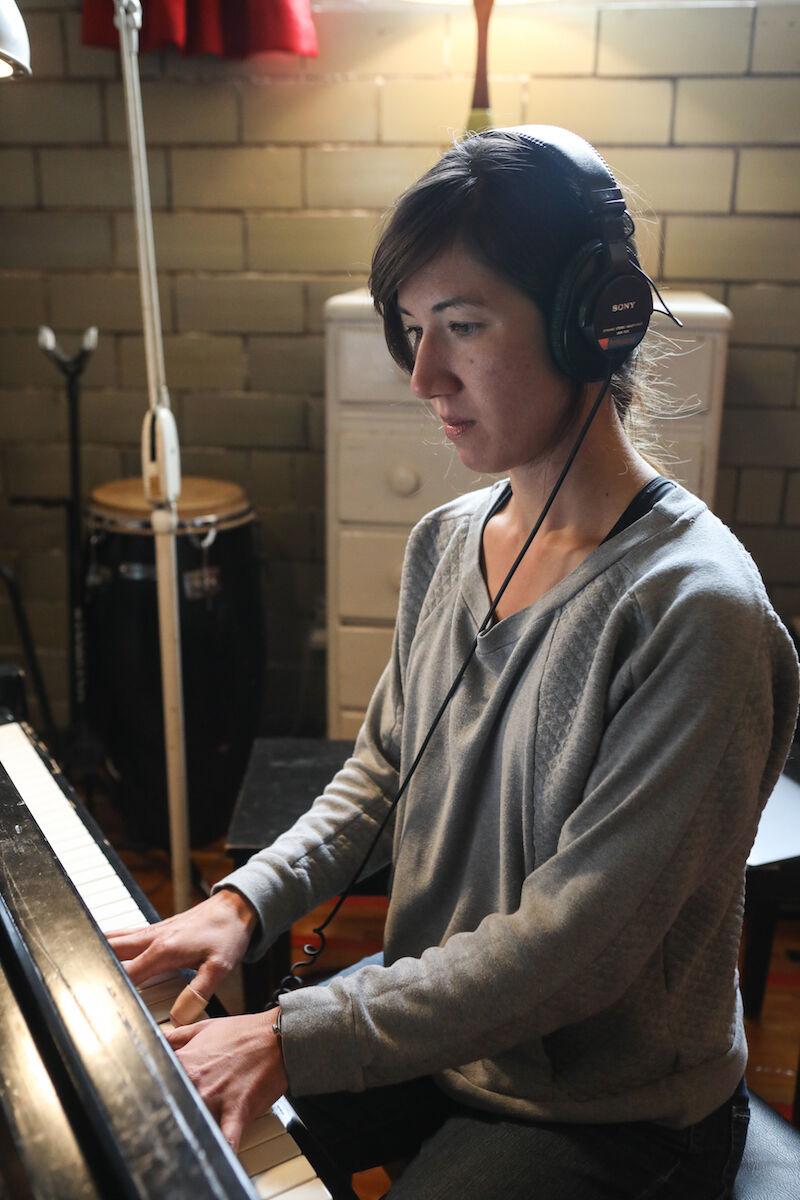 JOHNSON: You mentioned, Mina, that you revisited some of Vonnegut's work during the writing of this album. That being said, how did you go about cross-referencing the texts with these ideas Charlie had in order to compose cohesive songs?
KEOHANE: Each of his tunes is based off of a book he just read. He'd send me a recording of an idea and then a lead sheet or a doodle. For each character or book, I was like, "Oh man. I have to remember what this one was about." Or, "What was this character about?" So I'd Cliffs Notes each book and be like, "Oh yeah, that's right!" And then, I'd think, "How would this make sense?" Or, "How would this vibe with that character?"
"Elouise Metzger" was obviously a very specific tone, which is how Rob Funkhouser got brought into it. But then, we were also like, "Bass clarinet would be really great on this one, wouldn't it?" So just stuff like that.
JOHNSON: When you look at this album, Charlie, how would you say it's different from albums you've put out in the past?
BALLANTINE: It sounds different to me compositionally. In the past, I've used inspiration from other music or other musicians. This time, when I was channeling inspiration from literature, it rendered some interesting results that even surprised me, as far as the compositions I was writing.
Usually, when I write tunes, I don't really have to work on them — it's a natural process. Like, "It came out of my head, so it feels good to play." With this stuff, it didn't necessarily feel like it all came out of my head. I like to think that some of it did come out of Vonnegut. I was taking his ideas and scoring them as accurately as I could.
JOHNSON: Did you have any conversations with Vonnegut-related folks during the making of this album?
BALLANTINE: I didn't really talk to them until it was over. I try to be pretty careful. It's easy to show someone something that knows a lot or has a different point of view, and they're like, "Oh. Well, why don't you do this?" And then, I just rethink my entire existence.
But I did enjoy working with the Vonnegut Museum after we had recorded it. I showed them some of the music. I felt very validated when a lot of people from the museum reached out to me and were like, "I think this song really captures this character." That was the highest compliment I could get, from these people who are so invested in this writer.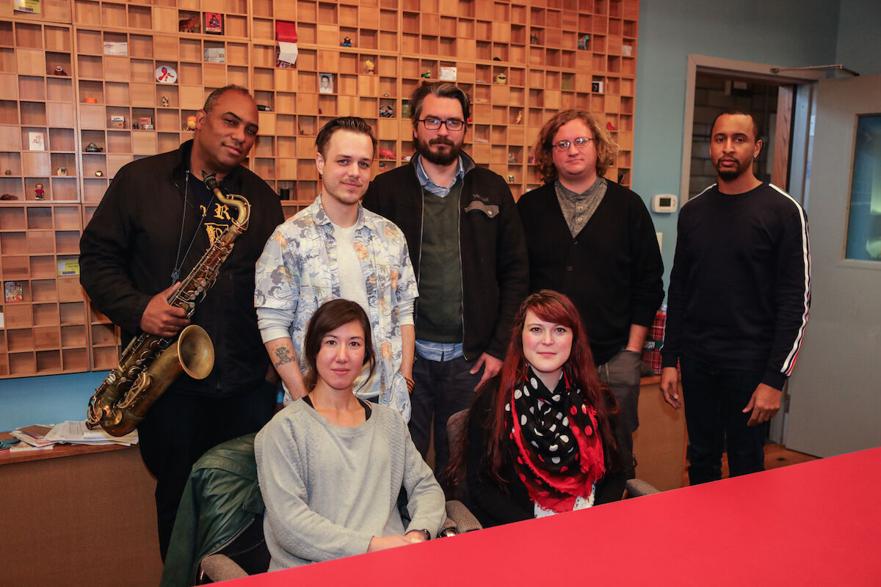 JOHNSON: I know you recorded this album at Postal Recording, where you've previously recorded. Some of the musicians on this album, however, are people you don't always play with. What did you enjoy about being in the studio with this cast of characters?
BALLANTINE: The studio is a great hang, especially at Postal. So a lot of times when I'm picking who will be on each record, I'm like, "Oh yeah. This will be a good hang. These eight people will be fun to grab some tacos with at lunch."
As awesome of a musician that Rob Dixon is, he might even be a better hang in the studio. I love having Rob on sessions. I always feel pretty tense and have a lot going on during those studio days, so having people there to talk me off the ledge keeps me at ease.
Musically, I do think that these are just the best people in the city. I don't think we did more than three takes on anything. There aren't really any overdubs either. Everyone was just pumping the music out and really putting their own voice on everything. It was as perfect as a session gets for this type of creative project.
JOHNSON: Considering we're still in the midst of the COVID-19 pandemic, what release plans do you have for the album?
BALLANTINE: Mina is back on the arranging train for me because we got a commission from Indy Jazz Fest. Originally, we were going to headline the festival, along with some other local groups, and that was either going to be at the Walker or the Cabaret. But then, COVID hit, so that fell threw.
Now, we're going to record at WFYI, and I think it'll be released late October or early November. We're going to have everyone that was on the record as well as a string quartet, just to give it a different vibe than it has on the record. So it'll be a fun experience for us to rehearse this stuff again and hear it in a new light. I'm also excited to see what Mina comes up with by adding four new voices into the mix.
All photos by Mark Sheldon