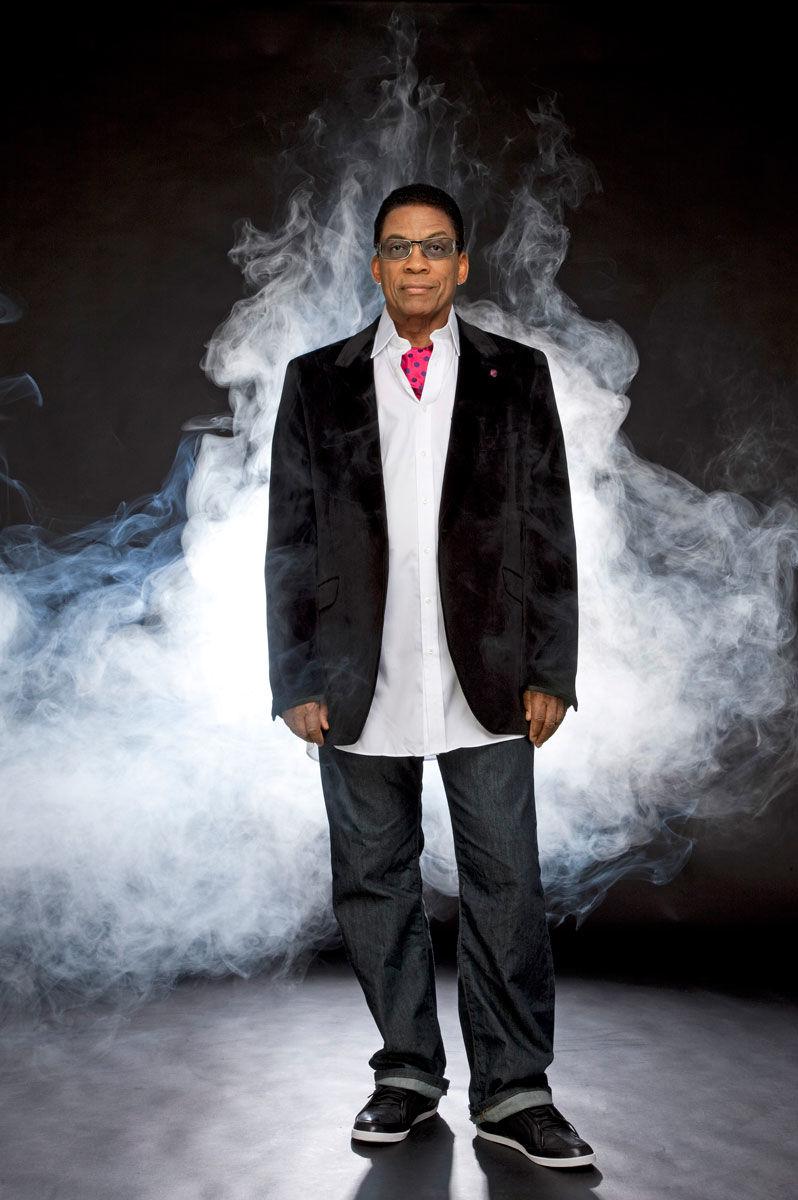 Jazz icon and music innovator Herbie Hancock will be performing in Downtown Indianapolis on June 26 at Hilbert Circle Theatre. The list of Hancock's many awards, achievements, and artistic breakthroughs is both extensive and well documented. So let's jump straight into my recent conversation with the maestro. Read on to learn more about Hancock's work with a pair of Indy jazz greats and head to IndianapolisSymphony.org to grab your ticket.
NUVO: I'm speaking to you from Indianapolis, so I have to ask about your work with one of our biggest jazz icons. While you're not known for your work with Wes Montgomery, you played on more of Wes' studio albums than any other pianist did. You played piano on five of Wes' albums, from Goin' Out of My Head in 1966 to his final studio recording Road Song in 1968. What do you remember about working with Wes Montgomery?
HERBIE HANCOCK: Wes was an amazing musician. He could play a melody with such heart that it always deeply touched all the listeners. He had a certain kind of simplicity that resonated with everybody. He cut through the complexity of what other musicians were playing with just a few notes. Wes invented this way of playing melodies in octaves—it was his own technique that he invented. So he was not only a great player, but also kind of an inventor of a new style of playing that was picked up by George Benson and many others. And Wes could strike a groove! [laughs] Your life could depend on that groove, and it would be right there like a heartbeat. Wes was a great musician and a great person to work with. He had this amazing self-taught talent.
NUVO: Was your relationship with Wes limited strictly to the studio? Did you ever play any dates with him outside the studio?
HANCOCK: Actually, no. Wes didn't hang out a lot back in those days, I mean, [as far as] going to the clubs and listening to other groups. I didn't see him hanging out at night like that. I think he would drive back to Indianapolis. That was really his home rather than New York. He would drive to New York if he had to record there; at least that was what I was told. But I never saw Wes hanging out in the clubs.
NUVO: All of the Wes Montgomery recordings you played on were produced by Creed Taylor. At the time, those records were criticized by jazz purists for being too commercial—I think some purists still criticize them today. What did you make of the music Wes recorded with Creed Taylor?
HANCOCK: I don't think they're criticized anymore. Those are beautiful records. By the way, one of the reasons I was on Wes' records was because the producer Creed Taylor, who was the head of CTI Records [Creed Taylor Incorporated], used Ron Carter and myself as a go-to rhythm section on his sessions. I think that was probably the main reason I was asked to be on Wes' records and other records by artists that recorded on CTI.
NUVO: When you would get a call to come record with Wes, did you feel as if that was an important session or was it just another job for you?
HANCOCK: I was always excited to be able to work with Wes. By the way, I'd imagine Creed Taylor always got permission from Wes to use me. Maybe Wes didn't know me at first, but I think the first time I did one of his records, I passed the test. [laughs]
NUVO: Another musician from Indianapolis I have to ask you about is the great trumpet player Freddie Hubbard. Freddie played on your first album as a leader, 1962's Takin' Off on Blue Note. You had a long artistic connection with Freddie that extended into the 1980s with your all-star jazz group V.S.O.P. What memories do you have of working with Freddie?
HANCOCK: Freddie was a fun guy. He was serious about music, especially if he had to speak about it in interviews or on television. But playing with Freddie, he was so creative. He loved the piano, and he told me that what always inspired him to play trumpet and what outlined his direction was what piano players could do on the keys. So Freddie tried to play the trumpet like a piano player would play. He developed an amazing technique, and yet at the same time, it wasn't just technique. He had a sound that was totally his. It seems like from day one he had his own sound. He came on the scene in New York just slightly before I did, and he worked with Art Blakey and the Jazz Messengers. But Freddie was on my first record and many records beyond that.
NUVO: Freddie played on a few key records during your Blue Note period, including Empyrean Isles in 1964 and Maiden Voyage in 1965. You mentioned that on the CTI sessions with Wes you were essentially part of a stock group of players Creed Taylor was using. Was that the case with Freddie's appearance on your Blue Note recordings? Did you specifically ask him to play on those sessions or did Blue Note put those groups together for you?
HANCOCK: In the beginning, I wouldn't dare choose anybody. [laughs] The choices were made by Alfred Lion and Frank Wolff at Blue Note. I was too frightened to make a choice on my first record, so they suggested it. I didn't want them to say no to anything. But Freddie did such an amazing job on my first record that I would always try to get him. If I wanted a trumpet, Freddie was always my first choice. Generally speaking, Freddie was pretty much everybody's first choice.
NUVO: You're famous for your work fusing electronic music with jazz. I know you grew up on the Southside of Chicago. During your teenage years, the great jazz visionary Sun Ra was very active on the Southside of Chicago. Sun Ra was one of the first musicians to incorporate synthesizers and electric piano in a jazz context. I've always been curious if you were aware of Sun Ra as a teenager in Chicago and if any of his music or ideas influenced you at all.
HERBIE: Sure, I knew who Sun Ra was. I didn't meet him until much later after I'd left Chicago and started my own career. But all the jazz musicians in Chicago knew about Sun Ra and his Arkestra. He was very well respected as an avant-garde guy with a new and different take on music. The jazz scene was like that in Chicago. It was very accepting of people who expressed themselves in unconventional ways. But I didn't think of Sun Ra so much as a keyboard player. Yes, he played piano and keyboards, but he was more of a conceptualist. He was more of a designer of a school of music. I think I can safely say that because so many musicians came from working in his band, and they had that Sun Ra seal placed on them. If someone left Sun Ra's band and went to New York and recorded with other musicians, everybody knew they played with Sun Ra.
NUVO: What did you make of Sun Ra after having the opportunity to meet him?
Herbie: He was very interesting. I wasn't a huge fan of Sun Ra at the time, but I did go to some of his concerts. It was strange to me. It was strange and different. Later on, I began to respect him more because the range of music he played. Sun Ra integrated music from the 1920s or '30s with the more far-out music settings. The scope was so broad, and I didn't realize early on how broad the scope of his band was and how broad the scope of his concept was. I found that out later.
NUVO: Finally, I wanted to ask for your thoughts on a controversial statement recently made by Wynton Marsalis. I know you have some history with Wynton. In the early '80s when Freddie Hubbard left V.S.O.P., you filled his spot with Wynton. In an interview with the Washington Post last month, Wynton stated that he believes hip-hop is a more damaging cultural influence than the presence of a Confederate statue. You've embraced hip-hop music in your work, so I'm curious what you make of the idea that rap is a corrosive or destructive cultural force.
HERBIE: That seems strange to me. I could understand that a little more about some earlier examples of rap when the language that was used toward women was kind of derogatory. There was also the whole bling thing that was happening back in the day. But they were young people. They were young, and they were actually telling the truth about their life. I wasn't in agreement with that mode of expression, but a lot of that has changed so much over the years.
When Wynton was young, the press could easily get him started throwing things against the wall verbally. He'd go in negative extremes talking about some of the key figures in jazz—I mean, people who advanced the art form like Miles. Wynton said negative things about Miles and Sonny Rollins and some others. I'm only now hearing about this statement from Wynton through you, but if he said what you're saying he said, I think something must have stirred up his blood to throw some music against the wall again. [laughs] I know in the past, he would say things when he was touring with me. Once we were interviewed together, and he went off on this tirade about Miles and Sonny Rollins. After the interview, he sort of apologized to me about it.
Sometimes Wynton has a tendency to be very judgmental. Being judgmental can sometimes serve us well. If there's something dangerous that's really challenging us, we need to be judgmental. But the spirit of jazz is not about being judgmental. It's about being able to encourage things to blossom into something beautiful. I just don't agree with that kind of approach to music. I don't think it does a service to anyone.
The refinement of hip-hop has happened. Hip-hop artists are expressing themselves in a very creative way. There are so many amazing rap artists. Kendrick Lamar has amazing things to say in an amazing way. He's extremely talented, as are so many others. Snoop Dogg is really talented, and he's not saying negative things anymore. Snoop Dogg has been a real inspiration for bringing people together and encouraging young people to turn their anger into a force of passion for good. I think all that's good and all that's important. If as you're saying, Wynton has said negative things, I think he needs to talk about the positive sides of what hip-hop artists are doing.
NUVO: There have been some stories circulating that you're collaborating with both Kendrick Lamar and Snoop Dogg for your upcoming album. Is that correct?
HANCOCK: Yes, it is. I'm working with them because I respect what they're doing and what they're saying. I had to go through some soul searching in order to be able to hear that. I had to get past the language barrier that I'd set up. But now I understand something that wasn't clear to me before, and that is young people can spot insincerity a mile away. They want to hear something that is raw and that is expressed in a way that they hear in their neighborhoods. So I had to get past my own blockage to hear the beauty that's actually being expressed in the truth of the words. I think Wynton needs to go through that. I don't know if he will. We'll have to see.