After 17 months of work over three project phases and engagement with over 1,200 members of the Indianapolis music community, the Indy Music Strategy was officially unveiled to the public on April 6, 2021, laying out a plan to ensure Indianapolis emerges from the COVID-19 crisis as a world-class music city.
As was originally reported by NUVO in 2019, Indy Chamber, alongside Central Indiana Community Foundation, City of Indianapolis, and Visit Indy began work on the Indy Music Strategy in 2019, having international consultancy Sound Diplomacy advise the process. In order to develop a strategy that was accurate and honest, Sound Diplomacy looked at Indy's music community from a myriad of angles, including a regulatory assessment, an ecological impact assessment, and an economic impact assessment. All of the findings from this research can now be found in an in-depth, 142-page report, which is laid out more concisely via this executive summary.
Due to the coronavirus pandemic, the unveiling of the Indy Music Strategy was pushed back, says former project manager Jim Rawlinson. In the end, however, he believes this delay allowed for the report to be more on track with a post-COVID Indy.
"Honestly, it's not good that the pandemic happened, but the fact that it happened allowed Sound Diplomacy to go back through the report and make some more relevant recommendations, making it more meaningful for the world that we're going into than where we were 13 months ago," says Rawlinson, who has now moved on from his role with Indy Chamber but will still remain involved with the strategy and its implementation going forward.
Within the Indy Music Strategy, 19 recommendations for Indy's music ecosystem are laid out across six action areas: governance and leadership, music education, artist and industry development, spaces and places, audience development, and music tourism. These recommendations can be seen below, along with their suggested timeline for completion.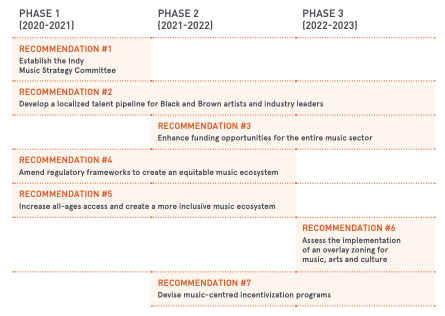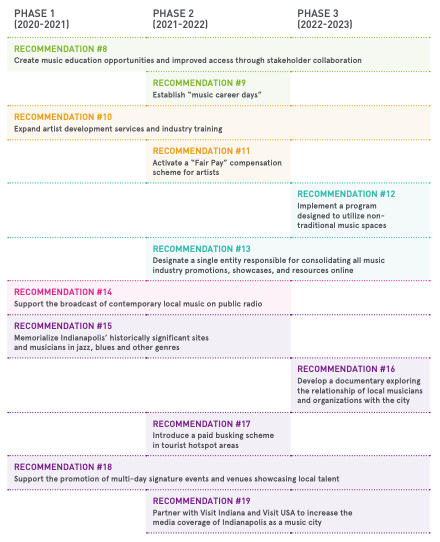 Now that these recommendations are in place, current Indy Music Strategy project manager Susanna Taft says the next step is to assemble an Indy Music Strategy Implementation Committee to ensure these recommendations get accomplished.
"With this next phase, we really want to bring people on who can help us achieve some of these recommendations, so they're going to be a lot of community partners," Taft says. "Some people that were initially involved from the start will continue to be involved. We don't have everyone confirmed on that committee yet, so we're still building it and still looking for recommendations."
Taft says members of the music community are welcome to contact her via the Indy Music Strategy website with suggestions on who to include in this implementation committee. After this committee has officially been assembled, it's time to get to work, she says.
"Once we have that newly formed committee together, we'll go through the recommendations, highlight which ones seem like the right first steps, and then create three subcommittees, which would be focused on policy and economic development, artist services and education, and marketing and placemaking," Taft says. "We would take a few of those recommendations that are laid out in the plan, focus on one or two in each of those categories for the first year, and then slowly go through the plan."
From the beginning, Taft says the City of Indianapolis has been supportive of the Indy Music Strategy project. Going forward, she sees them playing a crucial part in making sure some of the policy-centric recommendations are met.
"Working with city government can be really difficult, and they're trying to ease that burden," Taft says. "They want to better support the music community here, so they'll continue to be involved through the strategy. I specifically see it being really helpful from the permitting and regulatory side. Having a partnership with the city can be really helpful in that way as we're looking at easing the burden of navigating the permitting process."
While city leaders may be able to help with some of the report's recommendations, Taft emphasizes that the Indy Music Strategy project will continue to be steered by the local community it's meant to serve.
"The Music Strategy isn't an organization," she says. "We want it to be more of a collective impact model where we're talking to all the partners who are already doing good work in the community and just having it be more of a coordinated effort. It's just a committee of people that are coming together and trying to achieve the same mission of making Indy a great place for music — from the artist's perspective, the civic perspective, and the music appreciator's perspective."
Cover photo by Jay Goldz