While many may know Benjamin Masbaum from playing in heavier bands like Lafcadio, the Indianapolis native has now turned a new pop-centric page with his latest project Ginkgo Balboa.
"Essentially since I've gotten divorced and found this new life, I started noticing my influences were evolving," says Masbaum, who's lived in Los Angeles for the last seven years since moving there from Indianapolis. "So with Ginkgo Balboa, I'm especially channeling a lot of '90s R&B. I'm channeling a lot of lounge, a lot of '80s and that whole post-erotica sound from the '70s."
Consisting of Masbaum and co-founder Mike Bednarsky, Ginkgo Balboa were able to make a solid first impression with their 2020 self-titled debut EP, presenting a collection of six intricately composed indie pop tunes that bring to mind acts like Holy Ghost, Tame Impala and TV on the Radio.
Following the July release of their EP, our Seth Johnson caught up with Masbaum for a phone interview, discussing the formation of Ginkgo Balboa and much more.
SETH JOHNSON: I know NUVO has written about you in the past, but let's catch readers up a little bit. First off, can you tell me where you're originally from?
BENJAMIN MASBAUM: Originally, I grew up on the eastside of Indy, but then spent a lot of formative years in Broad Ripple and Fountain Square. I've been a musician ever since I was 15.
JOHNSON: What were some of your regular music spots in Indy back then?
MASBAUM: Originally, it was mostly at the Emerson. I lived down the street from it, so I essentially started going to shows, which basically inspired me to become a musician. The Melody Inn was another big venue that we played a lot, in all the bands that I played in. Locals Only was another big one, which no longer exists either.
JOHNSON: What was the first project you started while here in Indy?
MASBAUM: Right after high school, I started this band called Gogglesphere, and that was a metal band. Later, that then changed to Lafcadio. We were on Joyful Noise, and Karl Hofstetter [the label's founder] was our drummer. He was starting Joyful Noise at the time, so we were on Joyful Noise. We did a lot of touring, mostly in the Midwest and to the East Coast. That was around until about 2009.
We disbanded and went our separate ways. I was then in bands with Zach Peterson, who was also in Lafcadio. One in particular was Large Bee, and then there was another called Household Guns.
JOHNSON: What eventually led you to Los Angeles?
MASBAUM: I went to IU's School of Informatics and had a film focus. So I came out here [to L.A.] with my then-wife to basically take  musical hiatus and focus on directing and writing. Three years ago, we ended up divorcing. I was living on my own, basically just Lyft driving for a really long time until I finally found this video-editing job that I still have.
I've been recording for the entire time that I've been living in L.A., which is seven years. I really wanted to pick the hobby back up again and try to be in a band. Mike [of Ginkgo Balboa] and I met in the summer of 2018, doing work for California Beer Fest. We met and realized we had a lot in common musically. So in 2019, we decided to form a band.
The six songs on our EP were started in 2019, and everything has snowballed from there. We've been writing a lot of music. Our goal was to be playing shows and touring by April, but COVID-19 had other plans for us. [laughs]
So right now, we're focusing on different ways that we can get our name out there virtually. We're thinking about doing virtual performances and maybe some music videos. We also have more songs we're writing and are also talking with various L.A.-based directors to get music video ideas hashed out.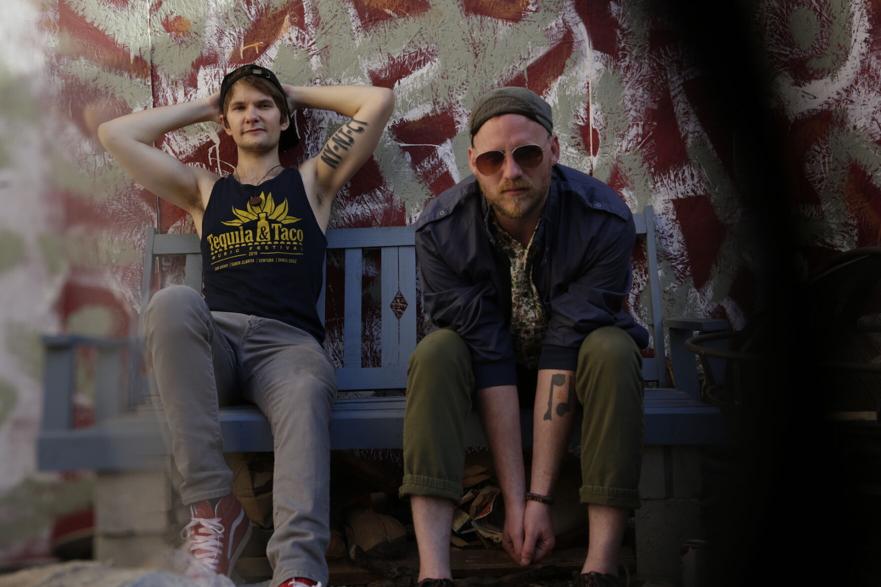 JOHNSON: What were you drawn to in your fellow Ginkgo Balboa bandmate Mike?
MASBAUM: He has a background in poetry and a longstanding background in music as well. When we started talking, we realized we had a lot musically in common. For whatever reason, one band we ended up talking about was Slint, the Louisville band from the late '80s. We were amazed at the fact that both of us even heard that band, especially since there's a bit of an age gap between he and I.
We became friends because we found out while working that we lived within 10 minutes of each other in the Valley here. Through our days of hanging out, we made the decision, like, "Since we're talking about this all the time, we might as well solidify it." Especially since I'm already a musician, and he's already a singer/poet. We thought it would be almost ridiculous not to.
JOHNSON: What have you enjoyed about working with Mike, and how has it been a breath of fresh air for you?
MASBAUM: The major breath of fresh air is my creative opinions can to be utilized more. I don't usually get a lot of kickback from Mike. But when you're playing in a band with four or five people who are all helping to contribute to the writing process, you get a lot of bumping heads, and you get some egos involved. I think what Mike and I have going on takes a lot of the ego out of it. We sort of have our own lanes we stay in, although we'll throw our blinkers on and let each other in every now and then. [laughs]
JOHNSON: How has this project been different than things you've worked on in the past?
MASBAUM: I've always tried to make my music as accessible as I possibly can, while still not being in the realms of pop. But recently with Ginkgo Balboa, we tap into a little bit more of that pop sound, but I still think there's a lot of room open to experimental sounds as well. It's just different in the sense that it's a lot poppier than what I'm normally known for doing, which would be more math rock and metal.
There are other people who are doing big things in similar genres as us, who also came out of that math rock school of thought. Still Woozy is one band we both listen to, and he started out in a math rock band.
JOHNSON: You mentioned music videos and virtual performances. What all are you looking to do with this project going forward with the rest of 2020?
MASBAUM: Let's say we're able to get back to normal life in November, the No. 1 priority for us is to start playing shows. Right now, we're auditioning people who have been playing in L.A. for a long time and have played with some pretty big acts. I won't go into names on that, just to keep them anonymous.
We also have a couple music videos in the works. We just released this EP. But from here on out into the foreseeable future, we're going to be releasing singles. And every time a single is released, we'll also have a promotional campaign to get our music out. And then hopefully in the next year, we'll be traveling, at least across the country.
Cover photo by Adam Gotsens