While hometown fans may know Indy native John Stamps for his catalog of rap music, the multi-talented artist has recently embarked on another endeavor that's bringing him just as much success.
Alongside fellow Indy native and longtime production partner Knags, Stamps is now a DJ and master of ceremonies at two much-loved dance parties — a Honky Tonk-themed DJ night called Boot Scoot and a 2000s-themed DJ night called Nostalgic. Having bolstered a following for both parties in Indianapolis and Nashville, Stamps' events will now regularly be on the calendar in both cities, with Nostalgic coming to the Saint Shack in Indy on Sept. 24 and Oct. 14 and Boot Scoot coming to Duke's Indy on Oct. 15.
If you haven't been keeping tabs with Stamps on Instagram, you may not know the Indy-born artist currently calls Nashville home — a move he made last June after coming to a crossroads in life.
"I had gotten out of a relationship in January and was living in my dad's basement, trying to figure out my next move," Stamps says. "My dad lives in the same neighborhood as one of my high school friends and earliest collaborators, Alex Collignon, who lives in Nashville and is a talent agent at WME. He'd been in my ear forever about moving to Nashville. Around the same time, I was hanging out with him because he was working from home."
Thanks to Collignon's connections, Stamps was able to quickly find roommates in Nashville. With bartending experience, he had little trouble finding an initial job in the service industry too.
"It just felt like a good time for that cliché fresh start," Stamps says. "I was also still bartending at that point, and everybody wasn't going back to work yet because we were still getting really good unemployment. So I was like, 'If I go down there right now and I'm willing to start working, I bet I can get in somewhere cool.'"
When it came to making music with producer Knags, Stamps says few adjustments needed to be made when the two went long-distance. "Even when I lived in town, we were sending things back and forth," he says. "So I knew that we were capable of doing it — it was just a matter of us really having conversations with each other."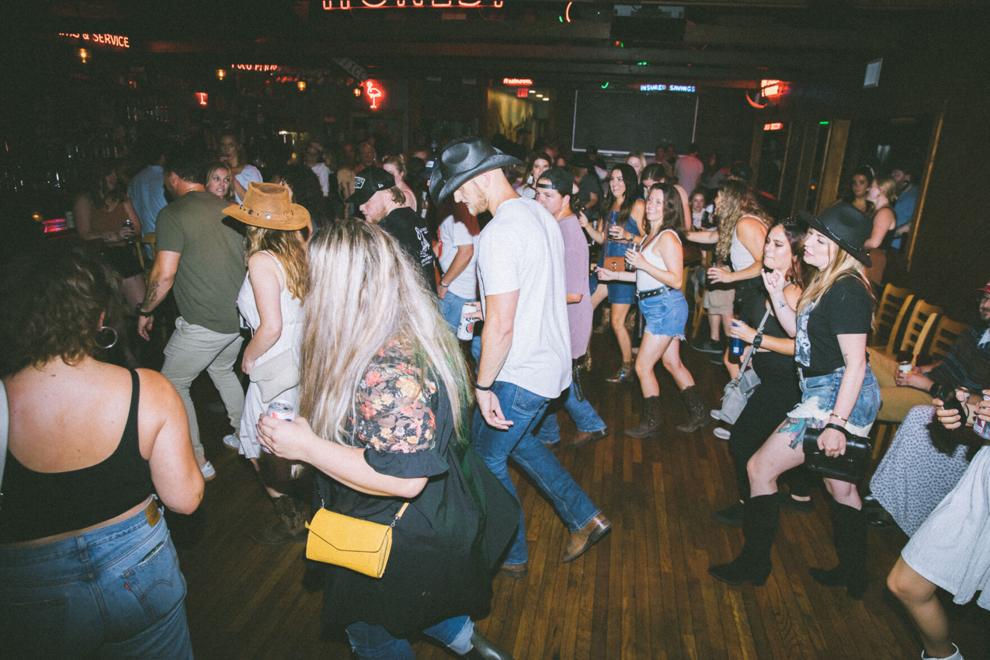 In addition to their established relationship as musical collaborators, Stamps and Knags had also found success co-hosting/DJing their Boot Scoot event at Duke's Indy, which dates back to December 2019. With one monthly party under their belts, Stamps decided to curate another one in Nashville called Nostalgic in April 2021, which found its legs in no time.
"We had 50-ish people out to that first one, and it was a good night, and everybody had a good time," Stamps says. "We had like 150 people come out to the one in May. Then, we did it again in June, and we had 250+."
Having now also added Autumn Dozier to their team to help with photography, videography and event promotion, Stamps and Knags will bring Nostalgic to Indianapolis for the first time this fall, while also beginning a weekly residency with Boot Scoot at Nashville's Graduate Hotel starting on Sept. 29.
"Our plan with this stuff is to get a couple solid events in line that we can move around and do all over the place," Stamps says.
While Stamps and Knags have stayed busy throwing parties, however, the duo has also continued working on music as well, wracking up quite a collection of unreleased songs that explore a wide array of sounds.
"We've probably got 40 to 50 unreleased songs," Stamps says. "We have rap songs. We have country songs. We have rock songs. But you could put them all on the same album, and I don't think anyone would bat an eye."
In looking ahead to his next release, Stamps says he's in no rush to put out a project for the sole purpose of making sure people don't forget about him. Instead, his plan is to be more strategic with the promotional rollout, just as he's done with the DJ events.
"With time, effort, and being intentional, I've seen how much success this DJing stuff can bring me," Stamps says. "So until I have that same game plan and design for this music, I'd be doing it a disservice."