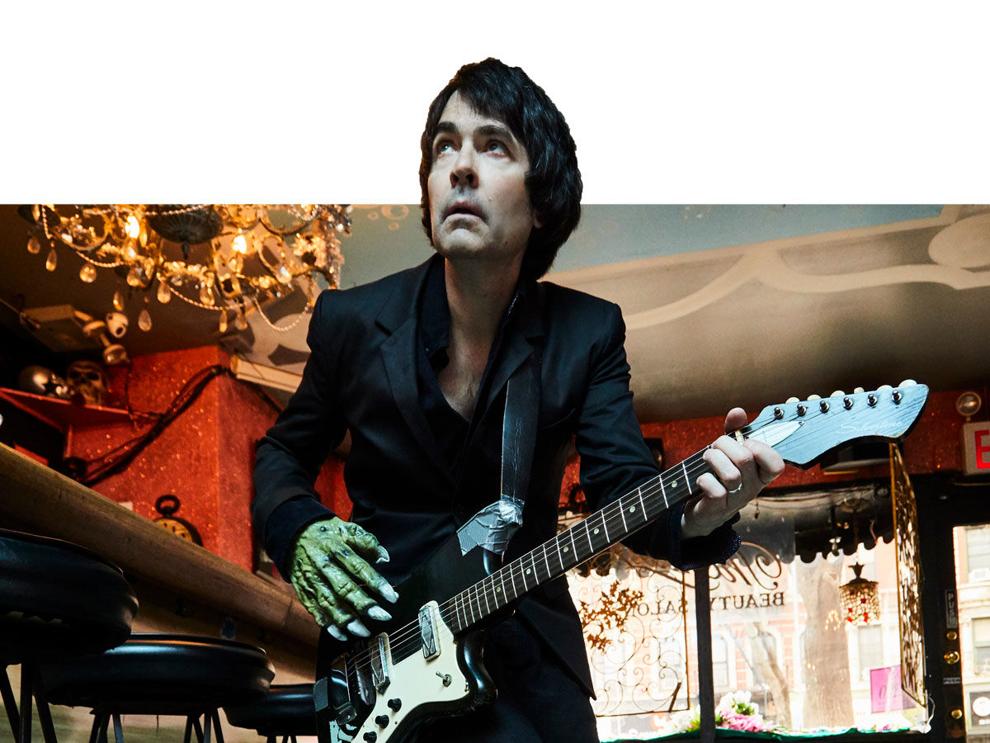 For decades, Jon Spencer has produced all kinds of badass garage-rock sounds, whether it's been with Jon Spencer Blues Explosion, Pussy Galore, or Boss Hog. Recently, however, the underground legend was able to reach a new audience, as his song "Bellbottoms" was featured heavily in the 2017 action film Baby Driver.
"I'm a big fan of Edgar Wright's work," Spencer says. "For me, it was totally amazing to see one of the Blues Explosion songs used like that. It was a really great thing for us too as far as hipping a lot of new people to our band."
On Sunday, Aug. 5, Spencer will make his way to Indianapolis for a solo performance at the Vogue, opening up for the Melvins. Ahead of the show, we caught up with him and talked about his upcoming solo album and the relationship he has with Indianapolis rock band Service.
NUVO: When Pussy Galore moved to New York, what was the underground music climate like there? What did you like about New York at that time
JON SPENCER: I kind of liked everything about it. The fact that it was this huge city and noisy place. The buildings and the streets. All the bricks and concrete and steel. The city itself, which is overwhelming and imposing. But more importantly, the music and the art. Most of all, we were just so into the bands that were around then. I was really into the Lower East Side art scene as well. In particular, it was people like Lydia Lunch, Swans, Sonic Youth. The no wave stuff, and of course, the punk stuff before that. The Ramones, and then you go even earlier to the New York Dolls to Suicide to the Velvets. It was such an intimidating and overwhelming place, but there was this rich history of subversive art. Back then, if you wanted to connect with like-minded freaks, you kind of had to go to a city like New York. You couldn't go online and find stuff like that. You had to search it out, so physical proximity was important.
NUVO: What do you miss about that time in New York?
SPENCER: There are specific clubs, bars, restaurants, bookshops, record stores. There are things that I miss. There are people that I miss that are either no longer living here or no longer living. There are definitely things that I miss, but there are definitely things that I just don't do anymore. The city has changed, but I've also changed a great deal. When I first came here in the mid- '80s, part of the appeal was also that it wasn't an entirely safe place. There was a bit of danger, and that was added to the romantic appeal. That is long gone, at least certainly where I live.
I think one of the saddest things is that a lot of the things that made New York City unique and special, the characters and the businesses…these things can't survive. More and more, you find a local bookstore closing down and being replaced by a Dunkin' Donuts or a bank. Or, you hear about somebody moving out because they just can't afford to pay the rent. So it's sad to see the stuff that really made this city so unique and special, in my eyes, just getting pushed out due to capitalism.
NUVO: How did your relationship with R.L. Burnside begin?
SPENCER: In the Blues Explosion, we were big fans of R.L.'s record, and we were listening to it all the time. This was in the very early days of Fat Possum, the label from Oxford, Mississippi, which was putting out people like R.L. Burnside and Junior Kimbrough. I was already aware of some of these artists. And then, when Fat Possum started and these new recordings started coming out by these artists, I was snapping them up, and that R.L. record just really blew us away. We were just listening to it all the time.
I thought, "Maybe we could play a show together," so I reached out to Fat Possum and suggested playing some dates together. It was as easy as that. I guess initially it wasn't that easy because they said no, and then I had to appeal to a common friend to put in a good word. One Memphis filmmaker [either Dan Rose or Robert Gordon] put in a good word with Matthew Johnson at Fat Possum. He told him, "No, the Blues Explosion are okay. This would actually be a good thing. You should do the shows." So we played a handful of shows, and we hit it off. It was a good formula, so we did a lot more. That was a really great time.
NUVO: For the last few years, Jon Spencer Blues Explosion drummer Russell Simins has been in Indy, playing in the band Service. How far back does your relationship with Russell go?
SPENCER: I met Russell in 1990. He was the new drummer for a band called The Honeymoon Killers. The Honeymoon Killers were a Lower East Side noisy scum-rock band. They were our friends, and we didn't live far from them in East Village. They had this new drummer named Russell. This was after Pussy Galore, so I started going by their practice space and hanging out. And then, I just started sitting in and playing with them. I actually played in The Honeymoon Killers for a stint with Russell. So I met him in '90, and we started the Blues Explosion soon after.
NUVO: Have you heard Service?
SPENCER: I've seen a couple things online. I was a big fan of We Are Hex, and I'm a big fan of Russell. So I think it should be a good group I haven't seen them live. I've just heard some clips online.
NUVO: The Blues Explosion song "Bellbottoms" was featured heavily in the recent action film Baby Driver. How did that whole situation come about?
SPENCER: Apparently Edgar Wright, the writer and director for Baby Driver, had had the idea since he heard the song the first time in '94 or '95. That's what he told me. I think in some ways "Bellbottoms" was kind of the inspiration for the entire movie. I first met Edgar in 2005 after Shaun of the Dead came out. One of the first things he told me was that he really wanted to use "Bellbottoms" in a movie. I said, "Yeah, that sounds great." [laughs] And then, it wasn't until 2016 that the movie was filmed. So he had that idea for over 20 years. When it finally was happening, he let me know, and then I started doing all the legal stuff with the movie studio.
NUVO: I know you're putting out your first solo record in the fall. What went into the decision to go down this solo route?
SPENCER: Because I wanted to do something, and I don't have a band. [laughs] I needed to just get out there and start something new. Boss Hog [a band he's in with his wife] put a record out about a year ago called Brood X. We did some touring, but we were somewhat limited because most people in the group have full-time jobs. We've done some touring. We'd like to do more, but we can't go out for weeks at a time.
I was really missing having a band. Last summer, I wrote a bunch of songs and then took a trip out to Benton Harbor, Michigan to work at Key Club Recording and made this record Spencer Sings the Hits! I worked with Sam Coomes, who is best known for being one half of Quasi. Sam played bass using a lot of synthesizers, and the drummer is a local guy from Kalamazoo named M. Sord. Sord was somebody that I got to know from working at the Key Club. He's kind of like the studio handyman, but he's also a great drummer.
We tracked the record last fall, and the session got cut short because my father-in-law passed away. Then, in January, I went back out to the Key Club to finish the record—to overdub and mix the thing. It's been done for a while, and hopefully it'll be out in October. If people come out and see us play, we will have a special prerelease vinyl-only tour edition of the record. So you could buy a copy if you come to the show. Otherwise, you've gotta wait until October. I should also mention that joining us live on these dates will be my old friend Bob Bert, who was in Pussy Galore with me. There are going to be four of us.
NUVO: Your solo record is coming out via In the Red Records. What drew you to that label?
SPENCER: I've known Larry Hardy, the guy who runs In the Red, since the '80s. He's an old friend. But the main reason I'm doing the record with In the Red is not because I'm pals with the guy who runs the label—it's because I think it's a good label. In the Red has put out many great records. I thought that I would be in good company, and it was also important to me to work with a label that was enthusiastic about my record.
NUVO: Jon Spencer Blues Explosion released a split with the Melvins, who you'll be playing with when you visit Indianapolis. Talk to me about your relationship with them.
SPENCER: I've known Buzz and Dale for many years. I'm pretty sure Pussy Galore at least played one show with the Melvins. I have nothing but the utmost respect for those guys. They've done their own thing and done it really well for many, many years. They're exactly the kind of artist that I aspire to be. I think they have great work ethic and a great body of work. Other than that, I'm just looking forward to hearing them every night. They're such a great live band.