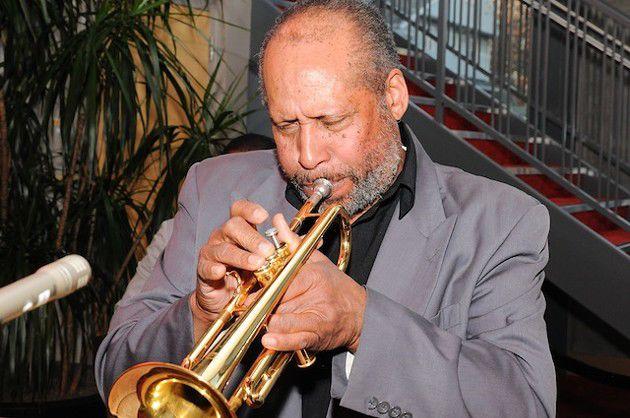 April is Jazz Appreciation Month, and I can't think of a better way to commemorate the occasion than by presenting my recent interview with the legendary Indianapolis trumpet player Clifford Ratliff.
"I don't like doing interviews," Ratliff told me during our recent conversation. That detail will be immediately obvious to most Indianapolis jazz fans.
Despite Ratliff's critical role in Indianapolis jazz history, little has been written about his work. Ratliff has worked with many of Indy's most important jazz players, from David Baker to Jimmy Coe. And he's performed on some of the most significant jazz albums ever recorded in Naptown, including Russell Webster's world famous Uncle Funkenstein project. Read on to learn more about the life and work of one of Indy's most important, and least-recognized musicians.
NUVO: I understand you were born and raised in Indianapolis, and you attended high school at Crispus Attucks.
Clifford Ratliff: I started at Attucks in 1961.
NUVO: Did you study music at Attucks?
Ratliff: Yes, with Russell Brown.
NUVO: What kind of man was Russell Brown to study with?
Ratliff: Great, but he was kind of hard on you. If you didn't play like he wanted you to, he'd snatch the horn right out of your mouth. But he meant well. He brought a lot of musicians up.
NUVO: When did you start getting interested in jazz music?
Ratliff: I guess when I was about 13. My brother bought me a couple albums, The Electrifying Dizzy Gillespie and Miles Davis' Sketches of Spain. I started listening to them, and I haven't played much rock since. Because I'd been playing with a rock band at that time.
NUVO: Are you talking about The Highlighters?
Ratliff: Yes.
NUVO: You were a founding member of The Highlighters. After you left the group, they went on to record several classic funk 45s like "Funky 16 Corners" that have attracted a significant cult audience among soul music fans and record collectors around the world. When you played with the group, they had a different sound, correct?
Ratliff: Yes, and at first the band name was The Jazzettes. From there, other people started joining the group, and the sound started changing.
NUVO: How old were you when you started with The Jazzettes?
Ratliff: I was about 14.
NUVO: What kind of tunes were you playing with The Jazzettes?
Ratliff: Stuff like "Jive Samba" by Cannonball Adderley. Songs like that.
NUVO: Who else was in the group with you at that time?
Ratliff: Clifford Palmer played saxophone, Ricky Ball played piano, James Edwards was on drums, and Richard Carbon was playing bass.
NUVO: I've heard you came up with the name The Highlighters. Is that correct?
Ratliff: No, my brothers did. You know when guys used to go out and have fun and drink and everything, they called it a highlight. So my brothers said, "You ought to name your band The Highlighters." I said, "That sounds like a good name." So we changed the name.
Related:  A Cultural Manifesto: 45 must-hear Hoosier 45s
NUVO: Why did you leave the group?
Ratliff: I think I was about 15 then, and I started playing with this group at Harem's Lounge. When I started playing with them, everything was so hip. I said, "Man, I don't want to play with those other guys no more." So I started playing with the older guys.
NUVO: So who did you go on to play with after The Jazzettes and The Highlighters?
Ratliff: Everybody on the Avenue. I can't remember all the names. There were so many guys. But around 1966 I went into the service. I played with a lot of people during my time in the service when I went overseas. I played with Mary Lou Williams, and Ike Cole, who was Nat King Cole's brother.
NUVO: Where were you stationed when you played with them?
Ratliff: I was in Okinawa.
NUVO: Getting back to Indianapolis, you said you were playing with everybody on Indiana Avenue. What memories from that period stand out in your mind?
Ratliff: All of them.
NUVO: But specifically, what musicians or clubs stand out? Were you playing at spots like The Blue Eagle or The Pink Poodle?
Ratliff: I played one time at The Pink Poodle. I played at the Sunset. I played Al's British Lounge and The Blue Eagle. Then I went up north and played at Mr. B's, then they changed the name to Gunga Din, and then The Honeydripper. I played the Cactus Club, which was right across the street. I played at the Hub-Bub, which was further east on 30th Street. And you know what, I did not get carded until I was 21. [laughs]
NUVO: Describe what it was like playing on the Avenue during the 1960s.
Ratliff: The musicians were simply beautiful. If they saw you in the audience and they knew you played, they would tell you to get your horn and come on up. I'd say, "Man, I don't know these songs!" They'd say, "Come on up. You'll hear it." That's what I've heard all my life, ever since high school. "You'll hear it." I used to play with David Baker and I even heard him tell some guys, "You don't need no music. You'll hear it."
NUVO: So what do you do when somebody calls you onstage and you don't know the tune or the chord changes?
Ratliff: Well, the good lord gave me a good set of ears. I've been playing by ear for so long, since I started playing piano when I was 6 or 7. I played piano up until I seen my brothers playing trumpet, and I wanted to play trumpet with them.
NUVO: So you spent a few years in the service, when did you come back to Indy?
Ratliff: I came back to Indianapolis in 1970.
NUVO: Did you immediately think about getting back into music?
Ratliff: I wanted to. I played with David Baker for about a year. In 1971. Jimmy Coe's big band was playing out there on Grandview.
NUVO: At the country club?
Ratliff: Yeah, it was the country club. I played one song there with Jimmy. He asked me if I wanted to play with him again, and I said sure. I stayed with Jimmy Coe for about 30 years. I stayed with him until he died, I'll put it that way.
NUVO: Tell me about playing with David Baker.
Ratliff: We did different little private gigs. The group was called the Bluenotes, or the Bluetones, or something.
NUVO: You've played on some important records, and I want to ask you about some of those projects. You played on Russell Webster's legendary Uncle Funkenstein Together Again album, which was released in 1983. Together Again was a double LP featuring a lot incredible Indianapolis players like Larry Ridley, James Spaulding, Mel Rhyne and many others. At the time of its release I don't think Together Again was well received, but it's gone on to become the most valuable Indiana record ever released, and it's considered a holy grail collectible by jazz fans around the world. Original copies of Together Again have sold for around $4,000.
Ratliff: Yeah, and I can't get a dime! [laughs]
NUVO: The album was was reissued by the London-based label Jazzman Records in 2008, and you didn't get a dime?
Ratliff: Right, I got a call from Larry Ridley and James Spaulding. They said, "Did you get your money?" I said, "What money? Whatever we got paid that night we cut the records was it."
NUVO: Musically speaking, what did you think about recording that album with Russell Webster and that cast of jazz masters he'd assembled?
Ratliff: Well, everything is a learning experience. I was playing on that record with guys that had did it all and played with everybody. Just to be able to play with them is a great thing.
NUVO: How did you feel about the final product? Were you happy with how the record came out?
Ratliff: I never liked it because I was on it. I've never liked to hear myself playing period.
Related: The re-animation of "Uncle Funkenstein"
NUVO: Around the time you recorded the Uncle Funkenstein album, you were also part of a contingency of jazz musicians that went to New York to represent the Indianapolis jazz sound. The group was billed as the Indianapolis Jazz All-Stars. You performed in New Jersey at Rutgers University, and you also played in Harlem at the Adam Clayton Powell School. The Indianapolis Jazz All-Stars included many of the guys from the Uncle Funkenstein sessions, plus Les "The Bear" Taylor, Slide Hampton, "Killer" Ray Appleton and Ted Dunbar. Tell me about this all-star group that went to New York to educate people on the Indianapolis jazz sound.
Ratliff: I never really thought about it because I was just one of the band. I'd forgot all about it until you just mentioned it. It was cool playing with those guys because they were so down to earth. I just played what I played, and I didn't worry about it.
NUVO: Do you have any memories of hanging out with those guys while you were playing in New York?
Ratliff: Oh yeah, but I don't think you want to hear them! [laughs]
NUVO: You told me you don't think about it, but to me it seems like that must have been a huge honor to be part of this all-star group representing the Indianapolis sound.
Ratliff: Oh yeah, it was great hanging out with all the guys. We even ran into Freddie Hubbard in New York. It was pretty different. Freddie invited us out to play. But after I heard him and Slide hit it, they was playing so fast that I just ducked back in the corner somewhere. [laughs]
Related: A Cultural Manifesto: Death of Indiana Avenue
NUVO: Do you feel like there is an Indianapolis sound, and is it reflected in your playing?
Ratliff: Whether it's reflected in my playing, I don't know, but there is an Indianapolis sound.
NUVO: Could you explain that sound in words?
Ratliff: What I can do is say, wherever I go, if I say I'm from Indianapolis, the first thing people want to know is if I went to Attucks. I say, "Yeah." Then they want to know if I was on the Avenue. I say, "Yeah." That is great in itself that people know that.
NUVO: You mentioned you didn't get a penny for the Uncle Funkenstein reissue that came out in London. I want to ask you about some other records you played on that you probably didn't get a penny for either. You spent some time playing with the great Indianapolis vibraphonist Billy Wooten. Like many Indianapolis musicians, Billy Wooten never achieved the fame or respect he deserved in his hometown. But Billy Wooten's recordings are in demand overseas, especially in Japan. You're featured on a series of Billy Wooten records that have been issued in Japan, including Billy Wooten And The Music Royale Latin Jazz Ensemble's Live At The Madame Walker Theatre.
Ratliff: Live at the Madame Walker? You've put a new one on me! [laughs]
NUVO: There's also the album Billy Wooten and the Vida Bole Ensemble, Evening On The Canal.
Ratliff: That was recorded?
NUVO: Yeah, it was released in Japan by P-Vine Records in 2013.
Ratliff: I still didn't get a dime! [laughs]
NUVO: On these Billy Wooten albums, you're playing with some incredible Indianapolis musicians like David Young, Pookie Johnson, Miles Lloyd and Larry Clarke. You didn't know this music had been released in Japan?
Ratliff: I didn't know anything about it until you just said it.
NUVO: Tell me about working with Billy Wooten.
Clifford: Do you really want to know? Billy Wooten was a different kind of guy. I'll just put it like this, Billy was a cool guy, and he was beautiful to work with. But at other times, he wasn't so beautiful to work with. So I'll just leave that alone.
NUVO: You're very humble about the contribution you've made to Indianapolis music. But I've mentioned several projects you've contributed to that have international cult followings. What do you make of that?
Ratliff: I think it's great. I just wish I had known. [laughs]
NUVO: Well now that you know, how do you feel about it?
Ratliff: Well, I wish I'd known sooner so I could've told all the guys. Because a lot of them are deceased now. I didn't know it was happening until you just told me. You know there was another album I was on in Haiti?
NUVO: How did that come about?
Ratliff: A friend of mine named Tom Mitchell asked me if I'd take a gig in Haiti. I said, "Why not? Let's go." I only had three days to make up my mind. But I got my passport and took off. I stayed there about three or four months and did an album. I haven't seen the album yet.
NUVO: What year was that?
Ratliff: 1982 or 1983.
NUVO: Was it Haitian kompa music?
Ratliff: Yeah, it was, and the record turned out to be a pretty good success.
NUVO: Do you know the name of the group you played with?
Ratliff: It was the Magnum Band.
NUVO: What? That's one of the biggest bands in Haitian music!
Ratliff: They never paid me either! [laughs]
[note: I tracked down a copy of the disc in question and Clifford Ratliff is indeed featured on the famous Haitian group Magnum Band's 1983 album Paka Pala.]
NUVO: You played on some important projects. Did you ever think about leaving Indianapolis for a bigger city to try to make a name for yourself on the national jazz scene?
Ratliff: Not really. I got married in 1974, and my wife got sick. She was sick off and on until she passed away last year. So I put everything on hold.
NUVO: So personal circumstances prevented you from trying to break out of Indianapolis. But was that something you were dreaming about? In your inner thoughts, were you thinking about trying your luck in New York or Los Angeles?
Ratliff: No, I really wanted to go back to Europe. Europe is where it was at man.
NUVO: What was it about your experience in Europe that stuck with you?
Ratliff: Everything was so down to earth and plush, and they didn't have the racism problem over there like you got here. Everything was just nice. I always wanted to go back.
NUVO: The music you've made has touched a lot of people on both a local and international level. When you look back on your career, is there a particular project that stands out in your mind as a good representation of your work?
Ratliff: To be truthful, I don't even think about it, but it's all in the back of my mind. Whenever I go somewhere to play, it all comes out. Whenever I play, all the things I've seen and heard come out. It's all in my heart. But I never think about it, and I never have until you just mentioned it. I just play. I go and do a gig, and then wait for the next time.
NUVO: I know you don't like being interviewed, so I'm very appreciative of your time. You're a legend to me Clifford and it was an honor to have this time with you. Thank you for your contribution to Indianapolis music.
Ratliff: Man, I'm like Charlie Parker. When they tried to talk to Charlie Parker, he said he'd rather talk through his horn. But it's been a beautiful life. I wouldn't trade it in for nothing in the world.