One year ago, Indianapolis joined the rest of the world in mourning the loss of Tom Petty. It's a loss many of us continue to feel just as deeply, if not more, 365 days later.
When the Heartbreaker frontman died Oct. 2, 2017, it marked the end of a rock 'n' roll era. It also marked the end of more than 40 years of Tom Petty concerts in Indianapolis, with generations of Hoosiers in attendance. A year later, we're still grieving the loss.
Petty's last performance here was May 13, 2017. That night he performed for nearly 30,000 adoring fans at Deer Creek. (Yes, by then it was called Ruoff Home Mortgage Music Center, and before that it was the Klipsch Music Center, which before that was the Verizon Wireless Music Center. The original name, however, was the Deer Creek Music Center, and that's what it was called the first five times Petty played there, going all the way back to August 1989.)
No other national band ever seemed to garner the loyalty or longevity the Heartbreakers did in Indianapolis. No other band has the same 40-year history of concerts here. Audiences grew every time they came to town, along with their popularity. A love of their music was handed down from one generation to the next.
In his four decades of touring with the Heartbreakers, Tom Petty performed in Indianapolis 19 times. It would have been 20, but the first one had to be canceled due to low ticket sales.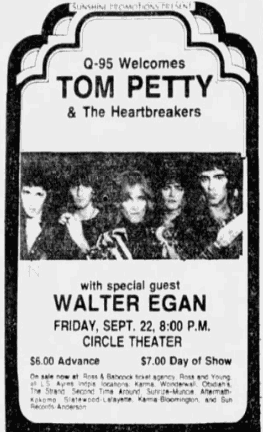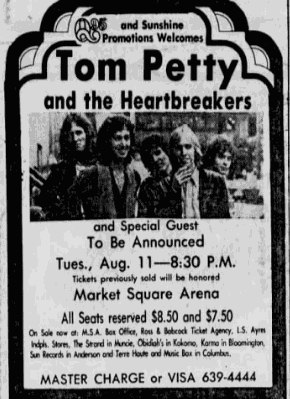 That first show was scheduled for Sept. 22, 1978 at the Circle Theater ($6 advance, $7 the day of the show; Walter Egan was the opener). Now called the Hilbert Circle Theatre and home to the Indianapolis Symphony, back then it was a run-down movie theater trying to make a comeback as a concert venue.
The Heartbreakers were touring on the strength of their first two albums, the self-titled debut and their sophomore effort, You're Gonna Get It. Less than 200 tickets were sold, and the show was ultimately canceled.
The band tried again in 1980, touring in support of their third album, Damn the Torpedoes. "Refugee" was a top 10 hit, MTV was two months away from premiering, and Indianapolis audiences still weren't buying.
Of the available 8,000 seats in a "draped for intimate seating" Market Square Arena that could hold as many as 16,000, the Heartbreakers sold just over 4,000 tickets.
Even the band's third try in Indy had trouble after an original June date in 1981 was rescheduled because of a "leg injury" Petty incurred on stage elsewhere. When the rescheduled show took place in August, only 6,500 of an available 10,000 tickets sold.
Although the audience was enthusiastic, "it was unjustifiably small," according to Zach Dunkin, music writer for The Indianapolis Star. The band "deserved better," he wrote in his review the next morning; Petty "suffered from his earlier miscategorization as a new wave singer, a style which never cut it here in Bob Segerland."
I was in the audience at that Market Square Arena concert. It the was the first of nearly 30 Petty shows I'd see over the next few decades. Barely 16, I'd somehow convinced my parents to let me drive downtown to a rock concert. Hard Promises had just come out, and I had just finished my sophomore year of high school. None of my friends were into the band, but since I couldn't go alone, my 14-year-old cousin Michele was recruited.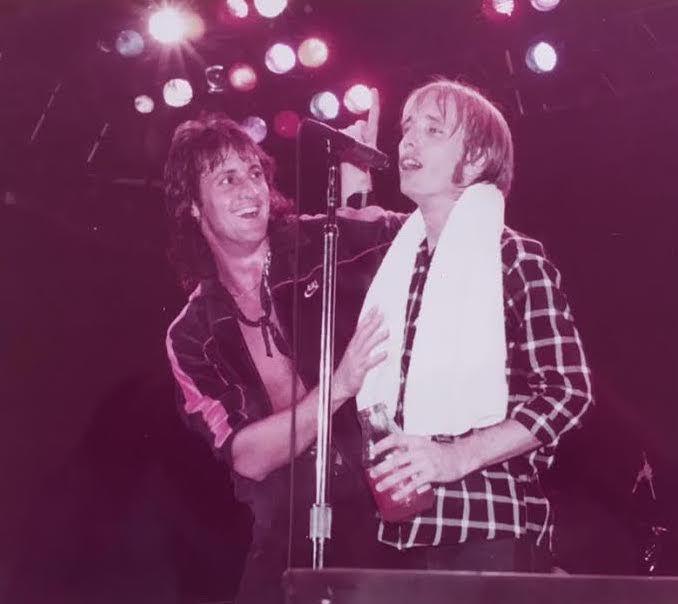 I remember a few things from that night: The Naughty Sweeties were a terrible opening act. "American Girl" always sounds better live. And, "Breakdown" lasted nearly 10 minutes.
That's the memory that has stayed with me longest—hearing "Breakdown" live for the first time. Hearing the crowd take over; the "Hit the Road Jack" interlude; Petty projecting every single emotion love has ever inspired over the course of it.
From there, the band segued into the Isley Brothers' classic "Shout!" before ending the regular set. They came back for two more encores that night. By then, we'd all come forward and filled the floor in front of the stage. It seemed to last forever. As Dunkin wrote in 1981, Tom Petty didn't know how to quit.
By 1985, Indianapolis was slowly catching on to the fact that the Heartbreakers were the greatest American rock 'n' roll band of all time, and the Southern Accents tour had a much better turnout.
This was still before Deer Creek Music Center was built, and outdoor concerts were held at the Indianapolis Sports Center, a set of tennis courts downtown next to IUPUI (behind where the Eitlejorg and State Museum are today).
It's a venue and a concert Radio One's Dan McNeal remembers well.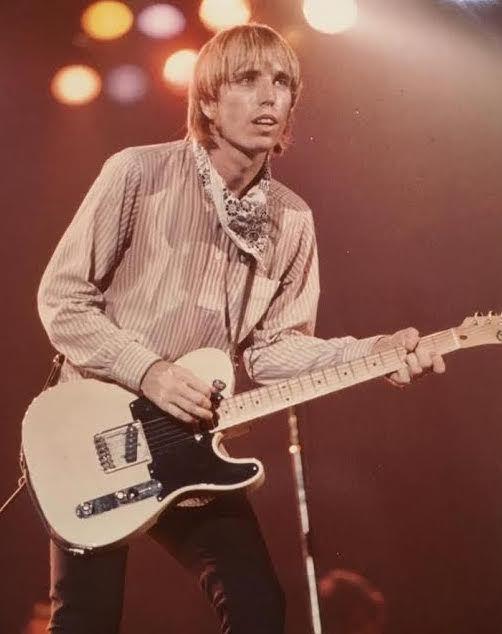 "I first arrived in Indianapolis in late 1984," says McNeal. "The following year, I started working for Bear Force doing concert security at all the major events in Indianapolis. In June 1985, I worked the Tom Petty show. My duties started out in the dressing room area, which was located at the west end of the court under the stands.
"As I wandered around trying to sniff out any leftover catering, I turned the corner by the dressing rooms and ran into Tom. Literally, ran into Tom Petty and almost knocked him flat on his ass. He and a few other people were rushing to a meet and greet with some contest winners and POW, he slammed right into me!
"I am 6'3" and about 240 pounds at that time. Tom could fit in a teacup. I quickly grabbed his shoulders to keep him from flying backwards and hitting the ground. It scared the crap out us both. Lucky for me, he was very cool about the whole thing and didn't make a fuss. I got out into the arena for part of the show and it was fantastic," McNeal says.
"I was so glad I didn't break Tom Petty."
The Heartbreakers came back to Indianapolis and played Market Square in 1986 (with Bob Dylan) and the Sports Center in 1987, before playing their first show Aug. 11, 1989 at the newly-opened Deer Creek on in support of Full Moon Fever.
It had taken 10 years and six tries, but the band finally had more than 10,000 in attendance. Those early Market Square Arena shows must have left an impression though. How else could we have gotten "Mary Jane's Last Dance" in 1993 and cemented our rightful place in Heartbreaker history?
That was the first 10 years of Tom Petty concerts in Indianapolis.
The next 30 years belong to the Deer Creek Amphitheater—aka Verizon, aka Klipsch, aka Ruoff—which opened in 1989. Those shows are almost urban legend at this point, and you'd be hard pressed to find a Hoosier in these parts who doesn't have a Tom Petty at Deer Creek story. In the 1990s, they played four times; from 2000 to 2010 six times; the final two shows were 2013 and 2017
For Hoosiers, one of the most memorable Tom Petty shows is the night of July 21, 2005 when a heavy thunderstorm rolled through town. Tornado sirens went off, power went out, and several inches of rain fell in just a few hours. Out at Deer Creek, the Heartbreakers were not quite halfway through the set when things got bad.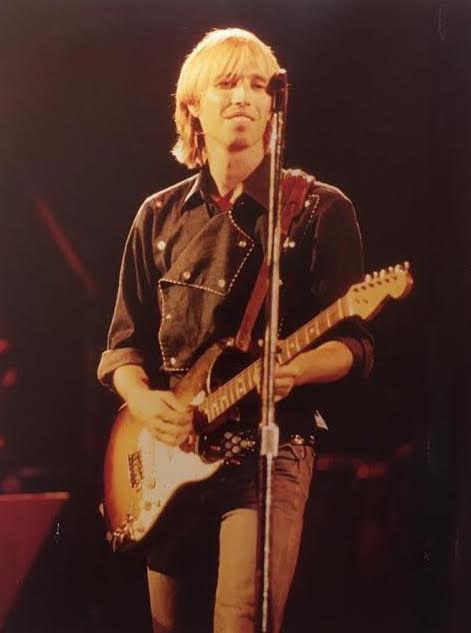 Meg McLane was 16 and attending her first concert without parental supervision. 
"Halfway through the show, a terrible storm rolled in," says McLane. "Tom said, they were going to play no matter what. We all stood out in the lawn as the rain began. It started as a trickle and soon became a downpour. We were drenched, but it didn't matter. Tom Petty and the Heartbreakers sang and wailed and shredded. It was glorious.
"During 'Refugee' the power went out—lights, sound, everything. In the muck and darkness, without missing a beat, the audience continued singing the song. "You don't have to live like a refugee...," swinging, swaying, and soaked together. Time stood still. Eventually, the electricity kicked on and the band picked up exactly where the crowd was.

"The atmosphere was literally electric," says McLane.

"A few songs later the power went out again and they had to cancel the rest of the show. I think tornado warnings had come out and the lightning picked up. But for me, the 'damage' was done. I was hooked. I fell in love with the music, the performance and the band.
"It was the best concert I have ever attended, and I saw them every time they came through Indy after that. I was and still am continually blown away by the commitment, honesty and playfulness of Tom Petty. To this day [he] is one of my favorite artists and biggest influences." 
It was a memorable night for Petty, as well. When he returned to play Deer Creek the following year, on June 24, 2006, he gave a shout out to the those who'd stood in the rain singing 'Refugee'—"I've been telling that story all year," he said to huge cheers from the crowd of nearly 25,000.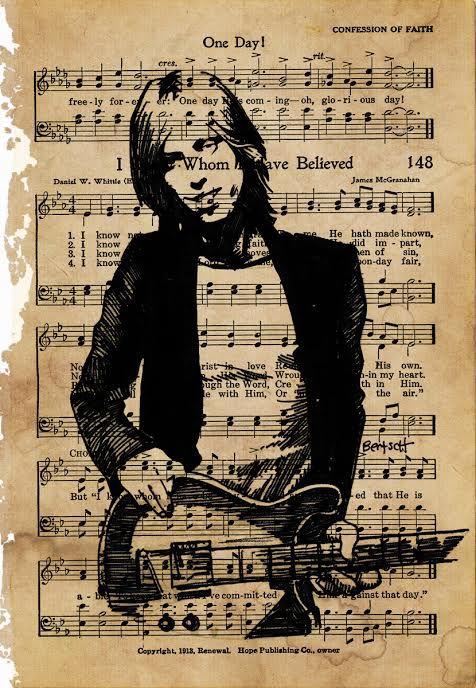 I wasn't at that stormy Deer Creek show in 2005. I'd left Indianapolis and moved to L.A. right after high school where I was lucky to see the Heartbreakers dozens of times in venues all over Southern California.
My first Petty show after moving back to Indianapolis was in 2006. I went again when he returned on July 3, 2008, that night I brought my son, Ian, along. He was 17 at the time and not prone to like anything his mom liked.
He remembers two things from that concert. The first is that I didn't say anything when someone handed him a joint. (Not sure that's my best parenting moment, but we'll let it slide for now.) The second thing he remembers is being struck by how many Tom Petty songs he knew.
"About halfway through the set, in awe of the back to back hits that I didn't realize I knew every single word of, I turned to my mom and said, 'Holy, shit! Are all of these hits Tom Petty songs?'"
I've never let him live that one down.
Indianapolis artist and musician Shelby Kelley also shares his love of Tom Petty with his son.
"At two years-old my son, Hunter, was already a fan of Tom Petty's music. Whereas most children his age were watching Barney or The Wiggles, he demanded to watch the five-hour documentary on Petty over and over and over again, usually rocking out in front of the TV with some kind of makeshift guitar," says Kelley.
"His first public performance was at two and a half when he hijacked my band's set to make us play, 'I Won't Back Down' so he could sing it. His love for Petty's music continued to grow even as his interest curtailed into Nirvana and Foo Fighters as he got older.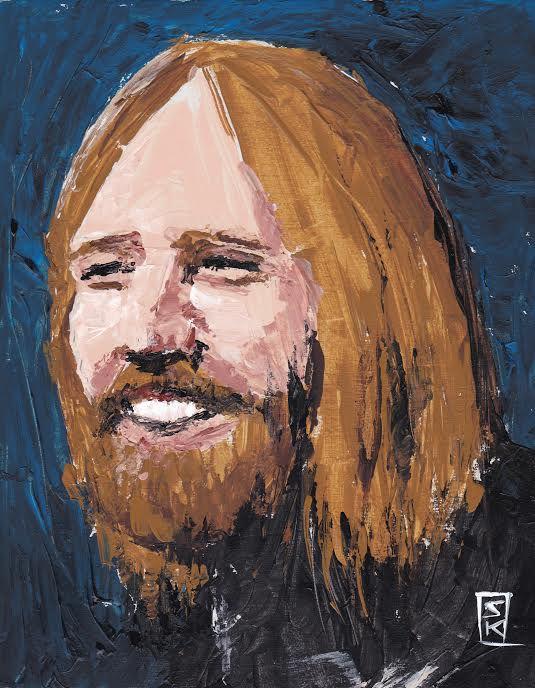 "When Petty came to town last year, unknowingly for the last time, we couldn't afford the ticket prices but because of the generosity of local musician, Chad Mills, Hunter was able to go. The night was beyond magical for him as he was able to make his way to the front of the stage, attracting the attention of the band and Petty himself."
"When he learned of Tom's passing, things changed," says dad Shelby. "To him, it was like losing a member of the family. He is still recovering from the loss. Listening to the music is still hard for him but the influence on his guitar playing is still there and his love for music is still strong.
"I'm sure, at some point, I'll hear Tom Petty again through my son's music."
There's a lot of years between me and a young Hunter Kelley, but there's a shared loss over Petty's death that encompasses all the years in between. With a Hoosier history that spanned 40 years and nearly 20 concerts, those of us who grew up here and continue to call it home will continue to feel Tom Petty's absence in Indianapolis for many years to come.