While writing songs in recent years, Indianapolis musician Jody Friend was also coming to terms with her gender identity, which ultimately played a part in many of the themes presented on her latest album Perennials.
"I think the theme always comes back to new life, authenticity, and the sacrifices involved with that," says Friend, who fronts the project Public Universal Friend. "I wasn't even trying to write an album that had a theme like that, but it was just what my life was doing."
Public Universal Friend will perform at this year's Garfield Park Art & Music Festival, taking place on Saturday, June 26 at MacAllister Amphitheater in Garfield Park. The event is free with pre-registration and will also feature performances from Clint Breeze and the Groove, Native Sun, Eliot Bigger, and Meghan Cristeen Martin & the 1900.
Ahead of the festival, our Seth Johnson caught up with Friend for an interview, discussing her recent transition and how it's impacted her life both in and outside of music. Read their full conversation below.
SETH JOHNSON: Where are you originally from, and what role did music play in your upbringing?
JODY FRIEND: I grew up in East Tennessee near Knoxville. My dad was a pastor, and my mom was a worship leader, so I grew up in church music, and I did that for a long, long time. That was my background for a while until high school when I started listening to punk and some old folk/Americana-type stuff. I was playing acoustic, solo songs before metal bands in high school. That was just kind of how our hometown was. [laughs] That was the scene, and we were all kind of the same family of people that just played pretty different kinds of music.
When I went to college, I was doing more folk and bluegrass-type stuff. And then, as an adult, I brought rock elements back into the music. So it's always kind of been a conglomeration of those worlds.
JOHNSON: What brought you to Indianapolis?
FRIEND: I moved here in 2015. My ex and I moved here because she had a job opportunity, and we moved up here not really knowing anybody. I was pretty quickly drawn to the music and art scenes especially. Now, I've been here for six years.
JOHNSON: When did Public Universal Friend come into the picture?
FRIEND: I was solo for a long time — probably like 10 years. Then, in 2016, I was starting to write some songs that needed a band. I was going under my deadname for a long, long time, and then in 2017, I released a punk EP under my old name.
As soon as the pandemic began, I had these songs that were in a pretty dynamic, diverse direction that covered a lot of sonic space. I knew it was time to find a band name that was suitable, and I had a spreadsheet with all these different ideas. Public Universal Friend has this background to the name itself that I thought was very interesting, and it really suited the mission of what I'm doing with the music to create a good community space with shows.
We recorded Perennials with just me and a couple friends who live in Tennessee and Kentucky. Once it started becoming clear that shows were going to happen again, I just started asking some people if they wanted to perform with me for this show at the Hi-Fi last month. Since then, that's been the crew.
JOHNSON: Who all do you have playing in the band now?
FRIEND: Jacob Powell is our drummer, Mina Keohane plays keys, Adam Shuntich plays lead guitar, Phil Lofton plays percussion, Ty Mason plays bass, and I do everything else.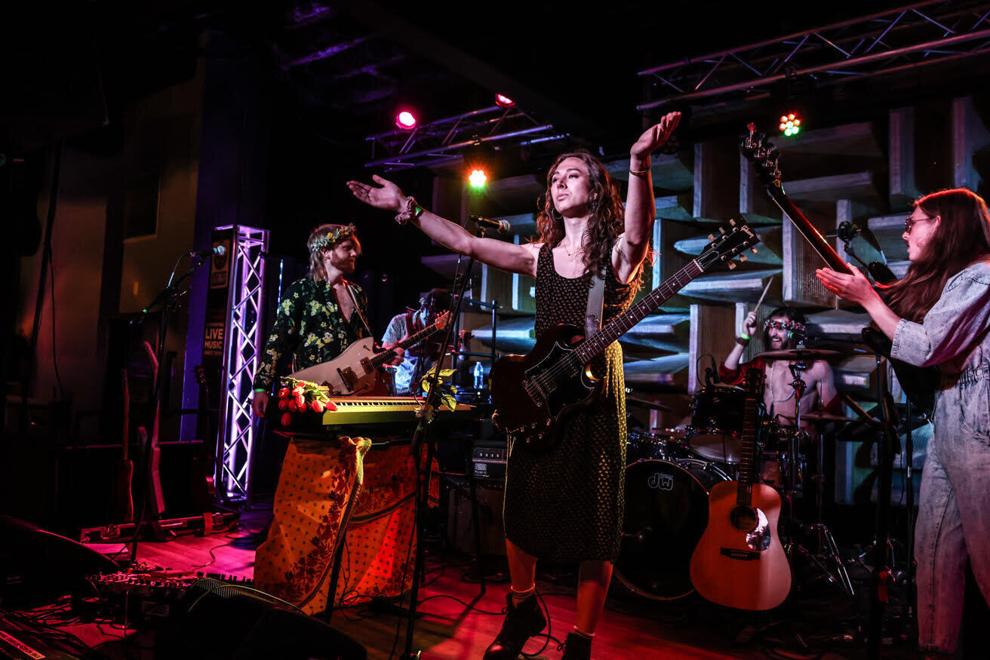 JOHNSON: Can you elaborate more on the significance of the name Public Universal Friend?
FRIEND: Public Universal Friend is the name of a Quaker pastor from the mid-1700s in early America. They were born a woman named Jemima Wilkinson, and they had this near-death experience where they encountered angels and the spirit realm. Those spirits said, "You are about to embody a spirit that you've been meant to embody." It was kind of like this mystic moment, and when they came back from this near-death experience, they were like, "My name is Public Universal Friend. I use they/them pronouns, and I won't answer to anything else." So it was kind of like this genderqueer person in early America that was of faith.
I was thinking about my background in faith and queerness and just found this story to be unbelievable. I love the idea that the reason they pastored the way they did was so they could include more people, which I've always thought was just beautiful. I definitely want my music to be inclusive and safe and to be subversive in that way. I think there's a lot of the music scene that does get really cliquey and stupid for no good reason. I was like, "We just want to make good music, connect people that appreciate good art, and embody these loving principles." These were all elements I was drawn to, and the name just fit so perfectly.
JOHNSON: Can you reflect further on the ways your spiritual upbringing and gender identity have affected each other?
FRIEND: Growing up in the church, there really wasn't a lot of language for the trans experience, and there was not a lot of support from where I grew up. So I really started coming to terms with that in myself and researching it as an adult. Once I started coming out to a few people who were in my faith community, it was received well by some people, and by others, it was not. I lost my role in church staff, and it was a really personally difficult time. So that was a massive shift that took place in March 2020.
For me, the more that I put my authentic self out there and am in a community of people that love me for that, the more the message of Jesus is making sense to me. Whereas, in a lot of church culture, there was this feeling of, "There's this one kind of way to live, and it's white, suburban, and middle class." I've always taken issue with this homogenized faith community. In the South, it can be that way. In the Midwest, it can be that way. My standards for a community of faith people are really high, and I feel very guarded right now about that on a personal level. But I love the principles of loving your neighbor as yourself, dying so you can live again, and dying to your ego. I also listen to Alan Watts and stuff like that. It's all these principles of connectivity and the dignity of all things. These are all things that I think tie back to this ultimate truth of the dignity of humans.
There's also this false dichotomy of, "Well, if you're trans, you can't be Christian," which I think is absurd and missing the point. But yeah, it's been pretty difficult to navigate, and I've been really, really surprised by how many people in the church have come out and supported me and been very explicit in saying, "We're glad you're here. We like what you're doing. You're safe with us." That's been the most surprising thing about coming out. I just came out in February publicly. Once that happened, I was like, "Alright. Here we go. I'm going to risk everything for this." At that point, my marriage had ended, and I was going through a whole new restart in my life. It was one of those things where I was like, "I am risking my attachment to a lot of people by presenting my authentic self." The people that received that and celebrated that with me are the ones who are the real ones — the real friends that are in it with me. The people that aren't…they fall away pretty quickly. It's been an incredibly painful and intense experience at times.
JOHNSON: I noticed that your latest album, Perennials, came out in March of this year. How did the pandemic affect the making of that?
FRIEND: Significantly. When we started in February [of 2020], I was like, "We'll record this spring and release it in the summer." But basically, we recorded drums in one day. My friend Chris Hickman is an engineer that did Lower, Permission with me. Chris and I, with our drummer at the time (Jarrod Bright), all just went to this barn and recorded drums in one day for Perennials. I think we had to wait until August to take any more steps with that. But within that time, I was recording things at home. That's when I wrote "Firestarter," which is the first track. The drums on that song I actually did on GarageBand. [laughs] I wrote the song "Tomboy" during that time as well.
I just had a lot of time on my hands. I was on unemployment and isolated. We took a week to record guitars and bass. That was in Louisville. And then, it was probably October when we got down to recording piano, organ, keys, and vocals. So it was a long, long process. It was also around that time when I was starting to come out. So it was a very intense time of creating, but also transforming on a personal level.
JOHNSON: How does Perennials represent the current version of yourself?
FRIEND: When I came out, my life fell apart, and it was nothing short of restarting. I had to find a new place to live and a new job. I had to become financially independent for the first time in a long time. I started hormone therapy and changed my name. Plus, the band name changed, and the album was coming out. So it was this time for me where a lot was dying, and it was really scary and uncertain at times. But there was this principle of dying and living again that just kept coming back to me.
I wrote this album from 2017 to 2020, so it was before I came out. It was kind of in the final throes of depression that came along with being closeted and the difficulty of trying to fit myself into a picture that was not conducive to who I was. So the album touches on a lot of themes like trans visibility. It talks a lot about identity in general — just who we think we are and how we perceive that. But it's also very tender and has a lot of touchstone moments.
Cover photo by Fred Miller