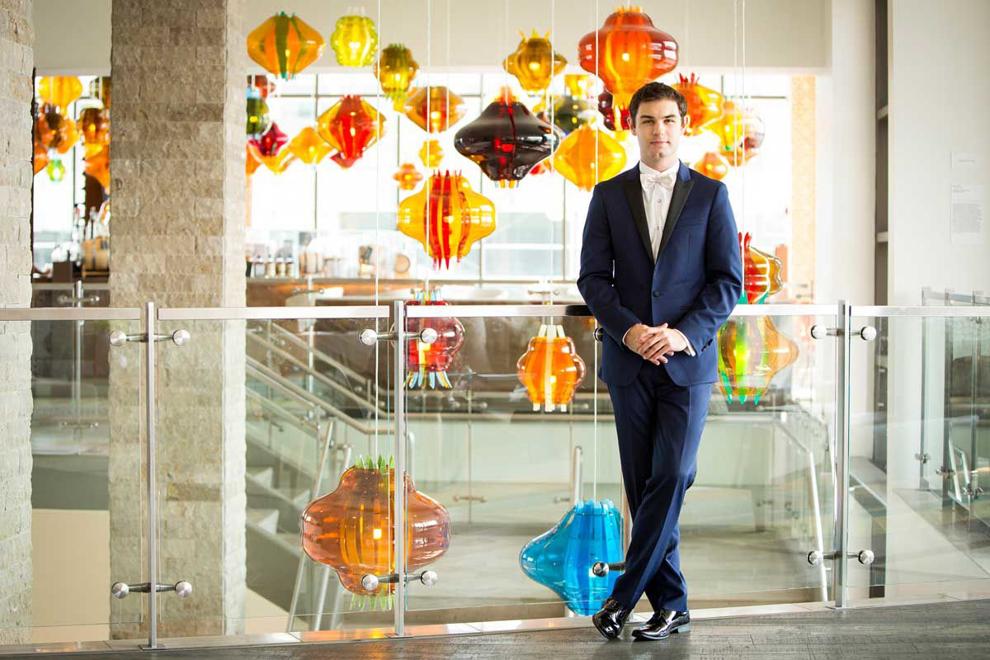 Drew Petersen, winner of the 2017 American Pianists Awards and Christel DeHaan Fellowship of the American Pianists Association, shares Chopin with largesse. He's been embracing the master since the age of 13, starting with the luscious Piano Concerto No. 1.
Petersen was back at the University of Indianapolis, Feb. 16, "picking up with students where they are now" for individual instruction and in master classes.  During a telephone interview, Petersen also offered the rationale for the Feb. 16, public program at the Christel DeHaan Fine Arts Center at the University of Indianapolis.
"Last Fall I played not well-known pieces," he said. "Now I'm happy to go back to a classical repertoire, with Chopin solo piano works and Bach Concerto No. 1, with the University of Indianapolis Chamber Orchestra, conducted by Ariel Rudoakov."  
Opening with Barcarolle in F-sharp Major, Op. 60, Petersen captured the flowing romanticism and wistfulness without a trace of sweat over how difficult the piece is. It is a song of intense love, full of the atmosphere of Venice in the sparkle of sunshine and mystery of moonlight, with shadows of opposites, the melody doubling back and plunging forward.
With Three Waltzes, Op. 34, Petersen gifts with his underlying sense of jazz,  taking us inside the heart and gut of Chopin's embellishment on the Viennese Waltz, not as a dizzying ballroom floor exercise, but to experience ranges of emotions from melancholy to bravura. Petersen's retelling reminded me that blues and jazz, while American in their purest form, have in these waltzes a tinge of their DNA.  
With Ballade No. 4 in F minor, Op. 52, Petersen flings us immediately into thickened textures of poetic musicality, into a drama with a narrator taking us into confidence about something transformative; too large not to share, too horrible to revisit. Petersen's relentless attack leads us through entangling vines—is it real or imagined? We breathe normally only when there's a crashing glimmer of light and we are safe; the storyteller vanquished.
With the Bach Concerto, Petersen was seamless as part of the conversation with the 16-member UIndy String Orchestra, delivering the requisite "sensitivity, elegance and conviction," as noted in the printed program.