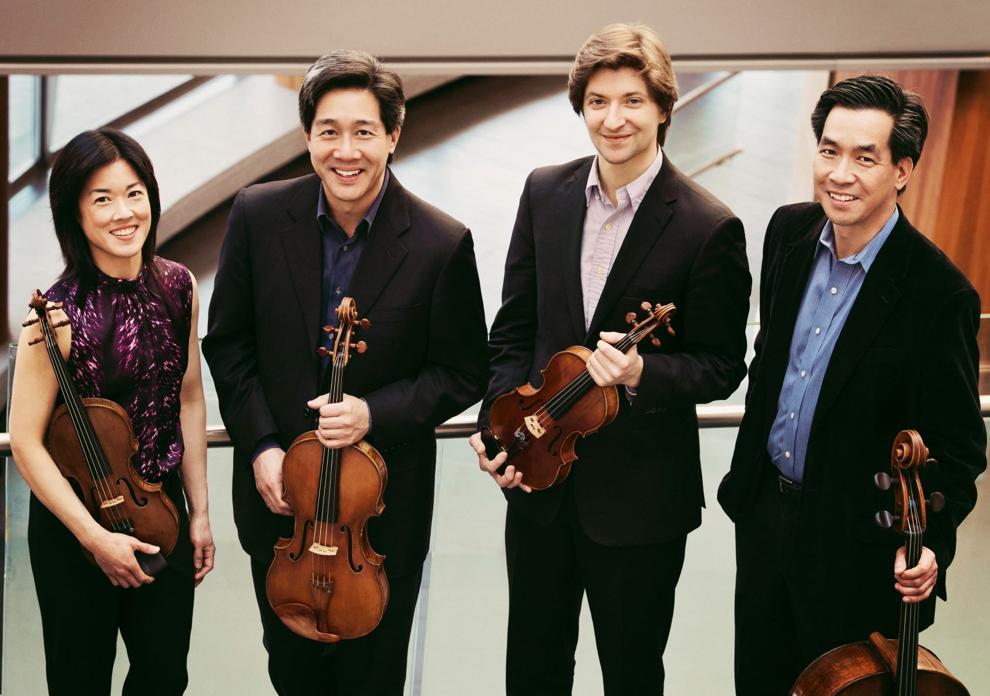 The Ying Quartet has been the guest artist of the Ensemble Music Society of Indianapolis (EMS) many times and they will return to Indianapolis on May 6, for the May Music Festival as arts organizations begin opening for in-person performances after many months in hiatus or offering virtual-only performances.
 "They were the first ensemble to perform at the Basile Theater, the History Center's exceptional concert auditorium," said John Failey, EMS board president. 
Ying Quartet will perform on May 6 as part of the EMS's Festival.
 "They were last here in 2015, just before Robin Scott joined the group," said Failey. "Robin is the son of Sylvia and Beverly Scott, both ISO musicians. With Mothers Day just the next weekend, Robin suggested the program they will play be in honor of his mother; we, of course, said 'yes." 
The Festival offers three programs with options to attend live-in-person, at 7:30 p.m., at the Indiana History Center Basile Theatre, or to live stream for home viewing live performances gain access to each program for one week, on-demand. (The May 8 Gavilán Brothers concert and film program is online only.)
May 4, the Horszowski Trio makes its EMS debut appearance to showcase Morton Feldman's 1980 "Trio" for violin, cello, piano.
May 5, the Horszowski Trio joins with the Ying String Quartet, in another return to the EMS stage, to bring us Ellen Taaffe Zwilich's 2008 "Septet for Piano Trio and String Quartet" 
May 6, The Ying plays two Beethoven works: "Quartet in C Major, Op. 59, No. 3 'Razumovsky'" (1808) and "Quartet in C-Sharp Minor, Op. 131 (1826)."
 "When the Horszowski Trio had the Feldman work among their offerings, I jumped on it," said Failey. "That was pre-pandemic times and we planned a double concert with the second featuring Beethoven's "Archduke" because a season-closing concert of Feldman is slightly more exciting than 3' 22" of Cage. That said, I think Feldman in the hands of the right musicians and a live setting is a remarkable experience. I really want receptive (open-minded) ears to hear this concert."
Failey has a  recording of Feldman's 'Patterns in a Chromatic Field' for cello and piano that he listens to often. "His connections and friendships with most of the important abstract expressionist artists is a logical entry point to understanding his music,' he said.
Failey pointed out that while the Horszowski Trio has not performed with EMS before, their violinist was here with a mixed ensemble, Antares, in Oct. 2008, for Messiaen's Quartet for the End of Time.
In addition, to the above hybrid options, EMS is offering a May 8 Gavilán Brothers concert,  live-stream only, at 8 p.m. "They perform their original genre-defying sound rooted in European classical traditions, Latin Jazz and Afro-Cuban rhythms composed by Aldo Lopez-Gavilan and arranged for violin and piano by Limar Gavilan," said Failey. A ticket includes access to the documentary film, Los Hermanos (The Brothers), available on-demand May 6 through midnight, May 9.
EMS is taking full advantage of various online technologies. "Both ensembles will record school outreach programs that will end up reaching many more students than our in-person programs could. While this is no substitute for in-person experiences, it is a direction in a new world."
We applied for a Restart Grant from the Arts Council that makes the streaming and outreach extensions possible.  From an artistic perspective, I am very pleased with what EMS has planned," added Failey. "When a reordered schedule made a festival week feel like a logical solution if we were going to have live concerts at all, I hunted for a work that would bring all the festival musicians on stage for one of the concerts. That resulted in discovering the Zwilich Septet," said Failey.  
But he had to ask the two groups to appear together. The seven players agreed.
Ellen Taaffe Zwilich is known to Indianapolis audiences from commissions by ISO and IVCI.  
"Septet was commissioned in 2008 by the IU-based Kalichstein Laredo Robinson Trio and the Miami Quartet," noted Failey.