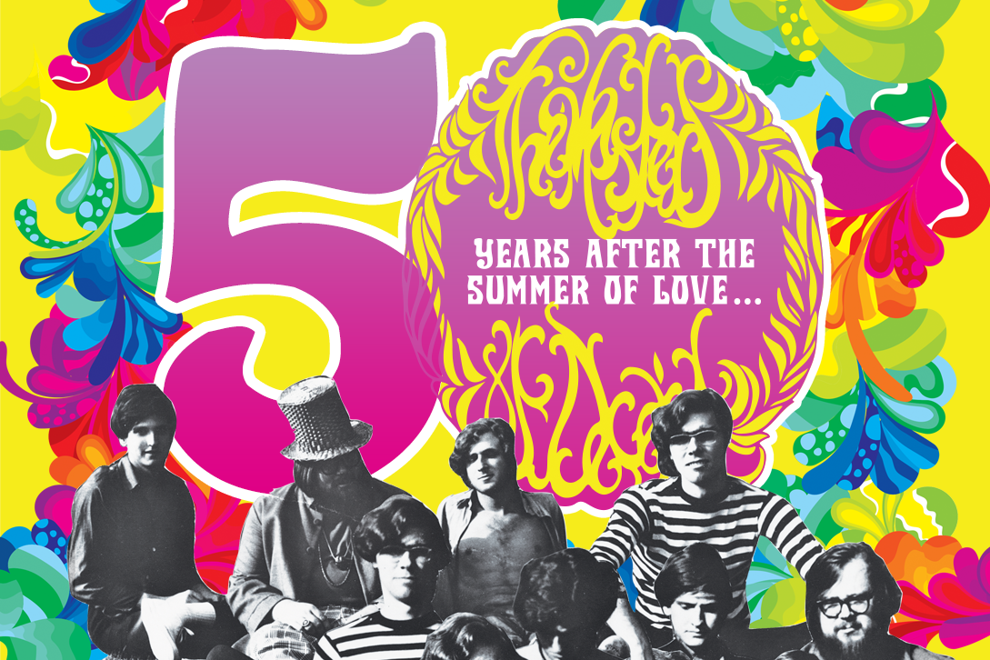 It was 20 years ago today… scratch that. 
It was 50 years ago today. 
It was 50 years ago that The Beatles released their psychedelic genre-smashing Sgt. Pepper's Lonely Hearts Club concept album. And it was 50 years ago that a convergence of underground-countercultural-political-social-artistic movements blasted into the mainstream American consciousness for a revolutionary season known as the "Summer of Love."
This anniversary is important business for an alternative paper. I mean NUVO had to cover this, right? Well, it's certainly been on my agenda anyway. The question for me was how to cover it. 
I grew up in the '90s obsessed with '60s culture. From the Velvet Uderground to the Black Panthers, my entire being was absorbed with all aspects of the era. As a curious young Hoosier, I'd ask any adult within earshot to paint me a picture of Indy in the '60s. Surely we had our own homegrown versions of Bob Dylan and Bobby Seale?
"No" was the response I typically received. I was led to believe the whole "Summer of Love" thing had somehow blown over our dear old conservative Indiana. That seemed improbable, but my research into mainstream historical materials covering Indianapolis during that period largely corroborated the story. 
I bought into this line for a long time. But fortunately, I now know it's a load of shit. 
This awakening of consciousness I experienced was largely induced by my immersion into alternative Indiana newspapers of the 1960s. Over the last couple years I've been devouring any issue of underground papers like the Indianapolis Free Press, or Bloomington's The Spectator that I could get my hands on. Through these papers I've learned that Indiana was a relative hotbed of countercultural activities in the 1960s. I learned that Fred Crawford established an Indianapolis chapter of the Black Panthers in 1968. I learned about massive feminist demonstrations on Monument Circle, and monumental immigrants' rights actions at the State House. I also learned about the wildly talented ringleader of Indiana's greatest psychedelic circus: Tom Hensley. 
It was 50 years ago that pianist Tom Hensley rallied a crew featuring some of Indy's most daring visual artists and musicians to form The Masters of Deceit — Hensley's Electric Jazz Band & Synthetic Symphonette. The inventive music and wild happenings the group staged in Indianapolis rivaled anything happening in the celebrated '60s West Coast scene. 
Yet Hensley's story remains largely untold here, buried deep beneath the dust of Hoosier history. That has less to do with the importance of Hensley's work, and more to do with Indy's disturbing tendency to dynamite its past. (See Indiana Avenue for an example)
Though the Masters of Deceit remain a footnote in the history of Indy's music scene, Tom Hensley has had an enormous presence in rock and roll. After leaving Indy in 1970, Hensley carved out a niche as a major session player in California. You can hear Hensley's keys on a variety of humongous sessions, from John Lennon to Ringo Starr. You love Hall and Oates' "Rich Girl"? Hensley is on there. You have a fascination with the notorious 1977 Phil Spector-produced Leonard Cohen oddity Death of a Ladies' Man? Hensley was among the army of musicians who played on the disc. And I haven't even mentioned Hensley's main gig yet. For the last several decades Hensley has been playing arenas around the globe as a tenured member of Neil Diamond's band.
While Hensley's post-Indianapolis work may be more far more prominent, I contend that the Masters of Deceit self-titled 1969 album is a lost psychedelic classic. The record features consistently interesting songwriting, which veers from impressionistic surrealism, to subtle social commentary. Hearing the late-great drummer Stan Gage is a revelation — his jazzy polyrhythmic patterns switch directions on a dime. The man truly was a master. Gary Campbell's bass provides a funky root to the experimental excursions and Steve Blum's scorching acid guitar delivers the requisite psychedelic atmosphere. But the centerpiece of the show is Hensley's dynamic keyboard wizardry. From Black Sabbath-heavy clavinet riffs to jazz-infused organ flights, Hensley conjures up a tour-de-force performance on the keys. 
So, I'm absolutely ecstatic to present a conversation with the great musical maestro Tom Hensley, as he sketches a tableau of Indianapolis during the psychedelic '60s. 

Kyle Long: I'm so grateful that you made time to speak with me. I'm a huge fan of the Masters of Deceit album. 
Tom Hensley: When you contacted me, it really reminded me, you know I'm in the midst of the Neil Diamond fiftieth anniversary tour, and I was sure that was what you wanted to talk to me about. But I didn't really realize that this is also the fiftieth anniversary of the Masters of Deceit album. 
Kyle: Is it? I thought the album was released in 1969? Did you start recording in '67?
Tom: It was released in '69, but we started working on it in '67. We actually did a whole version of the record before that with a different producer. It went on for quite a while. 
After you contacted me I had a "Where are they now?" moment, and I sent off emails to the two remaining band members who were part of that album, Steve Blum and Gary Campbell, and I got back responses from both of them. I thought they'd just say, "Oh, don't remind me of that! That was a couple of years wasted out of our lives." But no, they were actually enthusiastic to chat about it.
Kyle: I'm very curious to learn more about your time in Indiana. 
Tom: I grew up in Bloomington. I started working when I was 16, playing Dixieland at the Hideaway on Woodlawn Avenue, and getting paid in pizza. I played with Al Cobine's big band for about six years or so, and then moved to Brown County, and then on to Indianapolis. I had the house band at The Embers on Meridian Street, which was the big nightclub where all the famous acts would come perform. There would always be a comic, and a singer. Stan Gage, the drummer on that Masters of Deceit album was one of the people that played with me there at The Embers. I was also on a TV show in Indianapolis. 
Kyle: Yeah, The Jim Gerard Show! I wanted to ask you about that. Believe it or not, I have a huge fascination with Jim Gerard. He had a reputation for being a very straight-laced character, so I was interested to understand how you fit in with his program. 
Tom: [laughs loudly] Yes, he was kind of Mr. Square, and the audience of that show was probably mostly women of the age I am now. Jim would always have guests on the show, and he took pride in never having read their books. [laughs] He liked to approach it as a tabula rasa, and not have prior opinions about their work. That caused him a lot of grief when he tried to interview Mel Torme on the show, and asked him "What are some of the songs you've written?" Mel said. "Well, besides "The Christmas Song" there's…" And Jim interrupted asking, "Oh, what Christmas song was that?" Mel lost his temper and said, "Jim, have you been living in a cave for the last 50 years?" It was one of those great moments in television. The rest of the band, we were all over at the side trying to keep from laughing. 
That band was fabulous. Jack Gilfoy played drums sometimes, and sometimes Stan Gage, and sometimes John Von Ohlen. So we never failed to have a good drummer. The Jim Gerard Show band was led by a guy named George Nicoloff. The last time I had any time in Indianapolis, I called him. He's still around. He's in his nineties and he's working for the public schools, maintaining instruments for them. He was a very good clarinet player. A very nice guy, and very patient. [Editor's note: Hensley let NUVO know Nicoloff passed away earlier this week. R.I.P, George.]
Kyle: You mentioned that you started out playing Dixieland music at 16 years old in Bloomington. I assume you were playing the piano at that time? 
Tom: Yes, I played piano all along. I started piano at age six. I was one of two non-Catholics in a Catholic school. Every day they would say, "Now let's all pray for Tom the pagan." I didn't like that, but I got five years of free piano lessons. So I can't really begrudge them too much, because they really gave me a chance to make a living. 
Kyle: With your great skill as a jazz musician, I wonder if you spent any time on Indiana Avenue? 
Tom: Absolutely, when I was in high school I would drive to Indianapolis to catch the after-hours, last set at 2 a.m. with Wes Montgomery at the Missile Room. It was Wes, with Paul Parker and Melvin Rhyne. None of Wes' records ever captured the excitement of what he did live in those days. I was there on the night, there was one of those stars of jazz touring shows that came through Indianapolis and played at the Murat, and afterward I was at the Missile Room when Cannonball Adderley walked in. He had a table right next to where I was sitting. I think it was the first time he'd heard Wes, because he was doing these kind of bowing down gestures at Wes. The next day, as I understand it, Cannonball called his record company, which was Riverside, and got Wes his first record deal. 
Kyle: That's wild! You were at that legendary show were Cannonball "discovered" Wes?
Tom: Yes, I must have told that story before. But it's one of my favorites, because I regard hearing Wes as my musical education. I did play with a bunch of those guys. I played with Mingo Jones, who I heard passed away recently. He was a great bass player. I also remember playing with a big band when I was really young, I'm not sure who all was there, but I remember Virgil Jones. It was a bunch of the great Black Indianapolis players of that time, and I was clearly the youngest, and whitest player there. They were passing around some kind of flask, and I remember thinking, "Man, I better drink some of that or I'll be totally out of the picture." I have no idea what it was I drank, but it didn't kill me, so I guess it made me stronger. [laughs]
Kyle: From the Masters of Deceit to Neil Diamond, you have such an eclectic history in music. I'm curious what you were listening to as a young person growing up in Indiana.
Tom: Everything. I've always listened to everything. But my main thing was Spike Jones. 
Kyle: So you were drawn to the humorous elements of music? 
Tom: Well yeah, I'll plead guilty to that.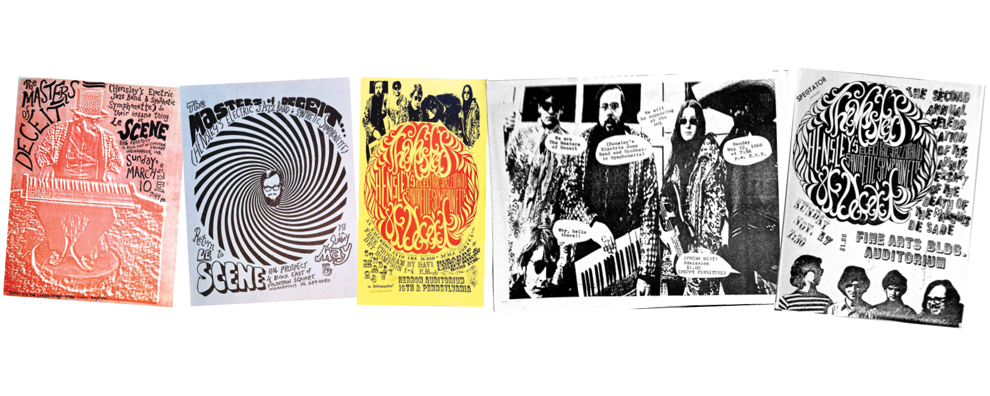 Kyle: When I listened to the Masters of Deceit for the first time I thought maybe Frank Zappa was an influence, but the darker humor in the band goes back a little further to Spike Jones? 
Tom: Yeah, we were doing that, at least maybe contemporaneously with Frank, if not a little before. I certainly wasn't so aware of him then. 
For instance, the unreleased album that preceded the '69 release, which you've not heard probably, that had a piece on it called "Venetian Blind Cords Hazardous For Children," and all the lyrics were assembled from newspaper headlines. I should mention that the guy who was kind of responsible for making me think of what I did as "art" was an artist from Indianapolis. His name was David Thompson, but he rearranged that name for what you'd call a nom d' art as Davi Det Hompson. He was at Herron when I was living in Indianapolis. I met him entirely by accident, but we discovered that we had a lot of mutual interests. He wrote lyrics for us, though none of them are on the album you heard. There was a piece with his lyrics called "Reassessment" which we performed live on The Jim Gerard Show. That's quite a rarity! Davi Det also did the visuals for that. 
Davi left Indianapolis around the same time I did, and he moved to Richmond, Virginia. He became rather well-known; he's got pieces in the Museum of Modern Art. He was a Fluxus artist, and that was kind of the direction of where I was going at that time. We collaborated on shows at Herron. We would do a concert, and he would do an exhibition that would go with it, and he would help us write little theatrical pieces that we'd do when we played live. You know that the Masters of Deceit started out much bigger? There were probably 13 or 14 people in it, and people just sort of dropped out as their interest waned, or they didn't see any future in it. So we got down to a four-piece [band] by the time we went to New York to do the album for Vanguard Records. But the original album that we did before that had seven of us on it, I think. There was a legendary New York producer named Shadow Morton, and it was produced by his company. He assigned one of his people to produce the session, Vinny Testa. He was a cool guy and he put up with our madness. In fact, he encouraged us. So that was good. 
Kyle: It's not too surprising that the Masters of Deceit were signed to Vanguard. They were not a typical commercial record label. 
Tom: Vanguard kind of recognized our strangeness and encouraged it. There were two brothers who ran the place. When they started out they had their first success by buying up cheaply [made] European orchestra recordings of classical pieces, and reissuing them in America at very little cost. They sold a lot of them, and made a lot of money. Then they signed Joan Baez and that got them into doing modern music. Then they went on to sign Country Joe and The Fish, and other acts that reached a certain audience. So we kind of fit in there. Later on, many years later [1974], I produced an album for Vanguard of a band from L.A. called The Roto Rooter Good Time Christmas Band. They were a street busking band. It was a horn section without a rhythm section, and they were very funny. They appealed to my Spike Jones interest. Years later I got to know Peter Schickele, who produced the P.D.Q. Bach concept. He told me that he'd called up Maynard Solomon, the president of Vanguard, and said, "Hey, my friend just produced this album by The Roto Rooter Good Time Christmas Band. Could you send me a copy?" And Maynard said, "Sure, would you like five hundred?" [laughs] So that gives you an idea of the audience size. 
Kyle: I don't want to jump too far ahead in the story. Getting back to Indiana, do you remember when exactly the Masters of Deceit came together, and when you put that name on the band? 
Tom: I believe it would've been in the summer of 1967. We had subletted a house in Rocky Ripple. It was a big, old house that had been a gun club. I wanted to do something big and crazy. I was doing a lot of side jobs in music, and I remember I was hired for a job playing some kind of a function that was happening at the Indiana State Teachers Association building Downtown. We were having a party at our house that day. It was very… [pauses] let's just call it a hippie party. At the party I issued instruments to everybody. I was supposed to play at noon at this function on the top floor of the Teachers' building, so we had a bunch of vans, and I had everybody assemble at the ground floor of that building, and we took the elevators up to the top floor simultaneously. The people at this event are eating their lunch at this place, and when they introduced us, everybody came out of the elevators playing. It was one of my favorite musical moments ever. We did two songs during our 45 minute set, and one was a free jazz thing, and the other was a free rock thing. Then we all went into the elevators and disappeared simultaneously. The audience just sat there wondering, "What just happened?" We kept that as our model for doing gigs from there on. 
Kyle: What sort of venues were the Masters of Deceit playing in Indianapolis? 
Neil Diamond at Bankers Life Fieldhouse
SWEEEEEEEEEEET CAROLINEEEEEE BA BA BAAAA
Tom: There was a club in Fountain Square called Le Scene. They were willing to have us and we played there a few times. And we played some concerts at Herron, and we did a few in Bloomington. We always tried to stage some kind of an event in connection with performing. I remember one of them, maybe it was at Le Scene, we began our show by playing a dirge, and somehow or another we'd gotten a coffin, and a bunch of people carried this coffin from the back of the room up through the audience to the front of the stage. Slowly the coffin door was lifted, and inside was a belly dancer. [laughs] We went into some kind of Arabic music, and she started doing the belly-dancing thing, and handing out cigars that said, "It's a girl." A few weeks later — and this is the punch line — our belly dancer, whose name was Daphne Lovegrove, she appeared in Newsweek magazine and caused a scandal in the Nixon White House by being photographed sitting on the lap of Vice President Spiro Agnew at a club in Greece. We just loved her for that. We thought that was the coolest thing anybody in the band had ever done. [laughs]
Kyle: The name Masters of Deceit, that was the title of a 1958 book by J. Edgar Hoover, which was a paranoid anti-communist rant. Was that the source for the name? 
Tom: Yeah, that was where it was from. But also, I was doing magic tricks early on with the band. I used to wear a wicker top hat, and during the show I would pour milk into the wicker top hat, and then put it on, but I had a thing that made the milk not actually come out onto me. I also had scarves that would change color, or I'd throw them up in the air and they would disappear, the kind of effects you could purchase at a magic shop. We kind of lost that particular conceit as we went along, and focused more on the music.
Kyle: From what I've read about the Masters of Deceit live show, it seemed like you were staging multimedia experiences with film, performance art and psychedelic light shows. 
Tom: Yeah, we had a light show. The name for the light show was the Lunatic Fringe, and my wife worked on that. That was a lot of fun. I almost wished that I could be out there doing the light show with them. We did this one disastrous show in Madison, Indiana where my brother lived at the time. He was a politician. He was in the state legislature, and he later became a judge, and he'd been the prosecutor in Madison. The only election he ever lost was the one right after we played there. [laughs] They hated us so much that they not only wrote a bad review in the paper, they wrote an editorial on the front page of the Madison paper condemning us and referring to us as being like those "New York posers like Andy Warhol." 
I took that editorial and sent it Vanguard Records, and that's what got us our record deal. They said, "Well, if he's like Andy Warhol they must be good." 
That Madison show was one of the strangest moments ever. While they were doing the light show, the people out in the audience who were handling the projectors said they could feel the waves of dislike rolling towards them. [laughs] I think my brother lost that election by the same number of votes as the number of people who walked out of that concert. 
Kyle: I read an excerpt of a review of that show from the Madison Courier in 1968 and the writer said, "for members of the audience, the experience will likely be the closest they will ever come to that experienced by taking the drug LSD."
Tom: [laughs] I remember seeing that. Of course we loved that. 
Kyle: One aspect of your live show I wanted to ask you about, and this really fascinated me, I read from a couple different sources that you would have real flames shooting out from the horn instruments. Is that right?
Tom: Oh yes, that was when the band was larger. Warren Grimwood was playing tenor sax and on his own — it was his own idea — he rigged up his tenor sax with some kind of stuff that would cause flames to shoot out of it if he touched a certain key. Actually he ended up getting divorced because he kept testing this thing out in his house, and he ended up burning up their kitchen. Warren still lives in Indianapolis and he plays organ these days. I haven't seen him in a very long time.
Kyle: You mentioned the disastrous response to your concert in Madison, Indiana. I'm curious if audiences here in Indianapolis were receptive to what you were doing.
Tom: Absolutely, and we had our ultra hip crowd in Bloomington too. Bloomington was our turf. 
Kyle: Were Masters of Deceit playing much outside of Indiana? 
Tom: I remember one of the only times we had a gig outside of Indiana, we were booked at a club in Portsmouth, Ohio. I can't remember if we actually went there, or whether the place went out of business before we got there. But I think we drove all the way there, and the place was closed.
Kyle: So you weren't touring at all on the Vanguard album release?
Kyle: I did see an article in the April 12, 1969 issue of Billboard magazine reviewing a showcase Masters of Deceit played in New York. The writer Fred Kirby referred to the band as an "Indianapolis group with solid instrumental values." 
Tom: Yes, when the album came out we went to New York and played at Ungano's, and Steve Paul's The Scene. 
Kyle: So you were more interested in creating one-of-a-kind live performances with staged theatrical elements, rather than playing random club gigs?
Tom: Right, and the live shows were kind of involved, so we weren't just doing them every night. We were planning them as concert events. But then after the album came out, we realized that we were going to have to play clubs. But that didn't really last very long because guys were starting to drift away. Stan Gage went off and he played with Mose Allison, Chet Baker and Stan Getz. Steve Blum went away, he was only in Indiana for a while, he was really a New York guy. Then Gary Campbell went to Florida and he taught there, and still has a teaching job there.  
Kyle: You were getting mixed reviews in national publications at the time. How was the album received by your fans in Indiana? 
Tom: A lot of people were disappointed at the smaller size of the band by then. They really liked the group when it was bigger. I mean when it started out it was huge, I compare it the Polyphonic Spree in that anybody who showed up could play. That was really a very fun thing, you could never tell the difference between a concert and a party. The concert was just a party with an audience. 
Then, after I moved to L.A., when I first got out there, I did a similar thing and I formed something called Tom Hensley's Biggest and Best Band Ever Yet, and it was about 40 people. I bought the library of a dance band that went out of business in the 1960s, and they obviously went out of business because they seemed to only have songs that nobody knew. This was before the days of copy machines, so we didn't have enough parts for everybody, the people who needed them got parts, and everybody else would just play along. To this day I run into people who say, "You don't know me, but I played in your band." 
I did that for a couple years. Like Masters of Deceit, it was a sporadic thing. We would play an occasional Monday night at the Troubadour in L.A., and that was a great place to play. They loved having us there, because they normally had nobody in the place on Monday night, but with all those musicians there they were selling drinks. We started getting a crowd that came in to see us. I remember I had worked a week or two at the Ice House in Pasadena with Diane Keaton, just a piano and vocal thing. She came down to the Troubadour to hear the big band, and she came around afterward and said, "Hensley, I always thought you were crazy. But now I know, you're crazy!" That was the perfect comment. [laughs] I haven't heard from her since. 
Kyle: It sounds like there was no dramatic breakup with Masters of Deceit, more like everyone went their separate ways as the natural turn of events ran their course?  
Tom: That's exactly right. Certainly there was no, "I quit!" No one ever said that. There was just no more work, and we were all doing other things. We realized that it was done.
Kyle: I know you have some unreleased tapes of the Masters of Deceit, but for the general public that 1969 Vanguard album remains the only existing document of the band. Looking back today, how do you feel about the record? Did that album capture something important, or memorable about the Masters of Deceit? 
Tom: I just listened to it before you called, I thought I should listen to refresh myself. You know there are parts of it that sound really good to me, and other parts that don't sound so good. I don't much care for the recorded sound, there's echo on everything. But that was what we did in those days. Then I hear my vocals, and I just shudder.  
Kyle: The 1969 Masters of Deceit album has had a pirate/bootleg reissue in Italy. Have you received any serious offers for an official reissue of the album, and would you like to see that happen?
Tom: [Did] you know that Vanguard Records was absorbed a few years ago by the Welk Music Group? I had a lot of laughs about that. I thought that this album ending up with Lawrence Welk was just the height of irony! [laughs]
I haven't really given a reissue any thought. When they put out the one in Italy, I really respected them because they painstakingly matched the original album package in this tiny, little CD size. Of course if you knew about the original, then you know that you would be unable to read any of the liner notes on the CD version. But I admired them for being thorough enough to actually reproduce the original form of that, Davi Det did the drawing on the inside cover, and that whole layout of stuff.
But I love the psychedelic revival people who are posting it on web sites with information about the band, and of course you can now download that album from dozens of torrent places all over the world. So it probably has more of an audience now than it did then.  
(Editor's note: This story is dedicated to the wonderfully mysterious Patrick O'Hara, for anonymously leaving grocery bags full of vintage Indianapolis underground papers for me at the NUVO headquarters. Thank you, Patrick!)