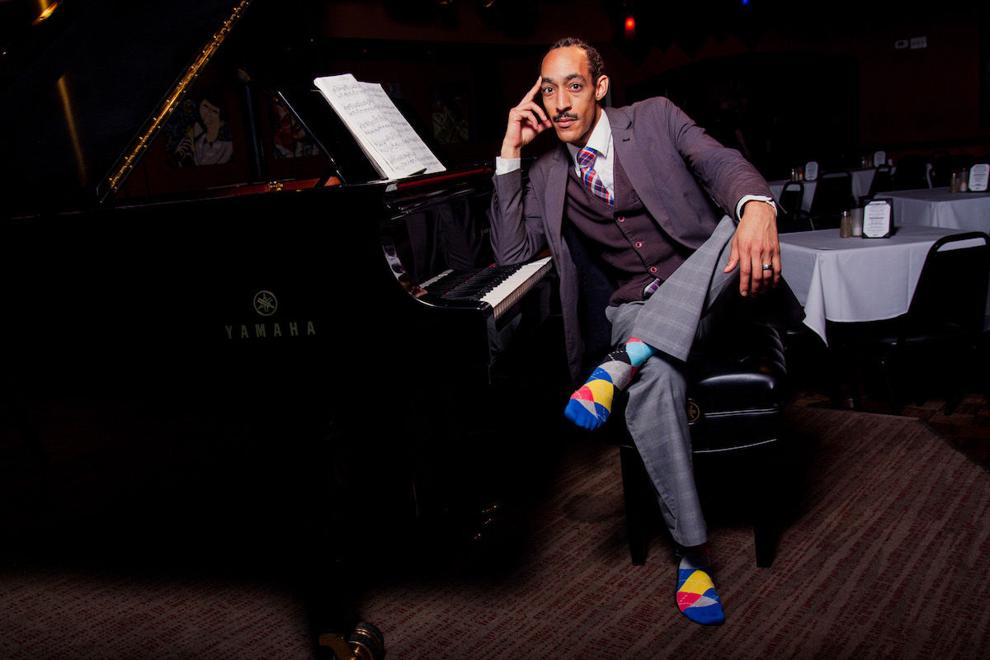 For Joshua A. Thompson, Black History Month has traditionally been a time for personal research. The classically-trained pianist spent prior Februarys digging into the stories of unsung Black composers and musicians. This year Thompson decided to take his research to the stage, recruiting an all-star crew of Indianapolis musicians, dancers, poets, and visual artists to create Village Voices: Notes From the Griot. With a cast including Premium Blend, Bashiri Asad, Manon Voice, Chandra Lynch and Uzuri Asad, Village Voices creates a tableau of the Black experience in America through dynamic live performances.
I recently caught up with Thompson during a rehearsal for the show.
Kyle Long: Tell us what inspired you to create Village Voices: Notes From the Griot, and what you're hoping audiences will take from this production?
Joshua Thompson: Classical music, or orchestral music has always been the genre that's found a way into me. So I spend my time learning and listening to classical pieces. But in 30 years of being a student of the piano, I can literally count on one hand the times I've been given a piece of classical music that was written by an African-American, or even a person of color period.
In my music education I was a student of piano and trumpet for over 15 years before I ever had an instructor who was a person of color. So psychologically, I think that's a little bit mind-numbing for someone who is growing up playing a genre where there's such a giant vacancy in representation for individuals who are musicians of color.
It's not that the works aren't there, but they weren't presented to us. So I said to myself, "If you spent the last 30 years learning works of Europeans, you can definitely spend the next year learning the works of African Americans and people of African descent."
So that's what I did. I literally went on a listening tour, found music that I liked, and learned to play it. I thought it would add to the experience if I brought other people in who work in genres that are more familiar, and may seem closer in proximity to what we consider to be a Black community experience.
The whole point is to highlight unsung and underperformed artists, and that spans so many different genres. We're casting a wide net and trying to cram in as much as we can in about two hours.
Kyle: To help shape this idea into a theatrical presentation you turned to playwright Megan Simonton.
Joshua: When I had this idea in my head, I had the first couple scenes. I explained it to Megan and said, "You take it from here." She did, and she created a really amazing script that's not trying too hard to be something it's not.
Kyle: Specifically, who are some of the under-appreciated figures you are celebrating in Village Voices?
Joshua: For me personally, I fell in love with William Grant Still. He was a composer and pianist in the 20th Century. He does a really good job of taking classical piano and mashing it up with jazz and Negro spirituals, and otherworldly sounds.
I'd be remiss if I did not bring up Margaret Bonds. She is a woefully under-celebrated composer. She was a graduate of the Juilliard School of Music, and definitely did not get her due. There's a piece by her called "Troubled Water" that I absolutely love.
To bring things more into the modern era, we're also highlighting and celebrating the amazing work of Cassandra Wilson. A lot of people don't understand just how influential she is.
Finally what we have to do is make sure that people understand that the artists performing in Village Voices need to be recognized in their own right. We have to highlight local artists creating work now and adding to the canon. We'd do them a disservice if we didn't add their contribution.
So let's honor what is past, and let's honor what is present, so we can figure out where we're going in the future as a community and as individual artists as well.
---
Audiences will have several chances to catch Village Voices this month, upcoming performances include:
The Eiteljorg Museum (Feb. 10, at 1 p.m., FREE)
Central Library (Feb. 19, at 6 p.m., FREE)
Jewish Community Center (Feb. 22, at 7 p.m., $7-20)
Theater at the Fort (Feb. 24, at 7 p.m., $12-20)