When John "Chumley" Smartz introduced me to a new band he was representing way back in the mid-90s, I never thought this band called Planet Earth would end up producing two members who would go on to have great success in the national alt-rock and Americana scenes. Tim Jones and Carl Broemel found big national success with Old Pike around the turn of the century, with Carl moving on to a lead guitar gig in alt-rock giants My Morning Jacket. 
Tim Jones jumped in with one of the early aught's bigger Americana bands LA via NC based Truth & Salvage Company.  Championed by Chris Robinson early on, and gaining a national audience by opening for the Black Crowes, the band put out a couple of albums before running out of steam. 
Leroy Powell got his name in the game as a guitarist in Shooter Jennings' band, the .357s. After 3 albums with Shooter, Powell became a Nashville session picker and songwriter, eventually forming Leroy Powell & the Messengers. Powell and Jones circled each other before their talents converged.
As Jones tells me recently from isolation, "He used Smitty (from Truth & Salvage) on drums for some shows and then we all backed up a country artist, Shawn Lacy, together.  We shared a hotel in Chicago and found a voice memo the next morning of us drunkenly singing "Sound of the South" and thought hey that's pretty good.  We should write some songs together!"
Soon the pair had assembled a revolving cast of players and Whiskey Wolves of The West was born. "For a long time, I had thought too much about only writing within the framework of what would work for Truth & Salvage," Tim says. "We had 4 lead singers and a hippie-Americana audience. I had trapped myself into a beautiful corner, but I don't love corners too much.  I was overthinking everything."
That drunken rendition of "Sound of the South" turned into the title track of the Wolves' debut album, which showed off a wicked traditional country sound. Tunes like "#1 (The Ballad of Dallas Davidson," "Country Roots" and the beautiful "Alexandria" started a pretty big buzz, including a mention in Rolling Stone as one of America's most promising new country acts.
Think if John Denver and Ol' Waylon met up in heaven and did some acid and bourbon and listened to a Moe Bandy and Joe Stampley record, that's pretty much where The Whiskey Wolves of the West find their sound. "I think we both ground each other in positive ways," Jones explains. "I'll bring him back down to earth if he starts getting too jazzy and he brings me back from the clouds when I start getting too 'college boy' as he calls it."
On Whiskey Wolves of the West's newest, I Can't Take Me Anywhere, the duo has refined the sound in a smoother more outlaw country vibe full of chicken-picking guitars and nasty rhythm groove. The title song and "Nothing but the Habit" seem to address addiction issues, and tunes like "I Love Working" and Old Man on The Mountain" explore tried and true country themes. You gotcha Biker song "Ghostrider" and the obligatory hit Love song "Ain't Giving up on You," which really should be a #1 Country smash. The music is tight and the songwriting encompasses all that makes for great Country music. I Can't Take Me Anywhere is an album that is fun and rowdy, dark and serious, vital listening for anybody who digs music.
"We weren't consciously trying to do anything," Jones tells me about how I Can't Take Me Anywhere was put together. "We were writing so many different kinds of songs and always saying oh 'y'know Blackberry Smoke could do this or Travis Tritt could do this or wouldn't Brandi Carlile sing the hell out of this' and then we just decided to record them all ourselves and put a new one out every other Wednesday which we have done for over a year now. Then, I consciously went back and took 10 of those songs that I thought sonically would fit with "I Can't Take Me Anywhere" – songs that if you put the record on at a party, you wouldn't have to skip a track." 
He pauses. "We'll release another one later this year that will be the same thing but for morning coffee or early evening cocktails. So, we'll have two volumes of collections of singles. What some people nowadays would call a playlist," he laughs, "but also formerly known as an Album or Long Player (LP)!  
I had to ask Tim about my favorite song on the album, the darkly brooding and gothic "Stranger Things." It ends the album on a wonderfully unsettling mood, like the end of a long, epic road trip or relationship. Tired and down, sad that it's all over, but a bit anxious for what comes next.
"I love this one," Tim says with a grin.  Leroy has a friend that owns a PT's Showclub in Louisville and they asked us to play on their back patio which I thought was a great idea!  I hadn't been to a gentleman's club in quite a few years and I noticed that the music that the ladies were dancing to hadn't really changed in that time."  
"There is a sincere drought in pole dancing classics!" he continued, "So that was what I envisioned when we wrote it. I remember before and after a show in Knoxville thinking of all the people I have met and strangers on the street and how many times I just happened to be in some town for small amount of time and then gone. I am so thankful for the many places and twists and turns my life has had.  I have seen a lot of Strange Things." Jones chuckles, "I'm sure I will see stranger."
Since America has been on lockdown, Tim and Leroy have been hosting A Saturday Night Campfire Jam live stream on the Whiskey Wolves of the West Facebook page. It's a great way to spend a Saturday evening in the midst of the apocalypse. "It feels so good to interact with people from all over the world in my own backyard," Tim says of the sessions. "I think we may take the concept on the road.  Who wants to host a campfire?  We'll bring the songs!"
Whiskey Wolves of the West - I Can't Take Me Anywhere can be heard on Spotify and iTunes.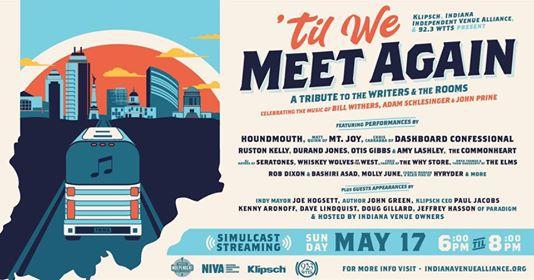 If you'd like to see the Whiskey Wolves of the West (virtually) live, they are taking part in Klipsch Indiana, WTTS and the Independent Venue Alliance's 'Til We Meet Again event this Sunday from 6pm -8pm. Other acts will include Houndmouth, members of Mt. Joy, Dashboard Confessional and The Why Store, Durand Jones and Otis Gibbs and his lovely partner in crime, Amy Lashley. Everybody will be playing the music of John Prine, Adam Schlesinger and Bill Withers. Monies raised will go to helping out Independent venues that are struggling during these turbulent times. For more info, a complete list of people appearing and a link to the live stream, visit indianaavenuealliance.org.