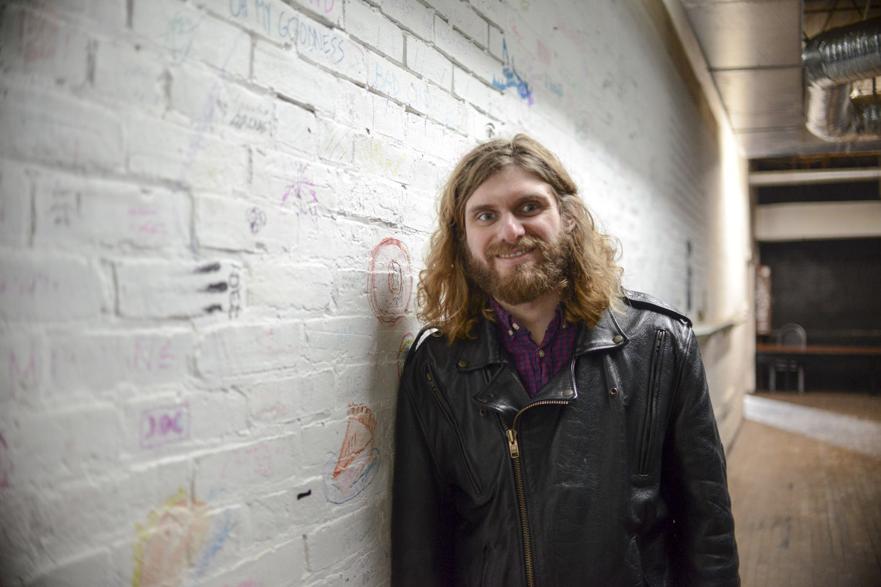 We live in a very visual world. You know it. I know it. And I'm someone who is visually impaired.
On a daily basis, I'm reminded of how vision-driven our lives are, whether I'm scrolling through Facebook or signing my receipt at the Chatterbox. To be completely honest, I will sometimes even question whether or not the pictures I paint through my writing are descriptive enough for the average reader.
Taking all of this into consideration, I am beyond thankful to be working as a moderately successful freelance writer, considering people who are blind or visually impaired in the U.S. face a 70 percent unemployment rate. This staggering percentage lies at the heart of why Bosma Enterprises exists. Founded over 100 years ago, Bosma helps adult Hoosiers who are blind or visually impaired gain the life skills they need to remain independent, and the job skills they need to stay self-sufficient. Located on the city's Northside, the organization practices what it preaches through its business model, with almost 60 percent of their 208 employees being blind or visually impaired between their production facility/corporate offices and their rehabilitation center.
Listen to an audio version of this story above, read by Kevin Holifield. 
Bosma rehabilitation center manager Kurt Deichmann is one of these blind or visually impaired employees. Diagnosed with retinitis pigmentosa at age 13, Deichmann was driving a car up until the age of 42 when his vision started going south. At this point, he turned to Bosma's rehabilitation center, which helped him regain his confidence. Today, he's more self-assured than ever. Just take his hobbies, for example.
"I still play golf — I'm pretty good at it," Deichmann says. "I downhill snow ski in the Colorado Rockies from somewhere between high intermediate to expert, and that's untethered. You wanna talk about blind faith or trust. When you're zipping down the hill at 40 to 60 miles an hour and all you've got is a guide skiing parallel to you. If you miss one of those commands, you're going head over heels, and you're probably gonna break something."
Now in his fifth year as rehabilitation center manager, Deichmann has worked closely with somewhere between 250 to 300 visually impaired or blind individuals, who have received help from Bosma at little to no cost.
"My job is to make everybody's experience as good as it possibly can be when they come through the doors. It's really that simple," he says. After personally going through the rehabilitation program, he's able to connect with his clients in a way that most others wouldn't be able to.
"The clients trust me because I've been there, done that, so I'm able to share some of my trials and tribulations with them and they accept that fairly quickly," he says. "A lot of the folks [that come to Bosma] are in a zone of isolation. They just don't have anybody else that they can interact with that understands where they're coming from."
I get it. Over the course of my life, I have felt isolated and misunderstood because of my vision, too. I was diagnosed with a brain tumor at the age of 5, which damaged my optic nerve. Thanks to the magnificent doctors at Riley Children's Hospital, I did not lose all of my vision. But I have been visually impaired since then. My left eye sees somewhere around 20/400 and my right eye can only see hand motion.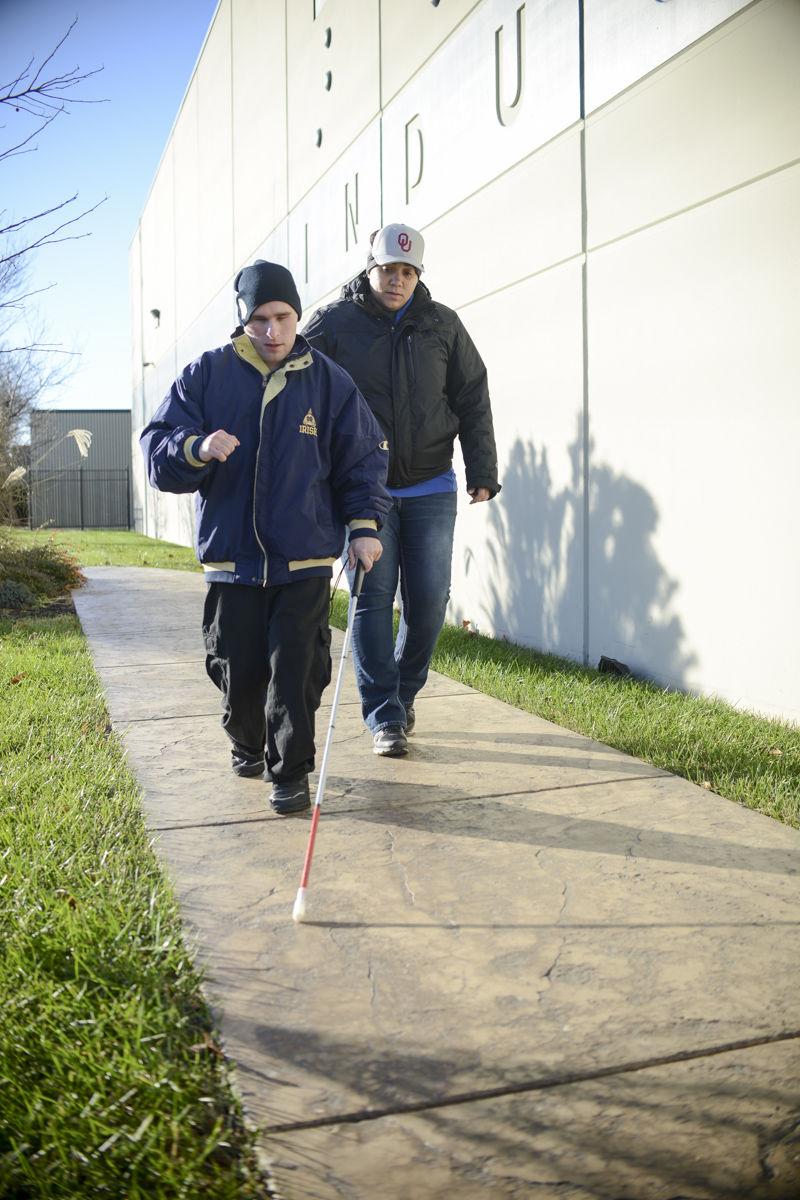 With the timing of my vision loss, my parents had to choose between sending me to public school in Lawrence Township or to the Indiana School for the Blind & Visually impaired. They went with public school, and I am grateful for their decision to this day thanks to all the perspective it gave me. That said, being the only visually impaired kid in classes growing up also came with its fair share of challenges, both emotionally and socially.
Throughout my elementary school years, I learned to read and write in Braille. Despite having the limited vision that I did, my family felt it was best that I know Braille as a backup, in case I lost more vision at a later date. At this young age, I also began using a CCTV magnifier — much like the one I still use today — to enlarge printed objects such as books, pamphlets and paperwork. As computers came into the picture, I learned how to optimize my user experience with various tools, including hot keys, magnification software and voice-to-text software.
In conjunction with all of this equipment training, I was also learning how to navigate the world as a visually impaired person through orientation and mobility lessons. As a part of these courses, I learned how to navigate Downtown Indianapolis, how to ride the bus and so much more. From these lessons, I can truly tell you that crossing a busy intersection Downtown for the first time was one of the scariest things I've ever done in my life.
About 95 percent of this training came from Cynthia Corbett, who still serves as a visual impairment specialist at Lawrence Township schools. Corbett worked closely with me from early grade school up until I graduated from Lawrence North High School in 2009. She taught me how to stand up for myself as a visually impaired person, and even encouraged me to initially intern with NUVO during my senior year of high school.
During those developmental years of my life, she was so crucial to making me confident in myself as someone with low vision. I can say I would not be where I am today — living independently Downtown with a job that I'm passionate about — without all the skills she equipped me with.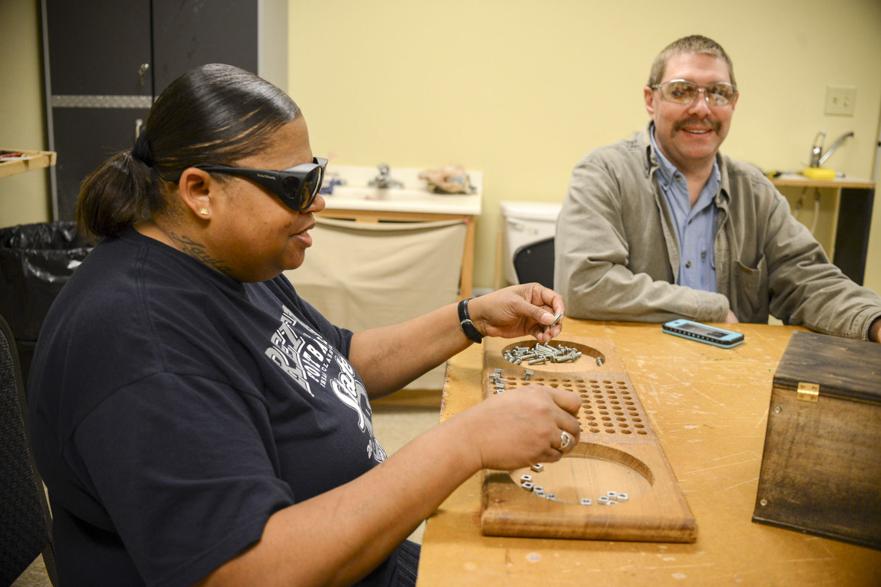 The Bosma Way
As I sit and talk with Deichmann in his office, I quickly learn that much of the training and consultation I received growing up is very similar to the training clients receive at the Bosma rehabilitation center. Like many of them, too, I can relate to the struggle of not being able to drive.
"I live in Westfield. Everyday, I struggle with the number one obstacle for blind and visually impaired people, and that is getting from Point A to Point B," Deichmann says. "I moved down from Chicago. They had a much more robust regional transportation system. I've heard that word bantered about here in Central Indiana for decades. We're pretty close. This is as close as we've ever been. But until I see the Red Line get extended to Hamilton County, I'm not really going to jump for joy. Maybe before I retire, I might be able to ride on that Red Line to work."
For Bosma rehabilitation center clients that live in Marion County or the surrounding donut counties, transportation is provided to and from the center each day. Those who live outside of this range are put up in a nearby extended stay hotel. In addition to these options, Bosma also offers in-home rehabilitation services, where an experienced instructor comes to the client's home for training lessons. Whether in-home or at the center, all Bosma rehabilitation programs start out the same way — with a customized plan tailored to the client's needs.
"It doesn't go, 'What can folks who are visually impaired do? Okay, let's see if you can do that,'" says Michelle Shaffer, adjustment counselor at the Bosma rehabilitation center. "It goes, 'What do you like to do, and how would a person with a visual impairment do that?' It's a whole different thought process than you might think."
For current Bosma client Leo Leighton, the dream is to start his own business. With a background in banking, marketing and sales, the Indiana native and father of two began losing his vision two years ago and was forced to cope with the sudden change.
"I sat at home for a year and a half fearing what was next," Leighton says. "You come here and the first couple weeks you're just like, 'Wow, I can do this.'" He attributes this uplifting feeling to the experienced staff at the rehabilitation center.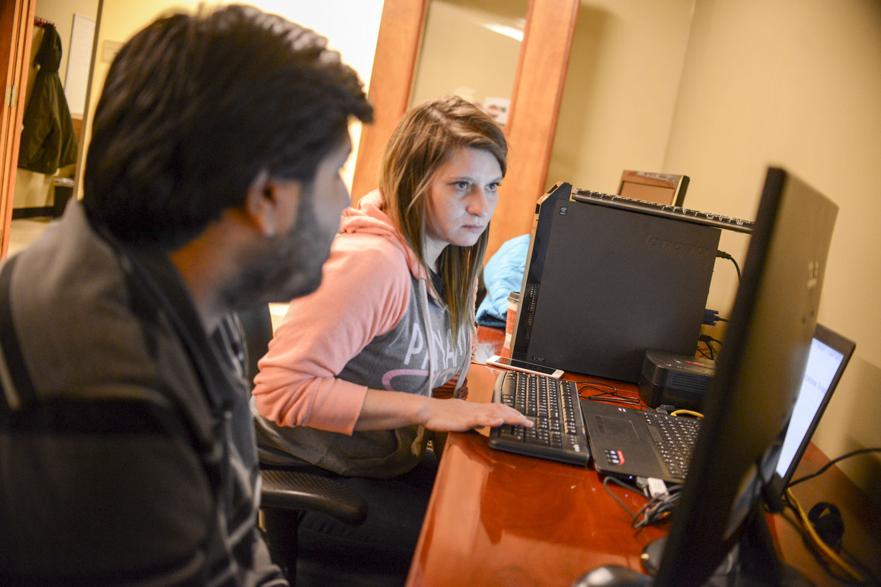 "Being in a community of people who get it is the best. Without that, I don't think the learning would happen as fast or be as accepted," Leighton says. "A lot of them [the staff] are either visually impaired and have gone through the program or are visually impaired and have taught visually impaired people for 30 to 40 years. They get it. That's just a necessary piece that accelerates the process."
This is something that Adam Rodenbeck also witnessed from the instructor's side of the Bosma rehabilitation center. A former student of the Indiana School for the Blind & Visually Impaired, Rodenbeck worked as an assistive technology instructor at Bosma before eventually moving on to become the accessibility specialist at Salesforce.
"I didn't realize I could teach people," says Rodenbeck, who has a computer science background. "I was just a couple of days in, and one of the clients who was at the center was having a rough time. She was a mother who was losing her sight and was worried about how she was going to take care of her two kids. I noticed after just a day or two — it was her first week too — that she began to make friends with some of the other people in the center, and I could tell how much she looked up to those of us who were blind that were instructors."
"It just sort of clicked that what we were doing was more than teaching a curriculum; we were being role models and helping people that didn't think life was going to be able to go anywhere. It's just always been super awesome to me to see people come in [to Bosma] who think that they have no hope, and then they leave excited and ready to take on the world because they've got this newfound freedom."
Currently, the rehabilitation center only has the capacity to serve 15 individuals at a time due to limited training space and number of staff (although this number will grow once a new, larger rehabilitation facility opens and is fully staffed in the coming months). Each of these clients spends anywhere between 12 to 16 weeks in the program, depending on their needs in the following categories:
Orientation and Mobility
Most simply, "orientation" is knowing the "spatial relationship" between Point A and Point B, explains Deichmann, with "mobility" referring to how exactly you will navigate between those points. To help with this training, Bosma has a custom-built Orientation and Mobility Trail to teach safe navigation on a variety of real-world surfaces. "It's like an obstacle course for training people," Deichmann says. From here, the clients are taken to busier areas like Broad Ripple for lessons, while also receiving training with mass transit and IndyGo's Open Door service.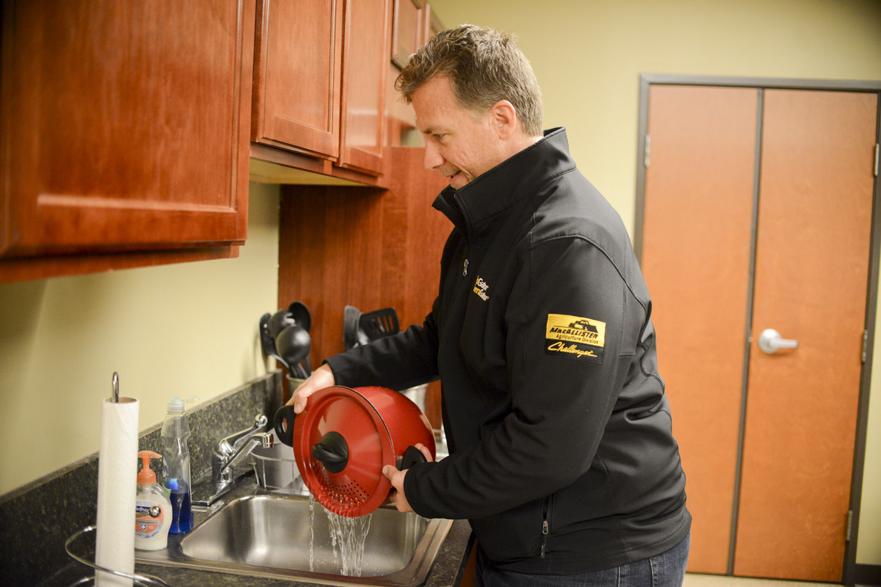 Manual Skills
"The primary thing in here is about using your hands and getting used to feeling and doing things because there's a lot of stuff you can still do, even though you don't have sight, by touch," explains manual skills instructor John Manyik. A former graduate of the Bosma program, Manyik worked as an aviation technician before losing his sight. "I'm definitely used to working with my hands," he says. "A lot of the aviation stuff you did by feel, whether you wanted to or not." During manual skills courses, Manyik will have students do things like weave a basket to help them get better with using their hands, while also teaching them how to do other hands-on tasks, like simple home repair for instance.
Personal Management
From cleaning up messes to cooking a meal, this area of the rehabilitation center helps clients do all that they need to around the house. As one might imagine, the kitchen element is a big part of this, with parents sometimes needing to continue cooking for their kids after losing their vision. "I'm not here to teach a person a bunch of new recipes," says personal management instructor Kathy Emata. "It's more about the techniques and the safety part of it." At the end of the course, students are even given the option of putting together a meal, for which they do all of the shopping and cooking. "To see them pull a whole meal together is really special," Emata says. "Sometimes the person has never done that before."
Assistive Technology
Technology plays a big part in making life easier for everyone, and that is especially the case with those who are blind and visually impaired. With decades of experience in the field, assistive technology director William Powell even built a website (brlsts.com), which is intended to aid the teacher, student, parent, or adult client in learning to access computers for school, communication, leisure and future employment. On the site, you'll find lessons in keyboarding, Outlook, Word and more. "We are surfing the tsunami wave of technology right now," Deichmann says. "There are apps coming out that are helping us, and you just gotta stay on top. Just staying in touch and staying current is very important."
Communications
Although audiobooks are more prevalent now than ever before, those who would like to learn how to read Braille can learn how in this area of the rehabilitation center. "If you really wanna be literate and you can't see print, Braille gives you the punctuation and the whole shoe to match," says Powell, who reads about two to three hours a day in Braille due to the limitations he has reading print. Here, clients can also learn handwriting techniques. "Even though I can't read what I write anymore, I still use a template that I lay over a piece of paper or a gift card or a notecard, so handwriting is still possible," Deichmann says.
Adjustment counseling
"When you become visually impaired, it takes over your identity a little bit. So you're in a process of reclaiming who you are," says Bosma adjustment counselor Michelle Shaffer. At her part of the center, she works to help clients sort through whatever inner battles they may be fighting because of their loss of vision. "The other piece is they have families and children and spouses who are also adjusting," Shaffer says. "And the unfortunate part is they're not immersed, so they don't know what they're supposed to do either. So when we can, we try to bring them to be a part of it if they want to be. It's an adjustment for everyone."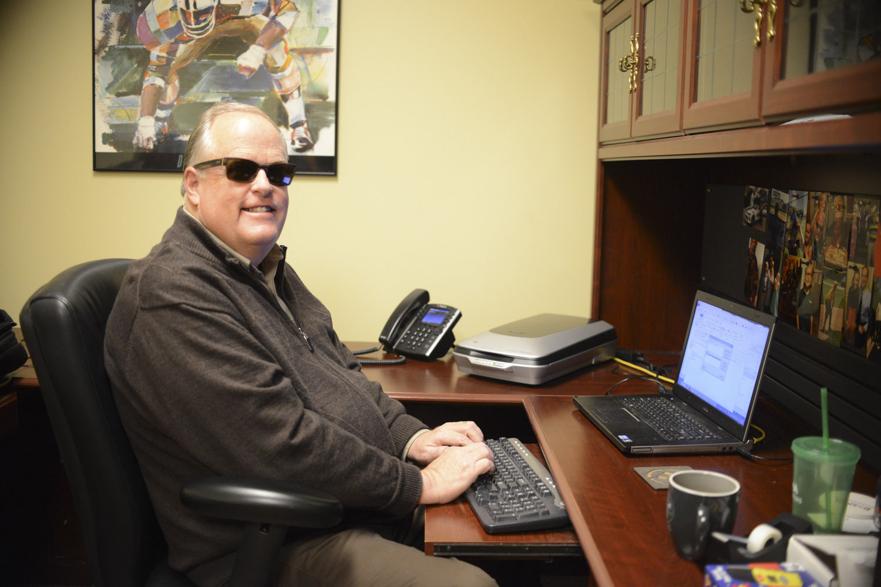 Graduation day
Once clients have completed their training, then it's on to bigger and better things. And while they may not be receiving hands-on knowledge from their Bosma instructors anymore, Deichmann still expects them to continue pushing themselves. "Graduation day here is not the end of your training — it's only the beginning for the rest of your life," he says. "I give you the basic skills, but I expect you to practice what you've learned, because if you don't use it, you will lose it. You also need to keep adding to the skills." Overall, he's quite proud of the success he's seen from his rehabilitation center graduates.
"Sixty-six percent of the people who graduate are either employed or onto higher education a year after they've left us," he says. "So we're double that national average of 30 percent employed. We're very proud of that fact."
For graduates of the rehabilitation center who happen to live in Marion County and the surrounding donut counties, Bosma also works with both job-seekers and employers to create employment opportunities as a part of their employment services program. "For those individuals that are local, once they graduate from rehab, then it's a simple discussion they have with their vocational rehabilitation counselor that they're ready now to pursue work and that they would like the help of an employment specialist," says Bosma employment services manager Kristy Russell, who also serves on the Mayor's Advisory Council on Disability. "They can choose who their provider is, but I would say most of the time if not all the time, if they came through our rehab program, they tend to pick us."
For Russell, the fun part is figuring out what her clients would love to do most. "Everything about our program is personalized to the person," she says. "Some calls that I get will say, 'Okay, what jobs do blind people do?' And our response is, 'Whatever they wanna do.'" In helping her clients prepare for interviews, she makes sure that they're presenting their skills and not their blindness to potential employers. This is personally something I was taught through my training growing up as well.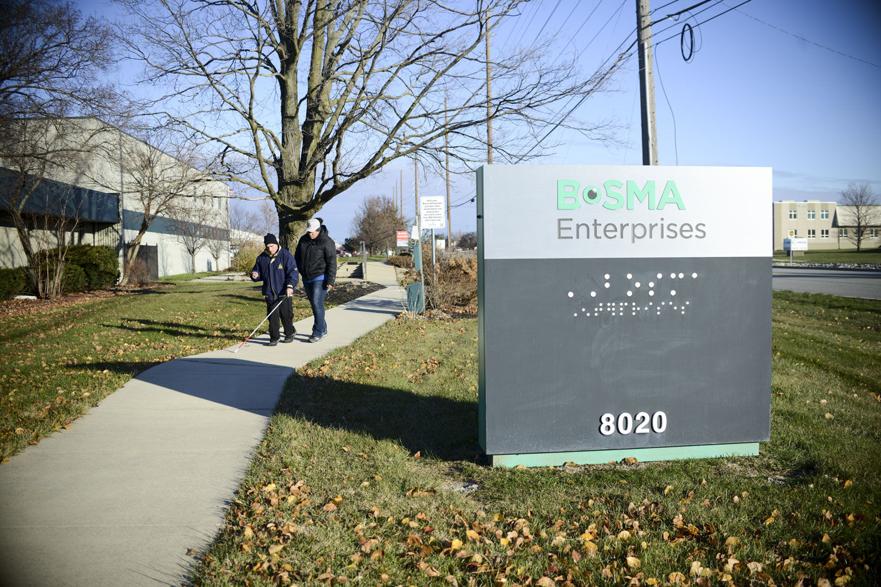 "You didn't lose you, you just lost your sight," she tells clients. "It's just helping people see that you do have a toolbox full of tools at your fingertips to use. We just might have to use them in a different order or in a different way, but you are still you."
According to a study from the National Industries for the Blind, 54 percent of hiring managers felt there were few jobs that could be done by a person who is blind — and accommodating a person with vision loss would require "considerable expense." This misconception is one that Russell works to dispel through her work at Bosma.
"Employers sometimes get nervous, and I think they sometimes try to put themselves in the person's shoes," Russell says. "We don't need to do that. That person lives in their situation every single day. They know what they need. They know what works and what doesn't work. We just need the employer hiring the right person for the job."
Throughout my phone conversation with Russell, I again get a sense of how passionate the employees at Bosma are about advocating for blind and visually impaired individuals.
Since I've dealt with my fair share of struggles, it's incredibly encouraging to see an organization in my city doing work for people like me.
God willing, I will never have to adjust to vision loss again in my life. But if I do, I know where I'm going for help.