On Wednesday, at the historic Elder W. Diggs School, Indianapolis-based Crossroads Education announced it had been awarded $750,000 by the Bill & Melinda Gates Foundation to expand its Learning Commons model at four Indianapolis schools.
The Bright Spots in Middle Years Mathematics Grant will provide funding for Crossroads to design, build and activate the near-peer collaboration model at Ignite Achievement Academy, Matchbook Learning, and Indianapolis Academy of Excellence. Funding for the Paramount School of Excellence location will begin in August.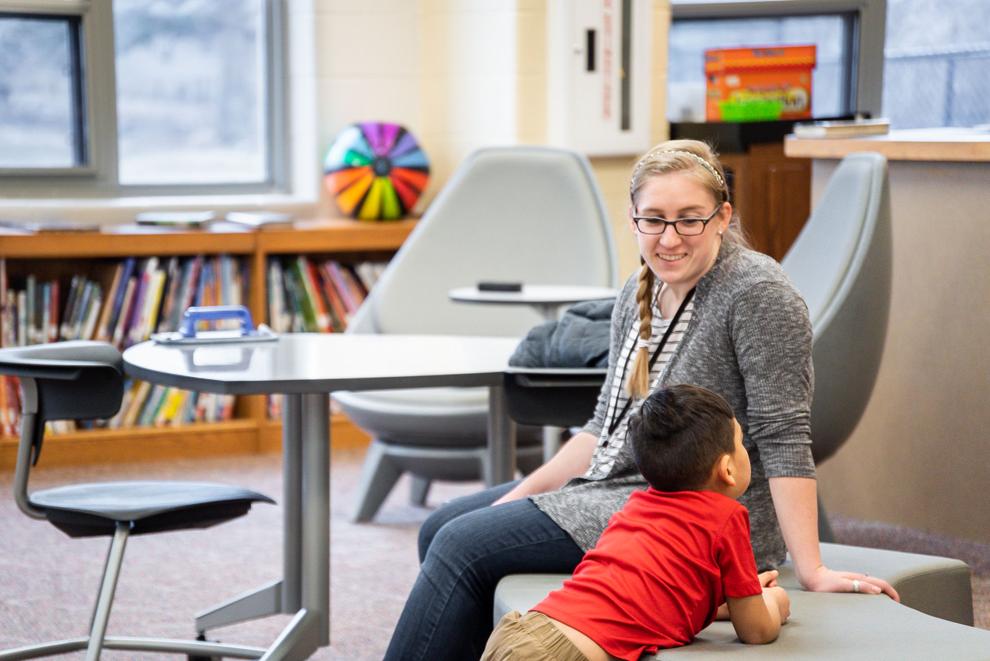 "We need students like those educated through the Crossroads model. These students learn from one another, they work with one another, and they treat each other with respect," said Mayor Joe Hogsett.
Elder W. Diggs School Principal Shy-Quon Ely said the facility is known to teachers and students as the Brain Lab.
"We inspire the world-changers, and this is what it's about," he said.
According to the foundation, the Bright Spots Grant was designed to ensure that every Black, Latino, and low-income student deeply knows, is able to use, and enjoys mathematics by ninth grade.
Crossroads Education was chosen as one of six grant awardees from across the United States because of a successful track record of serving these populations in both the higher education and K-12 sectors.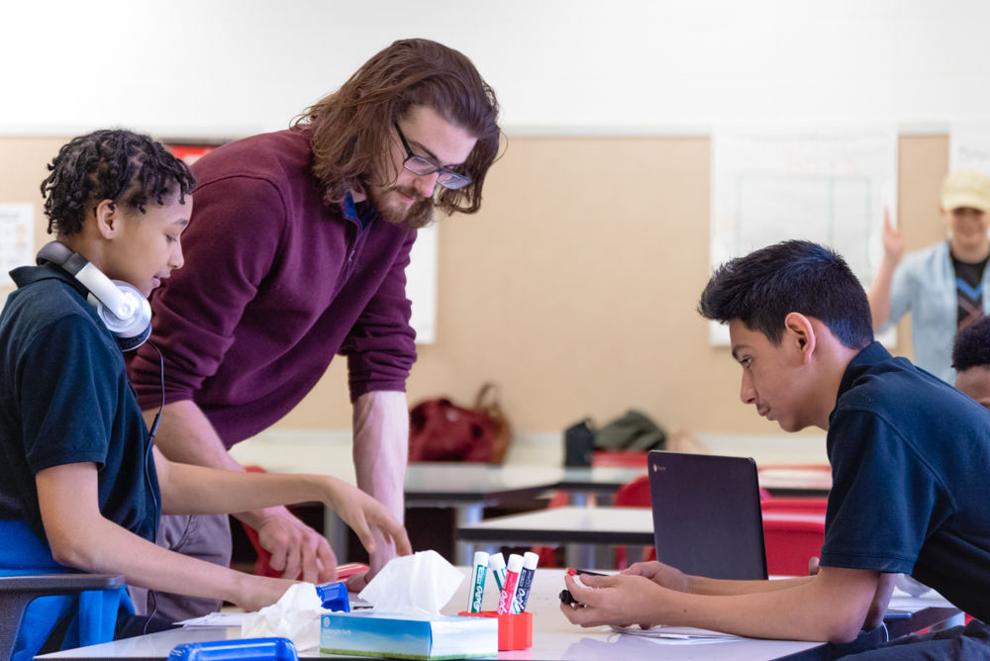 After graduating from Purdue University, Crossroads CEO Kevin Berkopes spent much of adult life teaching in some of the most dangerous areas of the country, including the south side of Chicago.
"It was a great way to spend your 20s, and I learned a lot about what I didn't know," he said, on Friday.
It was during his master's degree work in mathematics at the University of Texas that Berkopes said he began thinking about the issue of manpower and labor in schools.
"We have a workforce problem, but not the way that people are talking about it," he said. "The workforce problem is that we have fantastic teachers. We have unbelievably good people in our schools, but we are asking them to do something that is impossible."
Berkopes said it was then that he hit upon the idea of employing students teaching one another.
"The best way to learn something is to teach," he said.
He began building his first learning centers in 2012 at Indiana University Purdue University Indianapolis. The spaces were open access, which allowed students to drop in and out for roughly 12 hours per day. Berkopes said it quickly expanded to two centers, employing 150 undergraduates. These locations saw 100,000 visits an academic year, up from about 9,000 when Berkopes first got there and took over the tutoring space.
Crossroads Education was then allowed to expand from Indiana University as a spin-off partner. The company then built three "software as service" products, including a virtual learning space called Nexus, which Berkopes demonstrated during Wednesday's announcement. These allow students in different parts of the city to assist one another with tutoring.
"We have as young as fourth graders in Indianapolis being trained," he said. "We're really trying to shift the narrative. Right now people have schools competing against each other, and that seems crazy to me. If we've got four IPS high schools in this city, they should be sharing resources across all four of them rather than trying to isolate themselves and do it alone."
Berkopes said even with the addition of this technology, the most important part would be the face-to-face interactions between students.
"We believe human beings learn best when they're sitting at a table with each other and connecting," he said. "We want to have technology to be able to augment that and push it forward, so regardless of geographic location we can still provide connections. We would never want to do away with that person-to-person interactions."
Berkopes said the goal of Crossroads is not to replace teachers, but to augment their work.
"We believe schools have way too much on their plates from state and national, federal regulations, and we want to take a piece of that off of their plates," he said. "But, we want them to continue to do everything that they're good at. So, we don't want to operate a school, we want to operate a program within that school. The same way that they would vend out the food service, we want them to vend to us a program where we hire 30, 40, 50 kids from their school to train and provide support for the teachers and administrators to teach literacy and mathematics predominantly."
Berkopes said that now that the foundation had approved the grant, they are going to subject the program to a rigorous year-long research project with a company called Mathematica. If they are able to hit all their goals, the foundation will take an even bigger bet to help expand the concept to an ever larger number of schools.
"They're going to help you scale, so that you can create both a company and a program that has the capacity to do what we're trying to do," he said.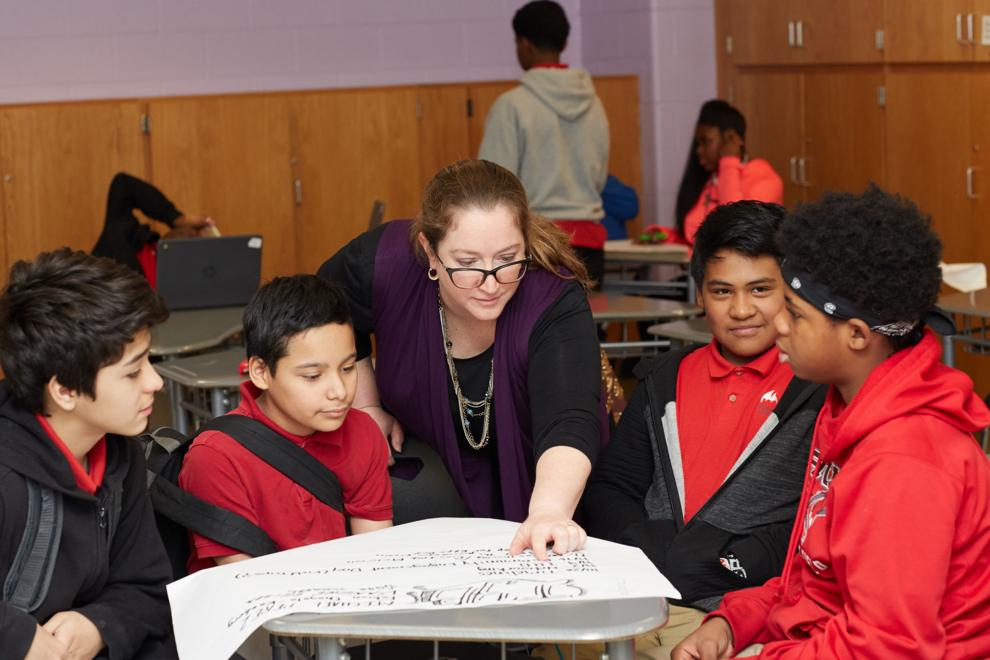 Innovation Network Schools
Of the four schools which will receive funds from the grant, three of them have been directly supported by The Mind Trust, a local education nonprofit which was founded in 2006.
Innovation Network Schools are public schools made possible by recent state laws that allow school districts to convert, open new, or restart existing schools into new, autonomous schools with their own 501(c)(3) boards, according to The Mind Trust.
Brandon Brown, CEO of The Mind Trust, said that four years after those legal changes, there are now 20 Innovation Network Schools serving 8,500 students.
"We really think this is just one of many examples that show that the education ecosystem in Indianapolis is very innovative and it's really getting more and more national attention," said Brown, on Friday. "So, we thought it was really fitting that one of the schools that we helped incubate was receiving this grant, so we wanted to really try to support that school."
Brown said one of the biggest changes for these schools was the ability to make decisions as close to the students as possible.
"The Crossroads example is just one of many examples of increasing partnerships across the city," he said. "And, a big reason for that is school leaders have more autonomy to try to forge new partnerships that are going help suit them."
Brown called charges that The Mind Trust was trying to privatize school "just blatantly false."
"Schools that The Mind Trust supports are uniformly schools that are public; schools that are held accountable to rigorous standards," he said. "They are run by a nonprofit organization. So, the notion that is a form of school privatization or that there are folks that are trying to make money off of these schools is just uniformly and categorically false."