Above: "Yellowwood Trail" by Benny Sanders 
Even the most urban of dwellers has probably passed by a bright yellow sign asking for Governor Eric Holcomb to "Save Yellowwood." There's a chance they've also received a knock on their door from an Indiana Forest Alliance canvasser like Jill Young.
"There are a lot of practical reasons why I'm motivated to canvass," said Young. "One is that less than five percent of forests in Indiana in 2017 are protected from logging, according to a letter from 228 Indiana scientists asking Governor Holcomb to set aside more forests from logging. And that's down from 40 percent in 2002. I'm afraid of what this means for the future of conservation in our state.
But, for many, the effort to stop logging in the Yellowwood State Forest Backcountry area is deeply personal.
"My dad and I used to spend a lot of quality time together hiking the trails in Yellowwood. By canvassing, I hope to spread awareness of the issue, and motivate people to call on Governor Holcomb to reconsider the sale," Young finished.
Yellowwood State Forest was created in 1940, deeded to the state in 1956 and had a portion set aside as Backcountry in 1981. Conversation about the Backcountry heated up this fall after the DNR announced plans to log a 300 acre portion of the forest. The timber sale went through on November 9, amid onsite protests from about 200 people.
Environmental advocates like The Indiana Forest Alliance -— most recently victorious in a campaign to halt construction of the old growth forest of Crown Hill North Woods — is continuing to coordinate efforts in an attempt to persuade Governor Holcomb to revisit the decision. (Holcomb was unavailable for comment but his spokesperson Stephanie Wilson stated, "His support for the plan stands as a way to support the forest's health.")
Those efforts include the yellow yard signs, continued canvassing and a protest camp near the Backcountry area.
We've rounded up a collection of explanations and responses from advocates, scientists, the DNR and others to explain why the fight to protect Yellowwood State Forest's Backcountry has come to yard signs in our own backyard.
- Katherine Coplen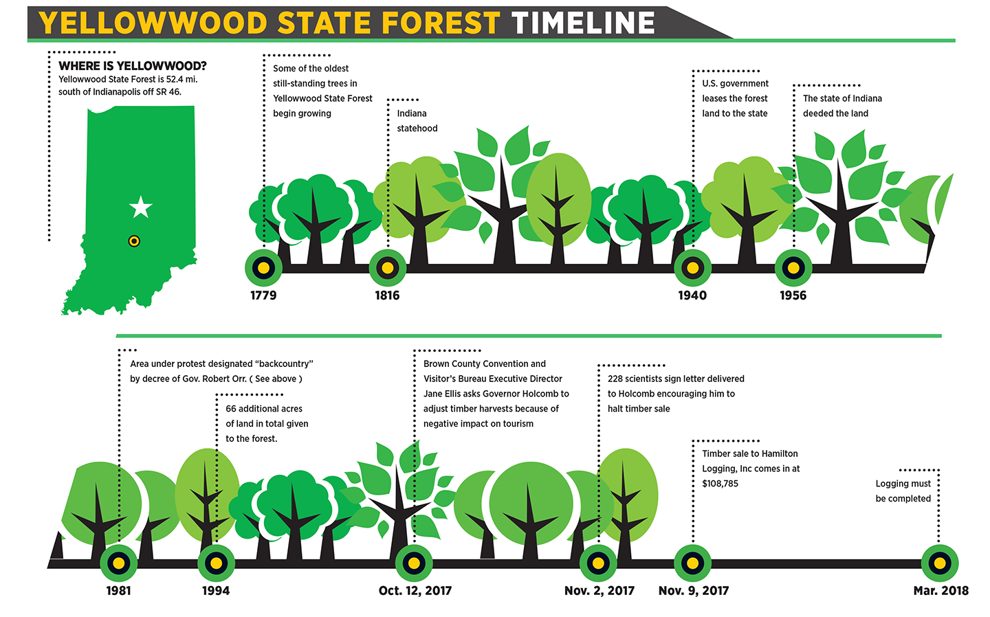 What's happening at Yellowwood?
The Indiana Department of Natural Resources (DNR) has sold the rights to log part of the Yellowwood State Forest Backcountry, removing approximately five to seven trees per acre on 299 acres.
Environmental groups, including Indiana Forest Alliance (IFA) and Hoosier Environmental Council (HEC), are still hopeful that Governor Holcomb will cancel the sale. Meanwhile, DNR assistant director of communications, Marty Benson, has confirmed that the contract is finalized, though a signed contract was not available upon request. 
DNR director of forestry, John Seifert, helped me understand the timber sale process a little better. The Indiana State Forest system is on a 20-year rotation, meaning tracts of land are considered for logging every 20 years. DNR spends a couple of years assessing a tract before making a recommendation that it be cut. 
Once a cut is recommended, they engage in a non-mandatory 30-day public comment period, review the comments, approve the logging plan (unless public comment brought out new information that would lead them to stop), and schedule a timber sale. 
The morning before the Yellowwood timber sale, Castlewood Inc., a Tell City wood flooring manufacturer, offered the State's asking price of $150,000 to preserve the forest for 100 years. Hours later, the logging contract was sold to Hamilton Logging for $108,785. 
If you're looking at this purely from an economic viewpoint, it appears the state was shortchanged. The Indiana Democratic Party shared a recent IndyStar story on Facebook with a comment saying, "Let's get this straight. Governor Eric Holcomb sold Yellowwood to a logging company for LESS than he could have for preserving it?!" 
To be fair, that's not a true statement.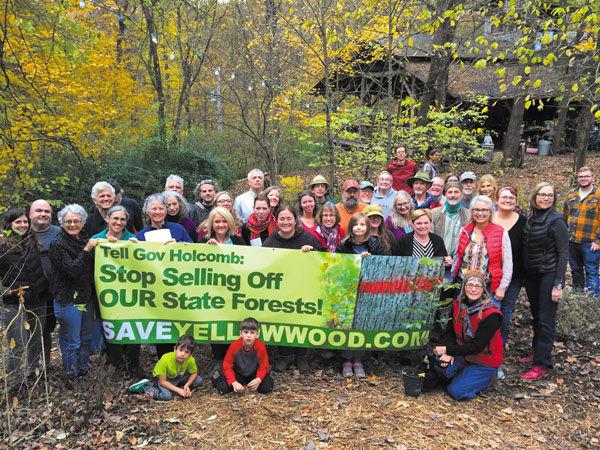 First, Holcomb and DNR did not sell Yellowwood. They sold the logging rights to 1,700 trees in Yellowwood. Second, the $150,000 offer was to preserve the Backcountry for 100 years, which means the State has the potential to make more than half a million from logging in that area based on the 20-year rotation. 
In explanation of why DNR accepted a bid that was so much lower than the previously stated value of the trees, Seifert said it's because they actually didn't end up marking as many trees for the sale as originally anticipated. 
Castlewood's offer was also denied because they are not a licensed and bonded logger, which is a requirement for DNR timber sales. Naturally, many opponents of the sale question whether there is a way around these requirements. For what it's worth, a representative of Castlewood confirmed that their offer still stands if the Governor were to cancel the sale.
There's another side of the economics to consider. Many of the people who oppose logging in the Backcountry were supportive of increased funding for DNR in the most recent legislative budget planning. A lot of people who would ordinarily be friends of DNR, including advocacy groups, constituents and legislators, may not be so inclined to be supportive in the future if logging concerns are ignored.
DNR manages a lot of land. Numbers from 2016 show that they own a little over 405,000 acres, about 1.7 percent of the state's acreage. The U.S. Forest Service owns another 200,000+ acres. Of those 600,000+ acres, 347,000 acres are off limits from harvesting. For the mathematically challenged, that's more than 50 percent of DNR-managed land that is protected from logging. 
Editor's note: This letter to NUVO from the Indiana Forest Alliance is part of our continuin…
But opponents to logging want to make sure you understand that those calculations don't tell the whole story – there's a bit of nuance to the numbers. DNR-managed land includes state parks, lakes, state forests, state park inns, fish and wildlife areas, nature preserves, law enforcement headquarters, and recreation areas. So, a portion of that acreage isn't really loggable in the first place.
In 2006, DNR, along with other partners, started a 100-year research study called the Hardwood Ecosystem Experiment (HEE). Their goal is to learn about the long-term impacts of forest management practices, like timber management. Seifert is prepared to confirm that "there's always going to be some species that win and some that lose." 
From his perspective, they oversee all of the natural resource assets of the entire state. Meanwhile, advocacy groups (like IFA and HEC) and scientists specialize. Seifert doesn't believe that opposing groups and scientists can fully understand the big forestry picture. Opponents say he has a narrow perspective that is entirely focused on forest management and not the bigger ecological picture. 
The keyword being management.
Tim Maloney, a policy director with HEC, points out that DNR holds tight to the philosophy of management, "They believe that we should be managing everything, but if we're going to have old-growth forests, then they should be old-growth forests that aren't logged." (Editor's note: Sweany is Special Projects Manager for HEC.)
IFA's conservation director, Rae Schnapp, says, "The HEE has shown that some species can use recently harvested areas. That does not demonstrate that they benefit from harvesting, only that they can tolerate it relatively well," which contradicts DNR's messaging that timber management will help at-risk species in Yellowwood.  
The DNR says that they target mostly dead and dying trees for logging, but IFA and HEC argue that leaving dead and dying trees plays an important role in a healthy ecosystem. 
Schnapp says, "Standing dead trees provide critical habitat for woodpeckers and bats. When trees fall they provide habitat for insects, mice, voles and lizards that form the foundation of the forest food chain." Fallen trees also return nutrients to the soil. 
IFA's Executive Director Jeff Stant on the plan to log Yellowwood State Forest. 
IFA also shared an interesting theory on how removing diseased trees could be detrimental to the future of trees. Consider the emerald ash borer, a beetle that is killing ash trees across North America. IFA director of communications Anne Laker makes this comparison: a person who takes antibiotics all the time is not able to build a natural resistance to disease. Cutting and removing all ash trees could be impeding the species from building a resistance to the emerald ash borer. 
 In 1981, DNR, under Governor Orr, designated 2,700 acres in Morgan-Monroe and Yellowwood State Forests as "Backcountry." At that time, the press release stated the intention behind this designation, including things like being relatively free of roads, no camping within a quarter mile of an access point, no transportation other than walking, no horses, and unimproved hiking trails – basically, a primitive experience with nature. 
Laker says, "What a gift to the people of Indiana that we should continue to expect." And she questions whether the logging planned for Yellowwood fits the original intention set by Governor Orr. 
It's true that the 1981 press release also says, "The management of the timber resources within the Backcountry will be compatible with all other uses permitted."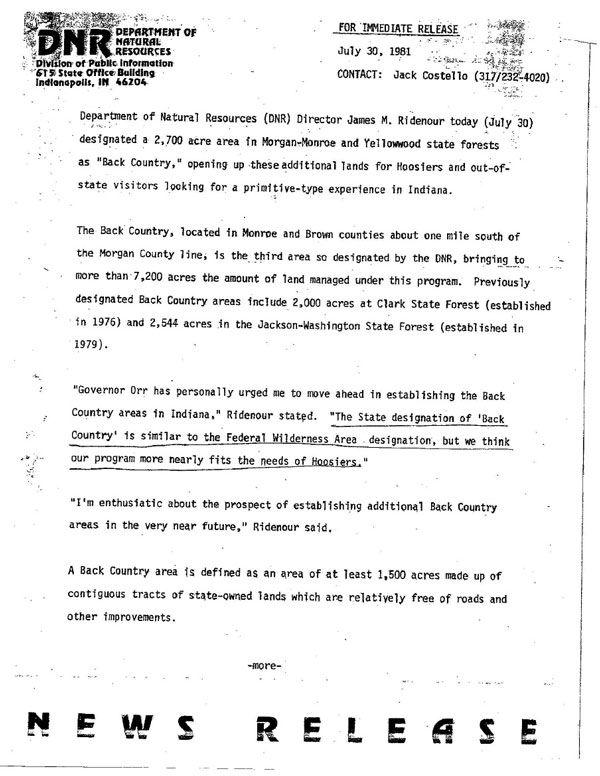 You read that right. They never said, "no logging," meaning DNR is perfectly within their rights to use timber management practices in the Backcountry. 
Interestingly, from 1981 until 2005, under both Republican and Democrat Governors, there was no logging in the Backcountry. From 2005 to present, the Backcountry has been logged four times. 
David Haberman, a professor of religious studies and ecology at IU and IFA board member, has been enjoying Indiana's natural resources for many years. He recalls multiple times in the '90s when he would voice his objection to logging in other areas and was told that if he wanted to be in an unlogged area, "Just go to the Backcountry." Referring to the IFA and HEC Ecoblitz, a comprehensive inventory of flora and fauna in the Backcountry, Haberman says, "The cut that they have planned is not an ordinary cut. This cut is vindictive. It is undermining a scientific study designed to show the value of old-growth forest in the state forest."
Another of IFA's concerns is the collateral damage caused by logging – some trees have to be removed to get to others, access roads must be constructed causing habitat fragmentation, there's a possibility of introducing invasive species, compacted soil, and other damage caused by equipment. 
Before Hamilton Logging may begin cutting, they will go through a pre-harvest consultation with DNR. Loggers are required to complete a training designed to teach crews practices to minimize their impact on soil and water quality. For state forests, logging crews must have a minimum amount of industry-accredited training. Logging must be completed by March 31 because of the nesting and roosting habits of the endangered Indiana bat. The state executes an average of 40 logging contracts per year. 
The executive director of the Indiana Wildlife Federation (IWF), Emily Wood, weighed in with confidence, saying, "DNR has a track record of good practices and has had incredible success reintroducing and protecting many species."
IWF doesn't particularly believe that timber management goes against the original intention of this tract of Backcountry; however, they do believe that the people of Indiana should be heard. Wood said, "Given the recent outcry regarding the logging planned, it is clear that this area has become a very special place for outdoor recreation and IWF feels strongly that the public concern for this area should be valued and considered in this decision."
- Renee Sweany