Faith leaders and gun-control activists are calling for Gov. Eric Holcomb to stand up against white supremacy and gun violence, including supporting a ban on assault weapons.
"The dehumanizing rhetoric and speeches from our highest office have put us on a dangerous course toward the normalization of a renewed, open and more emboldened white nationalism," the group Faith in Indiana said in a letter delivered to Holcomb's Statehouse office Tuesday morning. "Coupled with easy access to guns, this ideology has created a white terrorism crisis."
Faith in Indiana, which describes itself as a catalyst to seek racial and economic justice, was joined by members of the gun-control Moms Demand Action at the Statehouse to spur Holcomb to take steps in Indiana to prevent hate-inspired violence in the wake of recent mass shootings in California, Ohio and Texas that left 34 people dead and more than 60 wounded.
"These are not individual acts of bigotry but systemic acts that require systemic action," said the Rev. Shonda Nicole Gladden, CEO and founder of Good to the Soul and a member of Faith in Indiana. "We are here because our governor does not have to wait for Congress to protect Indiana families."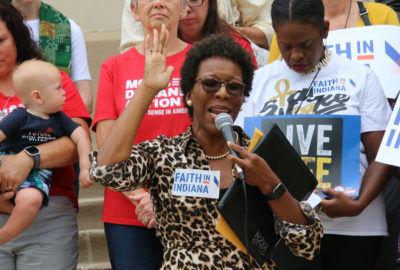 More than 30 attendees stood on the south steps of the Statehouse to pray and sing "This Land is Your Land" before entering the capital.
Members of the group asked to meet with the governor but were told he was unavailable. They then left the letter, signed by more than 100 clergy members.
The letter – which asks for a meeting with Holcomb within the next 60 days "so that together we can build a safer and more inclusive Indiana" — lays out three pieces of legislation the group would like to see.
"We urge you promptly to condemn the weaponization of hate and the ideology of white supremacy and introduce gun safety legislation in the 2020 legislative session: ban assault weapons, mandate background checks and invest in public health approaches proven to curb gun violence," the letter states.
The group also called on U.S. Senators Todd Young and Mike Braun, both R-Indiana, to support House Resolution 8, a universal background check bill that passed the U.S. House of Representatives but has not received a vote in the U.S. Senate.
The Rev. David W. Greene Sr., senior pastor at Purpose of Life Ministries and president of Concerned Clergy of Indianapolis, said the faith-based community refuses to remain silent and called on leaders to act swiftly.
"We must move beyond thoughts and prayers to action," he said.
Holcomb's press secretary, Rachel Hoffmeyer, said the governor's office will review the letter.
"There is no higher priority than the safety and security of Hoosiers," Hoffmeyer said. "Indiana works to prevent tragedies through efforts including our red flag law, school safety funding and legislation, and partnerships through local, state and federal law enforcement officials."
At a ceremonial bill signing last week at the Indiana State Fair on veterans' benefits legislation, Holcomb denounced white supremacy.
"This is counter-American. It's counter-Hoosier," he said. "It's not what we stand for. Any supremacist groups that seek to terrorize or cause fear in our population needs to be held accountable for that."
In April, Holcomb went to the National Rifle Association convention in Indianapolis to sign House Enrolled Act 1284, which allows guns on school property if the carrier is working at or attending a religious service there. The bill also expanded the "stand your ground law" by saying someone who uses a gun in what was deemed justifiable self-defense cannot be sued in civil court.