Advocates and community leaders are sending a flurry of letters to legislators in support of the original language of Senate Bill 12, the amended hate crimes bill.
The newly-formed group Indiana Forward has been on the forefront of pushing for comprehensive hate crimes legislation. The group is made up of representatives from the business, nonprofit, advocacy, education, and faith communities.
On Thursday, the eve of International Women's Day, dozens of advocates attended a letter-writing party hosted by Women4Change and the Muslim Alliance of Indiana at the Interchurch Center's Krannert Hall.
Rima Shahid, executive director of Women4Change and member of the Indiana Forward campaign, said it was critical lawmakers restored the legislation to its original language.
"We are here in support of and to urge our House members to pass Senate Bill 12 as it passed out of committee, not the stripped-down, watered-down version. I truly believe it does not get Indiana off the list of one of five states that does not have that legislation," she said.
PROTECTED CLASSES STRIPPED FROM BILL
On Feb. 18, supporters cheered as the Public Policy Committee met in the Indiana Senate chambers and voted 9 to 1 to send Senate Bill 12 to the Senate for a vote. The bill was co-authored by Sen. Mike Bohacek, R-Michiana Shores, and Sen. Ron Alting, R-Lafayette, and would cover individuals targeted for their "perceived or actual color, creed, disability, age, national origin, ancestry, race, religion, gender identity, sex, or sexual orientation."
On Feb. 19, that version of the bill which included protected classes was radically altered by a vote of 33 to 16 after an amendment was introduced by Sen. Aaron Freeman, R-Indianapolis, which replaced that language with the word "bias." Before the final vote was taken, members of the Republican supermajority huddled in chambers, out of view of the public.
"We are, in essence, protecting those members of our society that are most vulnerable," said Shadid. "For Women4Change Indiana, our mission is to protect the dignity of all Hoosier women. Within the group of Hoosier women we have people of all races, national origin, gender identity, and sexual orientation. We truly believe that people based on who they are should not be left out. And, that's what it is now."
Martha Lamkin, a member of the board of directors for Women4Change, said it was "really disappointing" to see the result once the bill moved out of committee.
"You saw such a great process in the Senate committee, and such a super hearing convened by the chair, the ranking member, and the committee vote was very strong. And, something happens in the caucuses that's just mystifying because the words that were proposed in the original bill were so clear, and I don't think threatened others in their exercise of religion or other rights of speech," she said.
On Feb. 21, a final 39 to 10 vote approving the stripped-down language was taken, sending it to the House for consideration.
"In Indiana, unfortunately, we continue to be on the wrong side of history when we do not pass a complete and comprehensive, inclusive bias crimes bill," said Shadid.
Aliya Amin, executive director of the Muslim Alliance of Indiana and member of the Indiana Forward campaign, said additional features originally passed out of committee should also be re-added to the bill.
"In addition to the list, which is the number one most important thing, we need to bring back the training requirements that were in the amendment that passed out of committee as well, because without the training, the officers won't know how to investigate crime," she said. "They need that to recognize bias when they see it. And, specifically for those categories that are listed. And, we need the reporting requirements as well. So, all three of those things together are imperative to have a comprehensive bill."
Supporters of the amended language have lodged several objections to the inclusion of protected classes.
The Witmer vs. State of Indiana ruling by the Indiana Supreme Court in 2003 has been used by Freeman and others to suggest that listing individual classes are unnecessary. Opponents of the current language and Democratic legislators, including Senate Minority Leader Tim Lanane, say that case narrowly tailored to race, and nothing else.
Others have accused the idea of including protected classes as tantamount to "thought policing," a charge the other side has dismissed because there would have to be an action tied to it.
STARK REMINDERS OF LACK OF PROTECTIONS
Dustin Passarelli, 33, of Plainfield was charged Feb. 28 with the Feb. 16 road rage murder of Mustafa Ayoubi in the 3900 block of Wind Drift Drive East.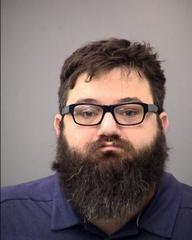 Marion County Prosecutor Terry Curry, who has also been a vocal supporter of a comprehensive hate crimes bill, stated March 1 that he would have charged the murder as a hate crime, but no law was in place at the time.
Also on March 1, a candlelight vigil for Ayoubi was organized by the Muslim Alliance of Indiana at Christ Church Cathedral. Supporters, including members of Indiana Forward, took the opportunity to call for comprehensive hate crimes legislation.
At Thursday's letter writing event, Shahid said this case hit close to home for her and her loved ones.
"Being a member of the Muslim community, we have just buried one of the members of our community," she said.
Ayoubi's murder is the latest in a string of incidents which have served for supporters as reminders of the importance of enacting such legislation.
On July 28, 2018, a pair of spray-painted Nazi Party flags and Iron Crosses, along with burn marks, were discovered on the brick walls around the garbage bins outside of Congregation Shaarey Tefilla in Carmel. On Aug. 16, 2018, authorities announced Nolan Brewer, 20, Cloverdale, was charged in federal court on criminal complaint with conspiracy to violate civil rights.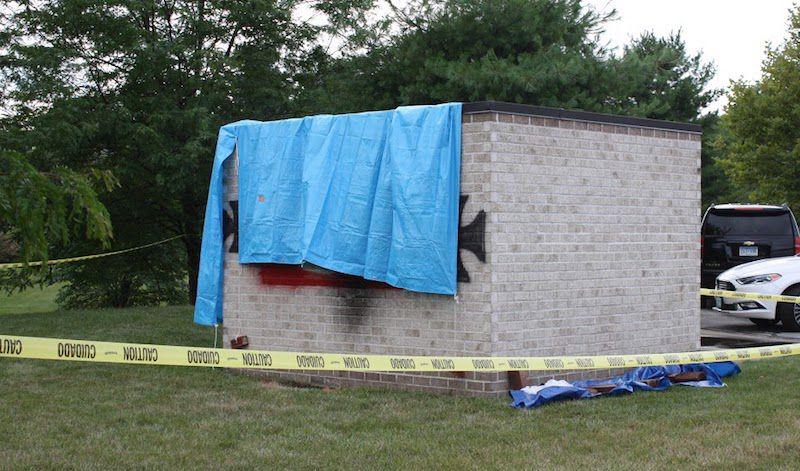 Meanwhile, Aug. 13, 2018, a sign at the entrance of the Azalea Hills retirement community in Floyds Knob was discovered spray-painted with swastikas.
Amin said these cases showed why it was important for supporters of all backgrounds to rally together to pass a comprehensive hate crimes bill in Indiana.
"This is very relevant to all of our communities and we need to just keep taking Indiana forward," she said.
ALL EYES ON THE HOUSE AND HOLCOMB
After the amended version without protected classes passed the Senate, Holcomb reiterated his stance promoting the original language passed out of committee.
"Indiana House Democrats agree with Governor Holcomb that we need to pass a meaningful bias crimes law this year," stated Indiana House Democratic Leader Phil GiaQuinta on Feb. 27. "We also agree with the Governor that we will not accept any proposal that doesn't include a list of specific classes of people that would be protected.
"He has offered two options—his own administration's employment policy and federal law—that he believes will put Indiana on the list of states that punishes criminal attacks based on race, color, creed, religion, sex, national origin, ancestry, age, sexual orientation or gender identity, physical or mental disability, or veteran status. Indiana House Democrats are prepared to add this language back into Senate Bill 12, and we join the Governor in encouraging the people of Indiana to contact their Republican legislators about getting these changes put into the version of the bias crimes bill that will come before the House"
On Feb. 27, over two dozen prominent CEOs sent a letter to Speaker of the House of Representatives Brian Bosma, President Pro Tempore Rodric Bray, and Rep. Greg Steuerwald, R-Avon, urging them to pass a comprehensive hate crimes bill.
On Thursday, 30 of the nation's leading civil rights organizations—including the Anti-Defamation League, the Human Rights campaign, the NAACP and the Southern Poverty Law Center—sent another letter to Holcomb, Bosma, and Bray "to make it clear that Senate Bill 12, as currently drafted, will not remove Indiana from the list of states without a bias crimes law."