Hoosiers age 65 to 70 will have to wait for more doses of the COVID-19 vaccine to be sent to Indiana before gaining eligibility while a mutant strain of the virus has been detected in the state. 
Due to a lack of available doses of the COVID-19 vaccine being sent from the federal government, Gov. Eric Holcomb and the Indiana Department of Health are unable to expand eligibility at this time. 
Holcomb said the main limiting factor is still that the allotment or allocation of the vaccine the state is receiving is nowhere near the current demand for the shots.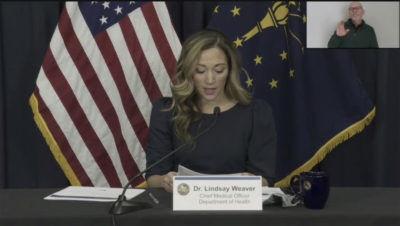 Holcomb and Dr. Kristina Box, Indiana Department of Health commissioner, shared their happiness about the downward trend in positive cases, the outpour of Hoosiers registering for the vaccine and what they call the effectiveness of their approach so far. 
"It's heartening to see many users who are eligible to step up and get a shot in the arm are doing exactly that," Holcomb said.
More than 362,000 Hoosiers have received their first dose of vaccine, and of those, nearly 88,000 have received both doses and are therefore fully vaccinated. 
Additionally, about 50% of Hoosiers age 70 and older have scheduled an appointment to get their vaccine. Dr. Lindsay Weaver, chief medical officer for the Department of Health, said this is a testament to how much the vaccine means to seniors in the state. 
Box said it's the first crucial step on a journey back to normality. 
"But as with any journey of 1,000 miles, you take one step at a time, which is why we continue to follow our age-based approach to vaccine eligibility," Box said. 
Box stressed the importance of learning about the vaccine and vaccine safety.
Thirty-three deaths associated with the COVID-19 vaccine occurred in Norway this week, with 23 of those deaths being within hours of receiving their shot. Norwegian health officials said these deaths occurred in patients in very frail populations. Box said her team and the CDC are watching closely for any indication the vaccine could have caused these deaths. 
Indiana has had three individuals who have died sometime after receiving their vaccine. These individuals had underlying conditions that may have contributed to their deaths. The deaths have been reported to the CDC vaccine adverse effects registry and will likely be under review by the Advisory Committee on Immunization Practices (ACIP) as well. 
Another concern is that while Hoosiers continue to wait patiently for their turn, a variant of the virus may soon run rampant across the country.
Four cases of the United Kingdom b-117 strain have been diagnosed in Indiana. More than 122 cases have been identified in at least 20 states. This strain is a mutation of the virus, and it is more easily transmitted.
Box shared that there also are reports of other mutations, including one that has been detected in South Africa. This new strain behaves much like the United Kingdom variant and also is more transmissible. It has not been detected yet in North America.
Box and Weaver both said vaccinations are being scheduled as quickly as vaccines become available, almost on a one-to-one basis. 
"Our focus remains on expanding the number of clinics, removing obstacles to vaccines for those who are eligible, educating and answering questions about vaccine safety and efficacy, and creating a smooth process for Hoosiers to be vaccinated," Box said. 
Box addressed questions about when additional groups will become eligible. She said the Department of Health finds out on Tuesdays what the allocation for the week is, and her team works based on those numbers. Indiana is currently only receiving 78,000-80,000 doses per week.