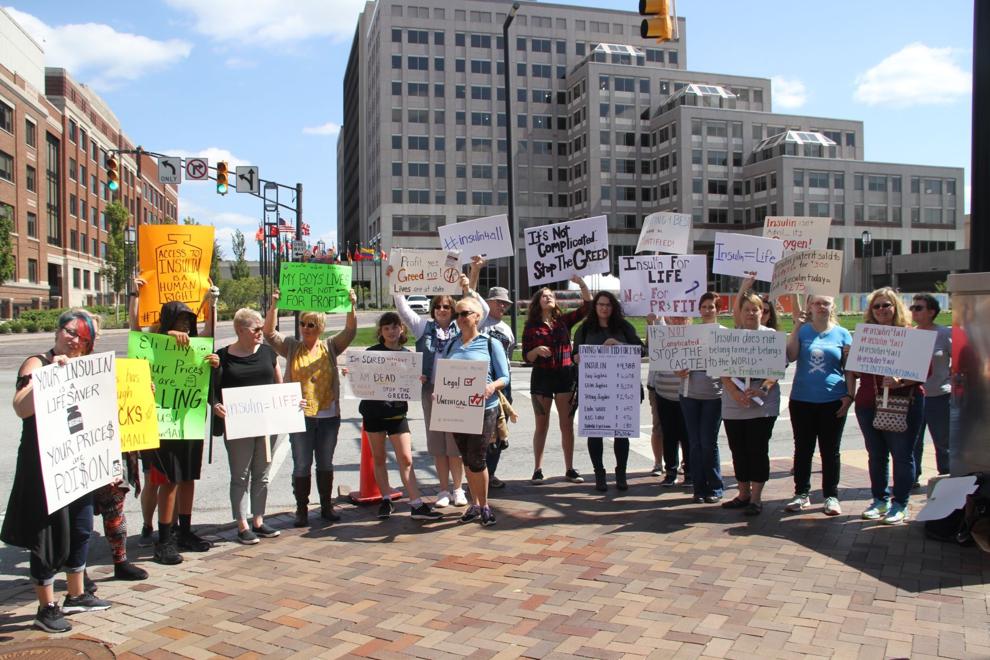 It is a bright and sunny autumn Saturday afternoon. Across Indiana, people gather on the sidelines of kids' soccer games and tailgate outside of college football stadiums. The people walking down South Delaware Street in pairs and small groups are dressed in t-shirts and jeans, and carry brightly-colored signs. They look to be headed for a relaxing outing, too.
But as they approach their destination a few blocks from downtown, the looks on their faces became more visible. So do the words and images on their signs.
They are not relaxed.
Their destination was the corporate headquarters of Eli Lilly and Company, one of three global manufacturers of insulin. In near lockstep with the other two manufacturers, Lilly has raised the price of its insulin by over 300 percent over the past seven years, and over 1,000 percent since the late 1990s. A patient's out-of-pocket cost for a month's supply of Eli Lilly's Humalog can run to over $400.
Like most of the other protestors, Hope Charters of Lafayette lives with type 1 diabetes and learned of the demonstration through the patient advocacy group T1International, Charters holds a sign that lists the 2016 costs for treating her disease, including insulin and testing supplies. At the bottom, it reads: "Cost to survive for 12 months: $23,356."
Charters says she chose this message to demonstrate that hiking up the cost of insulin is not like increasing the price of a smart phone or a flat-screen TV: whatever price companies like Lilly set must be met. "If you don't get your medication as a Type 1 diabetic, you literally die," Charters says.
Insulin is not a cutting-edge medicine. It was first used to treat a person with diabetes in 1922, a revelation that won its discoverers the Nobel Prize. Then they gave away the patent for one dollar each, with the intent that the young company Eli Lilly could manufacture and distribute the medicine to all who needed it. For several decades, that plan worked.
But now, half of those who need insulin globally cannot reliably get access to it. Even persons with diabetes in the relatively wealthy U.S. are forced to ration insulin and skip injections. Physicians report seeing an increasing number of insulin-deprived patients coming into emergency rooms in crisis.
At the demonstration outside of Eli Lilly headquarters, patients shared stories of life-threatening complications from not taking insulin. A letter was read from a mother whose 26 year-old son died this past June after he had lost insurance coverage and was forced to ration his insulin.
Getting control of the rising cost of necessary medications, like insulin, is a complicated equation that can leave people with some tough choices.
Manufacturers keep their insulin production costs a tightly guarded secret, but U.S. prices are likely hundreds of times higher than the expense of making the drug. The insulin price increases have been called "price-gouging, plain and simple" by U.S. senators. An endocrinologist writing in the New York Times called it a "racket."  One might think that three different manufacturers of insulin would compete with each other on price. Instead, their mirror-image price increases have triggered a class-action lawsuit alleging collusion.
At age 15, Hope Charters was a year-round athlete. But she kept losing weight. Her thirst seemed unquenchable, and she was vomiting a lot. For her family, the eventual diagnosis of type 1 diabetes was a terrifying one. Charters' grandfather and an uncle had already died from complications of type 1 diabetes. Her uncle was only 38 years old.
"All I knew was that you die from it," she says.
For Charters and other persons with type 1 diabetes, their body's immune system has damaged or destroyed the insulin-producing cells in the pancreas. Unlike type 2 diabetes, type 1 is unrelated to diet, body weight, or exercise. People with the more common type 2 diabetes often need to take insulin shots on a temporary or permanent basis. For people with type 1 diabetes, the equation is much more uniform, and more stark: they must inject insulin in order to stay alive.
For a while, Charters' family had good health insurance through her father's workplace, and it covered most of the cost for her insulin. But by the time she graduated from Purdue and took a job in Downtown Indianapolis, the family had lost that coverage and Charters was on her own. She paid $350 each month for insurance, but was still responsible for out-of-pocket costs until she met a large deductible. Every month became a struggle. Charters does not like to talk about that period.
"It was a mess," she says. "And compared to others, I was not that bad off. I can't imagine being on the poverty line and having a kid with type 1."
Charters now works for Purdue, and again has good health insurance coverage. But her past struggles to afford lifesaving medicine reflect the current reality for thousands of people across Indiana, and the problem goes far beyond insulin. Some are willing to share their stories anonymously, like the cancer survivor retiree with a whopping $400 co-pay for the medicine she needs, or the son with health insurance who exaggerated his insulin needs to his physician so he could share some of his excess with his uninsured, but also diabetic, father.
Getting control of the rising cost of necessary medications, like insulin, is a complicated equation that can leave people with some tough choices.
Others are willing to go public. Eastside resident David Bridges has a full-time job with health insurance. But he too faces a high deductible, and one of his medicines for glaucoma costs over $700 a month. So he maxes out credit cards to buy some of the medicine, and skips doses, hoping for the best.
Mark Trover of Indianapolis skipped doses too, when his job offered no affordable insurance to cover his blood pressure and heart medicines. Four years ago, when he was unable to pay to fill his prescriptions to lower his blood pressure, he suffered a stroke. He is now permanently disabled.
These Indiana stories reflect a growing U.S. medicines crisis. The cost of prescription drugs has increased an average of 10 percent or more every year for several years, far higher than the rate of inflation. The price of many medicines rises even faster, as Americans discovered with the 450 percent spike in the price of Epi-Pens and the 5,000 percent overnight increase in the price of the drug Daraprim by the company owned by "Pharma Bro" Martin Shkreli.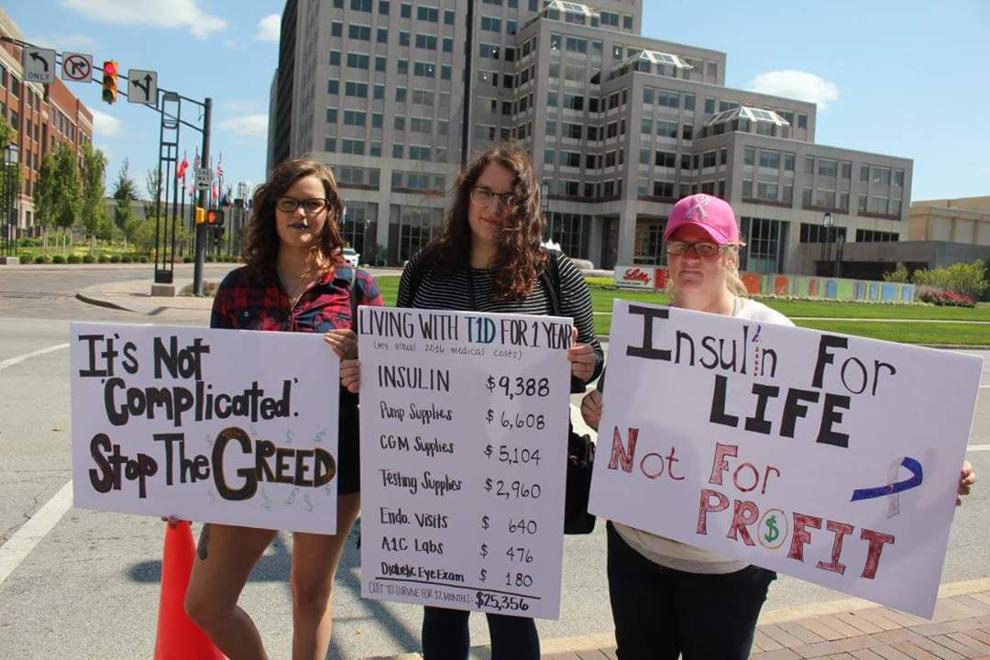 One of every five Americans report either skipping medicine doses or failing to fill prescriptions each year due to cost. Meanwhile, the pharmaceutical industry enjoys some of the highest profit margins in modern history. For example, Eli Lilly's 2016 net income was over $2.7 billion. In many years, the company profits exceed $4 billion, with profit margins as high as 20 percent. The industry says it needs those dollars to support its research. But it turns out the research on the most important medicines, especially at the most risky stage of the process, is funded by taxpayers. With the revenue collected from record-high prices, drug companies spend more on marketing and lobbying than on research and development.
So it is not surprising that polls show that a large majority of Americans are angry at drug companies — 77 percent say drug prices are unreasonable. Republicans and Democrats alike support aggressive government intervention on medicines pricing. Even Donald Trump has announced that the companies are "getting away with murder." Proposals in Congress and state legislatures range from allowing imports from Canada, where medicines are far cheaper, to treating pharmaceutical companies as a public utility.
So far, the pharmaceutical industry has fought off any significant changes in the system. The "Big Pharma" nickname is well-earned: the industry is one of the top spenders in the world on lobbying and political campaign contributions, particularly in the U.S. In the Washington, D.C. area alone, pharma corporations employ twice as many lobbyists as there are members of Congress. (U.S. Senator Richard Durbin has said that the industry "has a death grip" on the U.S. government.)
Beyond direct lobbying, pharmaceutical companies also employ a more subtle way of advancing their agenda: philanthropic contributions, including funding patient advocacy groups that then echo the industry's talking points. Giving away a small percentage of windfall profits in return for high-profile goodwill is a time-honored tactic. We all witness it in action every time we walk into a museum, library, or school building that prominently displays the Lilly name.
Currently, 750,000 Hoosiers live with diabetes, a 37 percent increase since 2005.
No one understands the Indiana impact of pharmaceutical industry philanthropy better than Pam Altmeyer Alvey. For nearly 30 years, Alvey worked at Gleaners Food Bank, guiding its growth from working out of a three-car garage to becoming one of the largest nonprofits in the state. During Alvey's years as president and CEO, Gleaners distributed hundreds of millions of pounds of food to dozens of charities. Senator Richard Lugar praised Alvey in the Congressional Record. On the day Alvey retired from Gleaners in 2010, she was honored as a Sagamore of the Wabash. Indianapolis Mayor Greg Ballard proclaimed it Pam Altmeyer Alvey Day.
Like all nonprofits, Gleaners relied heavily on donations. During Alvey's time, she says, no organization was more generous to Gleaners than those connected to Eli Lilly. The largest grant Alvey ever secured was from Lilly Endowment, founded by the Lilly family and funded by Lilly stock. The company's internal foundation gave a lot of money to Gleaners, too. ("There are a whole lot of good people working in that company," Alvey says.)
But in her retirement, Alvey struggles to afford the Eli Lilly medicine that she needs to survive. She has had diabetes for decades, long enough to remember when the same vial of insulin that is now priced near $300 cost about $20. Alvey is on Medicare and pays for a supplemental prescription drug plan, but there are big gaps in that coverage. One of the two insulins she has been prescribed is Lilly's Humalog, and the cost stuns her.
"I was totally unprepared for my insulin alone to take more than half of my monthly income," she says. To control her blood sugar and lessen her need for insulin, Alvey limits herself to two meals a day and eats the same foods for nearly every meal.
Alvey is a former Republican precinct committeewoman. She is one of an increasing number of believers in the free market who criticize the pharma industry business model of patent monopolies and government-subsidized research, not to mention bulk government purchases often made without negotiation. "It's protectionism at its very worst," she says. "It's not that the companies are making great breakthroughs in insulin while they are raising the price. They are making tweaks."
Alvey is getting angry, but she catches herself, and again points out that there are good people working in the drug industry, especially at Lilly. "And the company was generous to us at Gleaners, and to others in the community, too," she says. Then she pauses.
"But I would not add on one penny to anyone's medical costs for those donations."
Back at the demonstration, Hope Charters is joined by her mother Kim McGowen. Like a lot of others at the demonstration, McGowen has no prior history of being an activist. If anything, Charters says, her mom leans to the political right. But there was a time when McGowen had to choose between paying for her teenage daughter's insulin and the family's utility bill. It was McGowen's father and brother who died from diabetes. She knows the stakes involved.
So here she is on a Saturday afternoon in Indianapolis, standing next to her daughter, holding a sign saying, "Insulin for life; not for profit."
Fran Quigley directs the Health and Human Right Clinic at Indiana University McKinney School of Law and People of Faith for Access to Medicines. His new book is Prescription for the People: An Activist's Guide to Making Medicines Affordable for All.