Originally published December 9, 2020 in TheStatehouseFile.com 
Overwhelmed hospitals and exponentially-rising case numbers led Gov. Eric Holcomb to announce a stop to non-emergency medical procedures and plead with Hoosiers to practice safety precautions.
"When you talk about counties being red, the state of Indiana is on fire," Holcomb said Wednesday at his weekly virtual press briefing. 
Thirty-six Indiana counties are in red and 56 are in orange on the Indiana State Department of Health COVID-19 dashboard, indicating high and moderate community spread of COVID-19. No counties appear in lower spread categories indicated by yellow or blue.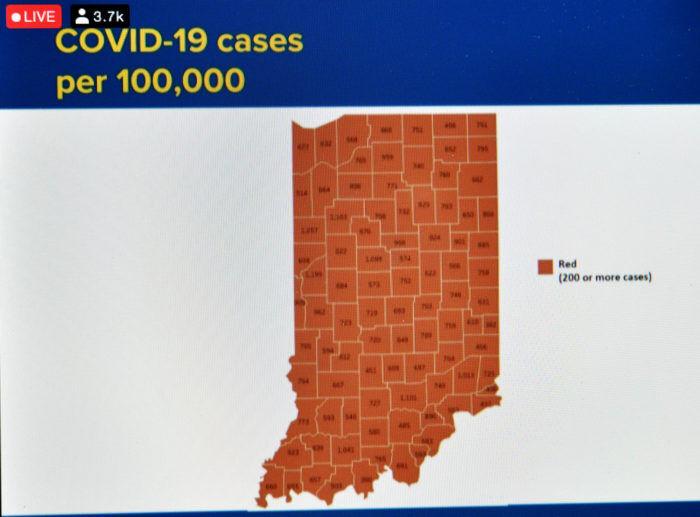 The ISDH map uses two metrics: seven-day positivity rate and cases per 100,000 residents. While this map is used to determine certain restrictions, state health Commissioner Dr. Kristina Box said that she wants Hoosiers to focus on the map detailing cases per 100,000 people.
"This is the fourth consecutive week in which all counties have been in red," Box said.
To be in red, counties must have more than 200 cases per 1000,000 residents. Only two counties have fewer than double the minimum, Box said, with seven having over 1,000 COVID-19 cases per 100,000 Hoosiers.
Holcomb and Box emphasized that the new positive cases and hospitalizations are not isolated but add to the growing pandemic. Wednesday, the state had 5,853 new positive cases and 98 new deaths. There have been a total of 398,417 positive cases and 6,207 COVID-19 deaths in Indiana since the beginning of the pandemic, along with 299 probable coronavirus deaths.
New regulations will now be put in place to address the urgent situation in the state. The first is a halt in all non-emergency inpatient medical procedures from Dec. 16 until Jan. 3. Holcomb urged Hoosiers who need medical attention to get it before the halt on non-emergency procedures begin.
Social gathering capacity limits that could previously be negotiated with local health departments are now enforced by the state with no exceptions. Gatherings of up to 25 people are permitted in red counties, with the number increasing to 50 in orange counties.
The guidance in how K-12 schooling should be conducted has not changed, but extracurricular and co-curricular activities will be limited to participants, support personnel and parents or guardians and accompanying minor children in red counties. Those in orange must limit attendance to 25% capacity.
While red counties were previously required to receive local health department approval to host college and professional sporting events, Holcomb announced that these events would be permitted statewide with participants, support personnel and family members in attendance. Local health departments may approve a plan for fan attendance up to 25% capacity.
"The steps being announced today are absolutely necessary as the pandemic tightens its grip on our state," Box said.
The new restrictions will create consistency throughout the state, she said, and allow public health staff to prioritize testing, contact tracing and vaccination planning. The decision to postpone non-emergency procedures reflects that hospitals are stretched to the limit, Box said.
The hospitalization rate has increased 84% from what the state saw in November, with 3,244 Hoosiers hospitalized Wednesday. Admissions are also increasing, with 480 people admitted with COVID or COVID-like symptoms on Nov. 30 which Box compared to the 225 hospital admissions on Nov. 1.
Many hospitals have had to redirect patients to other facilities due to a shortage of hospital beds. According to the ISDH, only 21% of intensive care unit beds are available while 44% are in use by COVID-19 patients. Ventilator availability is at 69%.
Dr. Lindsay Weaver, chief medical officer of the health department, announced that Indiana is expecting 55,575 doses of the Pfizer vaccine beginning in mid-December if it is approved this week as expected. The first doses will go to frontline healthcare workers who come into contact with COVID-19, and the vaccinations will be given to the healthcare workforce and long-term care residents into January. The next wave of vaccinations may go to essential workers or vulnerable populations, but the state has yet to make a concrete decision.
The initial allocation of doses will not be enough to vaccinate all 400,000 estimated healthcare workers in the state, Weaver said. She hopes that more will be delivered in the coming weeks to vaccinate all willing personnel. The invitation to receive the vaccine will go straight to hospitals and long-term care staff during the first week.
The Pfizer vaccine will be delivered to the five pilot hospitals that have the capacity for ultra-cold storage that the vaccine requires. CVS and Walgreens will help vaccinate long-term care residents and workers.
In an informational video shared about the vaccine, Weaver said that the vaccine has undergone rigorous testing and that the state aims to have it widely available to all Hoosiers by next summer.
Although the end of the pandemic could be in sight, Box reminded Indiana citizens to stay vigilant.
"I know Hoosiers are tired, I'm tired," Box said. "But I want to remind you that we are all looking across the water and seeing our destination on the other side."
The other side is a time when Hoosiers will be allowed to gather freely without fear, Box said, but that the bridge to get there is built on mask wearing, hand washing, social distancing and limiting holiday celebrations.
Taylor Wooten is a reporter for TheStatehouseFile.com, a news website powered by Franklin College journalism students.