On the morning of Aug. 25, approximately a dozen American Postal Workers Union members protested near the Carmel Post Office as part of the union's #SavethePostOffice campaign. As they stood on the sidewalk with their signs, along Medical Drive, the occasional driver honked in support.
Among the protesters was Greg Jones, president of the Indianapolis area local APWU, Don Packwood, the secretary/treasurer and Chantel Beckwith, the president of retirees.
"I am here today because of the people who are working; they can't talk," Beckwith said, alluding to the USPS employees who are prohibited by their ethics code from talking to the press. "I'm here to support them while they are working."
Thomas Kelley, a barista at Starbucks, was also at the protest. "I just wanted to support the postal union," he said. "But I'm actually really freaked out about the elections. I'm very worried about Trump's postmaster DeJoy just screwing the election. That's mainly what I'm focused on but I'm also worried about people not getting their mail."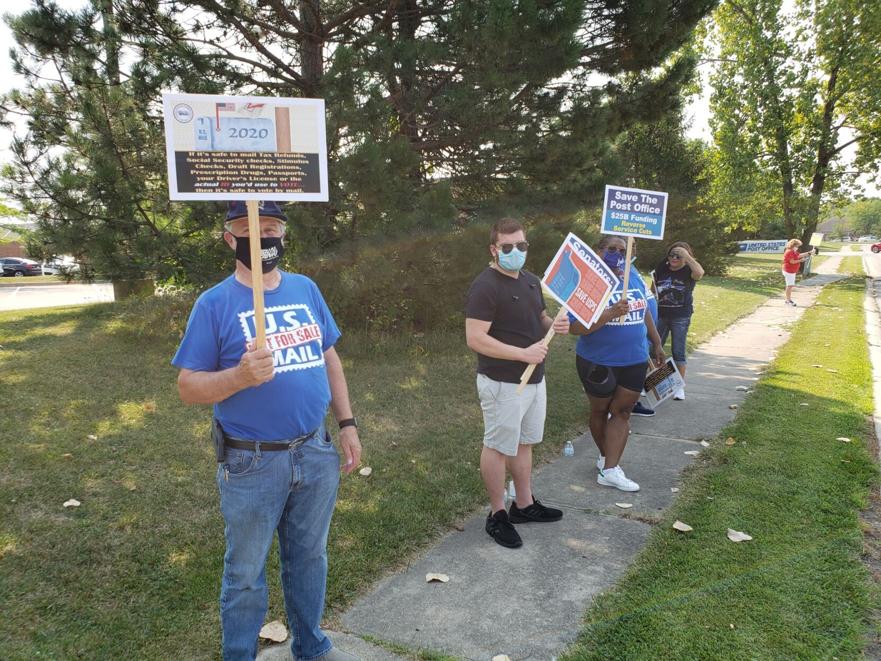 DeJoy, who has donated millions to the Trump campaign and the GOP and has $30 million in XPO Logistics —  his former employer and a USPS contractor —  was appointed postmaster general by the USPS Board of Governors on May 6.
Steve Vaughn, the Indianapolis area local vice president, said Postmaster DeJoy's recent changes come on top of a decade of change in how the Postal Service functions.
"They've been cutting and eliminating and reverting jobs as they become available," Vaughn said. "And reducing their manpower we're down 100 and something thousand jobs over the last five years, 10 years." 
During this time USPS adjusted to this loss of manpower, which is expensive in terms of benefits, by handing out more overtime, he explained. "Their goal was; we can work overtime because it's cheaper to pay somebody overtime than it is to have the benefits," he said.
According to the APWU's Greg Jones —  who says that he has spent a lot of time on the phone in the past few months answering concerns of union members about delayed mail and cuts in overtime —  the denials in overtime couldn't come at a worse moment.
"The problem is not only is the mail backing up," he said. "They're cutting out overtime. And here's the thing: This pandemic started in March. We went into our choice vacation season. It started somewhere from April and it goes all the way to Labor Day. However, we've had some positive testing for coronavirus at a lot of processing plants here and stations. So we've had a lot of employees that were off work being quarantined once they feel symptoms. They were allowed 80 hours of leave [...] With that being said a lot of employees were scheduled or forced to work a lot of overtime. Now he wants to cut off overtime."
DeJoy in his Senate testimony on Aug. 21, denied that he was eliminating overtime at the Postal Service.
But Don Packwood said that he is hearing from employees and managerial staff "that every time they make a request for overtime it's denied."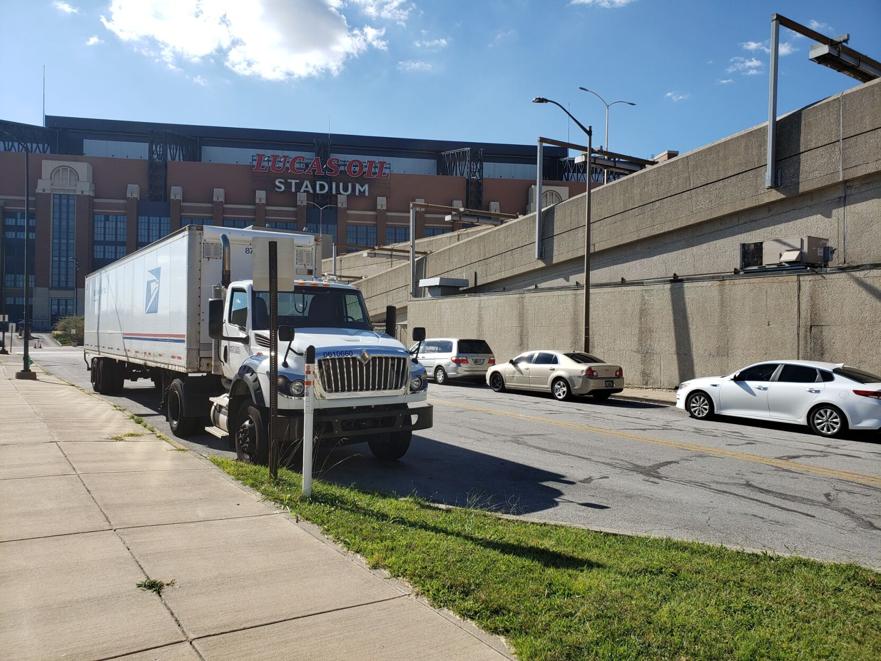 Sorting Machines
The USPS plant at 125 W. South Street in Indianapolis takes up an entire city block in the shadow of Lucas Oil Stadium. This facility, which serves the entire Central Indiana region, is big for a reason. Together with the westside USPS annex, it processes approximately 365 million pieces of mail annually, according to the APWU's Jones. Relative to USPS as a whole, however, it is just a small cog in a large machine. Just consider the volume: in 2019 the Postal Service delivered 143 billion pieces of mail to more than 160 million addresses. 
Inside this huge facility, you can find long rows of sorting machines.
Vaughn and Jones both said that four delivery bar code sorting (DBCS) machines, two automatic flat sorting machines, and one advanced facer canceller machine had been removed from the Indianapolis plant. 
An Aug 21 report by CNN described the machines as being essential to the USPS because they do the majority of its mail sorting. The machines process most of the envelope mail, including election ballots and can sort 30,000 pieces an hour.
The Advanced Facer Canceller System, which can also process 30,000 pieces of mail an hour, also plays an important role according to Vaughn. It "actually cancels stamps, sorts out pre-barcoded or what we call thin mail that's postage paid," he said. "A ballot might, if it's sent to you, be postage paid when you send it back, you'd have to put a stamp which means it has to go through and be cancelled. From there it goes to the delivery barcode sorter and is sorted down to a PO box or an actual router, or house delivery."
An Aug. 21 Mother Jones story, which details the removal of more than 600 sorting machines across the country, was published with an attached document stating that the Indianapolis plant, which originally had 42 machines according to APWU officials, had five sorting machines taken offline. And, while sorting machines are taken offline on a regular basis for upkeep and replacement, the number being taken offline under DeJoy represents approximately 10% of the USPS inventory, a substantially larger proportion than in previous years.
However, internal USPS documents indicate that 746 DBCS sorting machines —  one in five nationwide —  had been earmarked for removal before DeJoy became postmaster in June.
 Pennies on the pound
The changes so far in mail processing have had a sort of snowball-rolling down the mountain effect, with numerous reports of delayed medications, legal documents, and perished perishables across the U.S. In Indianapolis, the backup of "mail not done, on a barcode sorter not making it out," has only manifested in the past "couple of weeks," said Vaughn. 
"You don't have the manpower that you've been reducing for years [...] And now you're reducing your machines, and the processing times that you can do the mail," Vaughn added.
For Vaughn and Jones, it's not just that the mail sorting machines are being removed, but how they are being removed. 
"If you weren't needing the machine, then you can turn the power off and just let them sit," said Vaughn. "But they're taking the machines out and throwing them in the scrap bin. So if things change they can't go back. That three hundred thousand dollar machine has gone to the recycle bin for pennies on the pound." 
The machines at the processing plant were not defective in any way according to Don Packwood. "Some of them were not being utilized at the time because we've had some decline in our mail volume, because of COVID-19, because the business people are just not mailing some of the things that they would have," he said. 
They were, he said, capable of being put back online in the event of an increase in mail volume come election-time."We would have kept those machines active," Packwood who said that the Indianapolis machines had all been pulled offline by July 31, alluded to a video documenting Delaware senator Chris Coons' visit to a USPS processing plant in his home state where he found a sorting machine in the trash. There have been similar reports nationwide.
One result of sorting machine removal in the Indianapolis processing plant, according to both the APWU's president and vice president, is increased risk to employees.
That is, Jones and Vaughn both allege that the recent removal of sorting machines has made social distancing more difficult at the 125 W. South Street plant because there has been a consolidation effect. By taking the machines out at the edges of rows of machines, this forces USPS employees to work closer together. Jones claimed that this makes it "impossible to social distance" while running the machines. 
"You've got to understand these postal employees are right with each other, eight hours or more a day," he said. Vaughn, who is also a national safety and health representative for the APWU, says that over 2000 Postal Service employees have tested positive around the country, and 60 have died.
When NUVO asked USPS management at 125 W. South St. to respond to the APWU officials' claims, their media liaison Mary Dando declined to do so. But she forwarded an email link to DeJoy's August 18 statement, where he pledged to suspend any further changes until after the election. He did not address changes that have already been made.
Other changes that DeJoy put in place, such as having delivery drivers leave behind mail-in distribution centers for the next day if they believed it would delay letter carriers,are part of his "operational pivot" towards achieving efficiency as per this July 10 internal memo obtained by The Washington Post.
But according to APWU vice president Steve Vaughn, it's a mistake to manage the Postal Service as a business. "We handle tons of mail," he said. "And we hit every address, you know, across the country. Did you know we still deliver to the bottom of the Grand Canyon by mule? And Mackinac Island in Michigan by ferry, and bush plane in Alaska. Those services can't be done profitably by any company. I mean, [we] succeed in doing that because we're a public service."
Sheila Kennedy, professor of law and policy in the School of Public and Environmental Affairs (SPEA) at IUPUI, thinks that not only the post office, but the Constitution itself, is at stake in the November election. 
"When we look at the postal service, and what's going on right now, it's very obvious that Trump is trying to do two things," she said. "First of all, he's trying to convince people that voting by mail is dangerous. That is subject to fraud." 
Kennedy notes DeJoy's effectiveness, in his first two and a half months on the job, in slowing down the mail. 
Given this context, slowing down the mail might give an advantage to Trump because of an election phenomenon observed in the 2018 elections where the mail-in ballots counted after election day tended to favor Democrats, Kennedy said. This has been described as the blue shift. "For reasons that nobody really has been able to explain yet, the ballots that are submitted by mail and tend to be voted, or counted after the day of election tend to really favor the Democrats," she said.
If on election day, the results are not massively obvious, this gives Trump "an opportunity to say that we shouldn't count the rest of the votes that it's all rigged," Kennedy said. "And so slowing down the delivery of the mail makes that scenario far more likely."
DeJoy in both his Senate and House of Representatives testimony has reassured questioners, and the public, that the USPS will be able to handle the expected surge in  mail come the election, despite his recent memo to 46 states suggesting otherwise.
If you take both DeJoy and Jones at their word, however, then this is one subject where they are agreed. "Our concern is that we would hope that the public doesn't buy into this propaganda that discourages them from going out and voting, and they will use the mail," said Jones.