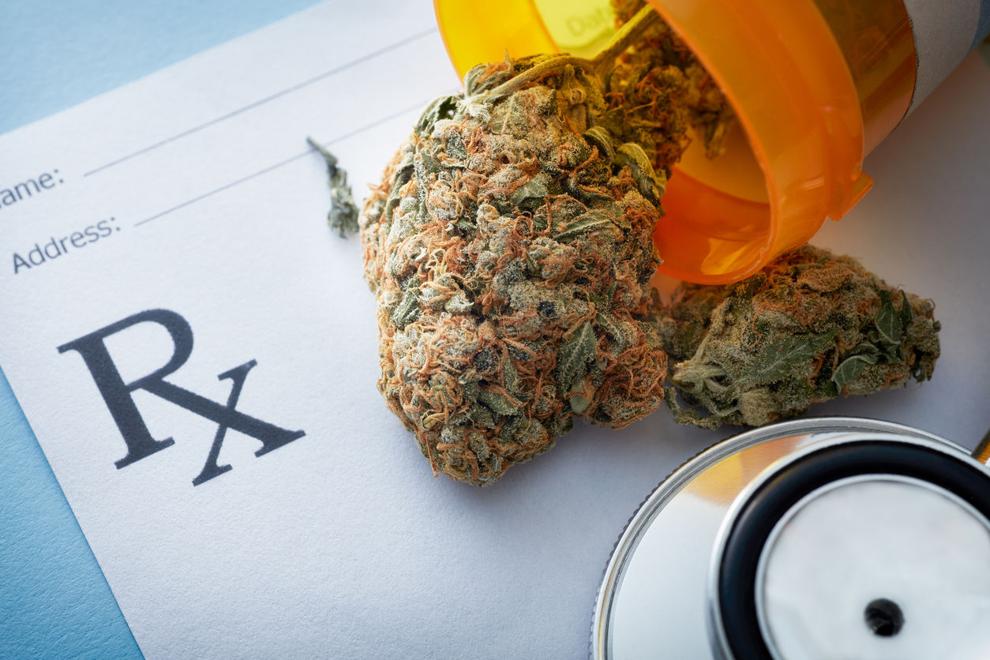 The 2019 legislative session begins at 1:30 p.m. Jan. 3 at the Statehouse, and medical cannabis will be near the top of the list for lawmakers.
Last month, Indiana Senate Democrats—led by Minority Leader Tim Lanane, D-Anderson, and Sen. Eddie Melton, D-Merrillville—unveiled their priorities for the new year, which included proposing legislation to legalize medical cannabis. 
In March, Gov. Eric Holcomb signed into law Senate Enrolled Act 52, which allows all Hoosiers to buy and use cannabidiol (CBD) oil that contains less than .3 percent tetrahydrocannabinol (THC), the substance that gives users a high.
But, CBD oil aside, Indiana is one an ever-shrinking minority of states where cannabis for any other purpose is still illegal.
Nationwide, 33 states and Washington, D.C. have legalized cannabis for either recreational or medical uses, or both.
In fact, with lone exception of Kentucky, Indiana is virtually landlocked by states with far more permissive cannabis laws.
Indiana's eastern neighbor, Ohio, has decriminalized small amounts of cannabis and has enacted a regulated system for medical, as well. However, the Ohio Marijuana Legalization Initiative, a controversial 2015 ballot measure to amend the state's constitution, failed 63.65 percent to 36.35 percent. It would have restricted the commercial grow rights to 10 facilities.
Indiana's western neighbor, Illinois, has allowed for medical cannabis and has decriminalized recreational cannabis. Recreational use is still illegal, but incoming Democratic Gov. JB Pritzker has vowed to pass proposed legislation to change that in 2019.
Washington D.C. and 10 states—Alaska, California, Colorado, Maine, Massachusetts, Michigan, Nevada, Oregon, Vermont, and Washington—have now legalized cannabis for recreational use.
Indiana's northern neighbor, Michigan, is the most recent entry to that list. Nov. 6, voters in that state overwhelmingly approved Michigan Proposal 1, the Marijuana Legalization Initiative, by a 55.89 percent to 44.11 percent margin. That meant that starting Dec. 6, possession and use of marijuana for people 21 years old and over became legal. One year from that date, Dec. 6, 2019, retailers will be able to start selling recreational cannabis, as well.
The question of whether all this activity all around the state will change lawmaker's minds is an open one, but a summer study committee convened just months ago offers some clues as to the road ahead.
Summer Study Committee
In January, the Indiana House of Representatives unanimously passed a resolution by Rep. Matt Lehman, R-Berne, that would have an interim legislative study committee take up the issue of medical cannabis.
Oct. 18, the committee failed to agree on a proposal after 14 supporters, eight detractors, and two independent researches testified. The committee's initial proposal failed 8-5. A separate motion to continue to study the topic also failed, 9-4. A final report with no new recommendations passed 12-1.
Sen. Karen Tallian, D-Ogden Dunes, has been championing this issue in the Statehouse for years. She said that even though the committee didn't end up making any recommendations, she still considered it progress of a kind.
"At least they didn't take an opposition[al vote,] so I consider that good news," she said. "In the past, I couldn't even get a committee. So, the fact that we got a study committee, and the fact that they didn't oppose it, to me that's incremental progress in the state of Indiana."
David Phipps is the communications director for the Indiana chapter of the National Organization for the Reform of Marijuana Laws. Phipps said Indiana NORML coordinated much of the pro side of the argument brought before the committee. He said he agreed with Tallian's assessment.
"We knew that all that it was going to accomplish was sparking important conversation," he said. "But, we were never expecting a recommendation for legalization of medical cannabis or anything of that nature." 
Jeff Staker, founder of Hoosier Veterans for Medical Cannabis, was among those who testified before the committee. He began consuming cannabis on a regular basis since retiring from the federal service after nearly 35 years. Before that, he said he had taken Oxycodone for nearly a decade through the U.S. Department of Veterans Affairs, and self-medicated with alcohol. After he stopped using opioids cold turkey, he asked his VA doctor about medical cannabis.
"He said, 'If I could recommend or prescribe it I would, but I can't,'" said Staker. "I said, 'Say no more.'...I basically came out at the summer study and told them, 'You want to see what a medical cannabis patient looks like? You can look at me. Because I've been a medical card carrier since May 2017 when I went to California....There's a lot of veterans and a lot of citizens that are using cannabis but we shouldn't feel like we're criminals doing it. Especially if you can do it responsibly and do it controlled.' 
However, those who made their views known to the committee were far from unanimous in their support for medical cannabis. There are also powerful interests in the state who are dead set against it.
Staunch Opposition
Tallian has been introducing cannabis-related bills session after session without much success. She said the main opponent she has faced in previous years has been the Indiana Prosecuting Attorneys Council.
"The most hard, intransigent group has been them," she said.
David N. Powell is the executive director of IPAC. He said his group was responsible for bringing addiction psychiatrist Ed Gogeck, who practices in Prescott, Arizona, to testify against medical cannabis in front of the committee. Powell said it was difficult to argue against the stories of people like Staker.
"The problem is it's hard to compete with anecdotes," he said. "People who come in and say, 'I smoked pot. It made me feel better. I smoked pot. It made my headaches go away.' Or, 'It made my pain go away.' Or, 'It helped with this.'"
Daniel Miller, drug resource prosecutor for IPAC, pointed to the deaths caused by intoxicants which were already legal as reasons not add another into the mix.
"Do we really need another drug like alcohol?" he said.
On the federal level, cannabis is still considered a Schedule I drug, which, according to the Drug Enforcement Agency, means it is a considered to have "no currently accepted medical use and a high potential for abuse." Other drugs classified in this category include heroin; lysergic acid diethylamide (LSD); 3,4-methylenedioxymethamphetamine (ecstasy); and peyote.
Therefore, even though dozens of states have legalized medical cannabis in some form, research into its effectiveness in treating illnesses such as AIDS/HIV, Alzheimer's disease, amyotrophic lateral sclerosis (ALS), cancer, chronic traumatic encephalopathy (CTE), Crohn's disease, epilepsy, fibromyalgia, glaucoma, hepatitis C, inflammatory bowel disease, multiple sclerosis, Parkinson's disease, post-traumatic stress disorder, sickle cell anemia, spinal cord disease or injury, Tourette's syndrome, traumatic brain injury, and ulcerative colitis have been scarce.
Still, many trials and long term studies are now in various stages of completion. Powell said he wanted to see the results of these reports and then have drugs approved through the U.S. Food and Drug Administration before Indiana moves forward with medical cannabis.
"We recognize that there are a few medical uses for marijuana, but our position is basically that we should let it go through the FDA approval process," he said. "We think it puts the public at risk from a health perspective and also a criminal justice perspective when we're having folks [use] medical marijuana products when they've not been FDA approved."
Another group that has come out swinging against medical cannabis is the Indiana Chamber of Commerce.
Nov. 19, they released their legislative priorities for the upcoming legislative session.
"The one item on the priority list where the Indiana Chamber is going on defense relates to medical marijuana; the group is opposed to that in addition to recreational use," they stated.
Kevin Brinegar, president and CEO, pointed to potential negative consequences medical cannabis would have on employers as one of the reasons to oppose its legalization in Indiana.
"The effects of marijuana on job performance and employers are very real. You can have decreased complex motor skills, trouble with attention span, loss of short-term memory and problems thinking properly," stated Brinegar. "The FDA has not approved marijuana for valid medical purpose. We believe the longer Indiana waits on legislation, the more useful clinical data will be available to make sure that the state gets this right."
[Editor's note: Rebecca Patrick, vice president of public relations and government communications, told NUVO that Brinegar and Mike Ripley, vice president of health care policy, were unable to comment for this story.]
With these major judicial and business groups lining up against medical cannabis, one could reasonably assume Republicans in the Statehouse were also in lockstep in opposition.
But, then, you'd be wrong.
Republicans Changing Their Tune?
On a federal level, both of Kentucky's Republican senators, Mitch McConnell and Rand Paul, have been on the forefront of cannabis legislation this year.
The final language of the Agriculture Improvement Act of 2018 Farm Bill, which McConnell has championed and Paul also supported, removes hemp from the federal list of controlled substances. McConnell even signed the conference report with a hemp pen Dec. 11.
Similarly, Rep. Jim Lucas, R-Seymour, may have an "R" next to his name, but don't try to pigeon hole him.
On the one hand, he has been among the most vocal advocates for gun rights in the Statehouse. In the past, he has maintained that limits on gun ownership violate the Second Amendment and in authorizing fees, officials are violating their oaths to uphold the Constitution.He has also proposed that every school assign an employee—which could be an officer or a teacher or administrator—to carry a gun.
But, he has also become one of the leading voices in the state's Republican party advocating for cannabis reform.
"We've got to get away from labeling people," he said. "It's very easy to assign them a label and all of a sudden you have this preconceived interpretation of how they are....I'm more of constitutionalist. I don't look at things as Republican or Democrat. I look at it as the individual versus the state. This isn't a political issue. Hemp and its byproducts, CBD, and cannabis, too...the things that they help people with, they don't give a shit if you're Republican, Democrat, black, white, rich, poor, gay, straight. There are no boundaries."
Lucas has visited both Colorado and Illinois in order to study how those states are administering both their medical and recreational cannabis programs. He said with the level of technology and infrastructure already present in the industry there was no reason Indiana couldn't follow suit.
"I'll be honest. I'm going to steal their best ideas," he said. "We don't have to reinvent the wheel. And, to me, that's the smart thing to do."
Bold Predictions
While no one knows for certain, the feeling among those close to the issue is that something major is set to change in the Statehouse either this session or the next.
Tallian said she is planning on filing three bills this year dealing with cannabis. One would be for full legalization under two ounces, a second for medical cannabis, and a third which would establish a Cannabis Compliance Commission. But, with Republicans maintaining supermajorities in both chambers of the Statehouse, Tallian said their party would have to take up the cause en masse to effect any kind of lasting change.
"That would mean all my years of bellyaching finally did something," she said.
Phipps said his hopes for anything making it to the governor's desk this session have been diminished, but that the future in general looks bright.
"To be honest, for a good while, I thought we had a above 50 percent chance of getting medical cannabis this coming general assembly," he said. "Now, this drops below 50 percent. I would give it about 35 to 40 percent chance of it happening this general assembly. But, I honestly think medical cannabis has its greatest chance of happening in 2020 for Indiana."
For his part, Lucas said he won't rest until he is successful. He has filed cannabis legislation before, and vowed to once again. He predicted medical cannabis for Indiana this legislative session.
Like Staker, Lucas served in the Marines. Lucas cited the forces lined up against him and quoted famed Lieutenant General Lewis Burwell "Chesty" Puller, who said, "We've been looking for the enemy for some time now. We've finally found him. We're surrounded. That simplifies things."
"My sleeves are rolled up," he said. "I'm not going to quit."
---
Be a part of the story: become a member, lend your ideas, and your support.
---