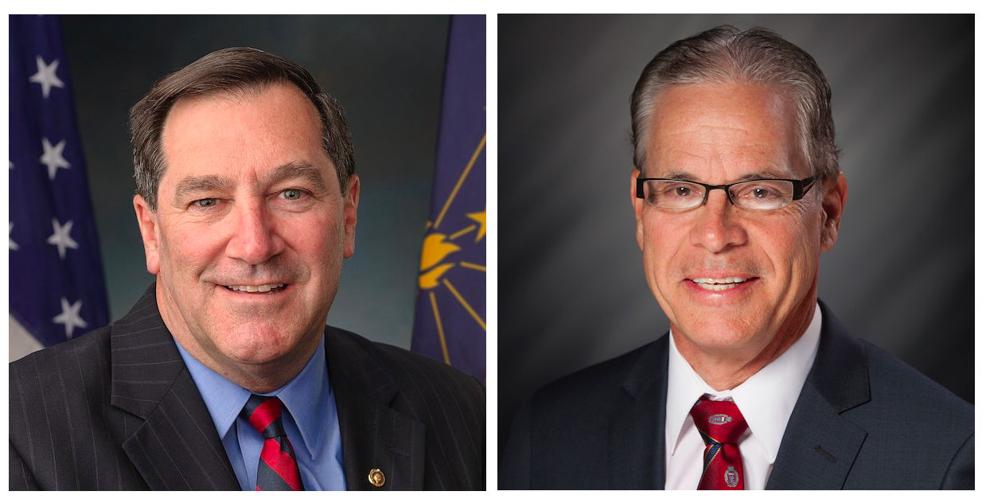 This article is part of the NUVO 2018 Voters Guide. To find candidate responses to reader questions in other local races, click here.
RACE
Sen. Joe Donnelly, D-Indiana, was first elected in 2012, defeating Republican Richard Mourdock to take retiring six-term incumbent Sen. Richard Lugar, R-Indiana. Now the only elected statewide Democrat, Donnelly faces a re-election challenge from Republican Mike Braun and Libertarian Lucy Brenton.
[Editor's note: Brenton has not yet returned her Midterm Voters Guide to NUVO. It will be added to this story, as long as she does so before the Oct. 24 deadline. We have also been unable to reach the following write-in candidates: Nathan Altman (I), Christopher Fischer (I), and James L. Johnson Jr. (other).]
CANDIDATE PROVIDED BIOGRAPHY
As a husband, father, and former small business owner, Joe Donnelly knows what it means to be a Hoosier: a commitment to family, faith and hard work.
Named the most bipartisan senator of the last 25 years still serving, Joe brings a common sense voice to Washington. When re-elected to the Senate, he will keep fighting for Hoosiers: good-paying jobs, access to affordable health care, and retiring with dignity and health.
Joe lives in the South Bend area with Jill Donnelly, his wife of 39 years.
Mike Braun is a lifelong businessman, job creator, and defender of Hoosier values.
After graduating from Wabash College and Harvard Business School, Mike turned down Wall Street to return to his hometown of Jasper to raise a family and build a business just a few miles from where he grew up. Over the last 35 years his company, Meyer Distributing, has become a national industry leader with locations in 39 states and over 800 employees, all while keeping his company's headquarters in his hometown. Three of Mike's four children work alongside him at Meyer, and he and his high school sweetheart Maureen will soon celebrate 42 years of marriage.
Mike is running for Senate because Washington needs people with experience in the real world of business, and Hoosiers deserve better than more of the same from career politicians.
QUESTION FOR THE INCUMBENT
NUVO: As a Democrat from a state Trump won, like Indiana, it seems like you're in a tough spot. It seems no matter what you do, Republicans will attack you for being too liberal, and Democrats will attack you for not being liberal enough. How do you negotiate this and do you think about this when you make decisions on issues like Supreme Court nominees?
Donnelly: I work for Hoosiers, not any political party, so the best interests of the people of Indiana are my only concern. When I was at Notre Dame, Father Hesburgh used to tell me, "do what's right, not what's easy," and I think about that before every decision. Especially on decisions as important to our state and to our country like Supreme Court nominees, it's vital to examine the nominees without an agenda, and that's what I've done for both Justice Gorsuch and Justice Kavanaugh.
QUESTION FOR THE CHALLENGER 
NUVO: Our reader, K.H. Brower, asks: What will you do to protect our land and water from corporatist-only quarterly profits? What will you do to remediate current toxins and effects (flooding/drought) of climate change?
Braun: In my life, I've been a steward of the environment. As an outdoorsman and a conservationist, I know how important it is to protect our land and water resources. As a business owner, I'm passionate about businesses respecting these resources as well.
QUESTIONS FOR THE BOTH CANDIDATES
NUVO: Our reader, Evelyn Channelle Brown Jones, asks: Are your party's political views and mandates more important than doing the right thing no matter the party line?
Donnelly: I'm the hired help for all Hoosiers, and I work for the people of Indiana, not any party, politician or President. That's why last year, The Lugar Center named me the most bipartisan senator of the last 25 years still serving in office. I've broken with the far left and voted to fully fund our nation's military, and with the far right to protect health care for 1.1 million Hoosiers under 65 with pre-existing conditions. But at the end of the day, my job is to do what is best for Hoosiers without being influenced by anyone else.
Braun: The key attribute I look for in a leader is independent thinking, and in my business and my life I've been an independent thinker in everything I've done. In my company, I did what was best for my employees, and in the Senate I'll do the same for Hoosiers.
RE: FEDERAL JOBS GUARANTEE
NUVO: Our reader, Deanna Menke, 23, Indianapolis, asks: What economic policies do you support to ensure that Hoosiers working 40 hours a week don't have to live in poverty? Do you support a federal jobs guarantee?
Donnelly: My priority is to look out for people who go to work in the dark and come home in the dark to provide for their family – and that starts with making sure they get an honest day's pay for an honest day's work. I voted for the last increase in the national minimum wage back in 2007, and I've repeatedly voted for more increases since. I've also voted to index the minimum wage to inflation so that Hoosier families' wages don't stagnate again because of partisan gridlock in Washington.
Braun: Better jobs and stronger paychecks mean better lives and stronger communities. In my own business, we pay nearly double the minimum wage for employees starting out, because those wages are going to my friends and neighbors. American unemployment is at its lowest level since 1969, and I want to continue that progress in the Senate.
RE: INCOME INEQUALITY
NUVO: Our reader, Tim Micheli, asks: The upper class is getting much richer and the middle and lower classes are falling further behind. How to you plan to get the middle and lower their fair share of the wealth?
Donnelly: Part of the reason I voted against Mitch McConnell's tax plan was because it sent the majority of benefits to the richest Americans and left middle-class Hoosiers standing out in the cold. Any gains most middle-class families saw are being wiped out by health care costs that are rising by more than a third, and Mitch McConnell and Paul Ryan are using the plan to cut Social Security and Medicare. I told the President I would vote for a tax plan that sent the majority of its benefits to the middle class, but that's not what this bill was.
Braun: I want to give every American the opportunity to succeed, and right now under an outsider like President Trump shaking the system, our economy is roaring. Last year due to historic tax reform by this administration, 90 percent of Hoosiers saw their taxes cut and the average family of four saves nearly $2,000. Unemployment is at its lowest level since 1969. Today, there are over 7 million available American jobs. I'm looking forward to bringing my experience to Washington to keep business booming.
RE: IMPEACHMENT
NUVO: Many people are speculating that if the Democrats retake the House, they will begin impeachment proceedings for President Trump soon after. What would be your criteria be to support impeachment?
Donnelly: In any potential investigation as serious as that, it's incredibly important to look at all the facts first before making any judgements. Robert Mueller is a man of integrity, and his investigation appears to be impartial and is proceeding deliberately—I look forward to reading his report at its conclusion and making any decision from there.
Braun: Senator Donnelly's party has made it clear they will stop at nothing to nullify the will of the American people and impeach this duly-elected President. I think its a complete disregard for Hoosiers that Senator Donnelly refuses to say whether he approves of impeaching President Trump.