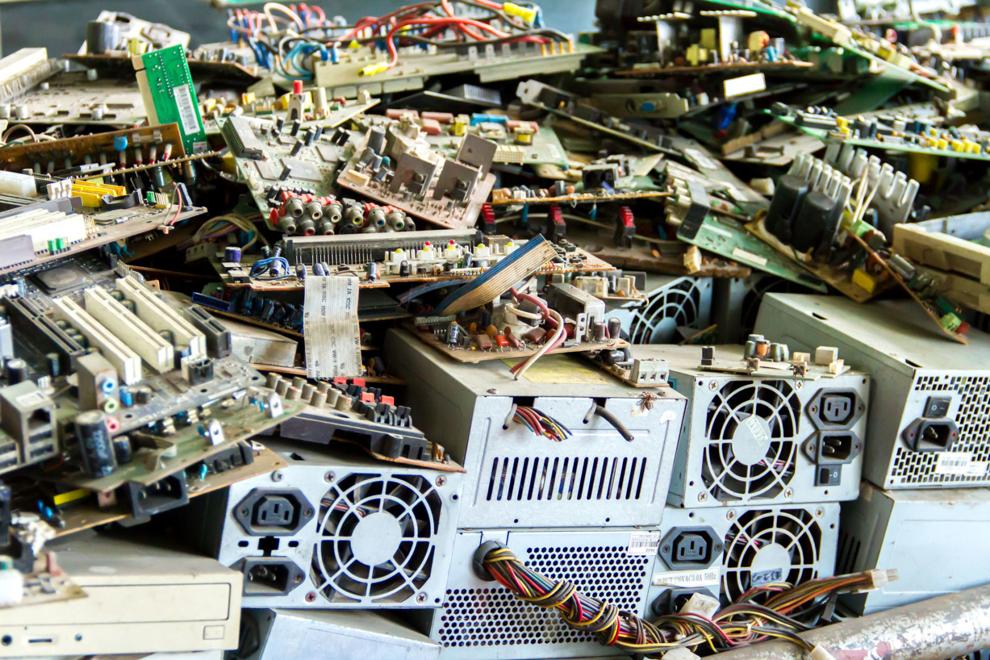 The crowd that congregated on the morning of Aug. 28 at Tinker House Events was gathered to celebrate a success story years in the making.
The program is designed to reduce recidivism while safely recycling electronics in Indianapolis. RecycleForce hires formerly incarcerated men and women and provides them with job training and support services in preparation for their transition to full-time employment.
The firm has grown from two employees in 2006 to employing 16 full-time staff and around 50 ex-offenders cycling through its training programs on a given week. In the process, the team has recycled more than 11 million pounds of materials since its inception. More than 200 ex-offenders have found permanent, unsubsidized employment through RecycleForce, as of 2012.
RecycleForce received $5.5 million in funding from the Department of Labor to operate as one of seven programs participating in a congressionally-authorized Enhanced Transitional Jobs Demonstration, a study to measure the impact of these programs on participants, the government and local communities.
RecycleForce was significant enough to warrant a cost-benefit analysis, the only program in the country to have this next step.
Beyond the stories of rehabilitation, there is also hard numbers to back up the claim that RecycleForce benefits the community.
According to the study, RecycleForce reduced participant recidivism by 6.2 percentage points. Additionally, participants were 8.6 percentage points less likely to be incarcerated than the control group; 4.6 percentage points less likely to be arrested; and 4.2 percentage points less likely to be convicted.
Participants an average earned more than $5,800 in wages and other benefits over the 30-month time period associated with the study. RecycleForce wages helped enable participants to support themselves and their families, the study found.
This includes an average of more than $490 per participant in regular child support payments than the control group over the time period associated with the study.
By reducing reoffending among participants, RecycleForce provided benefits totaling $13,297 per person to the Indianapolis community—including $4,215 in taxpayer savings over the time period associated with the study. Reduced readmission to prison and jail alone led to savings of $3,565 per participant.
Participation in the program also led to $686 in savings per participant attributable to reduced victimization from crime and associated costs (i.e., medical expenses, lost or damaged property).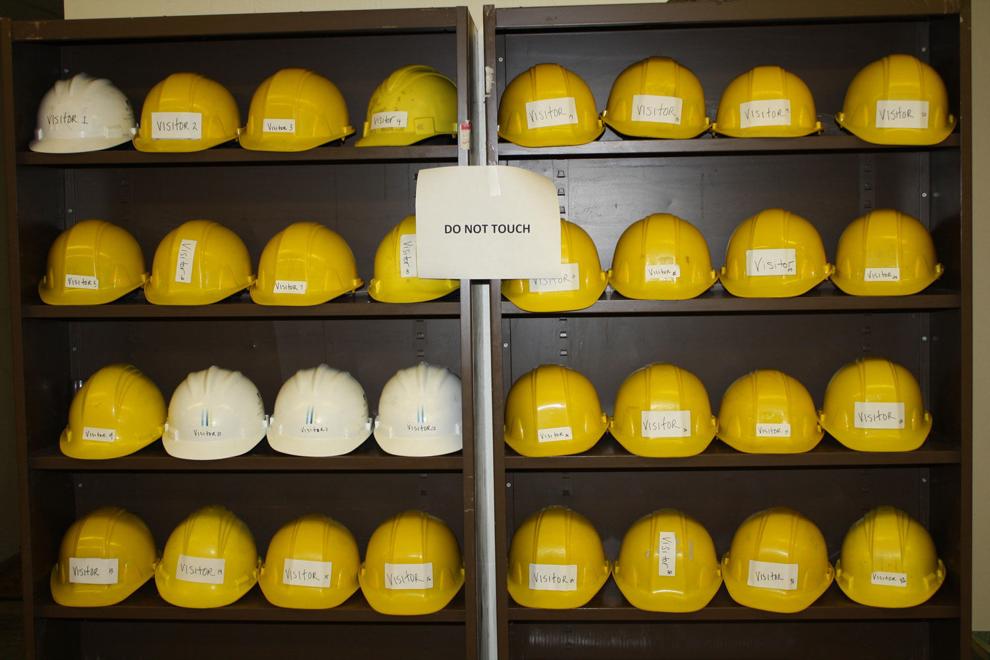 Every year, almost 600,000 individuals are released from state prisons in the United States; over two-thirds of those released will be rearrested within three years.
About 4,000 to 5,000 people return to Marion County from the Indiana Department of Corrections alone.
Without intervention, 45 percent will re-offend and be re-incarcerated within three years.
Andrew King said he could have very easily been one of those statistics.
"When I was sentenced, I was set up to fail," he said.
King is now the director of inventory and quality control, a position he created for himself.
"I created my job because I like numbers," he said. "So, I made spreadsheets and started tracking stuff, and then once you track stuff long enough you can actually predict out what you're going to produce."
A decade ago, his situation was quite a bit bleaker.
When he was released from jail in 2009, he was court-ordered to live under a bridge on Washington Street.
King said he felt stuck. He couldn't even get a job as a dishwasher.
"I'm a fairly smart guy," he said. "I've never had a problem getting a job. I served in the United States Navy. And it was dumbfounding for me because nobody would hire me."
Then, a program for homeless veterans gave him a reference for RecycleForce. King said he immediately took to the work.
"In a sense what we're doing here is mining," he said. "This is urban mining. And, we break stuff for living. It's fun."
King said Gregg Keesling, RecycleForce founder, was immediately impressed with his work ethic.
"He's like, 'That guy works so hard, he's got to be on meth.' I'm like, 'No, I've been living under a bridge. I've worked since I was 15. I like working. Right? Working is good. It beats living under a bridge,'" said King.
King said his mission now centers around being the voice for those who were in his shoes.
"I still work here is because the people that are going through the system don't have a voice," he said. "My voice is different. My story is not unique. There are people out on the floor that are going through this on a daily basis and nobody's helping them."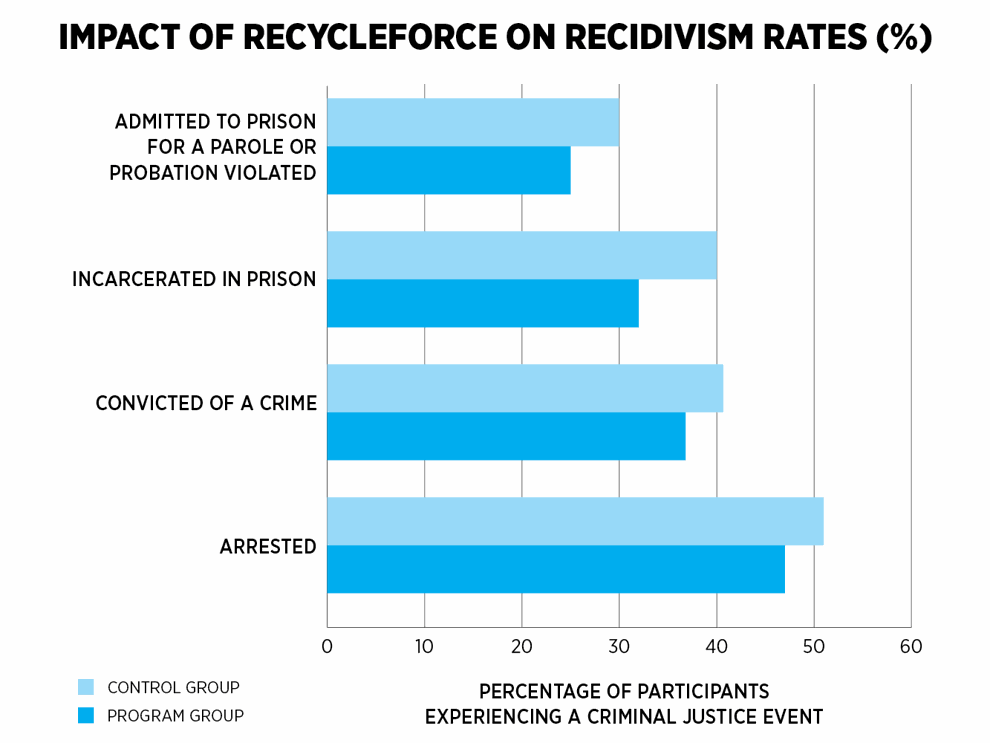 A main factor in the success of the RecycleForce program is its focus on "rapid attachment."
This is the number of days between enrollment and the participant's first paycheck. The unique structure of RecycleForce as a social enterprise benefits the participant by minimizing this number resulting in improved outcomes.
King said when he was released from jail was ordered to wear a GPS tracker, which cost him $86 per week. He was also mandated to attend court-ordered counseling, participate in daily reporting (another $2 a day), and submit to nearly 50 drug tests. (Those were another $10 per instance, as well.)
He said getting to the paycheck quickly helped him stay afloat.
Robert Smith, one of RecycleForce's longtime employees, spoke during the presentation of the findings. He said his own experience mirrored those who are currently in the midst of the program.
"It was hard," he said. "It wasn't easy, [but] I made it. We can't save everybody, but it saved me.
"We don't turn our backs on people. The program does work. I'm living proof of it."
Part of what makes the program work is a focus on peer mentoring. Near the back of the production floor is a group of chairs facing each other where workers come together each morning.
"This is the circle, and [it's] basically group therapy," said King. "This gives our guys a chance to kind of talk about their issues and problems, [to] use the experience from those who have been here longer."
King said this form of peer mentoring works because the advice comes straight from those who have gone through the same challenges new employees face each day.
"I'm looking behind me showing everyone else this is how you do it," he said. "We're creating this culture here where we're helping everyone."