It was June 8, and for the second time, cyclist (John) Scott Harris' life was about to change forever on Shelby Street.
The first was in 2016 when he was cycling to his job as a downtown bicycle messenger and was struck from behind by a Ford F-350. He was in a coma for a week afterwards, but eventually recovered.
This time, two years later, he was behind the wheel of his own vehicle at Shelby Street and Standish Avenue when he witnessed the final moments of another cyclist's life, Annastaisha Leslie Sandlin, 50.
"The car driving in front of me veered into the bike lane where she was walking her bicycle and struck her doing about 40 miles per hour and didn't stop," Harris says.
The silver SUV sped away on National Avenue. Harris gave chase.
"Every time he blew a stop sign or blew a red light, I had a clear line right behind him and so I just kept going," says Harris.
A former National Guard military police officer for the 38th Infantry Division, Harris "had a little bit of experience with high stress situations. Knowing what not to do and thinking quickly."
Meanwhile, he started to record on his smartphone.
"The reason that I filmed the incident was because I was trying to get as much information as I could. I figured he would eventually do something I wouldn't be willing to do," Harris says.
The video—which he shared publicly on Facebook and has been viewed over 147,000 times—shows him in his vehicle pursuing the suspect's vehicle through alleyways, side streets, residential neighborhoods, and busy intersections.
"Being a big part of the bicycle community in the city, I wasn't going to let the guy go," Harris says.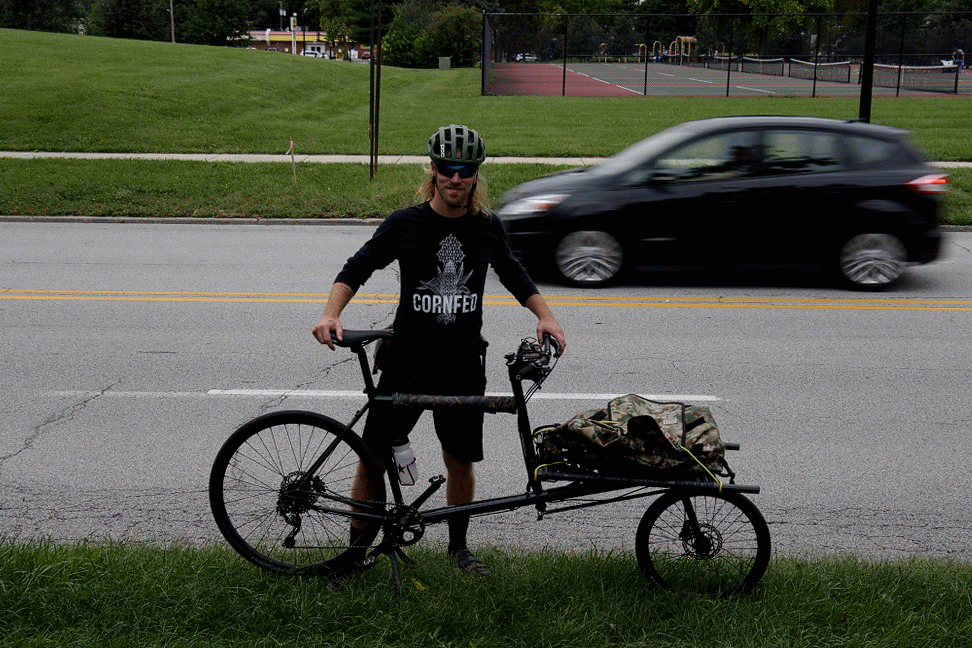 The vehicular chase ends when the driver pulls off into a grassy area behind Happy Auto Sales on Madison Avenue and flees on foot.
"Hey!" Harris yells in the video, as he puts the car in park, opens the door, and jumps out.
The video's picture becomes dizzying as Harris runs after the driver, phone in hand.
"It was pretty theatrical, really," Harris says. "It was straight out a movie with junkyard dogs and jumping over cars."
In the video, he yells for help at people in the car dealer's parking lot and front deck.
"Yo this dude just killed someone! This dude just killed someone! Where did he go?"
"What?" a bystander asks.
"This guy just killed someone and ran! He's right here! He's right here! Yo! Yo! Can you help me?"
"I got you. You're done. I got you. You just killed someone."
The suspect eventually got away, "shirtless and bleeding from barbed wire." But his escape would be temporary. June 12, a warrant was issued for Omar Lopez, 20.
June 14, Lopez was arrested and booked into the Marion County Jail on charges of leaving the scene of an accident, possession of a controlled substance, operating a vehicle while intoxicated and operating a vehicle with a blood alcohol concentration of .08 or higher.
As dramatic as this incident may have been, it is but one of several recent high profile cases of bicyclists being struck by motorists in the Indianapolis area.

More cyclists in a changing city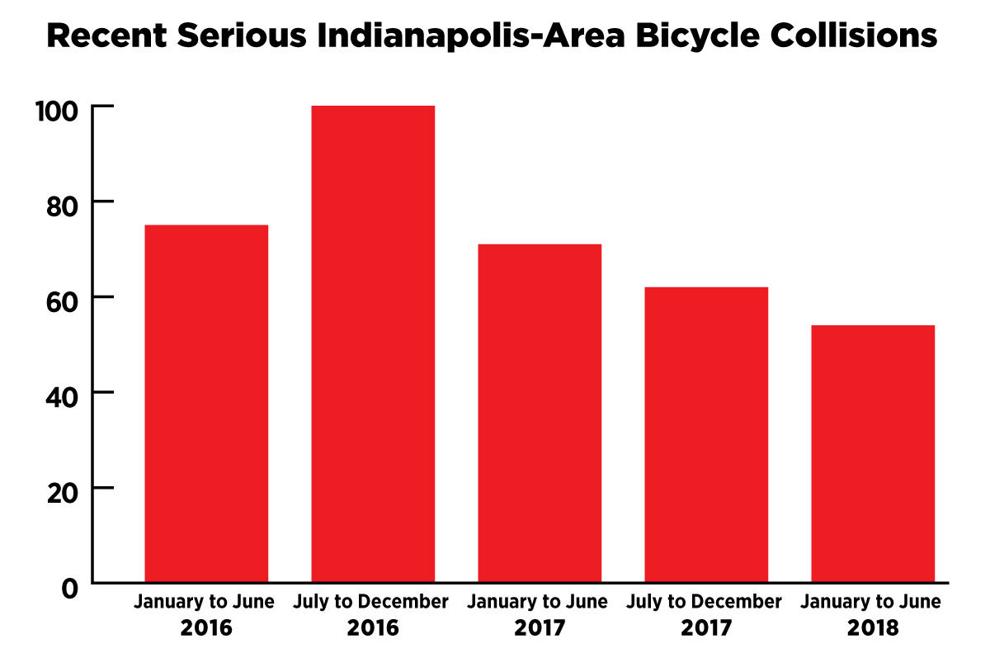 Even with these headline-grabbing collisions, officials maintain overall bicycle safety is improving, even as more riders than ever are taking to the streets, parks, and trails.
Statistics provided to NUVO by Charnay M. Pickett, public information officer at the City of Indianapolis Department of Public Works, show 175 total bicycle collisions were reported in Marion County in 2016. That number dropped to 133 in 2017. And, between January and June of this year, the tally was 54.
Pickett says the DPW regularly visits sites of collisions to explore possible fixes.
"We are always trying to improve safety through projects," she says.
She also says the department has also ordered a crash/corridor analysis through the city's bicycle master plan update due in a few months.
Jamison Hutchins, senior city project manager, says his focus is on overall traffic safety of not only motorists, but vulnerable users like pedestrians and bicyclists.
"It's tough sometimes … knowing that there are potentially engineering solutions to ... some of these issues," he says. "[It] is just a matter of us having a really big city and a lot of lane miles and not always the budget we would like to have to address everything."
Katie Feltman, Central Indiana Bicycling Association president, says she has seen dramatic changes starting with the tenure of former Republican Mayor Greg Ballard and continuing through the current administration of Democratic Mayor Joe Hogsett.
"I don't want to totally beat up on the city because I think there are always funding challenges," she says. "If you think about the progress that was made when [Ballard] was mayor, it was massive. And, Hogsett has tried to carry that torch."
Nancy Tibbett, executive director of Bicycle Indiana, says she has seen dramatic improvements in the city over the past decade.
"Indianapolis in particular has done so much to improve the infrastructure," she says. "And, there are a lot more people riding bikes which statistics would say would make it safer because there are more of us, people are more accustomed to seeing it."
However, Harris says the city's growth and the influx of new cyclists has led to more conflicts, not less.
"I consistently see that motorists are not prepared for it," he says. "They're not ready for it. They're not aware."
Education needed
Feltman has just one word to describe the biking culture of Indianapolis: unfriendly.
"Cars are very aggressive towards cyclists," according to Feltman. "They are aggressive towards pedestrians. That's in the city proper."
Feltman says she has lost count of the number of times a diesel pickup truck has spotted her group of cyclists on a rural road and sped up.
"They will hit their gas and they will deliberately release their diesel pollution into our faces because they don't think we should be on the road," she says.
She recently biked in several different locations in the U.S. and other countries and found the culture much more welcoming of bicyclists elsewhere.
"I was in France and the best way that I can describe it is drivers in those cities are not trying to kill me," she says. "They're not aggressive towards cyclists. They don't pass closely. They don't ride right up on my back wheel while they're impatient to try to get around me. They don't zoom past. They don't throw stuff."
Damon Richards, interim Executive Director of Bike Indianapolis, says education for both motorists and cyclists is a dangerously-absent component.
"Most bike riders learned how to ride because somebody who cared about them held on the back of their seat, and ran down the sidewalk next to them and let go. And, then you were a bike rider. And, the education about how to get out into the street and share the road with 3,000 pound vehicles hasn't happened for most," he says.
Tibbett says only focusing on improving infrastructure and ignoring driver instruction will lead to more injuries and deaths.
"Outreach is tough," she explains. "A lot of people will say education is not the key, that you really have to build the infrastructure right. But, I think it is challenging to get the perfect infrastructure, but we still need to strive for zero [deaths] all the time."
Harris says he often encounters motorists who scream at him for not riding on the sidewalk instead of the street.
"People yelling at me to get in the bike lane when I don't necessarily have to be in the bike lane," he says. "Cyclists have the ability to take any lane. When I get ticketed on a bicycle, I am ticketed just like a Title 9 vehicle is ticketed. I get a $250 ticket for running a red light just like a car does."
Feltman says this teaching role should be undertaken by trained police officers.
"Police need to be trained to cite drivers for engaging in behaviors that are hazardous to pedestrians and cyclists," she says.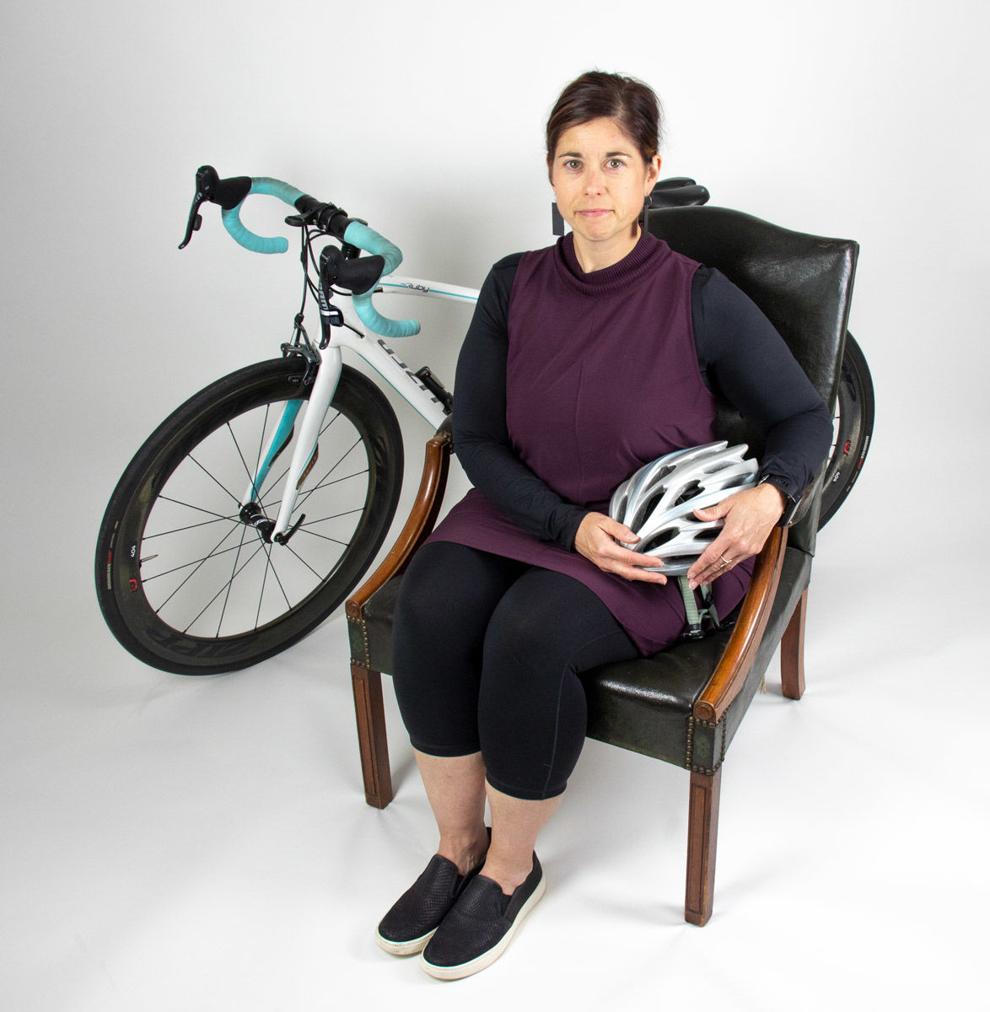 "When the light is turning yellow or red and they intend to run it, what are they doing? They're stepping on the gas. That results in cars going through intersections at very, very high rates of speed. If that car is going to hit another car, the other car has got two tons of steel and a bunch of airbags surrounding the person in the car. If that car is hitting a bike or a pedestrian we are what are considered vulnerable users of the street. We have nothing around us. The likelihood that we're going to survive a hit like that is very, very low."
Feltman believes law enforcement should extend enforcement beyond motorists.
"I think IMPD needs to cite cyclists and cars breaking the laws," she says. "Because we're all in this together, right? If I'm behaving poorly on a bike, that's not helping the biking culture in this city. So, I am very cognizant of my own behavior, and I see other cyclists when I'm out on a group ride doing things that they shouldn't be doing that are going to anger cars, I call them out."

Construction woes
Compounding the challenges of having more cyclists on the roads and on greenways like the Cultural Trail and the Monon Trail has been the numerous simultaneous construction projects currently being undertaken by the city.
Harris lives two blocks from Garfield Park close to where he was struck on Shelby Street, and he has seen firsthand the disorder this road work has caused.
"It has created a massive, chaotic confusion," he says. "I definitely think the construction has had an impact on it and it hasn't really been very well thought out."
Hutchins says he hasn't seen a direct correlation between collisions and the infrastructure projects.
"It definitely puts stress on the rest of the system just because the other cars have to find a different way," he says. "In terms of having a negative impact on safety, there's not really a way to know that. We haven't seen, that I know of, a spot in town that we can easily say there's been a rise in incidents here and it kind of directly links up with construction that's happening over here."
Feltman says the temporary disruption is only part of the problem. She points to the work on Capitol Avenue and Illinois Street.
"The construction on [those] roads ... has disrupted the bike lanes and they didn't go back and repaint them," she says. "There's an entire stretch on Capitol where they were doing construction and they had to put new asphalt down and they didn't repaint the bike lanes. So, it just abruptly ends in the middle of a lane, not even an intersection. So, the city is not really keeping up with the bike lanes they do have."

Inconsistent lanes
The variety of designs for bike lanes in the city has led to yet another conundrum for both motorists and cyclists.
Tibbett says in past years she has seen bike lanes she had been riding on Michigan Road and New York Street disappear completely unexpectedly.
"They've made great improvements," she says. "And, some of it is protected and some of it is both ways traffic for the bicyclists. But, then it just ends into nothing, and I think it could be confusing for the motorists to know what to expect."
Hutchins says the design of bike lanes was dependent on the context of the streets, which may not have been built with bicycles in mind.
"We're really trying to go back and retrofit those and use existing right of way while at the same time still understanding that the majority of the people get around the city by car," he says.
Added to that, Hutchins says when the first bike lanes were installed about 10 years ago, the city was more conservative with space estimates needed to accommodate mixed traffic.
"We were usually pretty happy with getting 5 feet of painted bike lane in," he says. "Whereas I think the city has evolved, and kind of our thinking has evolved we try to aim a lot higher when it comes to physical separation and providing a higher level of protection for the bike lanes."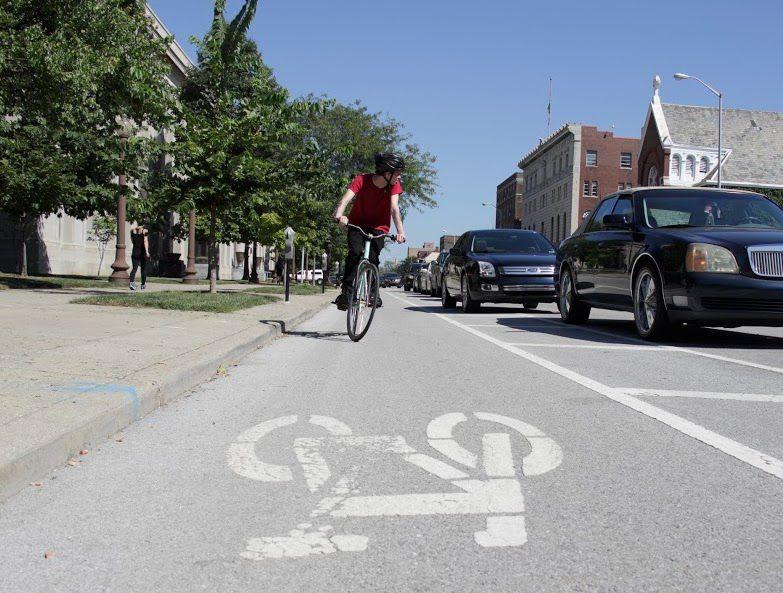 Legislative roadblocks
Indianapolis has been named a "Bicyclist Friendly Community" by the League of American Bicyclists.
According to the LAB, this means the city "welcomes cyclists by providing safe accommodation for cycling and encouraging people to bike for transportation and recreation."
However, Feltman notes that in the rankings, the city has a Bronze designation, which means there is room for improvement.
"We will never be able to progress past that until the state passes better legislation," she said.
Feltman says the legislature would have to pass a state-wide 3-foot Safe Passing Law, allocate spending for additional infrastructure and institute harsher penalties for people who do hit cyclists.
"If you look at other cities who have achieved higher level rankings in the Bicycle Friendly Community three-level ranking system," she explains. "Those states have much more bicycle friendly laws in place."
Feltman calls the current makeup of the Statehouse "hostile."
"The legislative body of the state of Indiana does not want to deal with this stuff," she says.
Tibbett says that even though cities like Indianapolis, Carmel, and South Bend have Safe Passing Laws on the books, they don't apply to the rest of the state.
"It just means we have some inconsistencies in the ways we're doing things," she says.
Richards says his group's frustration springs from not seeing motorists who do hit pedestrians punished appropriately or in a timely fashion.
"We're asking those questions now of police departments and prosecutors offices," he says. "What's the process? Why does it take so long? Help us understand. And, really we as cyclists wonder why charges seldom seem to be pressed by prosecutors.
"We're not saying someone isn't doing their job, but we just want to get a better understanding of what happens and honestly want to find out if we need to push for additional laws so that they do have something that they can charge motorists who kill bike riders with."