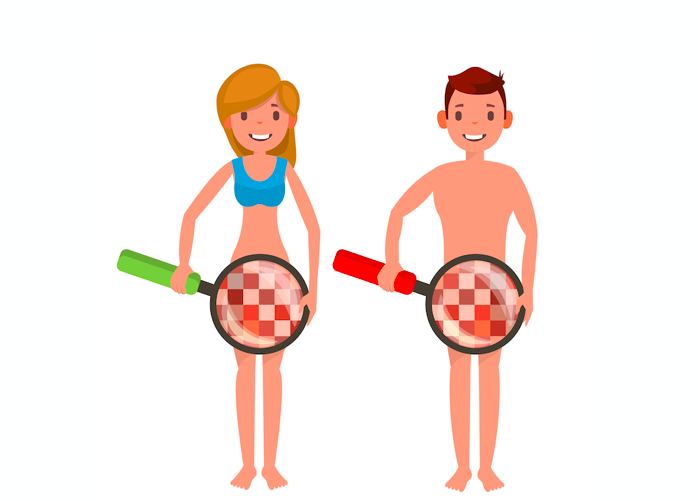 Nearly 2.3 million cases of chlamydia, gonorrhea, and syphilis were diagnosed in the United States in 2017, surpassing the previous record set in 2016 by more than 200,000 cases.
This marked the fourth consecutive year of sharp increases in these sexually transmitted diseases, according to preliminary data released Aug. 28 by the Centers for Disease Control and Prevention (CDC) at the National STD Prevention Conference in Washington, D.C.
(The terms sexually transmitted diseases and sexually transmitted infections are used interchangeably, but mean different things. All STDs come from STIs, but not all STIs become STDs as patients are often asymptomatic.)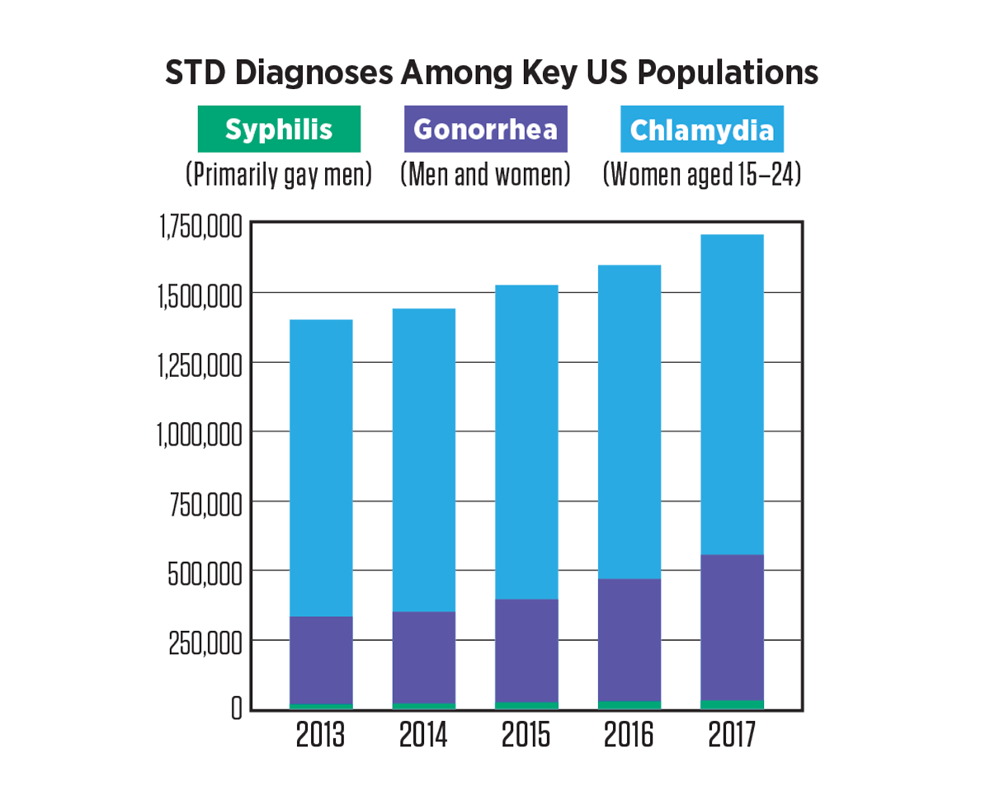 Increases locally, nationally
The CDC analysis of STD cases reported for 2013 and preliminary data for 2017 shows steep, sustained increases.
Primary and secondary syphilis diagnoses increased 76 percent—from 17,375 to 30,644 cases. Gay, bisexual, and other men who have sex with men made up almost 70 percent of primary and secondary syphilis cases where the gender of the sex partner is known in 2017. Primary and secondary syphilis are the most infectious stages of the disease.
Chlamydia remained the most common condition reported to CDC. More than 1.7 million cases were diagnosed in 2017, with 45 percent among 15- to 24-year-old females.
Indiana has not been immune to these trends.
Caitlin Conrad, STD prevention program specialist at the Indiana State Department of Health, said Indiana has seen similar increases, due to a variety of factors.
"It can be anything from more online dating sites than we've ever had before [where] people have more access to more partners and more anonymous partners to reduced stigma [because] maybe people don't feel as scared of STDs as they used to because they're all treatable conditions," she said. "People are getting tested pretty frequently now and have access to better healthcare services. There are more insurance options. So, people have access to a lot more resources than they have in the past."
Lynn Bunch, vice president of patient services for Planned Parenthood of Indiana and Kentucky, said many millennial patients they see want to avoid pregnancy above all else, so they de-prioritize condom use as a result, resulting in higher rates of infection.
"They're more likely to not use a condom if they have contraception like an [intrauterine device] or an implant or even really a pill," she said.
Antibiotic-resistant gonorrhea
Gonorrhea diagnosis increased 67 percent overall—from 333,004 to 555,608 cases—and nearly doubled among men—from 169,130 to 322,169. Increases in diagnoses among women—and the speed with which they are increasing—are also concerning, with cases going up for the third year in a row—from 197,499 to 232,587.
The threat of untreatable gonorrhea persists in the United States, and reports of antibiotic-resistant gonorrhea abroad have only reinforced those concerns. Over the years, gonorrhea has become resistant to nearly every class of antibiotics used to treat it, except to ceftriaxone, the only remaining highly effective antibiotic to treat gonorrhea in the United States.
In 2015, CDC began recommending health care providers prescribe a single shot of ceftriaxone accompanied by an oral dose of azithromycin to people diagnosed with gonorrhea. Azithromycin was added to help delay the development of resistance to ceftriaxone.
Emerging resistance to ceftriaxone has not been seen since the dual therapy approach was implemented, and there has not yet been a confirmed treatment failure in the United States when using this recommended therapy.
New CDC findings, however, show that emerging resistance to azithromycin is now on the rise in laboratory testing—with the portion of samples that showed emerging resistance to azithromycin increasing from 1 percent in 2013 to more than 4 percent in 2017.
The finding adds concerns that azithromycin-resistant genes in some gonorrhea could crossover into strains of gonorrhea with reduced susceptibility to ceftriaxone—and that a strain of gonorrhea may someday surface that does not respond to ceftriaxone.
Conrad said Indiana was one of eight states which has received federal funding from the Combat Antibiotic-Resistant Bacteria (CARB) federal fund to explore emergency protocols for treatment of resistant gonorrhea.
"We try to identify the networks and figure out how those networks are spreading gonorrhea infections, and then we, obviously, treat those infections, as well," she said.