I met up with Nina Elder before the opening of The Score and had the opportunity to ask her some questions.
Her multi-pronged exhibition investigates the urban environment of Indianapolis, and the people who inhabit it, through the prism of geologic time. She also explores the quarries where the limestone used to build the city's monuments originated.
The exhibit will be open on Friday, Dec. 6, from 6 p.m. to 10 p.m. at Indianapolis Contemporary's Elevator Hill campus at 1002 E. Washington St., and on view through Dec. 8.
Elder, based in Albuquerque, N.M., is an artist who investigates the Anthropocene, the latest geologic era ushered in by man's influence on — and systematic destruction of — the natural world. The mediums she uses to create her art are often related to this destruction in some way. 
For example, she has used radioactive charcoal from forest fires surrounding defunct nuclear sites as her drawing material to create depictions of said sites in the American West.
It was around 11,700 years ago that the most recent Ice Age ended. The fact that the Ice Age glaciers extended into Central Indiana was something that Elder took into account when creating The Score. 
"Where the Wisconsin ice sheet ended is one of the most geologically important places on the entire planet," she said. "There's more information about the current state of our planet right here in Indiana than almost anywhere, so I find that fascinating."
Elder also found the city of Indianapolis fascinating, and stimulating, from an artistic standpoint.
"During my first visit here it was very cold," she said. "It was February, and I was walking in between the Circle and the IUPUI campus. I noticed this stone in front of the Eiteljorg Museum that had a cracking. I swear, as I was walking past it in these ice storms, I saw the crack open up a little bit. I just was blown away that I witnessed geologic change happening in front of me. It's 13 and a half feet by three and a half ... and I made a rubbing of the top of that. I finished that and turned it into a more formal drawing, and so it's a graphite rubbing. But then I also incorporated limestone powder that I've collected from the quarries down south."
That drawing is part of this exhibition, which she began putting together two years ago, after winning an artist's residency.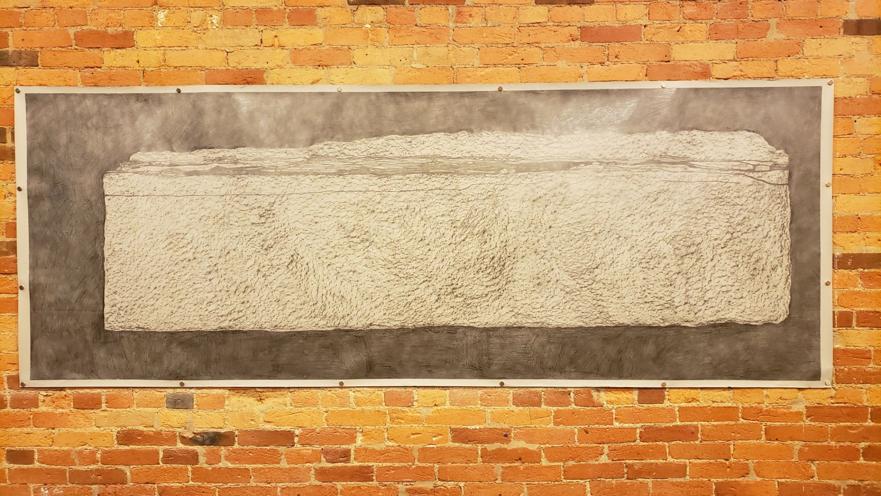 "I applied for a residency at the IUPUI Arts & Humanities Institute [IAHI]," she said. "We had this campus initiative that was thinking about how to make the campus more welcoming." 
Elder's residency is sponsored by IAHI in partnership with Ignition Arts, Indianapolis Contemporary, People for Urban Progress, and PRINTtEXT. The City State Residency, as it's called, is part of IAHI's Cultural Ecologies project, which attempts to examine the impact of arts and humanities programming in Indianapolis on multiple levels.
"I proposed to come and help them think about the future," she said. "I love thinking about deep time, positioning ourselves between the past and the future. I would say how it happened was being aware of the history of limestone quarrying in southern Indiana and the importance of that to the economy, the whole state, and then being here where there's kind of a rigid urban infrastructure."
Elder's work is, in a way, about surfaces.
"There's deeper-seated things that happen on an invisible level in ecosystems, but I'm looking at the really visible evidence of the Anthropocene," she said.
She looked for that evidence in south central Indiana, home of the quarries that supplied the limestone for the many monuments found in downtown Indianapolis (and Washington D.C., for that matter). However, she found the Soldiers and Sailors Monument — with its idealized portrayals of Civil War conflict set in stone — deeply problematic. 
 "I was really thinking about what ideals get made permanent," she said. "What is perceived as permanent and perceived as monumental, and then going and seeing the quarries just south of here. Those are actually more permanent and more monumental that these obelisks and arches that we put up all over the place."
Her drawing "Eroded" uses limestone powder, along with charcoal and pencil, to create a depiction of the landscape from the Pentagon Quarry near Bedford.
Her project began by holding community listening sessions. Her question to individuals she interviewed, and then to larger audiences, was, "What are you doing for the future of Indianapolis?"  
Overall, she didn't find her respondents particularly pumped when it came to thinking about the future.
"We're still kind of stuck to this whole stillness," she said. "A lot of changes happened that we haven't necessarily invited. I was sensing this … I call it 'the clenched jaw.'" 
Snippets of the responses that she received, in these conversations, became part of a poetic statement forged into a bronze plaque that is also part of the exhibition.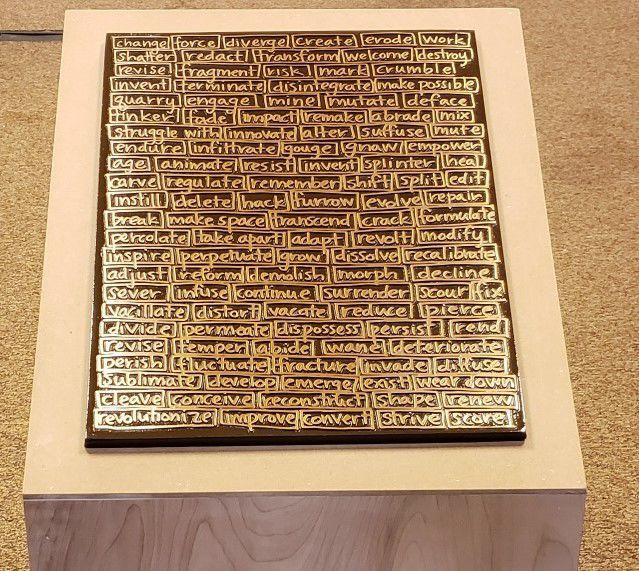 Elsewhere in the exhibit, as if to address the mostly stoic nature of many of her respondents, you will find tools made from discarded steel that she repurposed. 
"We took an old piece of public art that had been decommissioned by the city and made 20 sets of quarrying tools that are being distributed to community members, activists, and advocates, as a gesture of acknowledging where the power actually lies in the city," she said. "I think that there is a lot of dynamic social action that just gets a little under the surface. Putting these tools of potential destruction and creation in creative hands is an intentional thing."
This repurposing is part of her investigation of possibilities for the city and its inhabitants, who need as many tools as possible to deal with issues ranging from gentrification and displacement to food deserts and to lead-contaminated water.
Outside, in front of the storefront exhibition space, you'll see a block of limestone — another part of this exhibition — that once was part of a fountain at The Indianapolis Museum of Art, now Newfields. 
She found this block residing at the Herron School of Art & Design sculpture department.
To some, the block of limestone might call up memories of when the fountain was a more dramatic part of the museum's facade, before the construction of the Efroymson Family Entrance Pavilion more than a decade ago. Others might think of Newfields' starting to charge admission fees and beginning to host seasonal events like Winterlights.
"It was amazing to me that people could just recognize it as being a discarded piece of this fountain and anyone that sees it that's from here recognizes that it's amazing," said Elder. "It has this like incredible dripping veneer over the edges."
Elder has a million-year loan agreement with IUPUI to keep this block of limestone, an agreement more whimsical, perhaps, than legally binding.
"It will be a reminder of geologic time ... you're going to have an agreement that it will not be maintained for a million years," she said. "And so it'll probably erode and crack and fall apart, and if the contract is upheld it will just fall apart in the middle of the IUPUI campus as a very long slow clock."