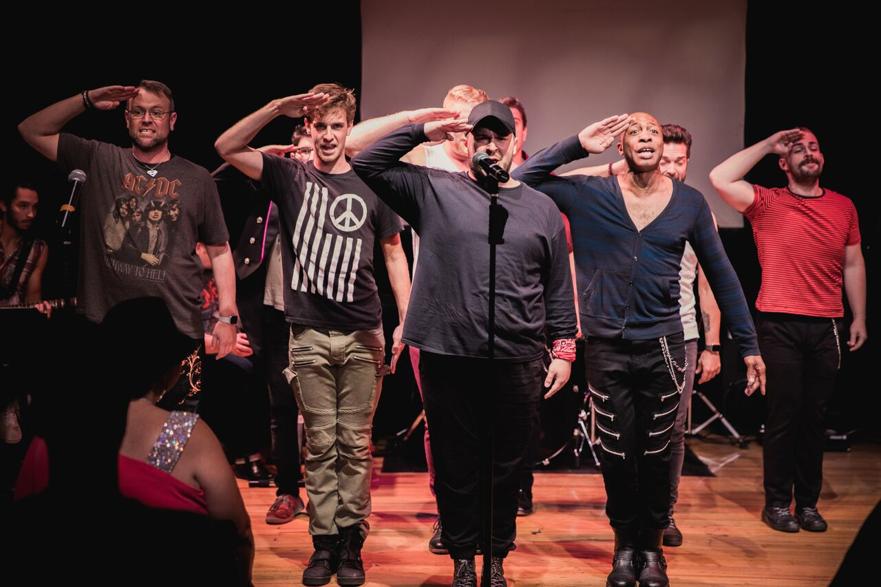 Are you a fiend for musical theater? Do you like rock 'n' roll in all its flavors? This weekend, you don't have to choose between the two if you're looking for something fun to do.
Queen Day will showcase Queen's glam rock and the punk-flavored rock of Green Day, but it's also sprinkled with bits of musical theater for good measure. This Indianapolis Men's Chorus production had its first run this past summer as part of the IndyFringe Festival.
I had a chance to talk with artistic director Greg Sanders, before its weekend run starting tonight at IndyFringe. 
NUVO: Is Queen Day an original production on the part of Indianapolis Men's Chorus?  
SANDERS: Yes. A couple of things inspired me. I really wanted to do a rock show. I have a lot of guys who are good at stuff like that, and it's the kind of stuff that choral groups don't normally do. I also have a lot of younger guys in the group that have a lot of stage presence and move really well. So I was trying to think of shows that would stir younger performers in a really contemporary way.  
I've always loved the music of Queen and knew that Bohemian Rhapsody would be coming out this fall. And I've always liked Green Day because they were a big deal when I was in college, right? So when the American Idiot musical came out a few years ago, I really liked that too. I thought this is a good piece for men as well. They would all sing really well for men's voices and I thought they would really go together [...]. They're both groundbreaking in a lot of ways. Green Day has a little more of a punk element to it and Queen is a little more like glam rock. But both those styles of performance have an in-your-face quality that I like. And I thought it would be really fun to just celebrate some rock 'n roll with people who do a nice job with it.  
NUVO: Tell me a little about how you settled on the title of the production.
SANDERS:  The initial founding of the Indianapolis Men's Chorus was through the Gay and Lesbian Choral Association. And we still have LGBT rights as a main part of our mission. So I thought it would be really fun to have a little camp value as well.  So that's why we called it Queen Day. And then I also wanted to include some other stuff, to mix theater music with rock 'n roll. I was looking around for someone who had done Hedwig and the Angry Inch before. So I asked Tim Hunt who is an actor in town to play the role of Hedwig. He did it last year some time, over a year ago now. So the show is primarily music of Queen and Green Day.
NUVO: Has it been an an evolution from the original performance at IndyFringe?
SANDERS: It has. So the show expanded a little bit. I added some numbers to it. I also cut a few things. I just sort of changed it around. So shows are are in a constant state of workshop like that. It was good the first time and I was really proud of it but then when Pauline [Moffat, executive director of IndyFringe] asked me to come back and do it again, I was thinking about ways of expanding it a little bit because we wanted it to have an intermission and make it more of an evening.  So I wasn't tied to the 50 minute restriction of the IndyFringe Festival, so I expanded some numbers. I added a few things and made it more kind of an evening with an intermission. I think the running time with the intermission is about 90 minutes.
NUVO: How much of your bringing Queen Day back to IndyFringe have to do with the success of the Queen biopic Bohemian Rhapsody?
SANDERS: I would say that it was a slim part of my motivation for programming it over the summer. But it wasn't like "oh, Bohemian Rhapsody's coming; I'm going to jump on those coat tails." We first did it before the movie even came out. Now I do think there's a renewed interest in the music of Queen right now, so I'm hoping that that might drive people to check us out for the first time because they've seen the movie and fallen in love with the music again and get a chance to see it live. Frankly, I don't think you hear Queen covered very much because Freddie Mercury's voice was so virtuosic and so high. And I think the guys in my group do a really good job of that. So I think that it's like a really strong presentation of that music and it's music that you don't hear live very often.
NUVO: He did have an unusual voice.
SANDERS: Because it's so vocally demanding that it's something that you don't hear very often. We're doing everything in the original keys as it would have originally been sung. It was really fun to get to work on that stuff.
NUVO: Have you seen Bohemian Rhapsody?
SANDERS: I did. I saw it over Christmas yes.
NUVO: Did you like it?
SANDERS: I liked it a lot. I know some critics didn't love it but I was just reminded of how great the music is. I really enjoyed listening to the music and hearing the music again. It's fun to think of Freddie Mercury as an immigrant. That story is appealing to me; his sort of synthesis of different culture to make that music come to be, and also his sort of larger than life presence and his ability to be a showman.
NUVO: Any individual performers you want to highlight besides Tim Hunt?  
SANDERS: I think everybody is really good in this show. I would highlight Corby York and he does that song "Gethsemane" from Jesus Christ Superstar. And I think he's really great at that. I would actually highlight our band. I think our band is really good. They don't usually get recognition. I would highlight our drummer Cameron Bailey and our guitar player is a guy named Alex Milligan and our piano player is Matt Richardson. The other one I would mention is Jared Mcelroy. He is a really great Freddie Mercury. He gives a really great vocal performance in the show.
NUVO: What's your history with Indianapolis Men's Chorus?
GREG SANDERS: I became their pianist in 2003. I worked there for 15 years now. I was their pianist from 2003 to 2010.  I took a year off there somewhere. I became artistic director in the fall of 2011.
NUVO: The number of volunteer singers has increased threefold under your time as artistic director and you've had diverse partnerships, from Indianapolis Symphony Orchestra to Dance Kaleidoscope. Have you had any growing pains? 
SANDERS: Yes, there have been growing pains but it's been really fun to continually re-envision what the group might be and to find a way to express ourselves artistically with each passing year.  And that's the fun part, getting to figure out how to do things in a new way.