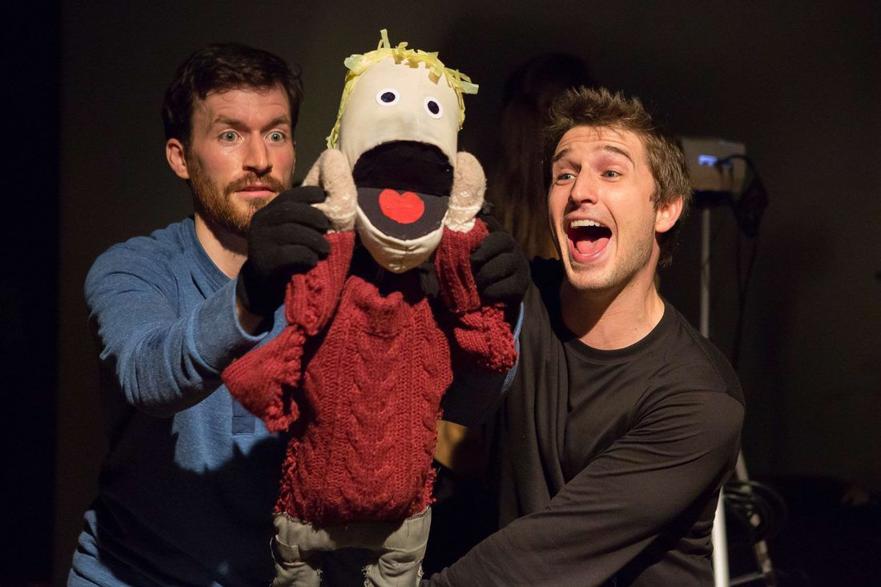 Now at the District Theatre on Mass Ave, Recent Cutbacks' production of Kevin!!!! mimics the plot of the 1990 Christmas comedy Home Alone using up-to-the minute live projection technology, actors armed with figurines and homemade puppets, and a side plate of general mayhem. 
Sound appetizing?
There's also a four-person chorus onstage, decked out in Christmas sweaters, belting out classic Christmas carols.
On the off chance you haven't seen or you've forgotten the film, Home Alone revolves around a bratty eight-year-old named Kevin who accidentally gets left at home when his family takes a flight to Paris on vacation. He's left to defend the house when two no-good rapscallions attempt to rob it.  Kevin is eventually reunited with his family, but not before having defending his family's household with a variety of ingenious booby traps against the burglars.
In the opening scene you see Kevin and his family represented as figurines, manipulated by an actors in black bodysuits. You see the actors uttering the lines of said figurines while the Christmas chorus belts out one carol after another.
The figurines, and their dollhouse-size sets, seem deliberately amateurish even as they are projected larger-than-life on-screen above the actors.
It's as if the production company was just barely able to afford all the fancy projection equipment, and was left with nothing to pay for set design.
Due to recent cutbacks, of course.  
But then there are shifts in the gears (and the tone) of the performance when the actors play real people, as when the actor Natalie Rich puts on a winter coat over her black bodysuit and transforms into Mrs. McCallister, i.e. Kevin's mom.
The pivotal moment in the whole production is when, on the plane, Kevin's mom realizes on the plane that she left her son at home and she yells out his name "Kevin!!!!"  
At this moment, you don't know whether to watch the actor on stage or the projected image of her on screen. You might feel the same confusion when actor Nick Abeel comes out with a Kevin hand puppet and animatedly voices Kevin's dialogue. Ditto when Rich and actor Rose Palmeri come out onstage with two giraffe-legged sock-puppet-like stick figures. These are the puppets that are supposed to represent the two evil con-men getting caught up in Kevin's booby traps. But the actors are the ones mouthing the dialogue, so it's hard not to keep your eyes on them.   
The carolers also get involved in the general mayhem during the chaos-filled finale, running all over the stage.
In fact, there's so much mayhem that if a naked threesome started having sex on-stage, it would take a minute or two for the audience to notice. In fact, the audience hardly seemed to notice on the Dec. 15 performance when the overhead screen went blue ten minutes before finish—an obvious error.
But it would take more than a blue screen error to kneecap this hilarious and fast-paced production, featuring actors who are always on target especially when changing characters and accents in the blink of an eye.
Never does the treatment of the source material veer into R-rated territory, or mean-spiritedness. Not that Home Alone is a great work of art that requires great reverence.
Having said that, there's no point in criticizing the original film for its implausibility as Roger Ebert did, or for its "sadistic" adult-bashing as Entertainment Weekly did. Anyway, at this point, Home Alone is about as well-worn (and as well-loved) a vehicle as your typical Christmas carol.
The New York City-based Recent Cutbacks certainly supply enough electricity to shock this monkey to life, as it were, and they're wise enough to make sure it clocks in at just an hour, so it avoids becoming tedious.