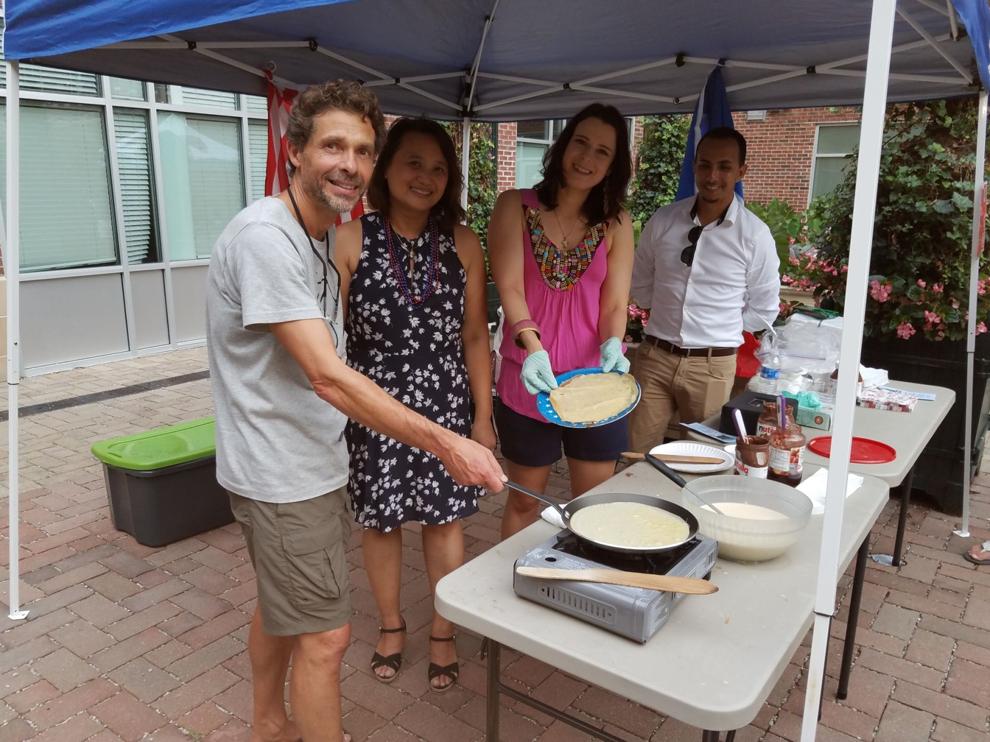 It wasn't just French nationals who were excited about France's World Cup win on Sunday, July 15.
 In Quebec City, the capital of the French-speaking Canadian province, fans took to the streets Sunday to celebrate the victory. There were also Les Bleus fans in the greater Indianapolis area. On the morning of July 15, members of the Alliance Française d'Indianapolis watched the match in the Union Jack Pub in Broad Ripple and celebrated when they won.  
 But you would have found more than just French nationals in that crowd. There are many different countries in the world besides Canada where French is spoken. In much of West Africa, French is a lingua franca, for example. Accordingly, members of the Alliance Française—an organization dedicated to the promotion of French language and culture—reflect that ethnic diversity.
The previous day, July 14, the Alliance Française organized a Bastille Day celebration for the first time ever in downtown Carmel, right off Main Street, in the Arts & Design District.
I was psyched that day because it gave me something to do on a hot Saturday night with my 13-year-old daughter, Naomi.
When we walked into Sophia Square—a courtyard surrounded by first-floor retail and apartment blocks now decorated with French flags—a woman was singing "Frère Jacques." This seemed all right to Naomi, but when the singer started in on "Venus" by Bananarama, my daughter said, "This isn't French!"
Fortunately, there was enough going on that was authentically French. There were quiche, croissants, and wine for sale. There were also plenty of people gathered in groups, conversing in the language of Charles Baudelaire and Charlotte Gainsbourg. And there were some of the regulars of the Alliance Française (AF) making crepes.
I've been to quite a few of their meetups, held at Moe and Johnny's, where you don't necessarily have to be a fluent French speaker. (Being a fan of French culture and language, however, might be helpful.) I hadn't been to one of the meetups for about two years though, so I don't know anyone there particularly well.
Naomi was hungry, but she wanted nothing to do with the quiche. She was, however, up for crepes (her mother often makes her Russian-style crepes, or blini.)
So we got in line. We ordered two crepes spread with Nutella, five bucks a pop.  
I'm not sure who spoke first, but I was soon engaged in a French conversation with the woman behind the counter. When she asked me where I learned to speak French, I told her that I had learned in Niger, West Africa—where the language is taught in schools and spoken by government officials—when I was a Peace Corps volunteer in the early '90s. I also told her that I mostly spoke in Hausa in the village where I was stationed.
Somewhere along the line, I realized that I had talked to this woman before. While Naomi ate her crepe and then proceeded to devour most of mine, I looked up an article on my smartphone that I had written back in 2012. ("Meeting up with Indy's Francophones," Feb. 23, 2012)
Claire Ty was her name—the name of the woman I had been speaking to. She had immigrated to France when she was 5 years old. In her native Cambodia, French is still spoken as a second language due to the history of French colonization there.
When I went back up to talk with Ty after Naomi and I had finished our crepes, she told me that she is still working as an immigration attorney as she was in 2012. She told me that she's very busy with clients, in part because of the changes in immigration policy under the Trump Administration.
"I'm working now for Indiana Legal Services, a nonprofit organization," she said. "I've always been very much involved with the Alliance Française."  
Alliance Française activities have now expanded north from Indy. In fact, if you are a student, fan, or native speaker of French—and if you want to see what membership in AF is all about—you can check out the next weekly Parlons Français à Carmel event on July 25 at Books & Brews in Carmel.
Ty's involvement with the Bastille Day celebration seemed like something of a spur-of-the-moment thing.
"The president of Alliance Française, Jean [Minka], sent a mass email to everybody. Benoit Michel, and I, we looked at each other and said, OK, what do we do now?' We just showed up."
Whether spur of the moment or not, my daughter and I can attest that the Alliance Française d'Indianapolis makes some damn fine crepes.