Indianapolis was literally uncharted territory when chosen as the state capitol in 1820. With the exception of a few hardy settlers and a handful of Native Americans who refused to be chased off by the federal government, it was uninhabited wilderness. 
A Scotsman named Alexander Ralston was hired as surveyor in 1821 and tasked with laying out the new city—a plan that became known as the Mile Square. He'd emigrated to the U.S. around 1790 and not long after was hired as an assistant to Pierre Charles L'Enfant, the architect responsible for laying out the city of Washington D.C.
Ralston came to Indianapolis in early summer 1821. A lifelong bachelor with no known family, he came with a clerk and a housekeeper described as "a mulatto woman named Chaney Lively."
Chaney was 21-years-old when she arrived in the city and a free woman of color—the first to call Indianapolis home. 
BORN A SLAVE
It's not clear where or when, but we know Ralston originally purchased Chaney as a slave. Most likely, he bought her in Louisville, a major slave trading hub at the time he lived there in the early 1800s.
Census records show Chaney was born into slavery in Kentucky in 1800, making her about 15 or 16 years old when Ralston left Louisville for the Indiana territory. And though slavery was outlawed by the new state constitution, that didn't stop settlers moving north from bringing their slaves with them when they came.
The term "free person of color" was highly symbolic, and there were plenty of ways for whites to evade the law. Governor of the Indiana Territory and future President William Henry Harrison, for example, bought slaves in Kentucky and imported them as indentured servants.
The relationship between Ralston and Chaney began as slavery, but by the time they arrived in Indianapolis they lived and worked side-by-side in a manner that led others in the community to regard her as an important and respected member of his household.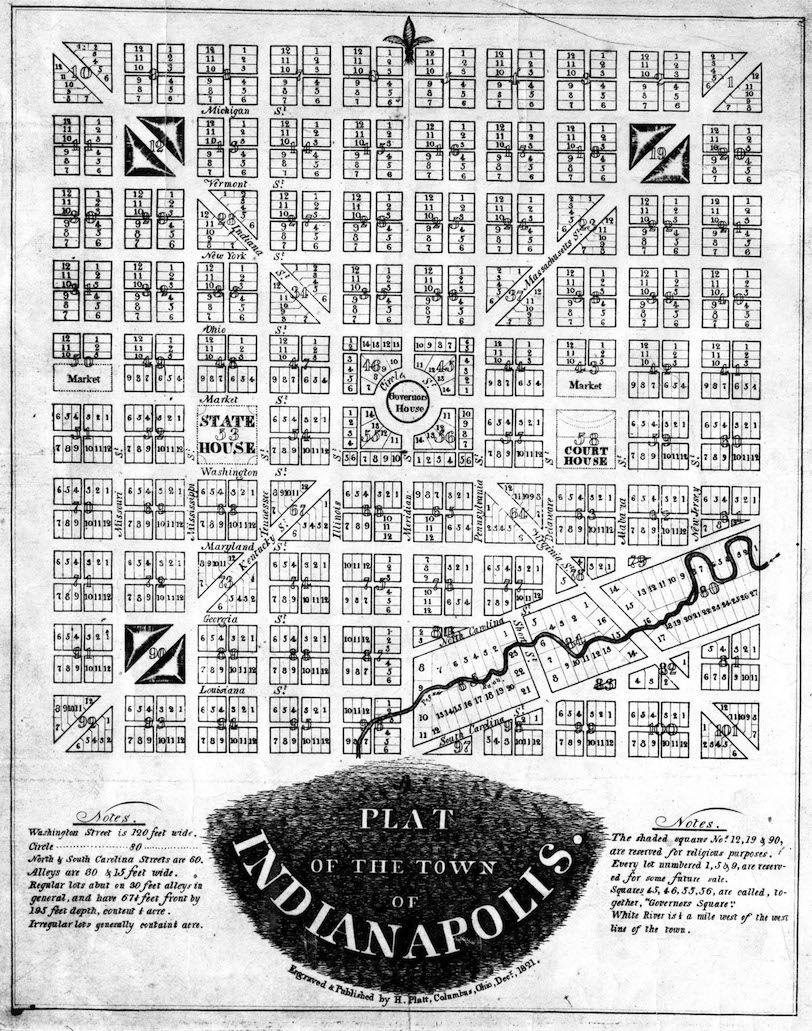 Ralston worked on his survey of Indianapolis throughout the summer of 1821. When the platted lots went for sale in October, he bought two lots on the first day: one for him and one expressly for Chaney.
One of those lots was on Maryland Street at the point where Kentucky used to cut the block diagonally. Here, he built a one-story brick house where he and Chaney lived until his death in January of 1827.
In part, the acceptance of Chaney had to do with the difficulties of frontier life. There wasn't much of a class system in Indianapolis in the early days; pioneering created a pretty level playing field.
As Catherine Merrill would later write in her autobiography, "Nobody was rich, nobody was poor, nobody was upish, nobody servile. Nobody had relatives. Each family was solitary, and so dependent upon neighbors and neighborly good will."
In his 1870 history of the city of Indianapolis, J.B. Nowland writes about Chaney this way:  
"She was a member of the first Presbyterian Church, and was universally respected by the pioneer ladies of the place who often took tea with her. She always behaved herself with propriety, and never took advantage of the attention shown her by them to be in any ways saucy."
Calvin Fletcher notes visits to Ralston and Chaney's house in his 1821-22 diaries, for conversation and a cup of tea, and to see some new fruit in the garden. Fletcher's wife Sarah notes visiting for a taste of sugar.
In her memoir, Jane Merrill Ketcham writes about lounging in the yard as a young girl and talking with Chaney as she skimmed the cream. Her sister records a visit on a cold February morning in 1826 in her diary and finishes with, "I love Mr. Ralston—and Chaney, too."
HEAD OF HOUSEHOLD
Ralston's death in January 1827 must have been terrifying for Chaney, no matter how much or little she grieved him personally, and no matter how nicely the townspeople treated her. She was a young woman of color alone in a frontier town, without family or means, and with very little power under the law.
While we don't know the specifics, we do know Ralston made provisions for Chaney to legally own her own land and home after his death. As noted above, he bought two plots of land in 1821 and deeded one to "Chaney Lively, a free woman of color."
That piece of land sits on the northwest corner of Meridian and Maryland Streets, and it is where Chaney lived from 1827 until the early 1850s.
In September 1871, The Indianapolis News published "A Glimpse of Meridian Street Thirty Years Ago" and described the area this way:
"There stood on or very near the same corner now occupied by [the Hard Rock Cafe], a little one story frame where Jerry Collins kept what was then called a grocery, and would now be called a "doggery" or more softly, a saloon. Below Collin's grocery, on the west side, there were two houses only, one on the alley [Pearl Street], the other on the corner of Maryland Street where 'Aunt Chany,' a very estimable colored woman, lived.
When Chaney moved into her own home in 1827, there were less than 60 people of color—men, women, and children—living in Indianapolis out of a population of a little more than 1,000.  She was the only Black female head of household in the 1830 census, and the first woman of color to own property in the city, most likely the first person of color, male or female, to do so.
To make a living after Ralston's death, Chaney took in boarders. As construction on the National Road got underway and labor camps sprung up nearby, she also made money by cooking and doing laundry for the workers—particularly African American laborers who were increasingly unwelcome in other parts of town.
After living on her own for nearly a decade, Chaney married one of those men in March 1836. In his diary entry that day, Calvin Fletcher notes that he heard of the wedding and made a special trip to Chaney's house to offer the couple his best wishes.
MR. AND MRS. BRITTON
There is little record of Chaney's life outside her relationship to Ralston. And in later years, she rarely made headlines. Fortunately, her new husband John G. Britton did make the papers, and his activities offer us glimpse of what her life was like in the 1840-50s.
Britton came from Ohio in 1835. He was also a former slave, keen to set up shop as a barber—one of the few "respectable" businesses for Black men at the time. Within a few years of marrying Chaney, he was widely known in Indianapolis as what we'd now call a community organizer and was remembered as "a very reputable colored man, who kept a barber-shop and accumulated some property" by historian Jacob Piatt Dunn in his 1910 history of the city.  
Chaney and her husband were founding members of the Bethel AME church when it opened on Georgia Street in 1841. Britton was also the co-founder and president of the first Black Freemasons in Indianapolis, along with  James S. Hinton, the first African American member of the Indiana General Assembly.
When Frederick Douglass called the 1848 Colored National Convention to order in Cleveland on Wednesday, Sept. 6, 1848, John Britton was present as the delegate from Indiana.
In the years leading up to the Civil War, he spearhead that same movement locally and advertised for others to join him.
"The time has come when every colored man in the State should consider his situation," he writes in the Indiana Sentinel July 3, 1851, "We think it is high time that we take into consideration the oppressive laws that have so long oppressed us..."
Britton wasn't just fighting for an end to slavery, but for the rights of free people of color living in Indianapolis including his friends and family.
MOB RULE
In the early days of Indianapolis, "the attitude of the Negro was what it was generally in the free states at that time—one of tolerance to an inferior race," wrote historian Dunn. "There was firm maintenance of the fact that Indiana was free soil, and protection of Negroes in the legal rights that this implied."
Twenty years later, however, those attitudes had grown less tolerant, even as abolitionists like Calvin Fletcher championed (limited) rights for his "colored brethren." The reality of day-to-day life for people of color in the city during the 1840-50s was becoming increasingly precarious.
One of the most disturbing episodes in the city's history occured on July 4, 1845. Around 3:00 in the afternoon, Chaney's longtime neighbor John Tucker was walking down Washington Street when he was attacked and beaten to death by a group of white men. 
"An affray occurred in this city between a negro and some whites, in which the negro was finally killed outright," wrote the Indiana Sentinel the next day. "The name of the negro is said to be John Tucker, about 45 years old, and previous to this incident he is said to have been of a quiet and inoffensive disposition.
"He was, we are told, formerly a slave in Kentucky, but many years ago honorably obtained freedom, and come to this vicinity more than 15 years ago. He has left two children, a girl about 13, and a boy about 10 years old."
The paper published the proceedings of the trial against the men charged with killing Tucker, and the testimony of more than 15 witnesses who all told similar stories: Tucker was walking down the street, minding his own business, when a white man by the name of Nick Woods came out of a grocery. Whether accidental or on purpose, Woods bumped into Tucker, and words were exchanged.
Woods struck first, hitting Tucker in the face and bloodying his nose. A brawl ensued, Woods picked up a club, and a short chase ended near the corner of Washington and Illinois where a crowd formed and chants of "Kill the N—!" could be heard up and down the street.
Two men jumped in to help Woods in the fight: a white man named Edward Davis who picked up a brick and hit Tucker in the head, and a white man named William Ballinger who "ran after the negro, caught him by the collar, took the club and hit the negro over the head, and knocked him down. Woods then came to where the negro was lying and struck him twice over the head or shoulders. Someone then took away the club, and prevented further blows."
A careful examination by physicians revealed that "Tucker's skull was fractured the whole length. The blow which caused it would have felled an ox."
Ballinger skipped town before the trial. Davis was acquitted because they couldn't prove he delivered the fatal strike. Woods was charged and found guilty of manslaughter; he was sentenced to three years in the penitentiary.
Three other men, "local toughs," were charged initially for aiding, but never tried.  
RULE OF LAW
It wasn't just mob rule making life hell for people of color in the years leading up to the Civil War, however.
In 1850, the federal government passed the Fugitive Slave Act that allowed for any person of color in the North to be arrested and held on nothing more evidentiary than the word of a white person who claimed the person of color was actually an escaped slave.   
A well-respected friend of Chaney and John Britton's was arrested in just such a case, and it cost him everything.
John Freeman came to Indianapolis a free man of color in 1844. Over the course of a decade, he established a successful painting company and earned a good deal of money, eventually owning four acres of land near Meridian and Michigan streets, as well as a restaurant on Washington Street. He was married with three children, a member of the First Presbyterian Church, and a Freemason when he was arrested on June 20, 1853.
Pleasant Ellington, a white slaveholder and minister from St. Louis who was passing through town, claimed John Freeman was actually a fugitive slave named Sam who had run away nearly 20 years previously, when Ellington lived in Kentucky.
Freeman was arrested on nothing more than Ellington's word. He was held without bail for nine weeks as his lawyers worked to find witnesses who could disprove Ellington's claim—which they were eventually able to do. Three white men travelled from Georgia and Alabama prepared to testify they had known John Freeman as a youth, and he was not the man Ellington claimed.
Oddly enough, Pleasant Ellington skipped town the night before Freeman's witnesses were set to testify. Freeman was released from jail and cleared of all charges. On Aug. 29, 1853, John Britton hosted a celebration at the Masonic Hall in Freeman's honor.
Even though he won his case, Freeman lost all his personal wealth as a result of the trial and ensuing legal fees, court costs, and fines. The community raised enough to help him keep his house, but within a few years he and his family moved to Canada.
NO NEGROES ALLOWED
Even those free persons of color in Indianapolis not accused of being fugitive slaves were at risk of losing whatever property and wealth they had acquired during this time, Chaney and her family included.
In 1851, the Indiana Constitution was changed to explicitly prohibit people of color from entering the state—a measure that remained in effect until 1866.
"No negro or mulatto shall come into or settle in the State, after the adoption of this Constitution," read the amendment. "...any person who shall employ [a] negro or mulatto, or otherwise encourage him to remain in the State, shall be fined in sum not less than ten dollars, nor more than five hundred dollars."
Blacks already residing in Indiana were allowed to stay—provided they register with a county office. After paying a $500 bond, each person of color was issued a "Certificate of Registration."
If a man or woman of color was found to be living in Indiana without these papers, they could be fined amounts set by local jurisdictions, up to $1,000 for each infraction. "Negro Registries" from the time are available in the state archives.
It could be a complete coincidence that Chaney and John sold her house on Meridian Street the same year they were required to register and pay this fee, but maybe not. Their daughter Eliza Jane had recently married, and the young couple was expecting their first child. In all, Chaney's family would have been required to pay at least $2,000 in order to remain in Indianapolis with any sense of security.
After selling the house, Chaney and her family moved to West Washington Street, "between the White River and West Street," according to the city directory. The sale and move most likely occured in 1851. A business block known as the Elliott Building took the place of Chaney's Meridian Street home by 1852-53.
The new house on Washington was big enough for Chaney and John, their daughter Eliza and her family, a few boarders, and a barber shop John ran from that address for decades. He still lived there when he died in 1885.
CHANEY'S PASSING
In the mid-1850s, Calvin Fletcher founded the Old Settlers of Indianapolis and served as its first president. Each summer, a gathering of the city's earliest residents was held at the State Fairgrounds. More like a family reunion than convention, the meeting was a chance for old neighbors to catch up, old-timers to tell their stories, and old friends to see one another one last time.
The only record of Chaney's death located so far is a mention by Fletcher at the Old Settlers reunion in June 1858. As he called the meeting to order following a prayer, a list of names of those who had passed since the group's meeting the previous year was read. Chaney Lively was among them. 
And when the 1860 census is taken a few years later, her name no longer appears with the rest of her family.
Chaney would have been about 57 years old when she died and a resident of Indianapolis for more than 35 years. Born into slavery, she arrived as a free person of color—the first to call Indianapolis home—and she died one of the city's oldest and most esteemed citizens. She was survived by her husband of 20 years, John Britton; daughter Eliza Jane and her husband Reuben Glass; and grandchildren Cora and Marcus.
*************** 
Note: Chaney Lively Britton was a wife, a mother, and a grandmother who today is the matriarch of a family that stretches from Queens to Los Angeles, without ever losing its roots in Indianapolis. Constructing her family tree is a difficult process, one wrought with frustrations, but one I'm determined to complete. 
If you are into genealogy, local history, or think you might be related to Chaney Lively, feel free to reach out and help me complete the arduous and important task of tracing her descendents. We'll follow up with a story tracing Chaney's family history from the time she arrived in 1821 through today—just in time for the city's bicentennial. (lmcphee@nuvo.net)