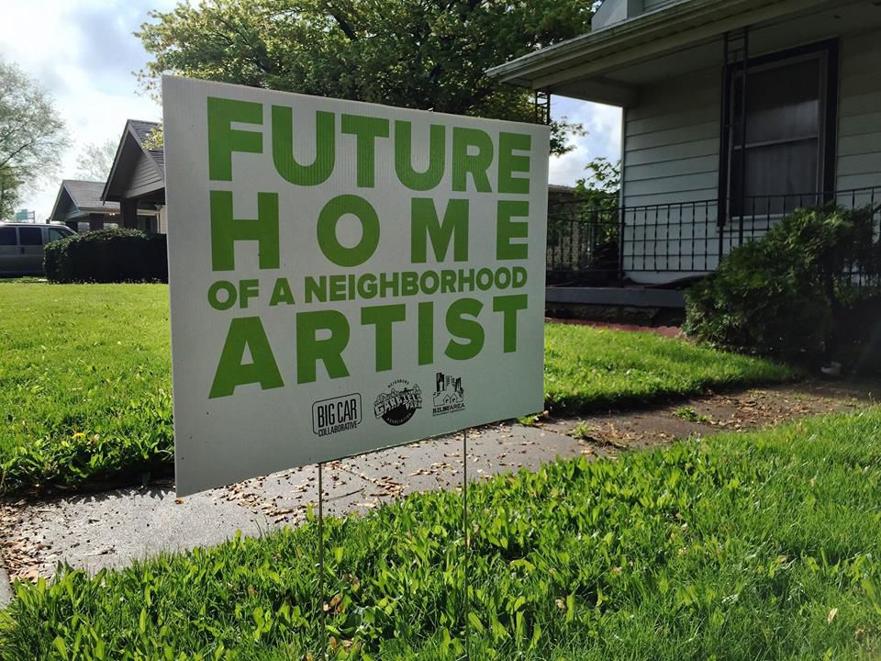 If you're an artist looking for affordable housing and want to become part of a community effecting positive change in the Garfield Park neighborhood, you should know about the Artist and Public Life Residency (APLR) program that is taking applications through March 18.
The program is open to practitioners of just about every artistic endeavor, from visual artist to culinary art to design and placemaking, provided they meet certain income qualifications. (Qualified buyers are required to make less than 80 percent of average annual Marion County income.)
There will be an open house for the APRL Program on Friday, March 1, at Tube Factory artspace starting at 6 p.m. Semifinalists will be notified March 25, with finalists selected by mid-April, and ownership to start in the spring.
The nonprofit arts organization Big Car Collaborative, which runs the APLR in partnership with Riley Area Development, describes it on their website as "a long-term, affordable and community-invested home ownership program."
The Near Southside Indianapolis community of Garfield Park is where Big Car has a facility called Tube Factory artspace.
Big Car first moved into this formerly vacant 12,000 sq. ft. manufacturing facility at 1125 Cruft St., in 2015. But Tube Factory, which functions as a hybrid art museum and community center, doesn't restrict its activities to inside its walls.
Accordingly, Big Car began to develop the Artist and Public Life Residency several years ago to take its mission out to the streets, as it were. You could call this activity "creative placemaking"—a term loosely used to denote when artists or arts organizations get involved in community development.
But it's not everyday where you see nonprofit arts organizations involved in innovative real estate partnerships. Big Car's partnership with Riley is designed to maintain affordable housing in Garfield Park. They wish to institute community development without the displacement of existing residents and businesses that often happens after artists move into any given urban neighborhood.    
The five formerly abandoned houses in the APLR program, renovated by the partnership, are all affordable, all adjacent to the Tube Factory. (More are waiting in the queue to be renovated.)
"They're all under $60,000," says Big Car Executive Director Jim Walker. "They'd probably sell in this neighborhood for 90,000 or more. They're fully renovated. What happens is that the owner of the house is a co-owner with the partnership and when they want to sell it, they have to sell it to us at a pre-set price, and we put it back on the market back for that affordable price again."
The selected homeowner-artists will also receive down payment assistance to the tune of $5,000.  
"They're doing that when they commit to being part of a team that's working on projects in the community," says Walker. "The projects the team might work on might also be outside the boundaries of Garfield Park, in the Learning Tree in Riverside, or some other project on the east side. "Their commitment is going to be 16 hours a month."  
There are also houses that will also be rented out to artists who want to participate in the program, but are unable to qualify for loans.
The APLR program is designed to avoid what happened in Fountain Square—where Big Car Collaborative was based from 2005-2010—where commercial real estate prices have been skyrocketing as of late among other impacts resulting from its becoming a nightlife hub over the past decade. 
"What happened in Fountain Square; there were a lot of affordable housing units, says Walker.  "But they all were all a one-time-around. So you lived there for five years; you put it back on the market; you charge whatever you want."
That is to say, residents in many affordable housing projects are able to sell their houses at market rates when the affordability requirement is lifted after five years.
Gary Reiter, board secretary for Riley Area Development Corporation, calls this process voluntary displacement.  
"Typically in a situation where people come into a neighborhood to make improvements, sometimes they either are displaced by rent or voluntarily displaced by selling it to get their profit," says Reiter. "And then all the sudden the neighborhood isn't affordable anymore. So to recognize the contribution of the pioneers are coming into the neighborhood, you want them to be able to participate [in a house's equity] at some level but you also want to keep the cultural aspect of the community intact."
So Riley and Big Car devised a plan to sell 49% of these renovated homes to qualifying artists.
"If you have a real estate developer," says Reiter, "they would go in and spend $100,000 on a home and they would target their profit to be 20 percent. So they would offer the house at $125,000 and see if they could get 120,000 out of it. So you're getting 49 percent of the house at cost. So you're selling to the artist at cost, not at the profit margin."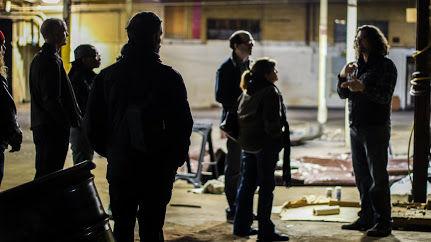 The partnership that Big Car has with Riley isn't the only new big thing going on in the immediate vicinity of Tube Factory artspace.
In Dec. 2018, it was announced that Big Car had received a three million dollar grant from Lilly Endowment to, among other objectives, to turn a 44,000 sq. ft. abandoned factory adjacent to the Tube Factory into a multi-use arts center with plenty of space for artistic collaboration, performances, and other public programming.
"Cruft Street Commons is a collaborative effort to develop a socially cohesive, culturally focused city block where artists and other leaders work together to support stronger communities across Indianapolis," wrote Walker on the Big Car website back in December. "We'll bring people together to build social cohesion and address civic and community challenges in our city."