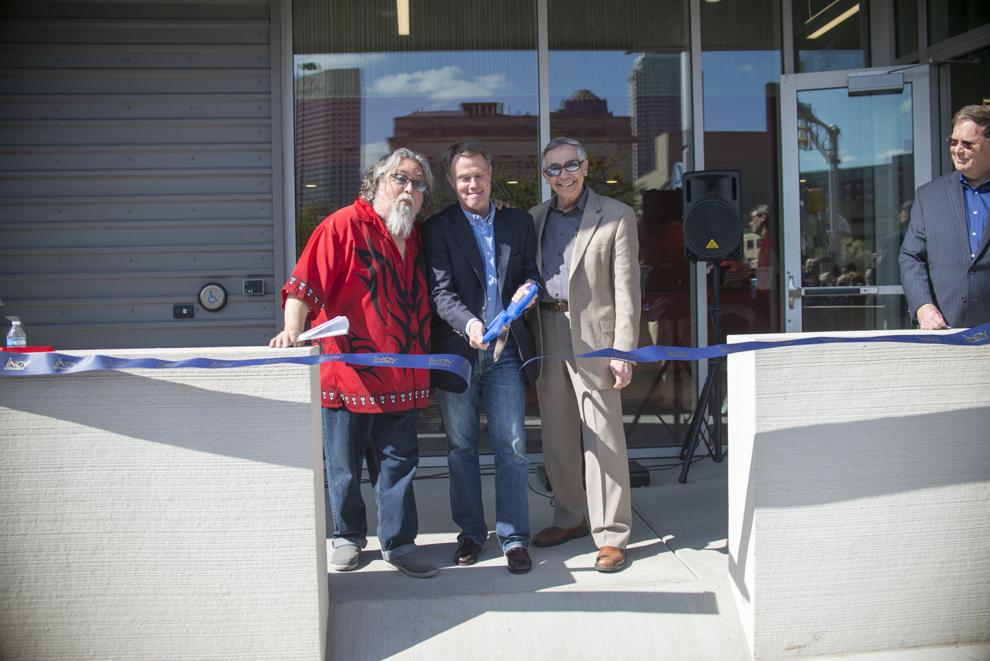 A  crowd of more than 200 guests greeted Phoenix founder and producing director Bryan Fonseca as he stepped onto the Russell Stage at the old Phoenix Theatre on the afternoon of April 28. All 135 seats had been removed, donated to Indy Convergence. Patrons sat on the raised tiers of the floor instead.
Audience and presenters were gathered to say goodbye to the old venue, a converted church, at 749 N. Park Ave. Most would soon walk almost a mile to the new Phoenix Theatre Cultural Centre, an $11 million venue at 705 N. Illinois St.
Space, indoors and out, is the primary reason for the construction of a new Phoenix. The organization had outgrown its 6,600 square feet. Add in the impossibility of patrons finding decent parking anywhere close in the Chatham Arch neighborhood, and relocating makes common and good business sense.
While more space—21,000 square feet—will allow for an expansion of Phoenix's mission, it does so at a substantial cost. The organization still needs to close a $2.5 million gap between the amount raised for the new building and its cost. And closing that gap is just the beginning. In order to keep things afloat, the Phoenix needs to find innovative ways to attract major donors.
None of these concerns seemed to weigh on Fonseca's shoulders on this day, however.
"We are gathered here to celebrate 35 years of incredible memories that we have created both onstage and off," he said before inviting some friends and colleagues onto the stage to share their memories.
Among those onstage was philanthropist and current board president Frank Basile, whom Fonseca originally approached 35 years ago to lead a capital campaign to turn the church into a theater.
"We have produced 399 stories," Fonseca said. These are stories that have changed lives; our lives and the lives of many, many audience members, and we'll share those stories today and let them go on and live in our hearts."
Gratitude and Goodbyes
Tom Beeler, a previous board member and a longtime Phoenix supporter, was the first invited to speak. He began by recollecting the time in the early '80s when he and Fonseca both were involved in productions at Broad Ripple Playhouse. Actors there were discussing the creation of a new theater, including one discussion, he said, that took place in a hot tub in Bloomington. 
"A couple of weeks later we have a meeting over at Bryan's, and a lot of the actors who'd worked at the playhouse got together and discussed the what ifs," he said.
At that time, not only was there a lack of professional opportunities for actors, but there was also a lack of contemporary theater being produced in the city.
Beeler recalled for the audience a science-fiction play series they'd seen on a 1983 trip to Detroit, Warp I, II, and III. It would become the first Phoenix production within a city that hadn't seen many, if any, science-fiction plays before.
But the Phoenix productions didn't just deal with science fiction as subject matter; the nonprofit theater organization shined a light on traditionally marginalized artists and issues.
And the Phoenix has shown commitments to employing African American actors and putting on productions by Black playwrights if the words of Dena Toler, who is African American, are any indication. "Bryan gave me the opportunity to do Two Trains Running by August Wilson. I was directed by David Alan Anderson," said Toler. "So to have that kind of opportunity to get my feet wet was just amazing. And then my last two shows here, Barbecue and Sweat. Again, the opportunity to bring to light words by Black people that I could speak out and sing in my own rhythm."
And then Patricia Castaneda took the stage with her husband Carlos. They both acted in the production of The Promise, and she recalled its resonance with Indy's Latinx community.
Phoenix resident playwright Tom Horan also took the stage to sing Bryan Fonseca's—and the Phoenix's—praises. "The Phoenix is a national-level institution in our own backyard," he said.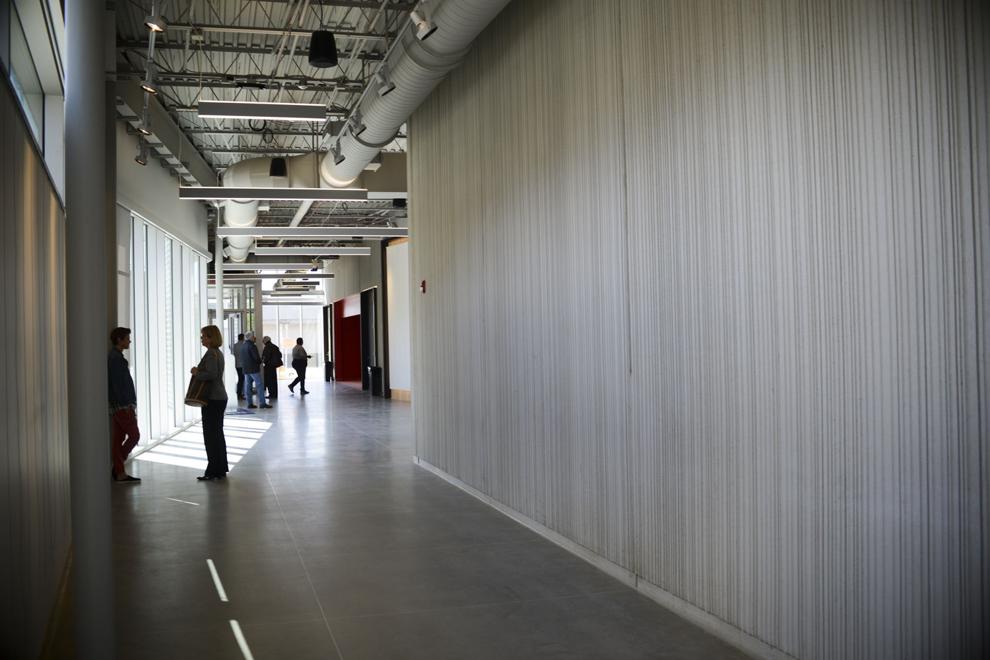 A New Home
Unlike, say, the Booth Tarkington Civic Theatre in Carmel with its anodyne, postmodern facade, the new Phoenix Theatre Cultural Centre might be described as aggressively functional. The exterior facade is composed largely of exposed concrete, as is much of the interior. The unadorned quality of the building, designed by Ratio Architects, mirrors the Phoenix's reputation for edgy performance.
The centerpiece of the new venue is the Livia and Steve Russell Stage that is roughly 30 percent bigger than the old Russell Stage—with a much-improved design.
"If you are on the stage, you can see everybody, and then everyone can see the whole stage. All the sightlines are really good," said Ann Luther, a registered professional engineer who represented the Phoenix during construction, while giving a tour in late January.
And the sound in the theater, she said, is as good as the sightlines. "An acoustician was part of the design [team]," she said. 
She pointed out the fly space and motorized battens above the stage that can lift or lower lights, scenery, and (presumably) cast members—a vast improvement over the improvised mechanics of the old stage. Below the stage is a 5-foot-6-inch-tall trap room covered by trap doors.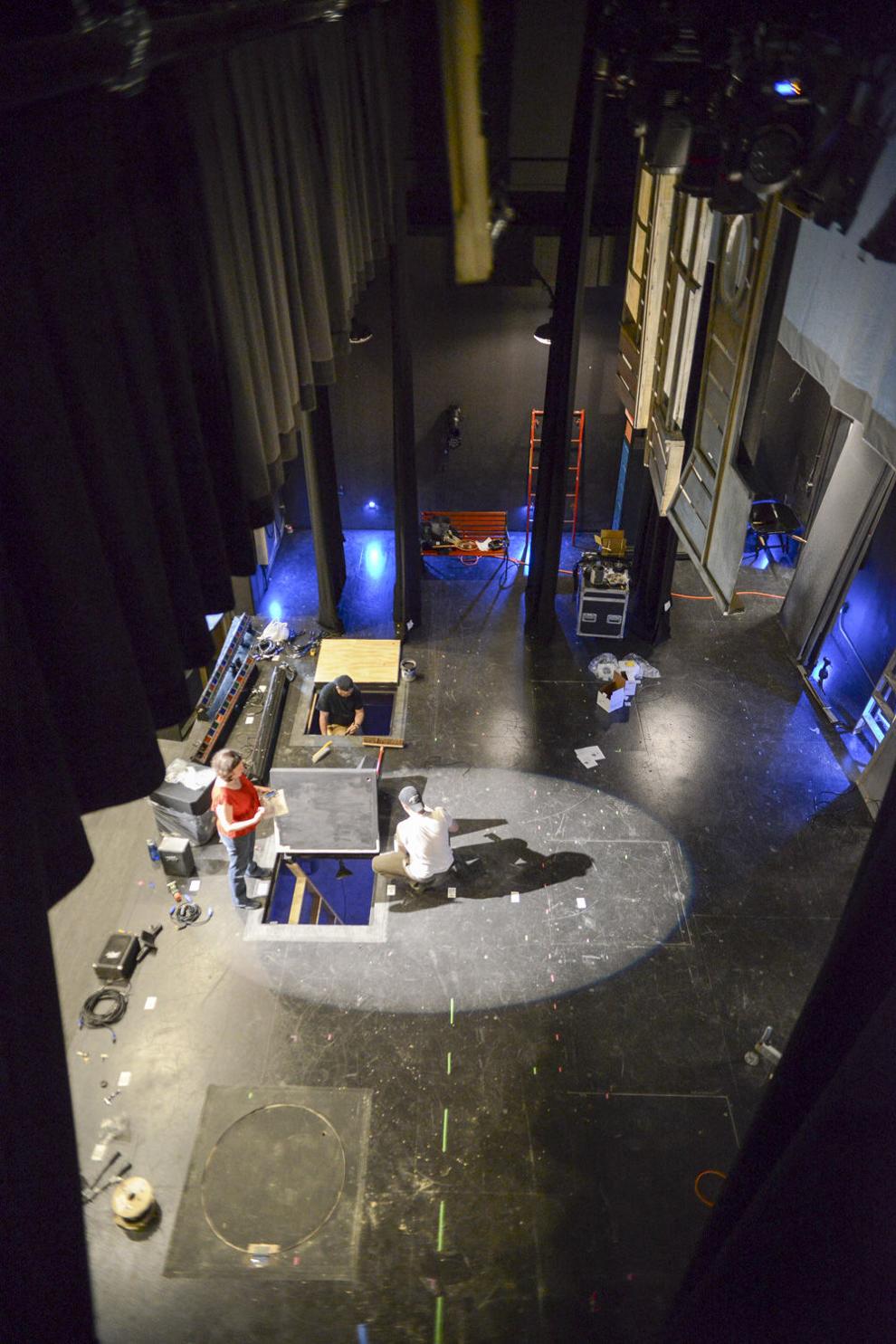 Luther also showed off a second theater space—the smaller and more flexible Basile Stage. The seating, which is on risers, can be moved "anyway you can come up with," said Luther, accommodating different types of performances. 
A multipurpose room with the exact measurements of the stages will allow actors to rehearse their production offstage. There are also classrooms, spacious dressing rooms, a costume shop, and space for set construction. All the building's facilities—and access to them—are compliant with the American Disabilities Act.
The building has a number of environmentally friendly features, including thick insulation in the building that includes 72 precast panels, cast with recycled concrete, weighing between 50,000 and 75,000 pounds each.
Luther also pointed through the window at a large corrugated, black plastic pipe in the courtyard containing an Aqua-Swirl. "That pulls out the heavy sediments so what we release to the combined sewer is as clean as it can be," she said.
"That's one of the green initiatives for the project," she continued before touting the building's energy-efficient LED light fixtures.
In addition to the Aqua-Swirl, there's another feature brand new to theater facilities in Indiana: unisex bathroom stalls. And each stall is handsomely surrounded by red walls, and red doors stretch to the floor. One stall is a family restroom. Another is ADA compliant. And there's a mechanism to let patrons know which stalls are occupied.
"When you throw the deadbolt, it closes the circuit, and above the door will be an X when you close it," she said. And then when the door opens, the X will change to an arrow.
Men and women will stand in line together waiting to use the restrooms and then wash hands in the three-trough sinks side by side one another.
Luther said that the Phoenix was one of the first in Indiana to receive a variance for multi-stall gender-neutral bathrooms. "You've been to them in lots of restaurants, but you've always been to them in converted space," she said.
The last thing Luther pointed out on the tour was the art wall in the grand lobby that will be used for art exhibitions.
There's been a change in plan, however, with another artistic flourish, which was seen in previous renderings of the building. The artwork in question is a red bird design that was slated to adorn the outer wall of the Phoenix, facing Illinois Street.
"That glass is actually going to be inside our building, near our box office," said advancement manager Chelsea Anderson. "It's a wonderful, really remarkable design from GRT glass."
Expanding the Mission
A bigger space also means an expanded mission, according to Anderson.
"Part of our mission is to reach out and ask, 'What do [you] need here in the community?' Bryan identified those groups with our feminist company coming in, Summit Theatre. He identified that we needed a stronger feminist voice here in town," Anderson said. "We're working on getting a Latina company together; we're looking at getting a Black company here together to make sure that everyone is represented."
There will also be programming in partnership with the Jewish Community Center. Screenings of locally produced films are planned as well. The Phoenix will also continue to offer programming geared toward Latinx audiences, as well as programming in Spanish.
In addition, the Phoenix will act as a community center by providing programming in a wide cross section of the arts and civic discourse.
"That could be a town hall series where we could have political discussions," said Anderson. "[We could] discuss something that's happened in our community or if we want to do a music series."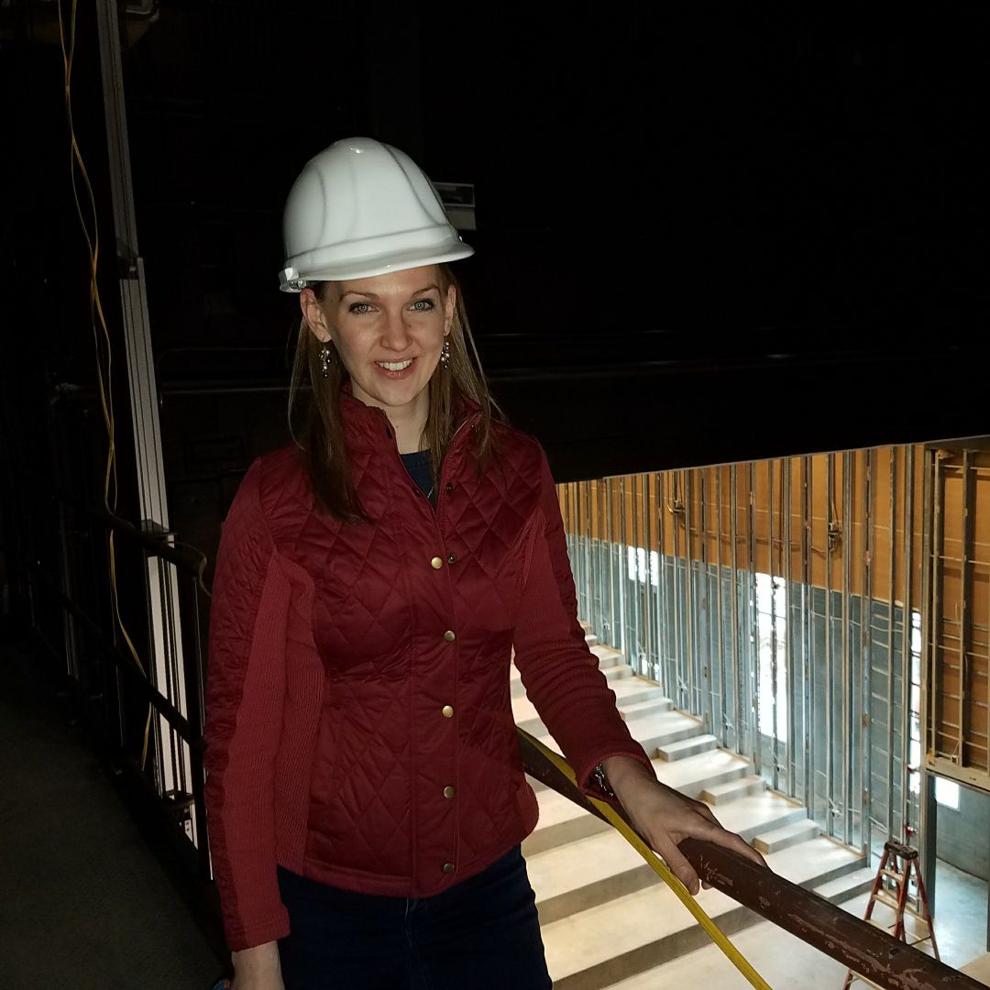 Paying for It
Kevin Kruse joined the Phoenix Theatre as the managing director last October. Although there had been managing directors in the Phoenix's past, they reported to the producing director, Bryan Fonseca, who has been in that role from the beginning. In his role, however, Kruse reports to the board of directors.
The restructure means that the Phoenix is co-led by Kruse and Fonseca. It was a change, Fonseca said, that he was prepared for.
"It's been in the planning five or six years. It's just taken us longer to get to that. And absolutely necessary. We're growing so big," he said.
Before coming on board, Kruse was the director of finance and administration at Maltz Jupiter Theatre in Jupiter, Florida—a much larger theater producing standard Broadway fare such as Beauty and the Beast and Steel Magnolias. 
Upon arriving in Indy, Kruse found he had a full plate of items awaiting him.
"I would say that in the first couple of months, it was coming up with budgeting and strategies for transitioning from the current operation to the new building," he said. "And as is often the case, there were quite a number of things that had been left waiting for me to arrive. So there was a certain amount of digging out that needed to be done.
"We were a bit behind on the auditing process," he continued. "And we were a bit behind on the budgeting process for this current fiscal year. Not much that you wouldn't expect in such a transition. All in all," said Kruse, "it has been a smooth process."
Yet financial challenges remain.
In order to meet some of those challenges, Kruse is working to secure available tax credits, a time-consuming process the Phoenix hopes will generate $2.5 million in equity. While the city has already signed off, for those credits to be viable the Phoenix has to secure a $4.5 million bond backed by the city, a bond that has yet to see final approval.
"I think six months from now when we look back and see what all the benefits of the new markets are, we're going to be glad we went through this process," he said.
It's clear to Kruse and everyone else that the Phoenix will need the tax credits and the bond money going forward if they hope to make ends meet. Not only are they still $2.5 million short of paying for the new building, they also need to increase income in order to pay for increased expenses associated with maintaining the larger venue.
To make up that shortfall, much rests on the hope that a major donor will come forward. As an enticement, the Phoenix is offering naming rights to the building for a $2 million gift.
The donor's name would then be displayed on the building's exterior as the rebranded DONOR'S NAME HERE Cultural Centre, Home of the Phoenix Theatre. 
This public call for a donor marks a shift in strategy.
"I think we've got to think differently about how the Phoenix operates going forward," said Phoenix capital campaign manager Bill Simmons. "That is going to require cultivating major donors more so than we've ever done in the past."
Partly, said Simmons, this is because the Phoenix can't rely too heavily on ticket sales to help pay the bills because they only covered 55 to 60 percent of any given show's cost in the old theater. Costs will rise, and the Indy market can't afford $65 to $70 a ticket to cover them.
Hence, the dilemma that Simmons and the Phoenix board face.
Corporate Sponsors
Corporate philanthropy, Simmons said, is going the way of the dodo. "Corporations are just not handing over gifts to arts organizations the way they used to," he continued. "They're expecting marketing from that investment.
"It's not just 'Here's $10,000; good luck with the show,'" said Simmons. "It's 'Here's $10,000; how will you let our clients know we gave you this money?'"
Simmons—who wants to build a $3 million endowment by 2023—mentioned an example of a corporate sponsorship involving Tom Horan's play The Pill that could be one model for the future. 
"Eskenazi [Health] is a sponsor of The Pill, which is the first show I'm directing in the new Basile Stage," explained Simmons. "[Eskenazi CEO] Dr. Lisa Harris encouraged that sponsorship through the Eskenazi Health Foundation because she recognizes the importance of the pill and improving women's health in the 20th century. And she's sponsored other productions in the past, such as the world premiere of Typhoid Mary, and that production coincided with when Ebola and Zika were all over the news. That show was a catalyst for the discussion our community should be having."
But if a corporate sponsor had particular stipulations that would compromise the mission, the board would not go along, Simmons said. 
"If a philanthropist came to us and said, 'I will give you X million dollars if you only do Rodgers and Hammerstein,' I guarantee that every member on the board is going to say no," said Simmons. "That's just a nonstarter."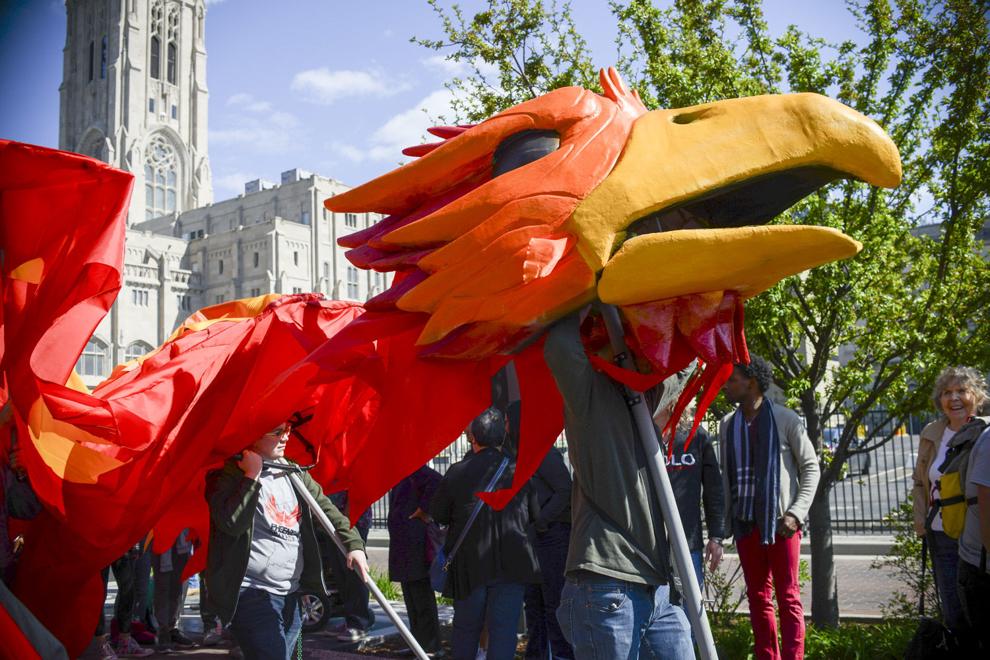 March to the New Phoenix
After the observance in the old Phoenix building was completed on April 28, a candle was lit. Then the patrons started filing out the doors.
The pedestrian march to the new Phoenix approximately a mile away was headed by a street puppet by the name of Sparky, created by Michael Runge. The Phoenix mascot/bird puppet was so large it had to be held aloft by five people. There was a marching jazz band keeping Sparky company.
Anderson directed the march from the front, moving across Meridian Street and watching for traffic. In fact, she was dancing and skipping as the march advanced toward the new Phoenix. Upon arrival at the building's entrance, the marchers were met by Mayor Joe Hogsett. Fonseca invited the mayor to the podium. As the mayor spoke, a blue ribbon was drawn taut before him. The mayor then cut the ribbon with an oversized pair of scissors.
After some words from Kruse, Frank Basile came to the podium to read a poem. Then Fonseca invited all the guests, who were still outside, to come into the new Phoenix Theatre Cultural Centre to have a look around.
And so they did.