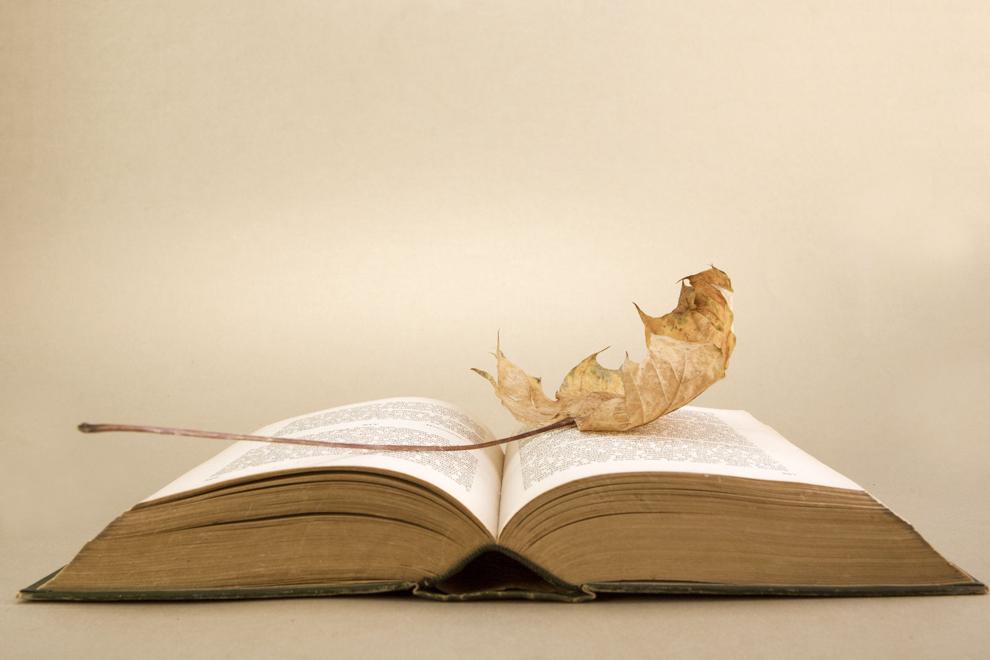 For us, Fall always means the perfect time to curl up with a good book Well, to be honest, we say that at the start of every season. But this time we mean it.
If, like us, you're a bit on the bookish side, check out these 10 upcoming literary events and 5 favorite literary landmarks.
---
September
Metaphonics: A Sonic Journey through Stuart Hyatt's Field Works
Sept. 20
The Cabaret
It's hard to talk about what Stuart Hyatt does with his projects that document sound without putting him in a pigeon hole. So let him reveal the nature of his project to you in the sleek new venue of The Cabaret. There will be live music, film, author readings, colliding black holes, whispering caves, birdsong, exploding volcanoes, and melting glaciers. Hyatt will also reveal his seven-album Field Works box set and new book, Metaphonics. Writers and musicians from the Field Works ensemble will perform.
Sept. 27
Kurt Vonnegut Memorial Library
A discussion about mental health challenges in the porn industry as well as sex addiction. The panelists include former adult film actor Rachel Oberlin (aka Bree Olson), Rolling Stone journalist Tina Horn, Dr. Maria Hanzlik, and the Kinsey Institute's Debby Herbenick. This event is part of KVML's celebration of Banned Books Week, from Sept. 24-29.
Mary Shelley's November is Ray Bradbury's October
Sept. 29
Indianapolis Library, Nora Branch
Ray Bradbury biographer Jonathan Eller talks about Mary Shelley and her classic novel Frankenstein in relation to Bradbury's work. That is, Eller talks about how both authors wrestle with questions about what makes us human. This is part of the statewide initiative One State/One Story taking place from September through November at various Indianapolis Public Library locations. FREE
October
Photography Exhibition with Kevin Powell
Oct. 5
Central Library
Kevin Powell is author of 13 books including his autobiography, The Education of Kevin Powell: A Boy's Journey into Manhood. On this occasion, he will be on hand at a powerful photographic exhibition Sons: Seeing the Modern African American Male created by photographer Jerry Taliaferro. The exhibition features portraits of 30 local Black males and is meant to challenge viewers' preconceptions. FREE
Oct. 13
Central Library
Meet an Author, Be an Author is the theme of this year's all-day festival. With classes and workshops for writers of all levels, panel discussions, and opportunities to meet and speak with local authors. Discussions include Writing About Your Life, Self-Publishing Tips and Tricks, and Editing for Success. Local authors John David Anderson, Nancy Niblack Baxter, Ray E. Boomhower, Maurice Broaddus, Devon Ginn, Angela Jackson-Brown, Sarah Layden, Barbara Shoup, and Robert Stapleton are scheduled to appear. FREE
Muslims of the World Book Launch
Oct. 18
Indy Reads Books
Muslims of the World is a book by Sajjad Shah and Iman Mahoui based on the increasingly popular Instagram account @MuslimsoftheWorld1. Although it's not the easiest time for Muslims living in the U.S.—with their dilemma playing out in countries around the world—this book gives you reason to hope with tales of love, family and faith in beautiful color photographs. FREE
Oct. 23
JCC
If you're an NPR fan, then you are surely a fan of longtime All Things Considered host Robert Siegel who served in that role from 1987 until January, 2018. He will talk about the changes in the news over the last 30 years, and give you an insider's perspective on the most listened-to drive-time radio show in the U.S. This is part of the JCC's annual Ann Katz Festival of Books and Arts running Oct. 23 - Nov. 12
November
David Matlack: The Stories in our Stones
Nov. 3
Indiana History Center
This is the chronicle of Matack's obsession with Indiana's unique geology. He's particularly obsessed with the Whitewater Gorge's fossil-loaded, 450-million-year-old limestone formation, which inspired him when he was growing up in nearby Richmond, Ind. if you're a rock lover, too, this one's for you. This event is presented by Storytelling Arts of Indiana.
Butler Visiting Writers Series: Teju Cole
Nov. 13
Schrott Center for the Arts
Teju Cole's book Open City is about a Nigerian doctor in New York City who likes to go on long walks. And in his eyes you see reflected the multiplicities of ethnicity and culture that is Manhattan. Slowly his recollections build into a compelling portrait of a man between worlds. Cole's most recent book, Blind Spot, was named one of Time magazine's top 10 nonfiction books of 2017. Free
IN conversation with U.S. Poet Laureate Tracy K. Smith
Nov. 29
Central Library
U.S. Poet Laureate Tracy Smith, whose book of poetry Life on Mars, will be joined by Indiana poet laureate Adrian Matejka, whose most recent book is entitled Map to the Stars. While Matejka is fixated on science fiction in his book, Smith was inspired by her father's work on the Hubble Space Telescope. Smith will also visit Hanover, Shelbyville, and Greencastle as part of the thematic initiative Quantum Leap which attempts to bridge the humanities and the sciences. Free
---
5 FAVORITE PLACES
If you're looking for some literary inspiration of your own, or maybe just a quiet space to read, here are our favorite bookish spots around Indianapolis.
Now that Mo 'Joe Coffee and Thirsty Scholar have bitten the dust, there's not a whole lot of choices for independent coffee houses in Downtown Indy. Coat Check Coffee is the place to go Downtown if you have a business meeting, want to talk to a friend, want to write the Great American novel, or want to plug into the internet. And we haven't even mentioned their delicious espresso yet.
One of the few independent bookstores left Downtown, this bookstore is the 100 percent real thing in more than one way. That is, it's a well-organized bookstore that sells new and used books, 100 percent of the proceeds from which go to support Indy Reads literacy programs. And the goal of these programs is to make Indy 100 percent literate. But, aside from all this, it's a great place to hang out, browse and buy books, and engage with the frequent readings and other events.
Little Free Library Charter: 40th & Illinois Streets
You've probably seen these book cabinets popping up on street corners near you, loaded with free books, that have more in common with bird feeders architecturally than your local public library. But maybe you didn't know that when you take a book or insert a book, you've become a part of an international movement. There are now 70,000 Little Free Libraries in 85 countries. The particular LFL at the corner of 40th and Illinois streets is brand new: its predecessor was knocked over in late June. But the steward of the site, Thom Woodard, recently put one up again. Kudos to him.
Nina Mason Pulliam Reading Room at Central Library
This is the best place in Indianapolis to relax in a bookish way, on the fifth floor of Central Library. You can sit down, relax, and look out the window, staring down Veterans Memorial Plaza and Obelisk Square and think how weird that there's an Egyptian-looking obelisk almost in the middle of a city where Prozac was invented, where Jim Jones preached, where Elvis sang his last concert, where Wes Montgomery played "Sonny" on his guitar, and where Kurt Vonnegut grew up.
This storied tavern is the hangout for Indy writer Dan Wakefield, who has in fact recorded his show "Uncle Dan's Story Hour" in this historical bar that's had the same name, and pretty much the same decor, for about 80 years now. If you want to imbibe literary inspiration as you sip your drink of choice, please feel free to do so. Just make sure that you obey Russ's rules (Russ Settle, the longtime bar-owner, who passed away in 2010).