Through the month of October billboards and buses around Indianapolis are featuring the work of local artists. The Arts Council of Indianapolis, in partnership with the city, commissioned and licensed the work from three artists to participate in the public health campaign #VaccinateIndy. The artwork and posters, with text in English and Spanish, encourage Marion County residents to get their COVID-19 vaccine. The artwork can be seen on 25 billboards and 30 bus tails running different routes through the city. 
Michael Miller, who created Let's Get Back Together Again, put down roots in the city not even two years ago and says his connection to the community has grown strong. He would like his message to reach the folks he's seen along the way. And even more, the folks that he misses. "Since I've moved here," he says, "I have met so many different walks of life. I hope this inspires people to do what it takes to get back out there and form relationships safely."
Miller says his design, inspired by comic books and vintage advertisements, intends to bring levity to the weight Covid-19 and vaccinations carry. "I like to use comic book illustrations when discussing heavy subject matter because I feel like it brings a lighthearted approach to the subject."
Regardless of style, whether Miller's comic strip, Maxine Wallace's portraits in Hometown Heroes, or Byron Elliott's Togetherness: Our Best Defense, the artists call for collective safety in a time of a public health crisis and divisive viewpoints. 
Elliott acknowledges the tension and sees a larger danger down the line. "Any time you have people from different cultural, economic, regional backgrounds, you're going to have some form of conflict," he says. "It can force us to reduce people down to those small details, making them one-dimensional characters." 
In response to these conflicts, Elliott's design, an image of clenched fists in the air, echoes historic demonstrations of solidarity. "Fists raised have always been a powerful image to me," says Elliott. "It's a signal of triumph, strength, endurance. Take that feeling and make it a multicultural group. I think that sends a message of overcoming together."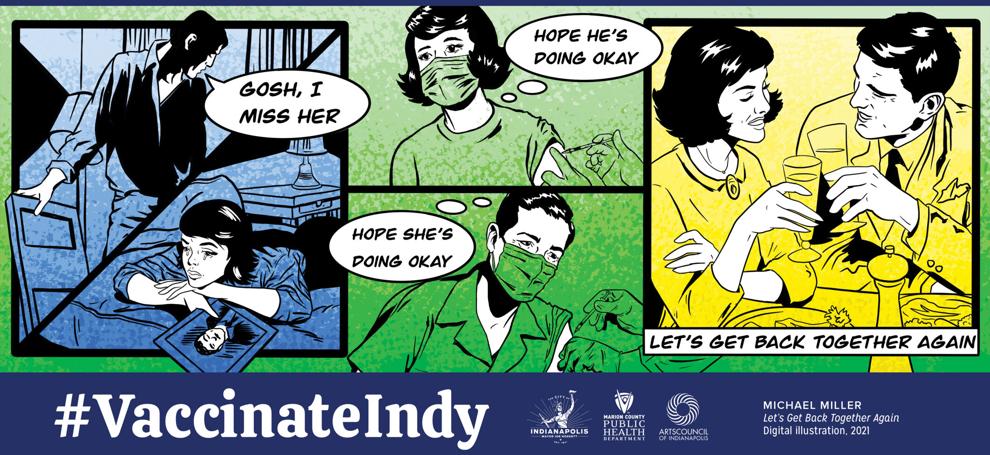 While Elliott respects differences he remains centered on commonalities. "We all breathe the same air, have blood running through our veins," he says. "We're human, all of us."  
Believing in the cause that #VaccinateIndy promotes, it's difficult to see the message as anything but a call for unity. Elliott says, "It's not one of political gain, religious rhetoric, or fear-mongering, but a message that simply wants to see us all together again, doing life together again. Safely."
Original artwork commissioned by the Arts Council of Indianapolis for #VaccintateIndy is produced by the following local artists:
Byron Elliott studied graphic design at The Art Institute of Indianapolis and has been working as a freelance designer since 2007. He is also the Creative Director and Co-Founder of lifestyle brand Blacksheep Collective, where he illustrates and designs every product, dropping a new collection of apparel each season.
Title of artwork: Togetherness: Our Best Defense  
Michael Miller is a freelance artist and designer based in Indianapolis. His work ranges from commercial design to found-object sculpture; he is also a trained illustrator, painter, muralist, screen-printer, sculptor, woodworker, and carpenter. He graduated from the University of Southern Indiana with a Bachelor's in fine art.
Title of artwork: Let's Get Back Together Again
Maxine Wallace is a photographer and visual storyteller based in Indianapolis. She believes that good storytelling relies not only on technical skills but creating an emotional connection with her subjects and collaborators. She shoots portraits, editorial work, and documentary photography.
Title of artwork: Hometown Heroes (Cynthia Morraz, Aaron Stewart-Curet, Allen Sledge)
More information can be found on the #VaccinateIndy website. 
Cover image courtesy of Maxine Wallace