On Tuesday, while on at the IUPUI University Library, waiting for my evening class to begin, I received an email in my inbox from the IU president, Michael McRobbie.
 The email read:
"Indiana University has been actively monitoring the rapidly evolving novel coronavirus (COVID-19) situation ... The health and safety of our IU community is our primary concern in this fluid situation, and we are taking decisions as warranted following guidance from the Centers for Disease Control and Prevention (CDC) and the World Health Organization (WHO), along with state and county health departments …"
The meat of the email came a little farther down the page: all face-to-face classes on all IU campuses, including IUPUI, will be suspended starting after spring break (March 15-22). From March 23 through April 5, classes will be taught remotely. While residential halls and dining services will remain open, students are "strongly encouraged to stay in their homes away from campus," McRobbie said. In addition, all university domestic travel outside the state of Indiana, and all university-affiliated or sponsored international travel is suspended through April 5. Organizers of non-essential events are strongly encouraged to cancel or reschedule, and no new events should be scheduled, within this time frame. 
Plans are for things to return to normal, and classes to resume, by Monday, April 6, "However, that could change with the evolving situation," McRobbie stated in the letter. For a complete rundown, as well as updates, click here.
You can see the Simon Cancer Center and the School of Nursing from the fourth floor window of University Library. I haven't done an exact count, but there are many hospitals within a half-mile radius of the Library, facilities that are no doubt getting as ready as they can for coronavirus.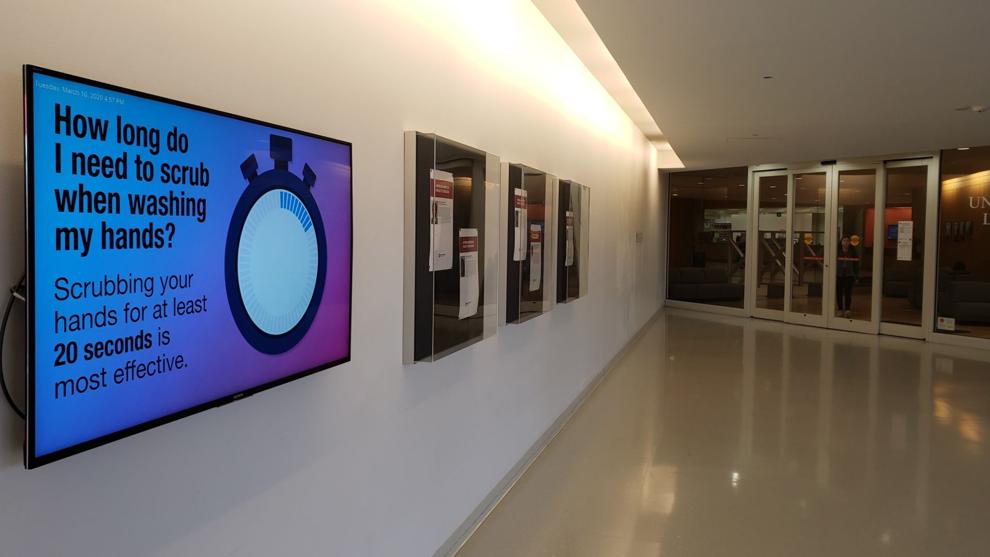 Like everyone else, I'm still trying to wrap my head around it. The number of documented cases now in the U.S. now tops 1,000, with the number of deaths totalling at least 31 as of March 11. Without widespread testing, however, it's hard to figure out the mortality rate. Once adequate testing is put into place, it's likely that the death rate – a calculation based on dividing the number of reported deaths by the number of confirmed cases – will go down. 
I thought of my family and I thought of my daughter Naomi. Naturally, I'm concerned about her health and well-being. I'm also wondering what the psychological effect on her would be if her high school were to close, considering that she's so involved in her activities – German club, yearbook – and so attached to her friends.  
I've changed some of my daily habits. I haven't driven Uber in more than a week, washed my hands more often and more thoroughly, started using the my old beast of a dishwasher again, and started wiping down surfaces all over the house.
I've noticed some changes around IUPUI. When I went to Panda Express at the Campus Center for dinner Tuesday night, the cashier handed me both chopsticks and a fork (which I declined, since I bring my own utensils).  I noticed that a custodian entering the restroom was wearing a face mask. I haven't noticed any panic buying in my local Kroger (yet), but I've caught myself stocking up on extra canned goods and Ramen noodles.
I've also started to keep a diary. I've always admired people like Anne Laker, Program Director for Arts & Culture at Lilly Endowment. She's kept a diary everyday for the past 30-odd years by filling in those little squares of pocket calendar books with text. Now I have a reason. My postings, of course, won't be able to fit in a calendar square. And while I plan to do it every day, I'm also aware that "the best laid schemes of o' mice an' men" often go awry. That's a quote from poet Robert Burns, who died at the age of 37 of endocarditis.
 I'm certainly hoping I don't get sick, and I'm hoping none of my family, friends, or colleagues (or anyone else on Earth for that matter) get sick but I will document it all if that were to happen.  I hope this – the diary and not the virus – to be an interactive thing. If you have any thoughts on your own experiences, I'd love for you to comment.
For those who want more information on the coronavirus, here's a link to a map from the Center for Systems Science and Engineering at Johns Hopkins University. 
Best wishes, everyone.