When given the opportunity to interview someone as multifaceted as Dave Eggers, it's hard to know where to begin. Do you start with his nonprofit work in children's education and publishing? Do you ask him about his breakout memoir A Heartbreaking Work of Staggering Genius, published in 2000, in which he recounts bringing up his younger brother after the untimely death of both of their parents? Do you ask about his life in San Francisco, where he lives with his wife and their two children? Do you ask about his career as a visual artist? 
Or do you ask him about his many works of fiction? His latest, titled The Captain and the Glory, is a thinly-disguised satire featuring a Trumpian captain at the helm of a sea-faring ship, who steers it towards disaster with the aid of a crooked crew called the Upskirt Boys.  
But maybe it's best to ask Eggers about the synergies he's been able to create between his life as writer and publisher and his work as a nonprofit entrepreneur. This kind of boundary hopping, after all, is something that Eggers seems particularly adept at. 
Take, for example, his 2006 book What Is the What: the Autobiography of Valentino Achak Deng. Deng was a child refugee from Sudan who came to the U.S. as part of the Lost Boys of Sudan Program. Eggers, in addition to writing Deng's story, helped him establish the VAD Foundation, a nonprofit dedicated to the economic and educational betterment of South Sudan.
Eggers, who will be coming to Indianapolis Feb. 29 to chat with Kurt Vonnegut Museum and Library founder and CEO Julia Whitehead about the youth writing programs he's shepherded into existence around the world. The conversation is presented by Kurt Vonnegut Museum and Library and the IUPUI Arts & Humanities Institute.
I talked with him by phone on Jan. 31. 
The conversation has been edited for length and clarity.
DAN GROSSMAN: You've founded or co-founded a number of nonprofits in the field of children's literacy and education. Let me just start by asking you; What were the children's literacy challenges in the San Francisco Bay area that led you to co-found the children's literacy nonprofit 826 Valencia?
DAVE EGGERS: Well, a lot of my friends became teachers ... On the weekends we would talk a lot and I learned a lot about all the joy and inspiration that they brought to the job. Truly, the teachers I knew were the most mature, together, and inspired people when we were in our 20s —  when the rest of us were just floundering and and making our way and having no idea what we were doing with our lives. But the teachers were on top of it. And they had to be. Their jobs were profoundly more important than some of the stuff we were doing as temps and manual laborers ... but they also talked about how they often had too many students on any given day to give each student the individualized attention that they needed, especially for those students falling behind, those students for whom English was their second or third language, and students who had just moved to the U.S. and were mainstreamed in ... 
What the teachers just kept saying 'If I could only clone myself I could reach all of the students … At McSweeney's we knew a lot of writers, editors, interns, graduate students, and freelancers that had expertise in the written word and flexible hours. Maybe, we thought, that could become the clone army with these teachers were talking about. We could give the one-on-one attention that the students needed under the direction of their regular teachers. And so that really has been the guiding principle from the beginning. Even though 826 Valencias based on our model are all over the world now, it's all really based on that one-on-one instruction … So we're going on 18 years now. It grew within six months from a drop-in center in the Mission District of San Francisco to being a publishing center for kids' publication —  a touchstone from where we sent tutors all throughout the city, which we do still to this day at teachers' behest to work under their under their wing in schools all over at every grade level. We've grown into college prep and college scholarships, and it's spawned another nonprofit called ScholarMatch. It's a college access organization that's growing by leaps and bounds. It's just like a lot of nonprofits you grow to meet the demands you adapt to the needs of your clients. If you keep it loose and keep it flexible and listen to the people that you're working with and families that you're serving, then it grows in a lot of unexpected directions but that's really the fun of it is to let it shape itself around the community you're seeking to serve.
GROSSMAN: Since you've been invited by Kurt Vonnegut Museum and Library, I wonder if Kurt Vonnegut has been any kind of influence on your writing?
EGGERS: He was one one of the five authors that I read more than any other starting in late in high school, I guess, and throughout college and afterward. When I was about 29 and I had just started in New York, I got to spend time with Vonnegut in his last few years and he was everything you would ever want him to be. He was very funny, very kind, very patient, very warm, and very much a mentor who was very willing to give advice to a young writer at a crucial stage. He sat me down like a father, and gave me some tough love and encouragement and set my priorities straight. I loved him and I wish I would have spent more time with him but I feel very lucky that I got to know him a little bit.
GROSSMAN: In your novel You Shall Know Our Velocity, your narrator has wealth he doesn't feel he deserves, and he tries to get rid of it. In What is the What: The Autobiography of Valentino Achak Deng, the narrator has nothing, at least materially, in comparison. I'm wondering, do you think there's a connection between those two books? 
EGGERS: Not remotely. You Shall Know Our Velocity is a work of fiction and I just made that up from scratch. What is the What was completely in service to Valentino's real story so I didn't have a whole lot of control over any of the scenes in that book. My job was to write it as you would a biography. And to get it right. And so, if I had themes in mind that I was interested in, I wouldn't have the ability to insert them. There's always been sort of a high wall between the nonfiction that I do —  in that case, a biography in novel form — and the novels that I get to sort of create on my own without anyone else, without a responsibility to an actual person.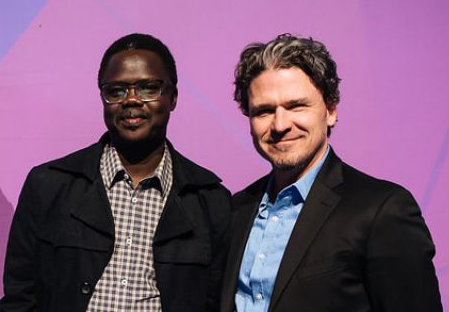 GROSSMAN: It's a pretty remarkable story that's for sure.
EGGERS: Yeah, but you're right in that anyone growing up in a country like the U.S. ... There's no comparison for anybody in a country like ours, or a hundred other countries, minimum. There's no comparison between any of that and what the way that people still grow up in South Sudan and, and especially with shadow to the war, and in the wake of it.
I've been to South Sudan maybe six times now ... They're growing and they're developing and things are changing rapidly but they were one of the more isolated regions on the planet for so long, and and have been a victim of a succession of colonial powers, and then the subjugation of the Northern Sudanese. So they really have known every conceivable odds stacked against them. They're making their way out of it but it's a long road, especially lacking in, I think, a truly democratic, truly adequate, and faithful form of government. There's still too much corruption there for the average person able to dream, plan, and count on a better future. I think there's just too much insecurity and too many questions.
But anyway, Valentino's doing great. He's a chairperson and co-founder of The Valentino Achak Deng Foundation … Before the book came out we made a plan that money from the book would go to create the VAD Foundation and that he would run it. And he would be listening to his community, see what they needed what his hometown of Marial Bai [in South Sudan] ... and what he could build for them and they all came back and said that what they needed was a secondary school which we would call a high school. So he went about building what's now a 22-building multi-acre campus just outside his hometown and change man he's also developed other secondary schools in the region, all of which have a real dedication to girls education in particular because there's a very low percentage of girls that go to school beyond age, 13 or 14 at a point where I know a lot of them are married off in some cases as brides to much older men. And so he's fighting tooth and nail to keep these girls in school and to give them as many opportunities as they deserve and so he's a visionary ... It's on his website. He's a world-renowned leader in creating and maintaining and funding schools in the most difficult of circumstances and also in fighting to keep girls in school against some tough odds.
GROSSMAN: For all of those interested in publishing with McSweeney's, the nonprofit publisher that you founded, what can you say about the types of books you publish?
EGGERS: These days we publish very few and we've shrunk a bit and our nonprofit mandate has focused us on publishing underrepresented voices, publishing work that otherwise might not make its way into the world, publishing experimental new fiction and, and bringing some worthy books that are out of print back into print. There are only four and a half employees who get to really follow their passion ... Our list is eclectic these days ... The newest book that we did is called Unnecessarily Beautiful Spaces for Young Minds on Fire and that's a book showing all the different places like 826 Valencia around the world …  focused on the making of each physical space of the literary centers ... and how each one of them got built and oral histories of each one of them in hopes of inspiring other communities. I know that there's people in Indianapolis discussing it. It's sort of an inspiration book and a little bit instructional and a little bit of how to. It's 170 pages of photos and interviews with photos were beautiful and inspiring people just to say our community deserves something like that we want something like that and people can go ahead and try to make it happen because anybody can do it. It's just a matter of will.
GROSSMAN: With the annual anthology Best American NonRequired Reading, to me, when I look at it, it seems kind of break down barriers between literary and genre fiction and graphic novels and puts everything together. Is that the intent?
EGGERS: Yeah. It was. The first mission was to let the students —  because it's edited by high school students — follow their passion, let them choose their own reading lists, and then create an anthology out of that. Because the taste of teens is really distinct and very surprising, and it's never what you think that they're gonna gravitate to. I did that for 11 years. I'm not the editor anymore but I learned so much and had such a blast getting to know all of those teens. A number of them work for 826 Valencia and McSweeney's. The editor of The Believer is a former student … We made them know there were no restrictions about what could go in it. It could be poetry, graphic novels cartoons, journalism, nonfiction, essay, fiction, and photo essays. I think all of those things have been in there ... works in translation, oral history. I think any of those barriers between genres are so counterproductive. All of those forms should be side by side and should all be given the same respect. I started out as cartoonist so I'm always sticking up for graphic artists and people who in some cases write just as well as any novelist but then have the double duty of illustrating all of them. It makes it exceedingly difficult. Sometimes we're punished for being good at two things, say, instead of just one.
GROSSMAN: In the 2013 novel The Circle, which was also made into a film starring Emma Watson and Tom Hanks, your protagonist Mae Holland goes transparent, meaning that she agrees to cover almost every part of her life filmed and broadcast on social media by this internet company she works for that's sort of like Amazon, Google and Facebook combined. Do you fear the Internet?
EGGERS: Well, I've always been a little bit of a late adapter. And then also I've had a healthy skepticism. I've been here in San Francisco since 1992, outside of a year and a half in New York,, and sort of saw the internet around me. And I was there at the launch party for Wired Magazine, and we shared office space with them in South Park, San Francisco. I've known so many of the people that were around in the early days formulating kind of the guiding philosophy of the internet and the digital age. It changed quite a bit from those years in the early 90s. In 1993, Wired magazine launched, when it was really a utopian vision about what a more egalitarian society that could be made possible by the internet. To some extent some of the good things about the internet happened ... access to information and the democratization of certain pathways to information. But at the same time, I don't think anybody saw the consolidation of power and wealth that stayed at the core of the last ten years of the digital age in particular. I think I was just trying to get at that with The Circle and what do we lose when we have a monopoly that controls so much of our personal lives, capitalizing on our data, getting ridiculously wealthy on surveillance capitalism. I get a little bit more concerned every year.
I'm particularly concerned with how increasingly difficult it is without being connected at all because there's parts of our society that are hard to participate in unless you have a smartphone unless you have Wi-Fi at home ... and all of these things that are inherently anti democratic... you have to be connected to society through a $1,000 machine.
I'm saying that as someone who does not have a smartphone. I'm finding it really interesting and sometimes very frustrating how hard it is to access certain parts of life without a phone, and I think it's a little bit of a human rights issue especially given how extremely expensive prices are and how much planned obsolescence goes into them ...
GROSSMAN: I just saw the film Where the Wild Things Are again very recently and I really enjoyed it. You wrote a novel that was an adaptation of the original picture book by Maurice Sendak and you co-wrote the screenplay with filmmaker Spike Jonze.
EGGERS: The three of us working on that [Sendak, Eggers, and filmmaker Spike Jonze] shared a very common philosophy about childhood which is that you need to be allowed to be kids, to be allowed to be wild … Kids have many feral aspects to themselves, that we need to ..celebrate and give them space to do that. At the same time they're trying to figure out, trying to toggle between being the busy, half-human / half-animal creatures that children are and also knowing to control their emotion, their responses to the world.
Spike Jonze is one of the most intuitive and emotionally astute directors alive, I think, and he really understood how to get at that part of childhood ... the sensitivities of it, the confusion of it, the baffling nature of adults and at the same time all of the glory and egotistical, tyrannical aspects of childhood too ... Children really believe that they are the center of the universe. I think he got in all of that in the film. Maurice Sendak, who had rejected so many other offers to make the book into a film, chose Spike to do it because he felt like Spike was the only director that really understood all that. And he wouldn't make a safe and cute version of the book. He didn't want that. Every time that we showed him a draft of the script, If it wasn't all that wasn't strange or it wasn't edgy, he sent us back to the drawing board. Anything he felt was corny or safe or cute; he would yell at us. He was our true north, he was our guiding light to make sure that we got it right.
GROSSMAN: What did you think when you heard the voice of James Gandolfini as the occasionally cantankerous wild thing Carol?
Well, we got to meet him, because we did all of the voice-over in a studio together. All of the actors were actually running around playing with giant styrofoam or sort of giant-shaped pillows that you would get as a kid, at a gymnastics gym —  giant triangles and giant squares and balls — and they would throw them at each other. And so they were all there. Gandolfini, Forest Whitaker and Frances McDormand and Chris Cooper. They were all in a room together with Max Records, the young boy who played Max, really acting these things out.
When he came on, it was just so abundantly clear that he was Carol and he was that creature that we had seen in the book, all those years, and ... he's a huge guy … He's just like a force of nature. And he started throwing stuff around and running around the sort of studios / gym, and he had a big striped shirt on, to mimic the look of Carol, that he had brought in ... to look the part … He was just absolutely brilliant. I'm a big Sopranos fan too. It's such a loss that he died so young because he was really one of the most naturally brilliant actors we had.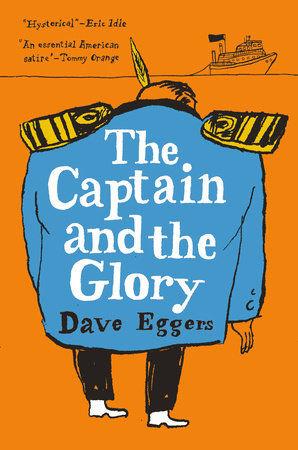 GROSSMAN: Three years into the Trump administration, and after writing about several Trump rallies that you attended, do you still believe that the people voting for him don't care so much about his platform, and see him as "an entertainment", which you wrote in 2016?
EGGERS: That was before the election. I remember I wrote that in Sacramento. And at that point, people came to that rally … It really was like ... I don't know, a free comedy show  country music show / minor league baseball game / this celebrity coming into town and giving a free, hour and a half show.
I went to a rally in Hershey, P.A. about a month ago, on the day that the Articles of Impeachment were handed down, and I've talked to so many Trump voters since. And we always have very nuanced, very rewarding conversations ... I have deeply enjoyed talking to every Trump supporter and voter. And I find that they have so many different reasons for supporting Trump and so often they're very pragmatic and narrow [saying]: "I really like his immigration policies" or "I'm not a fan of what he tweets." or "I find his behavior abhorrent but he's the only guy there that supports the same policies I do about the border." More often I find people that are, more recently, especially in this rally in Pennsylvania, really talking about the economic policy ... saying there's $2,800 more in my pocket now than there would have been with somebody else in office. So these are just pocketbook issues, and he's given credit by all of these voters for the state of the economy where, the Nasdaq and stock market are at all time highs and peoples' 401ks are higher, and they're earning more than they were before and they may attribute this to Trump and so it makes him very hard to beat in 2020.
But I often challenge them and say, "Don't you think this behavior and or this statement is beneath the office presidency?" and "Don't you believe that this behavior meets the definition of corruption?" Sometimes they actually will sort of hedge a bit and agree on certain frailties and failures, but on balance, he's their guy. That isn't to say that I don't think a lot of voters are flexible and malleable because the second to last guy I interviewed after this rally in Hershey. It was 35 degrees outside rain and we were talking and this guy is all in for Trump but he also voted for Obama twice. So I'm always gratified by how malleable the electorate is ... The only people who really vote politically are in fictional books but I think the actual average voter really has a pretty open mind and I always come away from these rallies strangely hopeful ... The rallies themselves can be scary and they can be very depressing because you do have thousands of people chanting "Lock her up." And then you speak to the same people individually and they are not stating rote prejudices ... They are much more intellectually nimble than I sometimes give them credit for because I find Trump abhorrent. And I don't care about a Democratic or Republican president; I think I could contentedly live under each but Trump is a different animal completely. That's just on his behavior on bullying, his myriad ways of showing no respect for the rule of law, the constitution, the dignity of the office, the separation of powers, the history the country, the respect for diverse cultures, respect for anyone that might disagree with him, respect for Gold Star families, respect for the other party … But at the same time, as much as I find him abhorrent and a danger to our democracy, I really love talking to every Trump voter that I've spoken to because I really have a deep hopefulness and trust in the basic decency of every American.