I was driving with my daughter Naomi south on S. Range Line Road when we first saw "Morning Sun" by California-based sculptor Brad Howe rising from a roundabout. A white oval crowns this 16-ft. high painted, stainless steel structure. You can see black, stubble-like dashes throughout the oval, and dash-like protrusions perforating its black outline. The Carmel Street Department work crew, still on-site, had just finished installing the abstract sculpture. 
The sculpture reminded me a little of Roy Lichtenstein's "Five Brushstrokes" sculptures on the lawn of the Indianapolis Museum of Art at Newfields.
Naomi had a different idea. "That looks like COVID," she said. 
I laughed. "Well, that probably wasn't what the sculptor meant. These sculptures are commissioned many months in advance."
"But COVID's been going on for almost a year!"
The sculpture is the 45th installed in Carmel, at a cost of $209,200, according to The Indianapolis Star. 
My daughter took a picture of it as we cruised around the roundabout, right across from the Kroger supermarket where I've been trying to shop more deliberately and less often. (The new COVID-19 strains are starting to make grocery shopping more dangerous according to health experts.)
Naomi doesn't like the roundabouts. The city of Carmel has more than 125 of them and she claims they make her nauseous when I drive her around them. As the one who will soon be teaching this 16-year-old how to drive, and drive around the roundabouts, this is a cause for concern.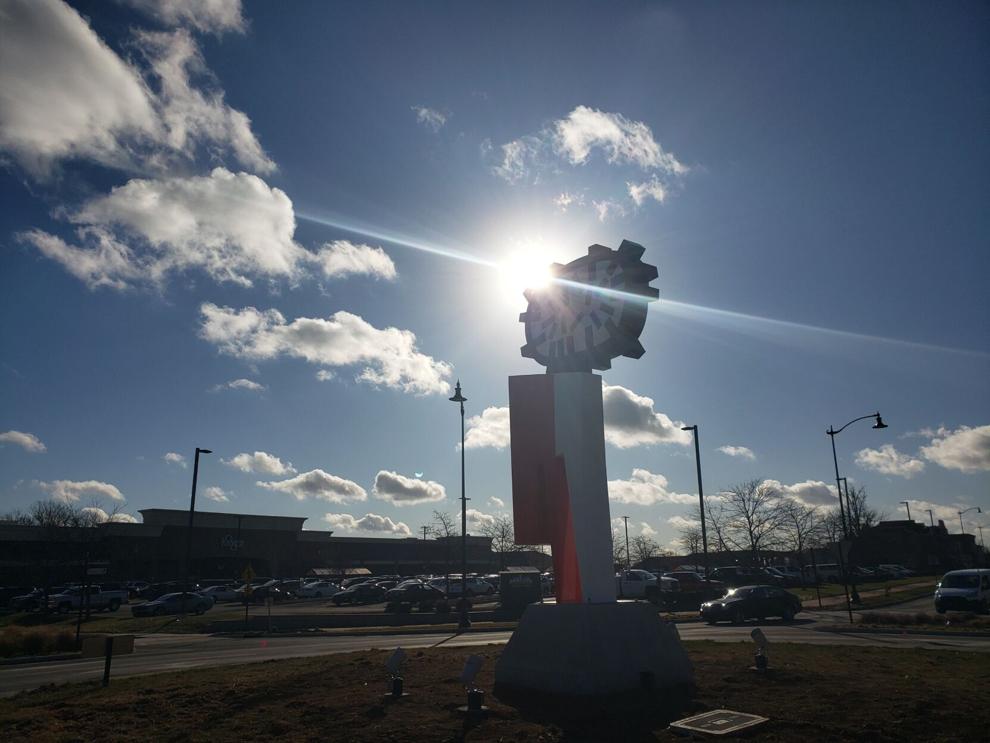 Later in the day, I saw that the city of Carmel had posted on Facebook to commemorate the sculpture installation. I left a comment with Naomi's interpretation. "My daughter thinks it's a COVID sculpture," I wrote.  
My Facebook friends responded to my post with their own interpretations. One commenter said it looked like a "giant hairy meatball." Another likened it to the "Hairy Ballz" cleaning product.
The original Carmel City government post garnered 723 responses with responses ranging from delight to disgust. My daughter, let's just say, was not alone in her likening of the sculpture to COVID.
One local artist called this likening an "unfortunate visual metaphor", and while acknowledging that nowadays people will read their own meaning into artwork — meaning that often has nothing to do with the artist's intention —   takes exception when writers do this.
The sculptor Brad Howe told The Indiananapolis Star that the resemblance to COVID was "an unfortunate coincidence" but he didn't mind people reading their own meaning into it, and debating its meaning. He went on to say that, if the sculpture resembled anything, that thing would be a sunflower.
 He went on to tell the IndyStar: "Contemporary abstract art is a mirror, you see yourself, your interpretation is autobiographical, depending on your mood. But there was no definitive intention other than to present a curious, uplifting riddle."
Others replied to my Facebook post with concern about the enormous amount being spent on such sculptures in a time of crisis, about the lack of oversight over art in Carmel, and about Mayor Jim Brainard's M.O. of spending borrowed money. 
(Sarah Bahr's "Does Carmel Have a Spending Problem?" in Indianapolis Monthly serves as an excellent introduction to the subject.)
As for me, the installation of this sculpture —  and the discussion that it prompted between me and my daughter —  was a welcome diversion from more serious and deadly topics.