Thank God my daughter doesn't have a career day at her high school. There's no way, during such an event, that I'd be able to avoid a long-winded explanation about what it is that I actually do for a living.
I started going back to school this September at Indiana University-Purdue University Indianapolis. I'm taking courses towards a master's in English while working part-time as a research assistant for the IUPUI Arts & Humanities Institute (IAHI), located on the fourth floor of the University Library.
From that airy perch, you can see much of the IUPUI campus. This is fitting because one of the functions of IAHI, as we will see, is to engage IUPUI staff — scientists and humanities scholars alike — in interdisciplinary research. 
I'm a former arts editor for NUVO. But I never felt like I had to stick to my lane, as it were, when writing stories for this alternative weekly. 
You might describe my approach as interdisciplinary, and not unique at all in the field of journalism. 
One of my cover stories dealt with the difficulties that self-employed Indianapolis artists have in obtaining health insurance. Another focused on the growing pains of the Phoenix Theatre, in terms of both financing and personnel, after it moved into its new facility at 705 N. Illinois St.
After NUVO ceased as an alternative weekly print publication, I had some growing pains of my own. I floundered about in the gig economy, driving for Uber (and wrote about that experience in NUVO).
I still write for NUVO, more or less on a weekly basis, reviewing an art exhibition here, publishing an author profile there. (The publication continues online, under the auspices of the NUVO Cultural Foundation.) Just as often, starting this fall, I've been writing articles and press releases for IAHI.
Chances are you haven't heard about the IUPUI Arts & Humanities Institute, unless you're IUPUI student, faculty, or staff. But if you attend arts events Indianapolis on a regular basis, you're surely aware of the work of IAHI grantee Anila Quayyum Agha, associate professor at the Herron School of Art & Design. 
Agha has won international acclaim with her "Intersections." This is a wooden cube — laser-carved in arabesques — lit by an interior light, casting shadows on the walls, that hangs from the ceilings of its exhibition spaces. 
Agha has received IAHI grants to pursue creative work.
You may also have heard of Stuart Hyatt. As part of his ongoing storytelling project with IAHI, with the support of The National Geographic Society, he is making field recordings of bat echolocations that will become part of a forthcoming album of contemporary music with many human collaborators under the title Ultrasonic: Making Music with Endangered Bats. 
You may have attended events sponsored by IAHI, such as Fata Morgana, a three-day music and film festival that took place in early October.  
The IAHI was established in 2012, and it supports creative work and research across the IUPUI campus, but it also serves as a campus liaison to the central Indiana community. The IAHI scholars and research assistants are involved in ongoing partnerships and ventures that support the arts and humanities both at IUPUI and Indianapolis as a whole.  
While most of the research assistants work to evaluate ongoing projects, or are involved in IAHI-funded research of their own, my job is to write about IAHI-funded activities and scholars. 
One of those scholars is IAHI director and professor of British History Jason Kelly. 
If you want to explore what kind of research IAHI is involved in, a good place to start just might be Kelly's recent article "The End of Abundance: Water Infrastructure and the Culture of Cornucopianism" published in the online publication Dilettante Army.
Kelly is director of Rivers of the Anthropocene a transdisciplinary network examining global systems, with team members engaged in research on both sides of the Atlantic. It's a cross-disciplinary approach to scholarship that is designed to guide policy makers as they struggle with emerging crises, such as the overconsumption of dwindling worldwide freshwater supplies. 
Kelly cites as an example, in his article, the Midwestern drought during the summer of 2012 and its effect in Indianapolis. During that hot and dry summer, the city was forced to put restrictions on the watering of lawns after water usage increased precipitously. Later analysis showed that, after restrictions were put in place, water usage dropped down to more manageable levels.
This action demonstrated the importance of government action, albeit on a small scale, in dealing with the reality of global warming.
Reading the piece made me wonder how much water and other resources I'm consuming while engaged in my own daily activities. 
Like many Americans, I consume all kinds of electronic entertainment, in a variety of forms. The net effect of most of this is not only to burn fossil fuels, but to distract me from my work. 
(Lately I've been trying to curb my consumption of Barstool Sports' YouTube pizza reviews.)
But art can also inspire, and provoke to action.  
While the selection of films in Fata Morgana included titles meant to engage on an artistic level, it was also meant to provoke individual reflection on a whole host of issues, ranging from the environment to LQBTQ+ rights.
Fata Morgana is a descriptive term for a type of mirage; it's also the title of a 1971 film by German director Werner Herzog that featured footage shot in the Sahara Desert, and that was screened during the event.
I wrote several articles about the event, which happened in early October. One of the performers was Scott Deal, professor of music technology. Deal is merging his interest in performance with his research in artificial intelligence. 
My article about Deal appeared in both NUVO and the IAHI blog. This makes sense when you think about it because the audiences of NUVO and IAHI overlap. This shouldn't be surprising because (and not only because) NUVO has published many articles covering IUPUI professors who are deeply engaged in the Indianapolis community.
One such professor is Laura Holzman. She published her book Contested Image: Defining Philadelphia for the Twenty-First Century earlier this year. Holzman received a grant from IAHI to research this book, and she is currently at work on several projects involving public art in Indianapolis.
Holzman is associate professor of art history and public scholar of curatorial practices and visual art at Indiana University at IUPUI.  
She also has written an op-ed piece in NUVO titled "Keep Ann Dancing in Context," and I am now finishing up an article on her.
Professor Elizabeth Thill, another subject of a forthcoming IAHI article, is also the recipient of an IAHI grant. She is using virtual reality as an aid to investigate an ancient Roman wall.  Her grant allowed her to travel to Rome, Italy with two IUPUI staff — IT Pro/Support Desk Manager Ryan Knapp and 3D Project Coordinator Derek Miller of the Center for Digital Scholarship — to scan in ruins from this wall.
Thill is Director of the Program in Classical Studies in World Languages and Cultures at IUPUI. 
In investigating this particular story, I was able to put on a pair of VR goggles and was immediately transported to Rome, where I was able to assemble the Great Marble Map of Rome — an archeological ruin of immense fascination to classical scholars — using virtual hands.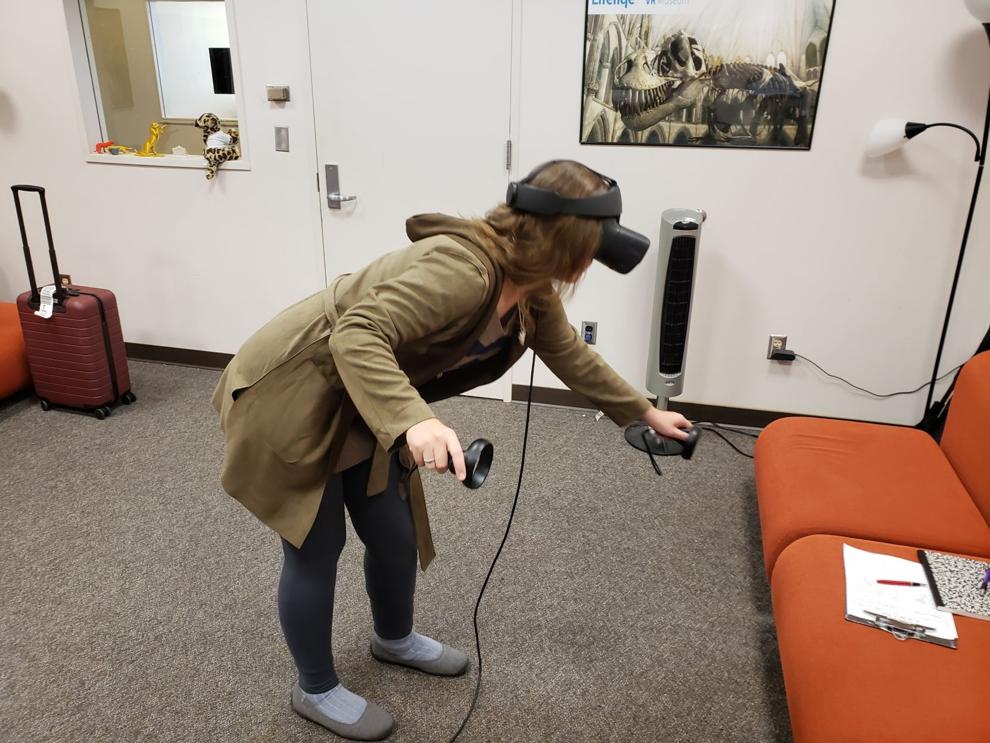 I've travelled to the past in my writing, and I've also visited the future.
That is to say, I've also written about Maurice Broaddus, an Indianapolis-based science fiction/fantasy author sometimes described as an Afrofuturist. The organization for which he volunteers, the Kheprw Institute, is an IAHI partner.
The Kheprw Institute is an organization that you will certainly hear more about with its forthcoming Cafe Creative, among many other ventures. I'm looking forward, in fact, to writing a longer profile on Kheprw, as they are engaged in some of the most exciting community development work in Indianapolis.
So if I ever go to career day, I'm resigned to the fact that defining my various jobs wouldn't be easy in the near term. But I would certainly have a lot to talk about.