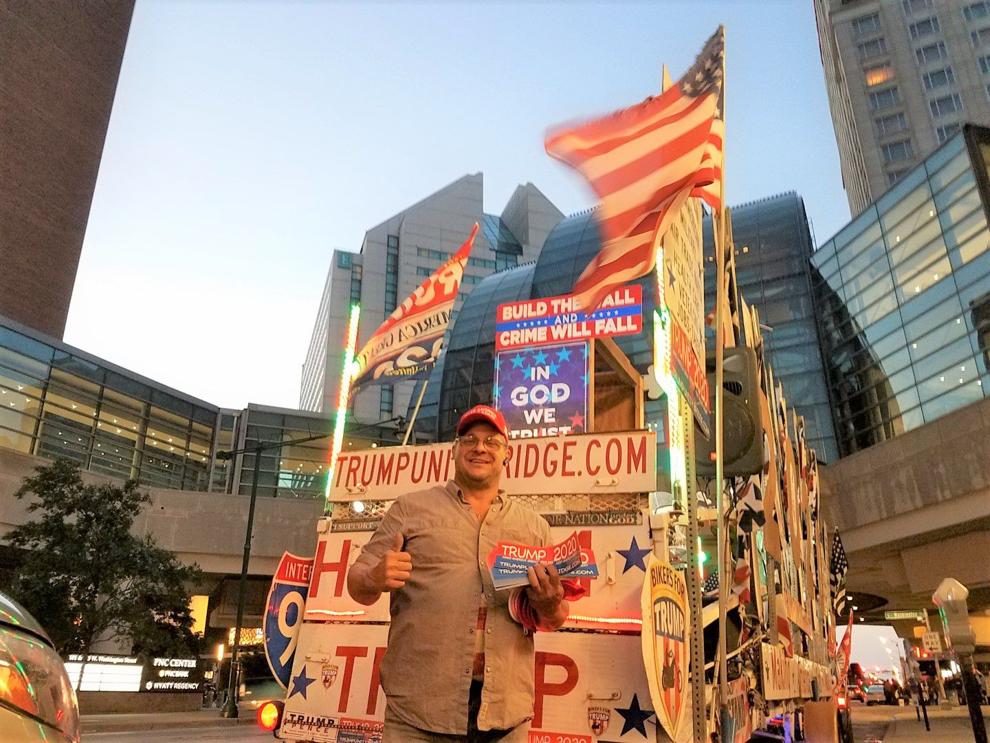 In his latest op-ed, Varvel trumpets Trump's achievements — if you can call pissing on democratic ideals achievements — but he also quibbles a bit with his commander in chief. He cites Trump labeling the media "fake news" as an example of Trump being bombastic, a trait which Varvel sees as self-defeating. 
Such mild criticism seems like sprinklings of Parmesan on a big fat pizza pie.
But most Trump supporters these days don't come across as neutered scribes bowing down before Pharaoh, as it were. Last Thursday, before Race Day, I met one of his supporters whose endorsement of Trump was, shall we say, much more full-throated than Varvel's.
I had just completed an Uber drive at around dusk, dropping my passengers at the Omni Severin Hotel in Downtown Indy, when I saw a truck trailer decked out like a parade float with large cut-out letters reading "TRUMP" and "BUILD THE WALL" and all sorts of other Trumpian paraphernalia. There were signs reading "Drain the Swamp" and "He Won… get over it" and "All Lives Matter." The trailer, and the truck it was attached to, were parked at P.F. Chang's, right outside Circle Center Mall.
I parked my car nearby and decided to take a closer look at the thing. The Bee Gees' "Night Fever" was blasting from the speakers as I approached; various passersby were taking pictures of their spouses and friends in front of it.
It was a strange day for me. Before I had started Uber driving around 3 p.m., I had been walking through the American galleries at the Indianapolis Museum of Art while talking with associate curator of American Art Kelli Morgan, who was doing her best to make the museum more inclusive and more diverse — much more Free to be You and Me than "Make America Great Again."
As I waited and watched tourists and Indy residents pass, I saw that this mobile Trump shrine had a name. It was called the "Trump Unity Bridge" aka "the Presidential Trump Unity Bridge and Trump Mobile."
I Googled the terms and glanced at the website, learning that the owner/operator of said Unity Bridge was one Rob Cortis, resident of Livonia, Michigan.     
When Cortis finally stepped out of P.F. Chang's, carrying Trump bumper stickers and Make America Great Again hats, I asked him what he was doing in Indianapolis.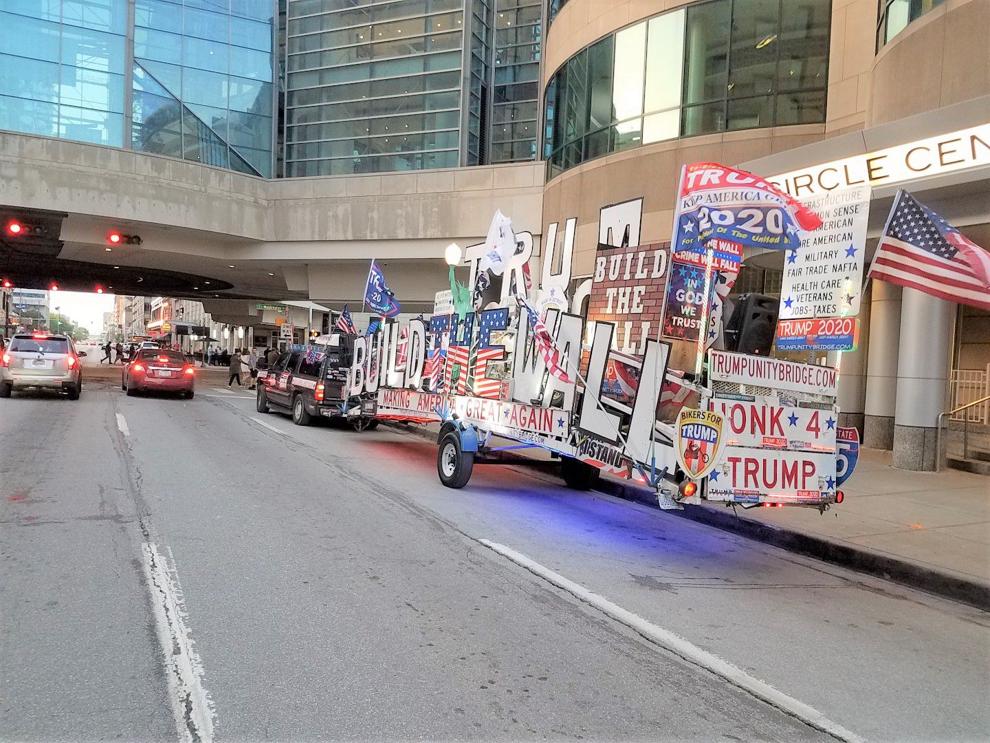 "OK," he said. "I'm a national Build the Wall Tour [aiding] President Trump's America First agenda by educating Americans on the benefits of building the wall and reforming our immigration system at the same time so people can come here legally. ... That's what my tour is about. We were invited to Indianapolis to see the Indy 500 ... by some friends. We're camping out by the stadium in some motor homes."
Cortis, whose Trump Unity Bridge has been featured on Fox & Friends and written about in the New York Post and other publications, said he would be in Indy through Memorial Day weekend.
"We encourage people to share positive messages like the ones that are on the float that came from people from all 50 states," he said. "We just came back from California; we drove to all the border towns, we got a warm reception and I handed out free truck 2020 stickers wherever I go on my own dime."
Some of the people expressing their enthusiasm for Trump, he volunteered, just so happen to be members of the LGBTQ community.
"There's a lot of LGBT for Trump," he continued. "I was broken down in New Orleans and the president of LGBT for Trump came to fix my car. Out of the blue."
Cortis, 57, describes himself as a small business owner and entrepreneur. He also did marketing for various Fortune 500 companies.
"I started businesses, restaurants, bakeries, a pastry shop, real estate. And I did very well until NAFTA [The North American Free Trade Agreement] was signed."
He started driving his Trump trailer in October 2016. By August 2017, he had logged some 40,000 miles. When he's on the road, he said, he goes through four to five tanks of gas a day.  
Cortis is going to be on the road a lot this summer.
"We're heading up through Michigan, Ohio, Pennsylvania, Maine then down here offload island to Boston, DC," he said, "and we're going to come back down through West Virginia, Tennessee, Kentucky, then Ohio, then back to Detroit, take some time off Then we will be going out west through Indiana, Illinois, Wisconsin. Missouri, North Dakota, South Dakota Idaho, Iowa, Washington again, Oregon, California, up through Colorado, Utah back through Nebraska."  
This, he said, will all happen by August, and on Labor Day he will attend a straight pride parade in Boston, Mass.
I asked him what his LGBT supporters might think of his attendance at said event.
"Every human being has their own opinion," he told me. "And I encourage people to study the facts, learn the truth and the reality, then make your own choice. Make your own decision. That's why this bridge is successful. Because I'm just telling you what I believe ... And if you check, and my facts are wrong, call me out on it and we'll try to figure it out. [But] a lot of people are checking my facts and saying, well, I was misled. And it looked like the Russia collusion."
Nancy Sinatra's "These Boots were Made for Walking" was blasting from his speakers.
I probed him on some other hot button issues. On the stalemate between Trump and Congress regarding immigration, Cortis told me to blame Congress.
"I think Congress has a lot of problems, a lot of issues. They need to focus on President Trump's State of the Union speech because 76 percent of Americans approved it based on the ABC poll. Alright, 76 percent of Americans approved Donald Trump's message. Check that fact." 
(Later I did check that fact and learned that yes, that 76 percent figure was correct, but the statistic is misleading because the majority of those who watched the address likely leaned Republican.)
He brought up the topic of voter fraud, and then cited an instance in Detroit where Hillary Clinton supposedly got more votes than were on the rolls during the 2016 presidential election. And when I asked him what he'd do if Trump didn't win the election, he told me he didn't think that is really a possibility — unless all the "illegals" steal the vote.
"You'll stand by Trump no matter what he does, right?" I asked him.
Cortis hesitated for the slightest moment, and then said, "There's been some things that I wasn't clear on, and once I studied the facts and learned more about them, and I agreed with things. the bottom line is he's consistent and solid on his message. His core message is fix America, service the people's message, do what the people voted for."
It was then I thought of the Francis Ford Coppola film Apocalypse Now.
I was thinking about the scene near the end of the film where the photojournalist, played by Dennis Hopper, waxes crazy ecstatic on the murderous Colonel Kurtz, played by Marlon Brando.
So I asked Cortis if he had seen the film, and he replied that he had seen parts of it. I was about to ask him if he agreed that Trumpism was a sort of Colonel Kurtz-ish cult of personality. But then I was distracted as a muscular man with a crew cut, his wife, and three daughters came up to Cortis who gave them all Make America Great Again hats and Trump 2020 bumper stickers.
I decided not to pursue this cinematic metaphor further.
"You're going to vote for him right?" the burly blonde dad asked Coritis, who answered in the affirmative.
"I know," replied Cortis.