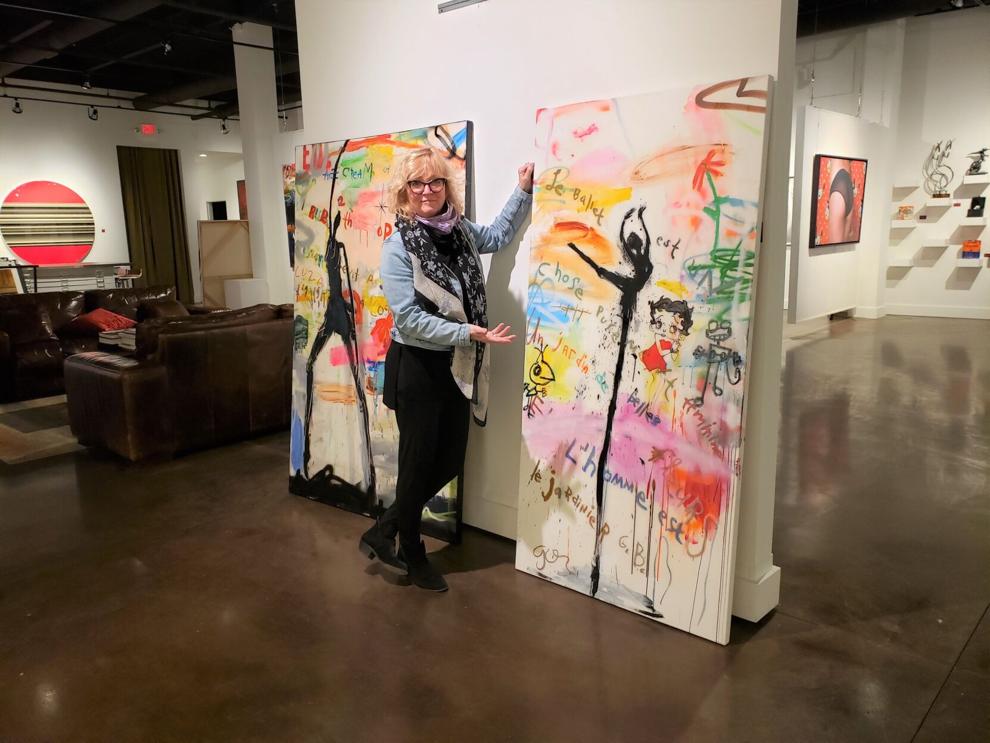 On Saturday, May 8, I stopped by the Evan Lurie Gallery in Carmel. The gallery has been a steady presence in the city since Nov. 2007, but now there was a "Moving Sale" sign on the gallery window.
Susan Brewer, a longtime Indianapolis artist based at the Stutz, where she has studio space, was seated behind the desk when I walked in. She told me that Lurie had just secured a new lease on a gallery space in Miami, Fla., where most of his client base is located.
"I'm gonna miss this," she said, referring to the gallery, where she has worked for three years, and her conversations with potential clients about art.
After the Carmel Main Street location closes for good, she plans to devote more time to painting her large abstract canvases. (Brewer says she managed to do well economically during the pandemic.)
Two of the questions Brewer receives when customers walk through the door are: "Is this a museum?" and "Is it free?" The answer to both is no. Maybe it's the high ceilings and polished floor of the space —  giving the gallery a slick big city ambiance —  that makes visitors ask this. Or maybe it's the high caliber of art hanging on the walls. 
Lurie is drawn to painters like the California-based Jorge Santos, whose detailed figurative depictions often hint at something menacing beneath the surface, whose canvases have been a steady presence in the gallery. Several Santos paintings were hanging in the gallery on the day of my visit. There was an abundance of abstract work and pop art.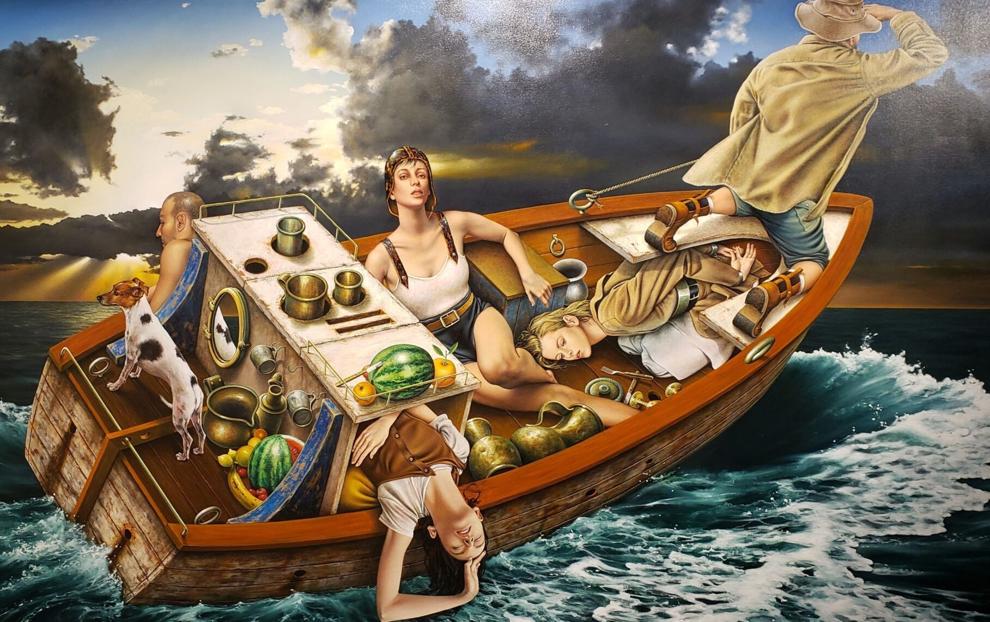 Also on display was work by artists who are difficult to categorize like painter Michael Gorman and British photographer Nick Veasey, who uses X-ray photography as part of his process. (His X-ray depiction of Trayvon Martin's hoodie, which made the cover of Time Magazine, was on display for a time in 2020.)  The gallery has also occasionally featured the work of local artists over the years, including Cagney King, Steve Paddack, Jason Myers, and Brewer herself among others.
Brewer said that the gallery received a decent amount of foot traffic during the pandemic, when the gallery was open, but it wasn't always consistent. 
"Last fall, I was opening on Sundays," she said. "Sixty people in three or four hours wanted to walk, be somewhere, do something." But then the election happened. "Once the election started, forget it; that's all people were thinking about."
Many who did visit came from outside Central Indiana. "I saw people doing the day trips as well l from Cincinnati, Chicago, B&Bs —  they just want to get out and travel three hours and go somewhere," she said. 
But those people aren't buying art like they are in Miami (and in Miami Beach, home of Art Basel.) 
When Lurie first moved to Carmel from Los Angeles, CA. — secured by a public-private partnership with the city — he had high hopes that the expanding local economy would attract a steady customer base, noting the substantial and expanding presence of the healthcare industry in Carmel and Indy. "When you have hospitals, you have doctors," he told NUVO's David Hoppe in 2010. "I knew Indianapolis was becoming a really medically-oriented city. There was a good population of well-educated, high income, well-traveled and surprisingly international people."
One of those well-traveled people was Carmel's mayor Jim Brainard, who visited Lurie in L.A., where he had a gallery. Lurie, in turn, educated the mayor on the synergy between the fine art market and the design industry in the L.A. economy. In the early 2000s, the mayor was making plans to turn Carmel into an arts district to attract business and tax revenue. Lurie convinced Brainard to add design to the mix.
"Executives are coming into town and building these homes and designers are looking for art," he told Hoppe. "So it's important to have a center where the design industry can call home and piggyback on the art industry. I realized how important it was for the art and design to be together. And the mayor saw and understood that from the very beginning also."
Lurie's vision of a Midwestern fine arts center based in Carmel didn't turn out as expected, but his influence is all over Carmel. Thanks to Lurie, Carmel downtown is called the Arts & Design District —  rather than just the arts district —  where you'll find the Indiana Design Center, with its 15 showrooms and featuring 21 different design firms. You'll also see Lurie's influence on the art selection on (at least) three of Carmel's 139 roundabouts, another one of Mayor Brainard's signature (and much written-about) achievements in the city. Three of those sculptures are by Brad Howe, a Lurie-represented artist.
The price tag of the Howe sculptures — the  latest "Morning Sun" cost the city $209,200 —  has been an item of controversy. (In the opaque and convoluted matter of Carmel spending, controversy is par for the course.)  
IUPUI's Jason Kelly and others, on the other hand, see the selection of public art in Carmel as a social justice issue. Focusing attention on the recent commission of a $70,000 sculpture by the atelier of deceased sculptor J. Seward Johnson of a Black girl at a stop sign called "Waiting to Cross", Kelly recently wrote a blog post titled "More Public Sculptures: Carmel misses the Point About Equity Altogether." 
Also controversial is the fact that Howe is a California-based, rather than a Hoosier, artist. A large proportion of artists commissioned to make public art in the city come from elsewhere, but Carmel has granted some notable commissions to local artists. This includes Anderson-based Arlon Bayliss and his' "Homage to Hoagy" at a roundabout adjacent to the Palladium and "Sail", by the Indianapolis-based team of Quincy Owens and Luke Crawley, which rises above the Monon Trail in Midtown.
While artists will usually accept commissions from whomever, some see a reluctance of Carmel and Indy residents to check out each others' art scenes. Actors' Theatre of Indiana executive director Jim Reilly likens this to "a wall of Plexiglas" along 96th Street. In an interview with NUVO in 2018, he said he wanted to encourage people to cross that street (in both directions) to take in art events and performances on either side of the municipal boundary.
It's a good time to do so, if you're vaccinated. Like multiple venues in Indianapolis, the Center for Performing Arts in Carmel has restarted in-person events. The Evan Lurie Gallery is, for the moment, still open, and there are other galleries you can visit as well. And while the visual arts scene hasn't taken off in quite the way that Lurie envisioned, the city has managed to attract crowds in at least some of its public spaces. One of the city's newest completed projects, Midtown Plaza, has become a popular outdoor gathering place during the pandemic.
Brewer, who mentioned jokingly that one of her friends calls Carmel "the gold ghetto," echoes Reilly's sentiments. 
"It's walkable," she said. "There's lots of things to do with the family."
You'll have a chance to check out the work of Susan Brewer and other Stutz studio artists at the Stutz Artists' Open Studios First Friday, June 4, from 5 p.m - 9 p.m.