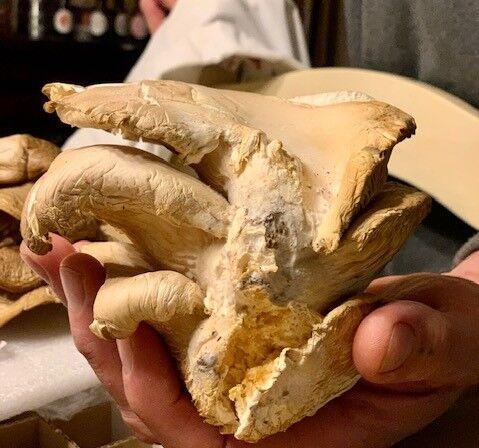 Jeff Miles greets me with a mischievous smile. "C'mon in – it's a little crazy in here." Crazy is the dining room table covered in baking sheets covered with the shreds and meat of sheepshead. Plates piled with pheasant's back mushrooms. Reishis —  a type of fungus —  the size of platters stacked by the aquarium. 
Miles has been foraging for mushrooms. The excitement and care he takes in explaining each variety is mirrored in the way he handles each one, pointing out the markings on the caps and running his finger over the gills. "It's just all so good," he says. 
Wellness is on the table. And I fear a snake oil pitch. They ease your mind. They ease your back. Beta glucans. T cells and antioxidants. They melt cancer. They regrow legs. 
Miles' pitch is much simpler. "We are earthlings. Like every other organism on this planet the earth provides what we need," he says. Mushrooms are an important part of the relationship and their value, he argues, is often overlooked. 
It was overlooked by Miles when he was around 25 years old. He had strep throat and after several doctors and prescriptions and no recovery he found another way. "Someone told me to check out a natural remedy store," he says, "and I did. Someone suggested I take echinacea and I did. And I got better." Along the way he found the book, Planetary Herbology, by Michael Tierra, and the learning began.  
It seems that in our search for wellness we rely more on pharmaceuticals and less on the natural world. Miles considers another way. "Things that ail us," he says, "the earth can help us." His position doesn't sound like an unfounded homeopathic selling hook. It makes sense. 
The relationship between the natural world and healing has long been documented. In her book, Braiding Sweetgrass: Indigenous Wisdom, Scientific Knowledge and the Teachings of Plants, by poet and botanist Robin Wall Kimmerer, she asks the reader to "remember to remember" the gifts of the earth. Hers is a story not only of the relationship, but the responsibility we carry with it. "Gifts from the earth or from each other," she writes, "establish a particular relationship, an obligation of sorts to give, to receive, and to reciprocate."  
The remembering began for a fellow forager, Brent Arfman, early in quarantine. He would turn on episodes from Learnyourland.com in the background and he heard something about chicken of the woods, an edible and sought-after mushroom in summer and fall. He didn't think much of it until he was helping his parents and noticed the large cluster on the rotting stump in their front yard. "It was massive," he says. "Right under my nose."
The meal of drunken chicken of the woods he prepared that evening changed his perception of the world. "I kind of looked at my life and saw that my reality was becoming more and more virtual. I saw my increased reliance on groceries. And I wanted a new reality. I wanted food autonomy and mindful eating." 
He and Miles tell me there really isn't anywhere you can't find mushrooms. While Sahm, Marrot, and Holliday parks are local, they also visit the Charles C. Deam Wilderness, part of the Hoosier National Forest, near Bloomington. The 12,000 acres spans four counties and offers everything from mushrooms to St. John's wort to echinacea. I imagine my luck in such a wilderness, the allure of foraging and the dangers that accompany it. When I ask Miles about the danger of toxic mushrooms he says, "Yeah. That's why you learn a thing." And while their knowledge of mushrooms is extensive, there seems to be another understanding becoming clear. 
"At first it can be lonely out there," Arfman says of foraging. "And then after a while you hear the pileated woodpecker again. You hear the red-eyed vireo. You find more chicken of the woods. It's a new world that's hard to unsee." As Kimmerer writes about our place in nature, "Listening in wild places, we are audience to conversations in a language not our own." 
Part of that translation is occurring in Miles's dining room. The mindfulness of the work continues in the preparation of the mushrooms for use. Some are choice selections of oysters. Their preparation is as simple as washing them and sautéing them in oil, garlic and shallots. Others that are not edible, like reishi and turkey tail, can be dried and ground and used for teas. 
He also prepares tinctures. Mushrooms are left out to dry and then emulsified. Miles fills a mason jar with the mushrooms and then fills the jar up with vegetable glycerin or ethyl alcohol. The jars are stored in a dark place, given a shake every now and then, and left for six weeks to six months. During the storage process the liquid extracts the active components. Finally, he drains the liquid and transfers it to bottles for individual use. 
"I like knowing where it's coming from, that it's harvested locally," he says of making his tinctures. And it's not just mushrooms. He makes rose petal, marigold, sunflower, and spearmint oils. He makes syrups for sweeteners that are natural sugars. And he wants to share it. "It's simple," he says. "That information was shared with me and it changed me. And I want to share that information with everybody." 
He is turning a mason jar full of rich stems and caps in deep browns around in his hands. "It's about living."  
How then, is it crazy for Miles to have a dining room table covered with polypores? Tricholoma stacked like sculptures? 
Chanterelle is blazing on the counter near bouquets of armillaria. His satchel on a hook still carries the rich scent of dirt and rain. Rows of tinctures and mason jars wait in the dark and Miles tends to the work.