First published Nov. 11, 2020 by TheStatehouseFile.com
As the number of COVID-19 cases continues to soar, Gov. Eric Holcomb announced Wednesday that new, tighter restrictions will be applied to Indiana counties with moderate-to-high risk for community spread of the disease. 
Holcomb began the weekly virtual COVID-19 press conference by reflecting on the transition to Stage 5 of the Back on Track plan, which is now being replaced by the new restrictions.
"The day we announced Stage 5, please remember this, our positivity rate was 3.9%," Holcomb said. The state reported a 10.3% seven-day positivity rate for the week ending Nov. 4.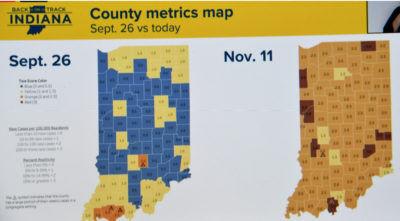 "Beginning this weekend, there will be no more Stage 5," Holcomb said. "The Back on Track Plan stage was for sure helpful for us to help regain our footing, and our economy, but now we must focus on how we'll get to the light at the end of this tunnel."
Holcomb and Dr. Kristina Box, the state health commissioner, cited the exponential growth in the number of COVID-19 cases as the reason for the new restrictions. Wednesday, the health department reported 5,156 new cases, a record, for a total of 224,374, and 31 deaths for a total of 4,512 since the onset of the pandemic.
Tuesday, there were 2,544 new hospitalizations in the state, breaking the previous record set Sunday.
The persistently rising numbers have or will reach critical points, Holcomb said of why he is acting now. As a result, there will be restrictions on event capacities for counties in orange and red territory. That means the number of positive cases per 100,000 people is more than 100 per week in orange counties and more than 200 per week in red counties.
Gatherings in orange counties, whether indoors or outdoors, will be limited to 50 people. In red counties, the limit is 25. Holding events in red counties is not advised by the state health department. Event hosts seeking higher attendance must submit an event plan to local health officials and receive approval. College and professional sporting events in red counties must also receive local health department approval.
Attendance will be limited at winter K-12 school events, with orange counties allowing 25% of normal capacity at IHSAA sporting events. Non-competing and non-performing participants and attendees will be required to wear facemasks at all times.
Senior care facilities are advised to cancel events and in-person visitation.
The health department's COVID-19 dashboard Wednesday showed no counties in blue, which represents low community spread. Instead, 78 of Indiana's 92 counties are orange or red. The remaining counties are in yellow, representing moderate community spread.
To strengthen COVID-19 mitigation strategies — like event plan review, training, compliance and public awareness campaigns — the state will allocate $20 million to local governments.
The Indiana Department of Homeland Security and Alcohol and Tobacco Commission will also be paying visits to businesses to ensure that proper social distancing, mask usage and occupancy limits are enforced. Businesses have to post signs reminding patrons to wear masks and only admit those wearing masks.
Places of worship will not be required to follow the regulations. Many COVID-19 cases have been contact traced to places of worship, specifically in St. Joseph County where local health department officials, Dr. Mark Fox and Dr. Robert Einterz, released a statement asking county faith leaders to hold services remotely.
Although Indiana Attorney General Curtis Hill opposed this stance in an advisory opinion, Box made it clear at the Wednesday press conference that she supported the move by the St. Joseph County Health Department.
Holcomb said that there's a light at the end of the tunnel, citing the work that health professionals are doing on vaccines and therapeutics for COVID-19.
Dr. Lindsay Weaver, chief medical officer of the health department, said that the vaccine would first become available at five Indiana hospitals. These hospitals are Community Hospital in Munster; Clark Memorial Hospital in Jeffersonville; Deaconess Hospital in Evansville; IU Methodist in Indianapolis; and Parkview Health in Fort Wayne. More than 50 other hospitals have offered to administer the vaccine, Weaver said.
Box spoke positively of the Food and Drug Administration's decision on Monday granting of an emergency use authorization for an Eli Lilly and Co. therapeutic drug.
The drug is intended for patients who have tested positive for COVID-19, are at high risk and have not yet been hospitalized. The first doses were administered to two patients in Jeffersonville Tuesday and they will be monitored daily by health professionals.
Holcomb, Box and Weaver expressed concern for hospitals and health care workers facing the second wave.
"We must do all we can to protect our hospital capacity," Holcomb said. "So that they can protect patients and care for them."
The Indiana Hospital Association released a statement Wednesday applauding the steps announced by Holcomb to slow the spread.
"Out frontline health care heroes need all Hoosiers to understand how dangerous the current trends are—COVID-19 hospitalizations have increased by 164% since Oct. 1 with today seeing an all-time high in hospitalizations of 2,544."
The new restrictions will be put in place starting on Sunday, Nov. 15.
Taylor Wooten is a reporter for TheStatehouseFile.com, a news website powered by Franklin College journalism students.