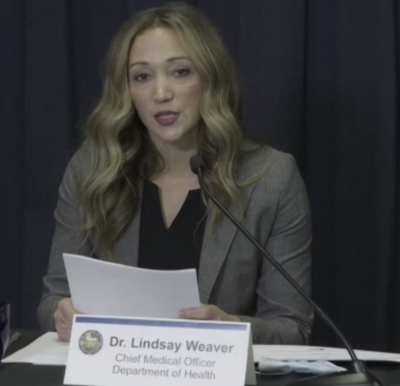 As COVID-19 vaccinations begin to roll out across the state, officials stressed the importance of getting vaccines in the arms of more Hoosiers quickly and efficiently while prioritizing those with the highest risk due to age and occupation first. 
In the meantime, Hoosiers are urged to continue good public health measures while waiting patiently for their eligibility. 
In Gov. Eric Holcomb's first weekly COVID-19 press conference of the new year, officials discussed the state's vaccination process and plans to open eligibility to more Hoosiers in the at-risk categories by age group within the coming weeks. 
As of 9 a.m. Friday Jan. 8, those age 80 and older will be able to visit ourshot.in.gov to schedule appointments for their vaccines at one of the 55 vaccinating hospitals or 91 local health departments closest to them. 
There will be at least one vaccination clinic in every county in Indiana, and to ensure this, the state has partnered with a number of CVS and Walgreens pharmacies to administer vaccines at long-term care facilities. Officials said vaccinations will be free; individuals must have their IDs with them at their scheduled appointment. 
Dr. Kristina Box, Department of Health commissioner, said those aged 80 and older account for more than 52% of the COVID-19 deaths, and if you add in those 60 and above, that's 93% of Indiana deaths. The state has approximately 257,000 residents aged 80 and older and more than 1.5 million who are 60 and older.
"By taking an age-focused approach, we can accomplish two tasks: protecting those at greatest risk of adverse consequences like death or hospitalization and then reaching older workers who are more likely to have comorbidities when we move into those age groups [the 60, 65, 70 range]," Box said. "Hoosiers can rest assured that an incredible team of experts has looked closely at Indiana's data to determine the best way to achieve these goals while our vaccine supply remains limited."
Some frontline essential workers including police officers, firefighters, teachers and grocery store employees have been able to receive the vaccine during phase 1a because pharmacies and hospitals have been advised not to waste any vials of the vaccine. 
A vial contains multiple doses and has to be used within six hours of being taken out of the fridge, so if there are any left over at the end of the day, the hospital or pharmacy will try to find employees who haven't been vaccinated. But if there aren't enough, frontline essential workers may be called in to receive the shot.
After phase 1b is issued, officials plan to expand to age groups 70 and older and then to those 60 and older. Other frontline essential workers may be included depending upon availability. However, the timing of the expansion will depend on whether the state receives the roughly 78,000 doses expected each week throughout the end of the month.
Box provided an update on the statewide approach to contact tracing, stating that after reviewing data, officials decided the state's centralized contact tracers will no longer notify close contacts of positive cases. Officials are still encouraging those who test positive to contact anyone they have been in close contact with. Box affirms that individuals will still be notified of their positivity. 
"These changes will allow us to redirect some of our contact tracers to help answer calls related to registering for vaccine," Box said.
She emphasized the importance of having resources available to help those having difficulty registering due to a lack of access to a computer, email address or cell phone. 
Dr. Lindsay Weaver, chief medical officer for the Department of Health, shared other ways Hoosiers 80 and older who need assistance can register. A family member or loved one may register on their behalf, so long as the individual 80 or older brings a photo ID to their vaccination appointment. Also beginning on Friday, individuals can call 211 and request assistance with registration or even transportation needs so they can get to their appointment. 
The state has partnered with FSSA to engage Area Agencies on Aging around the state to call people in this age group to help with registration and transportation needs. Weaver said there will also be direct mailings. 
As of the morning of Jan. 5, more than 128,000 Hoosiers received their first dose of vaccine, and nearly 600 received their second dose. said Weaver. More than 300,000 Hoosiers are scheduled to be vaccinated by the end of the month, and more people are scheduling every day.
Dr. Virginia Caine, Marion County health officer and an infectious disease doctor serving on the Vaccine Advisory Committee, believes that prioritizing the most vulnerable and frontline workers is the correct approach.
"We make recommendations related to what's happening in Indiana and our respective communities," Caine said. "And we try to determine what's best for our Hoosiers."