First published on October 29, 2020 by TheStatehouseFile.com
As the number of positive COVID-19 hit another all-time high in Indiana Thursday, Mayor Joe Hogsett has issued a call for central Indiana counties to collaborate in efforts to slow down the spread of the disease.
Hogsett and Dr. Virginia Caine, Marion County's health department director, held a virtual press conference Thursday to highlight how COVID-19 cases are rapidly rising across all of central Indiana, including Boone, Hendricks, Morgan, Johnson, Shelby, Hancock and Hamilton.
Mayor Joe Hogsett hadn't yet reached out to leaders in the surrounding counties but said, "Our intention would be to request…more regional collaboration on policies and practices that acknowledge our foe in this fight does not recognize county lines."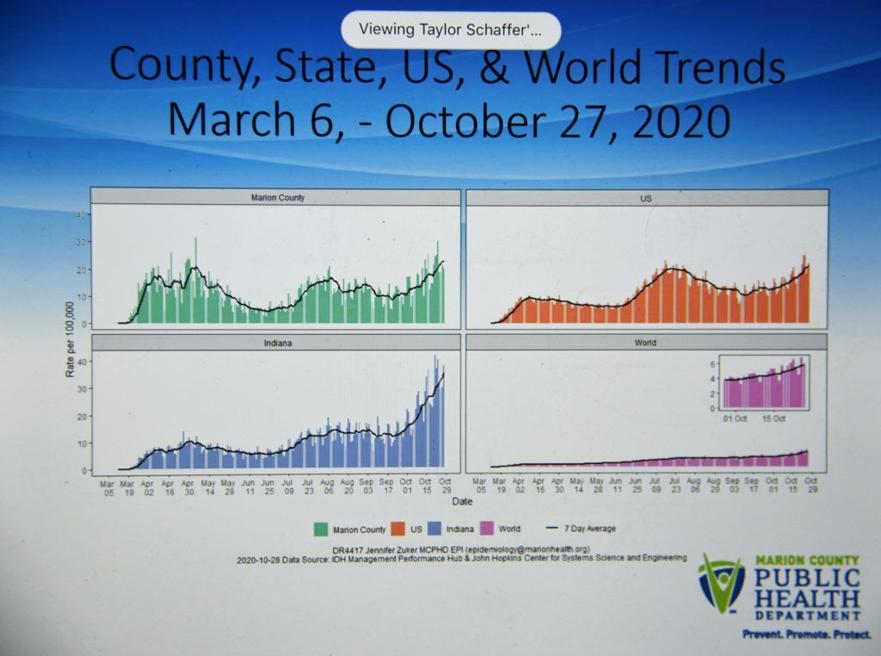 Across Indiana cases have been soaring. Thursday, the Indiana State Department of Health reported that 3,649 additional Hoosiers have been diagnosed with COVID-19, making 172,730 total cases in Indiana. Today's results came from 39,180 tests, the highest number of daily tests recorded to date. There were also 33 recorded deaths, for a total of 4,024. In addition, Indiana has seen a 92% increase in the seven-day positivity rate since reopening to Stage 5.
To date,1,671,093 unique individuals have been tested in Indiana. A total of 2,822,852 tests, including repeat tests for some individuals, have been reported to the state Department of Health since Feb. 26.
During Hogsett's press conference, Caine highlighted the number of new cases per 100,000 people in the eight central Indiana counties as of Tuesday. Seven out of eight counties recorded more than 20 cases per 100,000 people, with Morgan county recording 16.8 cases and Shelby county skyrocketing from 9.6 on Oct. 13 to 45.4 on Oct. 27. All eight counties recorded an increase in the two-week period but Johnson County stayed consistently high going from 26.2 cases to 27.3.
Caine also said Marion County's percentage of positive tests has risen from around 5% to 7% within the past month. She acknowledged that if the number reaches double digits, the county may have to make some changes from the current open status, though masks and social distancing are required.
"If we reach double digits you may find that we may have to go back to a lower stage …compared to where we are today," Caine said.
The sharp rise in COVID-19 numbers gave Democratic gubernatorial candidate Dr. Woody Myers another opening to criticize the way Gov. Eric Holcomb has handled COVID-19.
"Gov. Holcomb has repeatedly said he is 'proud of the way he has managed this global pandemic' but today Indiana has again shattered our single day COVID-19 case record," Myers said in a news release. "While Gov. Holcomb continues the Trump party line pretending the pandemic isn't a thing, I will use my experience as State Health Commissioner to protect Hoosiers' health and livelihoods."
COVID-19 testing available to asymptomatic citizens in Marion County, Caine said. Testing is free of charge at all three locations and requires an online booking on the Marion County Department of Health website.
LaMonte Richardson Jr. is a reporter for TheStatehouseFile.com, a news website powered by Franklin College journalism students