Originally published November 25, 2020, in TheStatehouseFile.com 
As many as one in 10 Hoosiers may have been infected with COVID-19, some of whom may have no symptoms but can spread the disease to others, researchers at the IU Fairbanks School of Public Health have found.
Dr. Nir Menachemi, chair of the health policy and management at Fairbanks, presented the findings of months of work at Gov. Eric Holcomb's virtual press conference Wednesday.
Researchers at the School of Public Health have been analyzing the spread of the novel coronavirus since the spring by testing random samples of Hoosiers to determine whether they have the antibodies for the disease. 
Even as the daily number of confirmed new cases rise, Menachemi said those numbers reflect a fraction of the total infections. When asymptomatic people have COVID-19, they can spread the illness to more vulnerable populations which, in turn, leads to a spike in hospitalizations.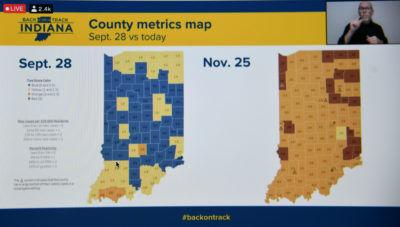 That's exactly what Indiana is experiencing now. Dr. Kristina Box, commissioner of the health department, noted that hospitalizations hit a new high with 3,363 Hoosiers in hospitals.
On Wednesday, Box reported that the state has 6,059 new COVID-19 cases and 63 new deaths. A total of 5,232 Hoosiers have died of the virus and 312,521 have contracted the virus since the onset of the pandemic.
"The number of infections is not the same as the more commonly reported number of cases," Menachemi said. "As I've noted in a previous press conference, cases represent just the tip of the iceberg."
Dr. Paul Halverson, professor and founding dean of the Fairbanks School of Public Health, said he and many public health officials are concerned Thanksgiving will drive up hospitalizations further.
"Be careful," Halverson said. "We're worried about this holiday; I think all of us in public health in particular are worried about this holiday. Let's get through this one so that we can celebrate the Thanksgiving of getting through COVID-19."
Box said she is concerned that many counties classified as orange on the Indiana State Department of Health will move into red after the holiday. Orange and red represent the highest levels of virus spread in a community
"I cannot repeat this enough: bringing together large groups of people from outside your immediate household puts everyone at risk for COVID-19," Box said. "Our hospitals are being inundated with COVID patients. There is still time to make the hard choice today, so that you can enjoy many more tomorrow's with your loved ones."
Holcomb began the conference with a bit of hope, citing that over the last four days, the seven-day positivity rate has slowly decreased to 11.2%. On Nov. 19, the rate was 12.1%.
Box said there is something to be grateful for this Thanksgiving with the efficacy of the Pfizer and Moderna vaccines on the horizon, but also warned Hoosiers that the safety measures will need to be followed to prevent more cases and deaths.
"We can be very thankful that we do have vaccines that are showing this kind of efficacy and this kind of safety with no major complications," Box said. "We could right now be having a group of vaccines coming back showing that they really didn't work. We had no idea."
Holcomb, who is still quarantining following a member of his security detail testing positive for COVID-19, said he is meeting with local elected officials, business owners and hospital officials next week to determine how the state provide aid to their work and gain helpful perspectives. The meeting will be ahead of his next press conference, which will take place at 2:30 p.m. on Dec. 2.
Taylor Wooten is a reporter for TheStatehouseFile.com, a news website powered by Franklin College journalism students