On Saturday, the Indiana State Department of Health announced 6,983 new confirmed cases of COVID-19, recorded from Nov. 12-20, and 40 new deaths, recorded from Nov. 16-20. With the second wave of COVID-19 crashing into the Hoosier state, pandemic fatigue has set in, according to Dr. Cole Beeler, medical director of infection prevention at IU Health University Hospital.
People are tired of having to wear masks, frustrated that they can't operate their businesses normally, and long to get back to a pre-pandemic lifestyle as the airports fill up with holiday travelers.
"[It's] not just in the community, but in our healthcare settings," said Beeler. "I think people are just fed up with having to do it. We had a little bit of a respite over the summer, but we're starting to get back to crunch time to where things were at at the beginning of the pandemic at a large percentage of our hospitals."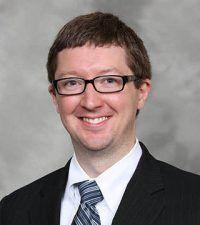 While last week the Centers for Disease Control and Prevention strongly recommended that people stay home for Thanksgiving, and Dr. Anthony Fauci, the Director of the National Institute of Allergy and Infectious Diseases, recommends that people do a "risk-benefit assessment" before traveling, Beeler recommends a high degree of caution.
"I'm certainly not saying that everyone needs to restrict travel," he said. "But if you're traveling, travel as smart as possible, avoid clustering, wear masks. If someone's not wearing a mask around you, don't be around them. Those types of things are probably the best to help protect the greatest [number] of people because if you get infected, you might infect other people without even knowing it."
Or you might get infected without even knowing it due to the high level of transmission by asymptomatic individuals, a rate that varies from around 30 to 50 percent in various studies based on COVID-19 testing. 
"That's been pretty consistent actually, through the beginning of the pandemic until now where there's a large fraction of people who don't know that they're shedding infectious virus, but are infecting other people and those other people have the potential of getting very sick and even dying from the virus," he said. "That's what's the worst, really, about this pandemic is that you can't really adequately predict who is and who isn't infectious." 
Local hospitals are seeing the effect of the resurgent virus in terms of decreasing hospital bed availability and a decline in specialty nurse availability across the state.
"The rate of increase in our admissions has not been the same as our rate of increase in ICU [intensive care unit] admissions, which we are grateful for," said Beeler. "However, we have seen an increase in both general hospital admissions as well as ICU admissions. And this is pretty diffuse not only in the counties that we serve with IU health facilities but hospitals actually across the state are all increasing so we are not out of the woods for this actually. Things are getting significantly worse."
Nevertheless, Beeler has seen significant innovations in COVID-19 treatment since March, including the early use of steroids in patients and the use of different approaches to patient pulmonary care before patients get to the ICU.
"The one thing that I would say from an IU Health leadership perspective is that they've helped knocked down a lot of walls for us on care for patients who don't need to be in the hospital," Beeler said. And there's two different ways that that is manifesting. One is that we have a virtual clinic or a virtual hub that's available for people that don't even necessarily have IU health providers but are feeling sick and need to know what to do. Do I need to go to the emergency department? Do I need to be worried about my family? Is this going to spread to other people? Can you provide me some guidance?"
The virtual hub manned by nurses, and advanced providers, and some physicians, interviews a high volume of patients on a day by day basis. 
"There's also hospital at-home strategies that have been used nationally," said Beeler. "But we've also had success with those here where patients who still are fairly sick, but maybe not sick enough to need aggressive nursing care are able to be sent home and checked in on regularly through virtual environments and still get vital signs and laboratory assessments so that we can send people home to where they're comfortable, so they can tend to heal up but also so that we leave hospital beds available to take care of more COVID patients." 
Beeler also acknowledged that testing for the novel coronavirus is slowing down currently because of increased volume of tests in the pipeline. He also acknowledges that testing technology needs rapid improvement:
"Unfortunately, the technology just really 100% yet, even though we are developing more tests that are both reliable and rapid."
Beeler said that the COVID-19 Random Sample Study conducted by the IU School of Public Health has been enormously helpful for his work. In June, the second iteration of testing showed that statewide 2.8% of the Hoosier population had been infected. The study also demonstrated that the novel coronavirus is six times more deadly than the flu. The third round of testing began Sept. 23 and the results will be released at the governor's conference on Nov. 25. 
In late October, AstraZeneca vaccine trials restarted at one of the IU Health hospitals, after a pause dating from early September due to safety concerns, Beeler said. The trials are being conducted by the IU School of Medicine.
On Nov. 23 came word that trials of this same vaccine in the United Kingdom and Brazil had yielded positive results; that the vaccine was deemed up to 90 percent effective in late-stage trials.      
In the past few weeks, there have also been announcements by pharmaceutical makers Pfizer and Moderna, respectively, that their vaccines are more than 90 percent effective. And, according to Moncef Slaoui, the chief scientific advisor for Operation Warp Speed, some Americans might start to see vaccines become available by mid-December.
Until those vaccines become widely available, Beeler emphasized the need to continue taking proper precautions. He said one precaution is making sure that the indoor spaces you frequent have adequate ventilation, including your own home. However, that doesn't mean that he advocates opening windows in the middle of winter, as drafts and cold can suppress the immune system. 
"But I think good air circulation and good ventilation is extremely important," he said. "And sometimes that needs to be accomplished by an open window. The reason that I say that is because there's been a number of high-frequency exposure or high transmission events — or superspreader events is what it's commonly called — in settings where people have been closely packed together in rooms that have poor ventilation. Actually in that setting, this virus actually shifts to what's more of an aerosol-like spread, meaning that it can transmit beyond six feet. [...] So that's the time when it can break the rules. And since it can break the rules in that setting, doing what we can to make sure that we got good airflow so that that aerosol is removed as fast as possible."